Integration
Coin98 Super App integrated SpiritSwap, expanding the market to the stellar Fantom blockchain
Coin98 widens its application in the Fantom ecosystem, an outstanding blockchain, with SpiritSwap. From now on, it is super easy for users to swap tokens upon the beneficial advantages of this blockchain.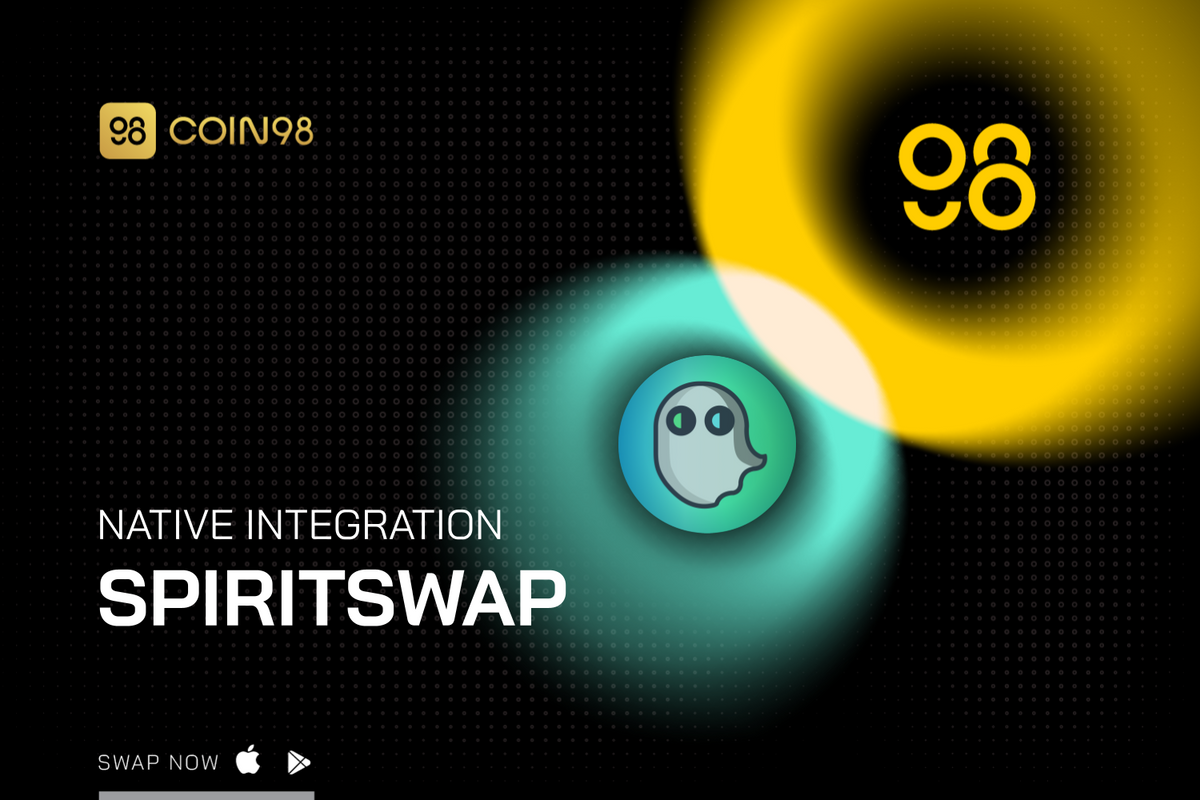 As a super app with the core of the multichain engine, we grow horizontally and bring variety to users with a panoply of DeFi services, including swap functionality, a one-click process to Web3 browser, powerful DeFi tools gatherings, and so on. Exclusively, DEX is one of the critical features that Coin98 put the most effort into. That's why Coin98 is eager to bring as many AMMs as possible, providing users with the entry to trade cryptocurrency at their fingertips across multiple blockchains just in one place. Recently, Coin98 has invited SpiritSwap to the universe for 1M+ enjoying the spiritual party.
SpiritSwap is built on the Fantom Opera Chain, considered as a decentralized exchange (DEX) with a suite of DeFi services such as trading, staking, and farming. It mainly focuses on deep liquidity, which allows users to swap tokens with less slippage and more reliability across the exchange. Evolving from Fantom, this trading platform offers the ultimate swap functionality under Fantom's stunning network infrastructure and unbroken throughput.
Coin98 and SpiritSwap are teaming up for further promising development plans to reinforce our position in users' awareness in this crypto market with the same orientation that the community lies in the mission. By dint of this native integration, we hook up with each other to bring more facilities to users, bootstrapping the growth of SpiritSwap in particular and Fantom in general. Ultimately, we're looking forward to seeing the unprecedented transformation in the upcoming.
"DeFi has flourished by leaps and bounds, but it still separates on every single blockchain. Coin98 is the common spot to aggregate all top-tier DEXs you need for the swap functionality. Accordingly, SpiritSwap, the first native-Fantom "OG" DeFi project should be officially on the list of our built-in AMMs in the super app. Together SpiritSwap, we want our users to meet the very state-of-the-art AMMs on Fantom with our easy-to-use interface. Especially, Coin98 and SpiritSwap are incredibly excited to welcome the massive trading volume throughout our intensive work in the upcoming". - Vinh The Nguyen - CEO & Co-Founder of Coin98 Finance.
"As the adoption of DeFi continues to flourish, data suggests a huge uptake in participation from mobile users. Standard mobile browser wallets have proven time and time again to demonstrate issues with bugs that go unresolved. This introduces a barrier of entry for would-be DeFi participants which slows the adoption process. Coin98 offers a seamless integration of web3 directly in the app, rather than applying the browser route that other mobile wallet users experience many issues with. As such, this approach by coin98 offers a solution to an ongoing problem and paves the way for users to interact with defi from mobile, thus allowing for a more prominent rate of DeFi adoption. We look forward to continuing our relationship with coin98 as they continue to develop solutions to problems that prove a barrier of entry for novel DeFi users." - FTM D3Gen - COO at SpiritSwap
How to use SpiritSwap natively on Coin98 Super App
Using SpiritSwap on Coin98 is just a piece of cake. Let's follow these simple steps as follow:
Step 1: Open Coin98 Super App, then click on the Swap tab.
Step 2: Choose SpiritSwap on the list of in-app AMMs.
Step 3: Select your desired tokens and start trading!
Read the full details of the instruction here.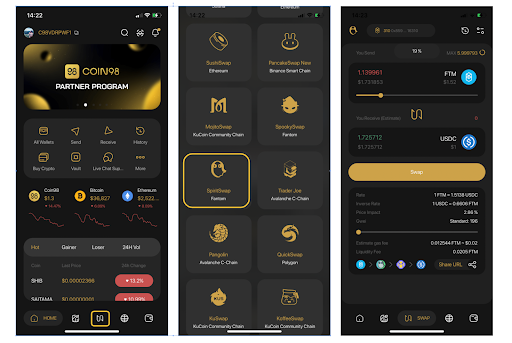 About SpiritSwap
SpiritSwap is a decentralized exchange (DEX) on the Fantom Opera Network. Traders can easily swap between tokens within our application and get guaranteed rates for the swaps. Each swap on SpiritSwap incurs a fee, which gets distributed between liquidity providers and is used to buy back SPIRIT tokens at market rate, then distributed to inSPIRIT holders. While offering lightning-quick swaps at an affordable rate, SpiritSwap is moving towards becoming a full DeFi suite, offering users different strategies to manage their cryptocurrency assets. SpiritSwap's key features include zapping functionality, inSPIRIT, boosted farms, lending and borrowing, leverage trading, and a cross-chain bridge.
About Coin98 Super App
Coin98 is the #1 crypto super app designed to seamlessly connect a billion users to the crypto world safely and securely. We offer users across the globe a comprehensive and trusted ecosystem of essential services including but not limited to a non-custodial, multi-chain NFT & cryptocurrency wallet, built-in DEXs, Cross-chain Bridge & DApp Browser, a powerful Terminal, attractive Earn, Gift & Campaign, and Others.