Coin98 Super App
Coin98 Super App introduces Cloud Sync as a backup option for private keys
Coin98 Super App is glad to onboard Cloud Sync, a function to let users back up their encrypted private keys & passphrases on Google Drive and iCloud at their convenience. Start now by updating your App to version 11.3.2!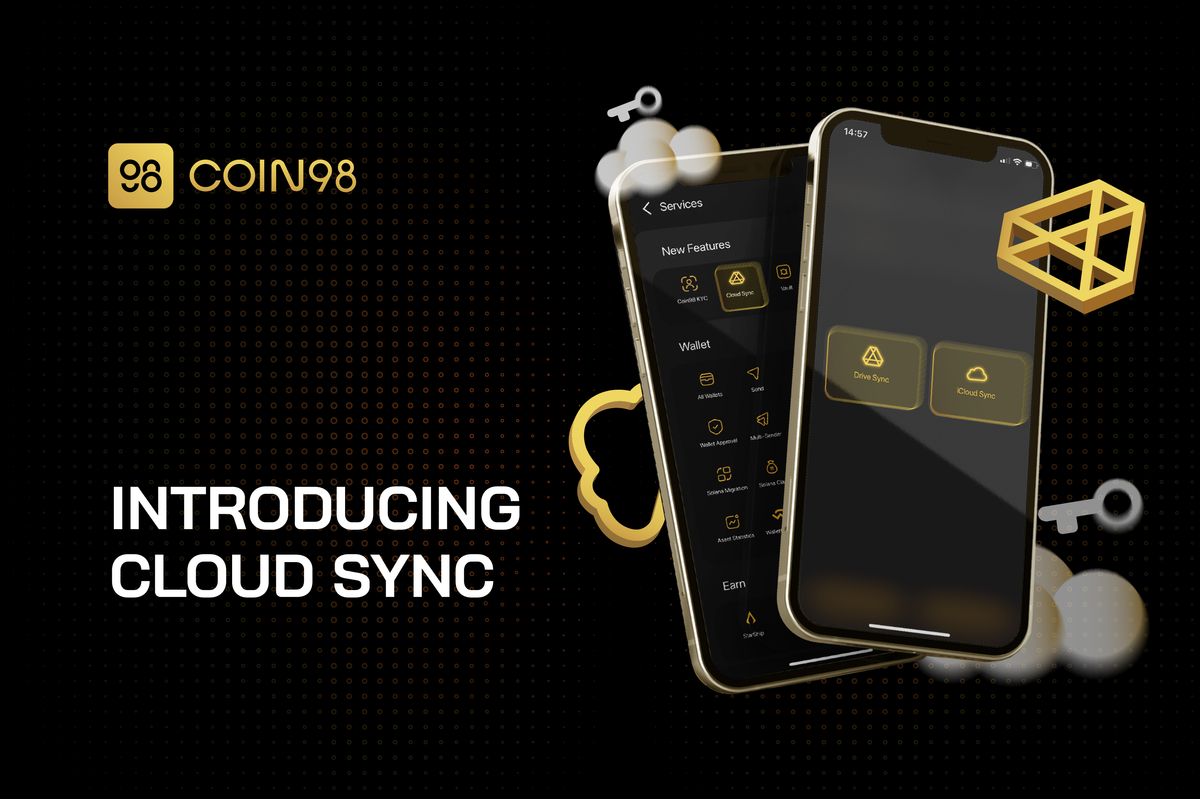 Introducing Cloud Sync on Coin98 Super App
Coin98, being a multi-chain non-custodial wallet, grants users the power of asset management to take full control, which means users take on the role of treasure guardians. Only users who keep private keys and passphrases have the right to access their funds. That's why private key and passphrase are two essential pieces of information that can't be lost. "Your Keys, Your Coins" reflects this precisely.
When using a non-custodial wallet, users are strongly encouraged to save their private key and passphrase in a safe place for further use if needed.
Starting today, Coin98 Super App adds a new option to back up user wallets. It is known as Cloud Sync.
Cloud Sync is a new feature, allowing users to automatically encrypt their private key and passphrase and store them on Google Drive and iCloud, on Android and iOS devices. Now available on Coin98 Super App V11.3.2!
A new approach to fund management
Cloud Sync brings a secure, straightforward, and full non-custodial method of recovery wallet for users. Instead of remembering 12 phrases to restore their wallet, users can now unlock their assets with a single password that they set up.
If users lose your passphrase, they lose your fund. However, in the worst-case scenario of losing your device, it's still possible to enter your funds with our Cloud Sync and, of course, your password.
This method is accessible only on Coin98 Super App, and the restore wallet process will be decrypted using your password. No one, even Coin98, has access to your funds; therefore, you must remember your password for this recovery process.
Aside from the usual manner, Cloud Sync is another option for users to diversify their method of backups: Keep your passphrase in the safe place, opt-in Cloud Sync with a password. Cool! Your wallet security is now upgrading to the next level!
Users' security is always our top priority, we will try to bring even more features in the future. Stay tuned!
How to activate Cloud Sync to Coin98 Super App
Have you updated your App to the latest version (V11.3.2) yet? Check it out and make sure all preparations get done.
New to Coin98 Super App? Download and enjoy now at https://coin98.com/wallet.
Now let's start activating your Cloud Sync and experience the new backup approach. Full instructions here.
FAQs
Is Cloud Sync safe?
The Coin98 system will encrypt the passphrase with your desired wallet when you enable Cloud Sync. You will manage it with your generated password.
The encrypted recovery phrase will be stored in your iCloud or Google Drive under your control. If anyone intends to interact with your fund, they need both encrypted files and passwords to unlock your wallet. Please don't reveal this important information to anyone.
To enhance the protection, make sure that you enable Google Authentication for your email and other security methods.
What if I delete my encrypted keys or lose access to my cloud account?
Under the circumstance of losing access to your cloud account, you can use passphrases or private keys provided when you first created the wallet to restore it.
Can Apple or Google control my funds?
No. Your passphrases are automatically encrypted so that no one can access your wallet, not even Coin98, Apple or Google. The only way to access your wallet is by your generated password.
What happens if I forget my password?
Be aware that Coin98 can't recover your password. If you forget your password, you can still restore your wallet by passphrases and private keys to access your funds.
If I lose my smartphone, will I lose the funds in my wallet?
No. Because of the non-custody of Coin98 Super App, you can download it on a new device and restore your wallet.
About Coin98 Super App
Coin98 is the #1 crypto super-app designed to seamlessly connect a billion users to the crypto world safely and securely. We offer users a comprehensive and trusted ecosystem of essential services across the globe, including a non-custodial, multichain NFT & cryptocurrency wallet, built-in DEXs, Cross-chain Bridge & DApp Browser, a powerful Terminal, attractive Earn, Gift & Campaign, and Others.