Coin98 Super App
Coin98 Super App officially opens the gate with whole new pleasurable features for NFT projects
Introducing non-fungible token supported: A focal-point hub inside Coin98 for the out-of-this-world NFT projects.
Introducing non-fungible token supported: A focal-point hub inside Coin98 Super App for the out-of-this-world NFT projects.
With the advent of NFT, the world now has to redefine the meaning of ownership. As the need for one focal-point hub of the NFT industry, we have officially opened the gate with whole new pleasurable features for NFT projects.
Store, send, and receive multi-chain NFTs
Coin98 Super App provides a cosmos for safe, straightforward handling and storage of NFTs. Our users are able to store, send and receive multi-chain NFT directly on all EVMs and Solana.
The eye-catching User Interface is now onboard for NFTs. Search, track and view collections easily for users to keep nourishing.
It's now available for storing image NFTs with PNG, JPEG format and video NFTs with MP4 format.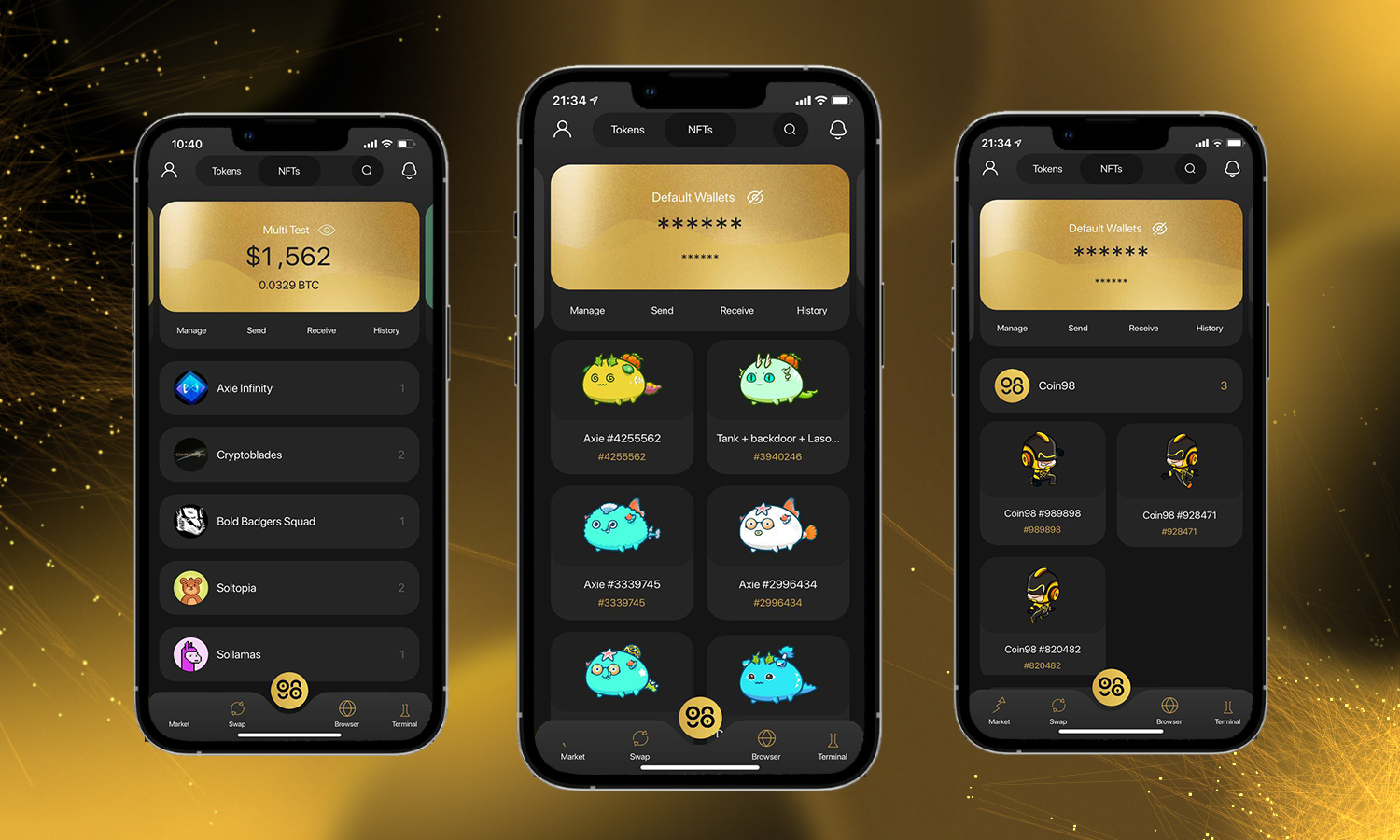 Gamers now can feast their eyes with Animated NFT
For the first time, we build motion for every in-game NFTs integrated with the Coin98 Super App. GameFi NFTs now can wave hello!
Each NFT shares its own attributes, story, and description that highlight the unique properties.
For gamers, attributes of game characters are synced in Coin98 Super App. Users can view information about the character's strengths and attributes.
Play immediately with your best-loved GameFi
The Play button is available in every NFT. It's always ready to enter back your GameFi anytime. Users only need one wallet to access multiple chains and multiple GameFi. Having more fun with less action!
Display NFTs automatically on numerous blockchains
Taking the users' satisfaction as our motivation, in this latest version, we are thrilled to announce that Coin98 will support NFT projects. Our next-level integration allows each NFT project to delight in the multi-chain flow, interact with 750,000+ users, and cohere with our pleasurable features.
Coin98 Super App is the #1 crypto super-app that supports storing and NFT natively on the Mobile App and Extension Wallet. It now supports displaying NFTs automatically on various blockchains including Avalanche (C-Chain), BNBChain, Ethereum, Polygon, which makes it distinguished among NFT wallets in crypto space.
Create your own NFTs easily on Coin98 Super App
Apart from NFT storage, Coin98 Super App added a handy tool, called NFT Issuer. It allows users to issue their own NFTs easily on the mobile app.
Let's unleash users' creativity and make it unique by issuing NFTS. After issuance, they can send NFTs to their friends, beloved community or set a price on the NFT marketplace.
All you need to do is send NFTs to Coin98 Super App, the rest let us care for you!
Are you ready to explore the NFT realm on Coin98? Take a tour of the instruction before starting here.
Moving ahead
We have completed our first move of bringing NFT kingdom into Coin98 Super App. In the building of our focal-point hub, here's the excitement for the next steps:
New blockchain NFT supported
New NFT projects integration
NFT marketplaces integration
New Animated GameFi supported
The next big exchange hub for NFT users
The new best experience is building in. Enjoy our releases and stay tuned for upcoming initiatives!
About Coin98 Super App
Coin98 is the #1 crypto super-app designed to seamlessly connect a billion users to the crypto world safely and securely.
We offer users a comprehensive and trusted ecosystem of essential services across the globe, including a non-custodial, multi-chain NFT & cryptocurrency wallet, built-in DEXs, Cross-chain Bridge & DApp Browser, a powerful Terminal, attractive Earn, Gift & Campaign, and Others.