Coin98 On-the-spot | W10.2022
It's that time of the week again! We're so excited to wrap up last week with tons of joys and exciting news. Let's find out below!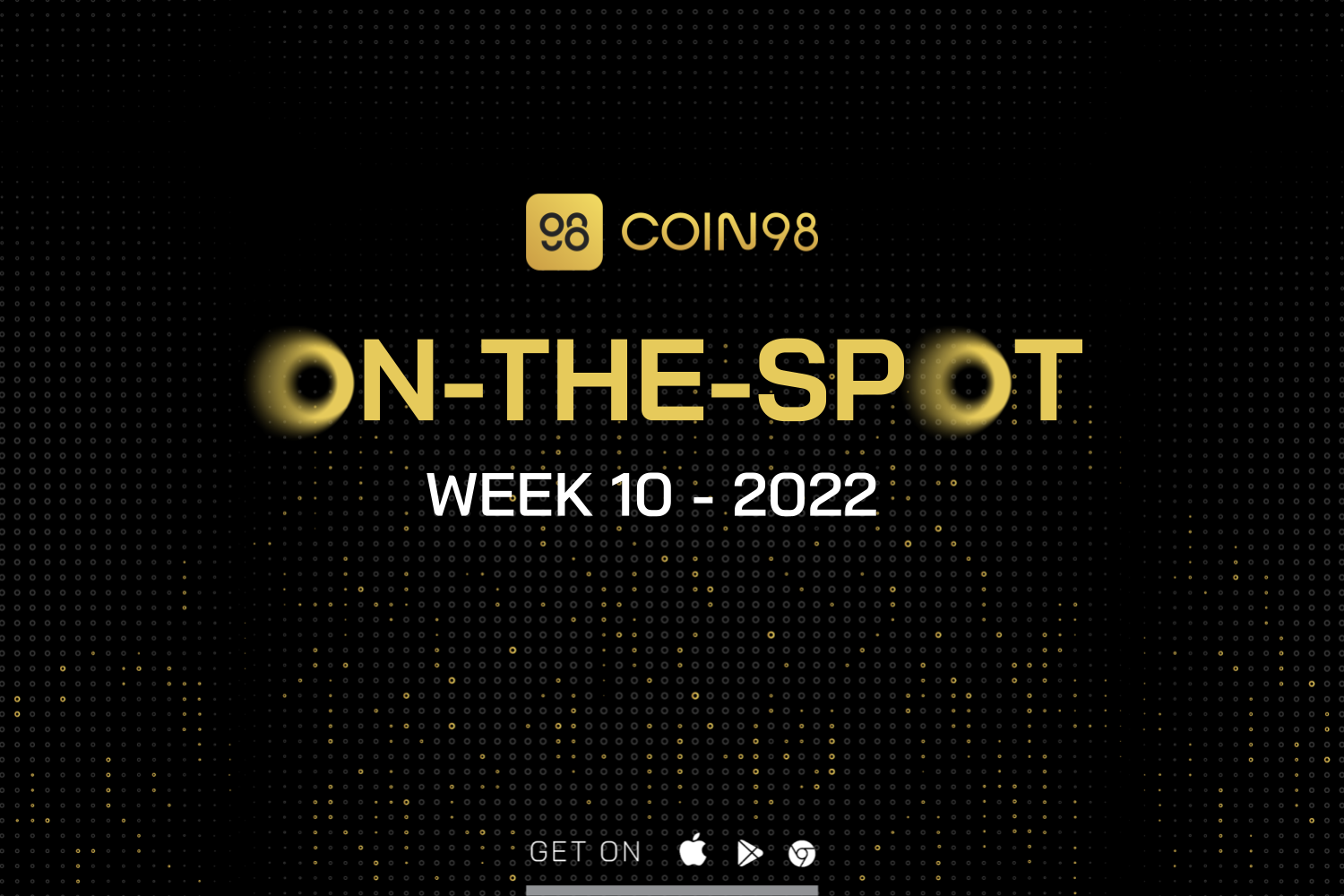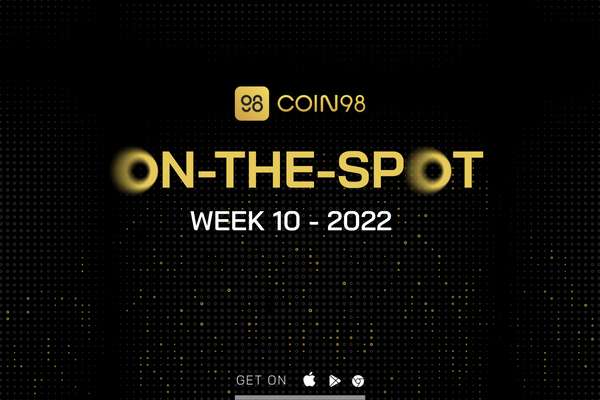 Updates
Finally, it's out! Coin98 Extension V5.8 was live with new features
AMMs integration
In order to sync with Coin98 Super App, Coin98 Extension integrates 6 new AMMs on the native swap, including:
SpookySwap - a decentralized exchange with the highest total locked value (TVL) on the Fantom ecosystem according to DeFi Llama statistics. SpookySwap is an AMM that can create a seamless swap experience while taking advantages of Fantom's own low transaction costs and fast transaction times.
SpiritSwap is built on the Fantom Opera Chain, considered as a decentralized exchange (DEX) with a suite of DeFi services such as trading, staking, and farming. It mainly focuses on deep liquidity, which allows users to swap tokens with less slippage and more reliability across the exchange.
MojitoSwap - the top #1 AMM on KuCoin Community Chain network, MojitoSwap offers a great trading experience, leveraging the low-latency & low gas fee from this blockchain.
KuSwap - the leading AMM protocol with the lowest platform transaction fees (0.1%) built on top of the KuCoin Community Chain (KCC). Thanks to this blockchain, KuSwap ensures increased performance and lower network transaction costs.
KoffeeSwap is the first decentralized exchange on KuCoin Community Chain. In addition to token swaps, KoffeeSwap has integrated real-time charts and transaction history for users to trade efficiently.
Last but not least, OolongSwap - the biggest DEX on Boba Network. Users now can experience trading with optimized gas fee, lowest slippage rate and transaction throughput improvement from OolongSwap right on Coin98 Extension.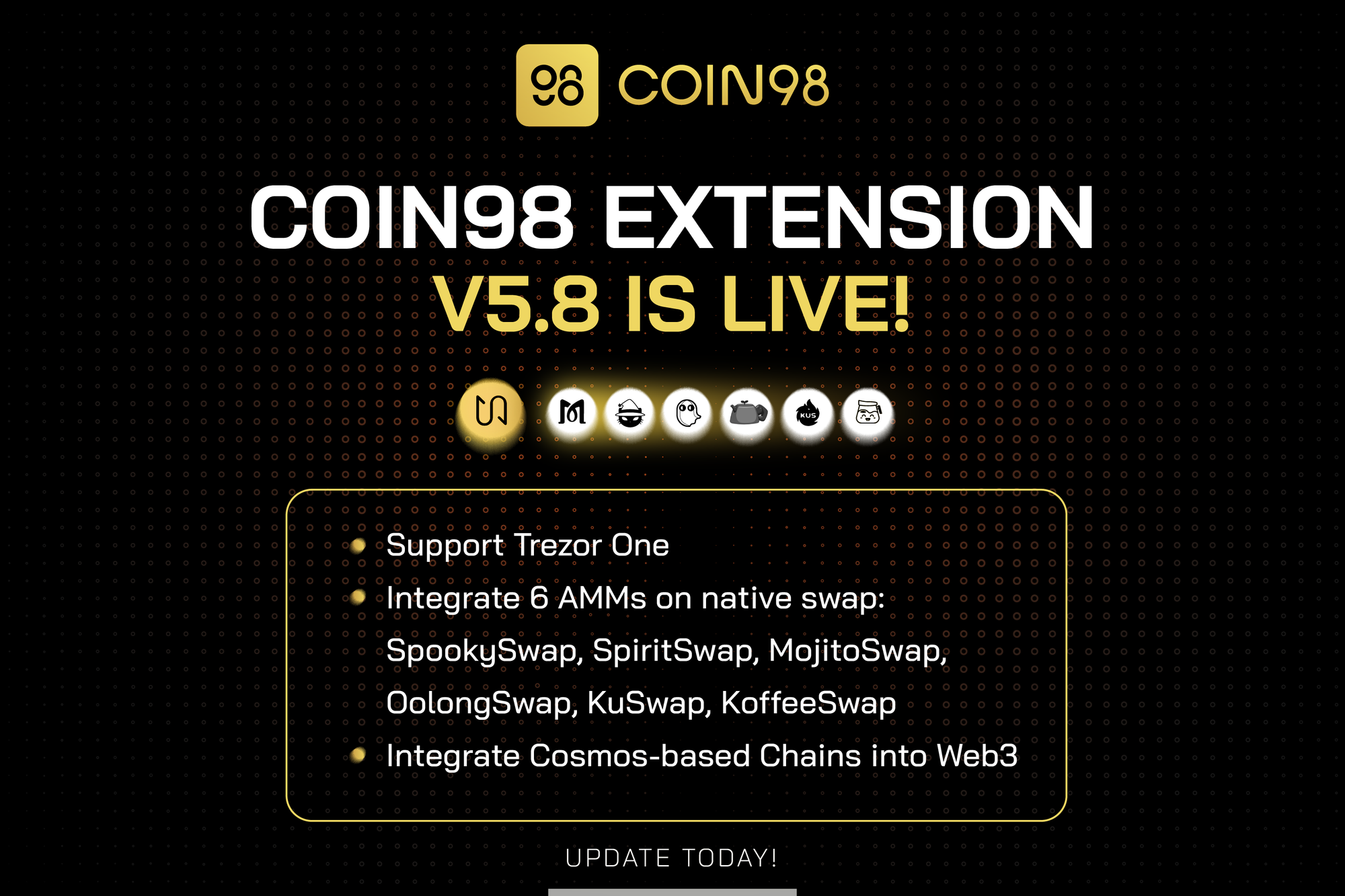 Read more: Reasons you should explore the Coin98 Super App AMM & SpaceGate Universe
Support Trezor One
Coin98 Extension supports hardware wallet connection so users can enjoy the services securely and conveniently, for example: staking, buying and selling coins/ tokens…Also, this increases the ability to skin in the game and enjoy better DeFi services from Coin98.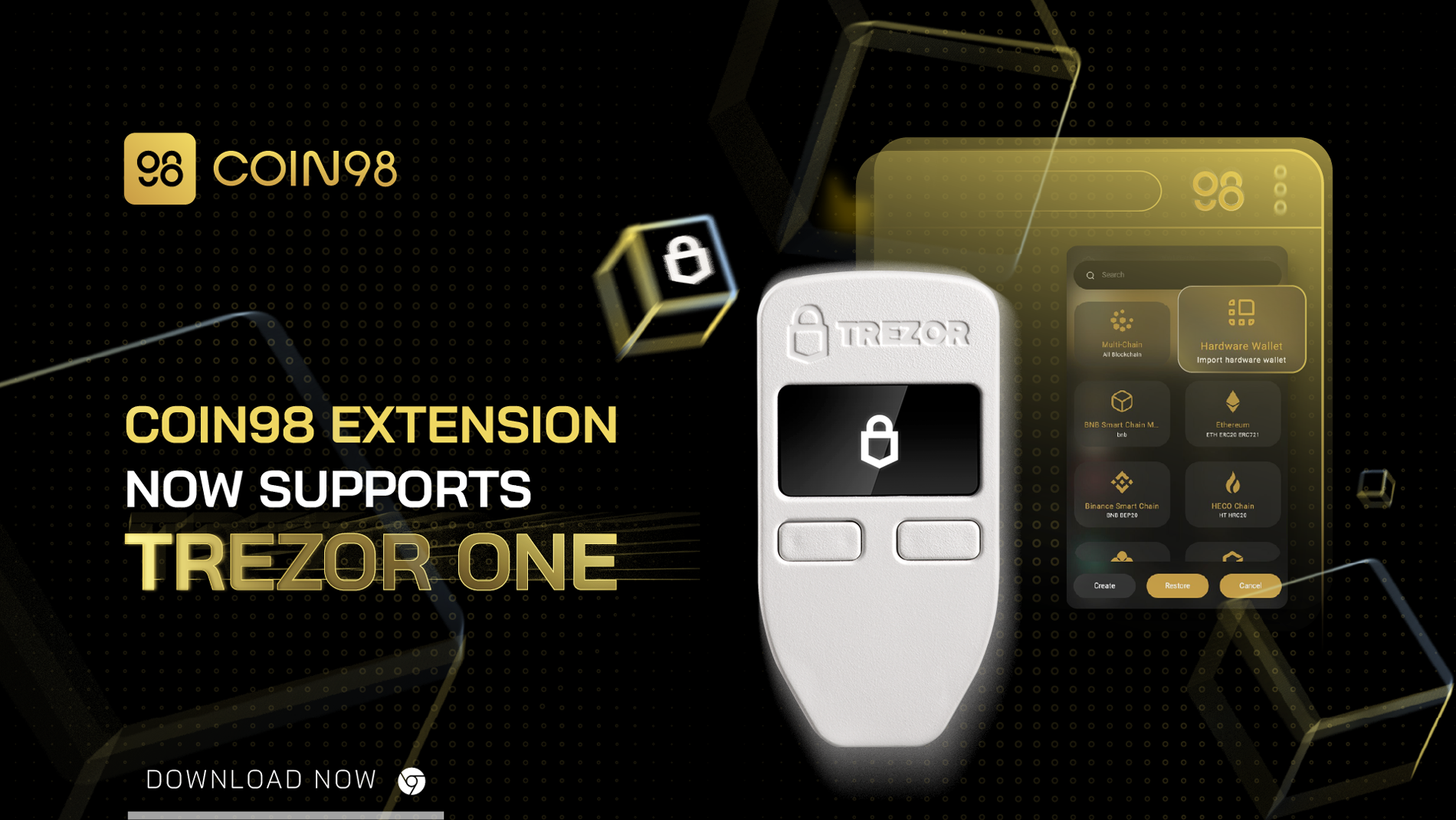 Read more: How to connect & use Trezor One hardware wallet on Coin98 Extension Wallet
Integrate Cosmos-based Chains
Coin98 now supports blockchains developed on Cosmos, users will soon be able to connect and experience with DApps easily through Coin98 Extension.
Update your Coin98 Extension version and be ready for this unlock!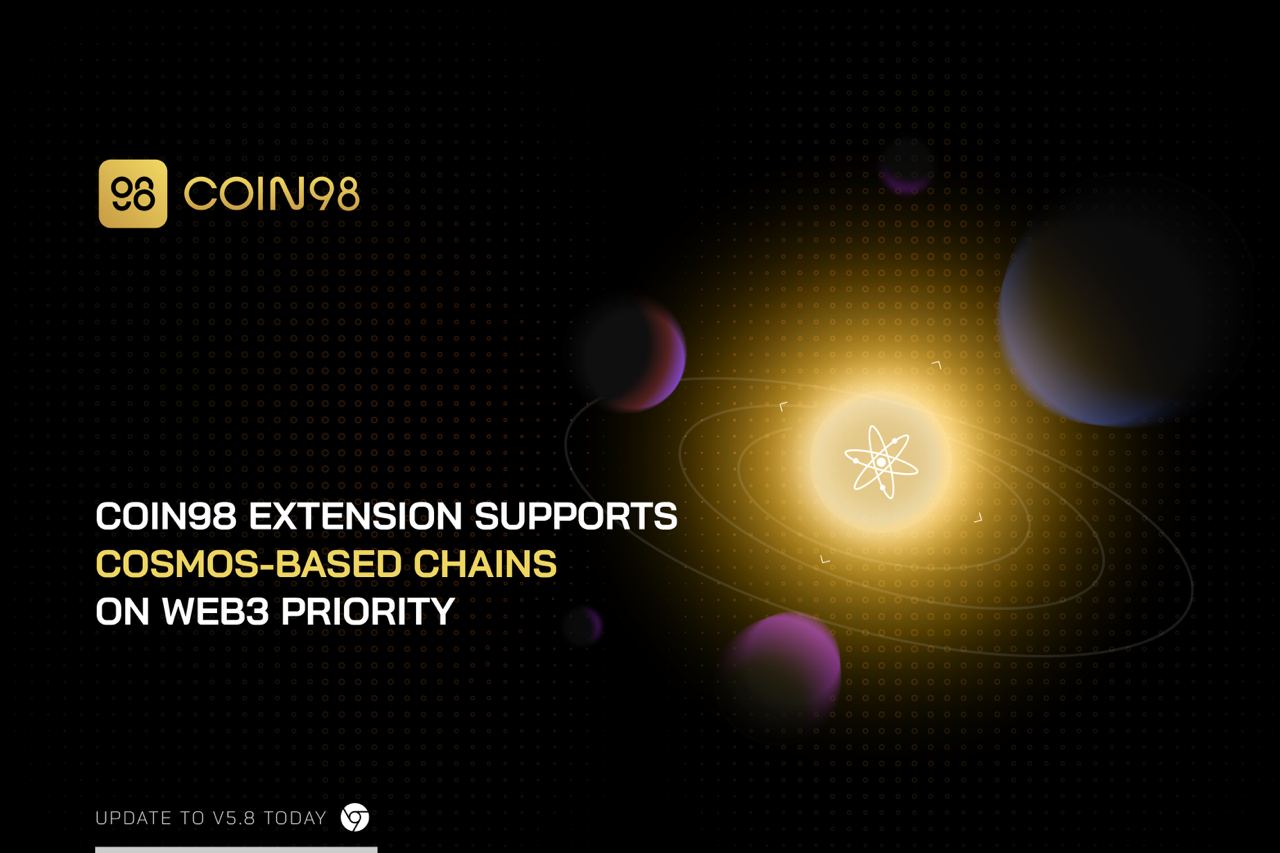 Read more: How to switch Web3 Priority on Coin98 Extension Wallet
Event
Newbie Welcoming
The more the merrier, Coin98 introduces to you the new event "Newbie Welcoming" with a total prize of $5000 C98. To encourage new users to join the Coin98 Super App, new users will receive the prize when they register for Coin98 Super App during March 10 - 31, 2022, and finish 2 tasks in the pool.
Want to find out the detailed scheme? Click HERE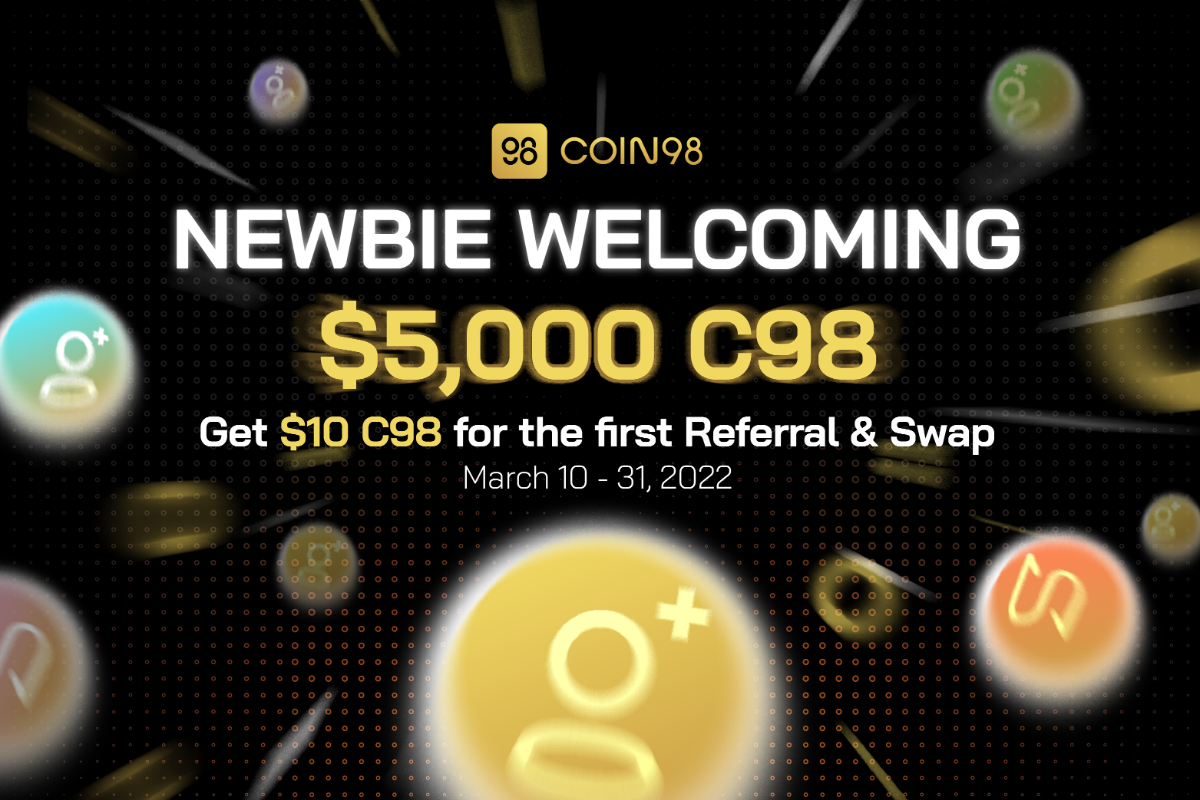 Proposal to add C98 on dForce
C98 to become collateral on dForcenet. This will allow more than 50,000 C98 holders and supporters to get the most out of their assets. As a result, the dForce platform will receive additional TVL and borrowing volume, which will benefit DF investors. Both dForce and Coin98 want to create a multi-chain suite of goods, making it easier for the two to work together.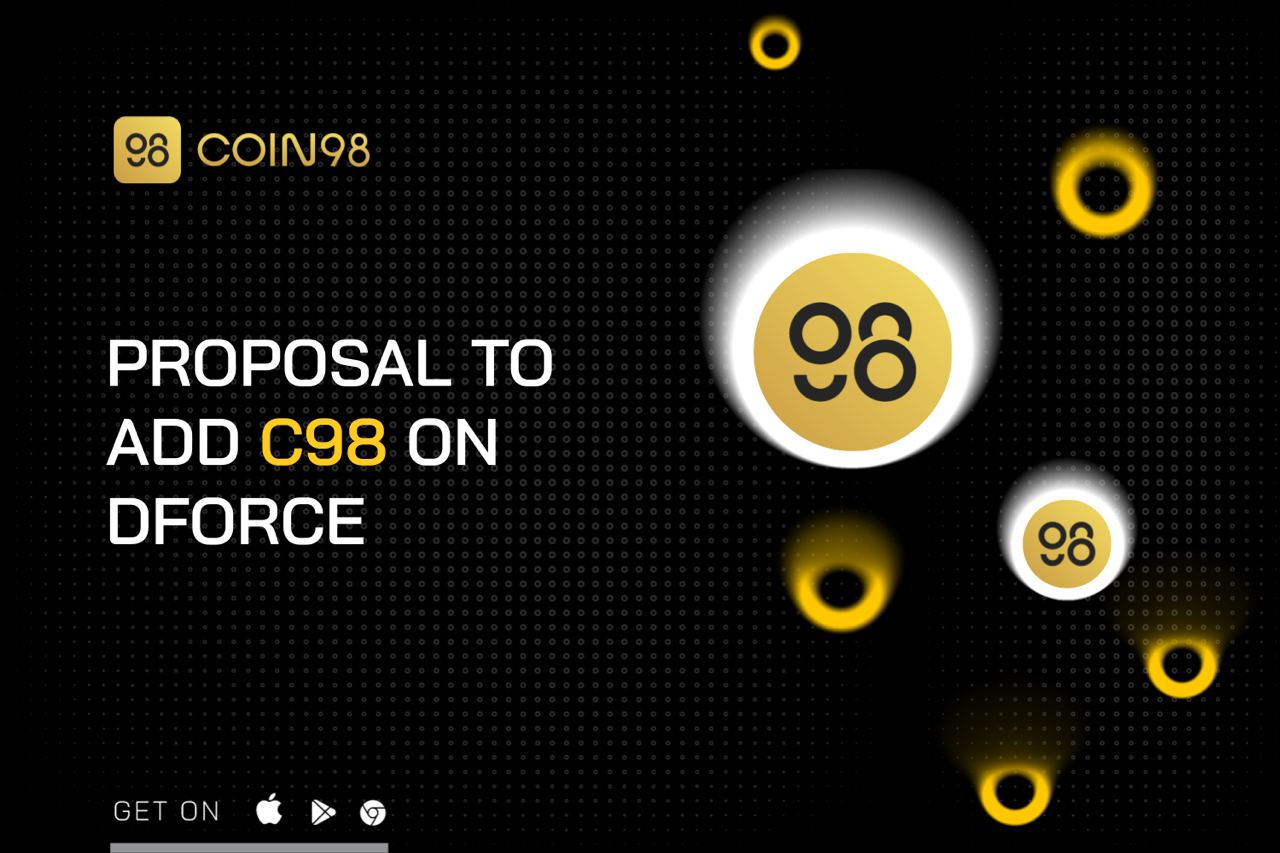 DApps Supported
Coin98 team is always up to date on the latest blockchain innovations in order to support the DApps and brings to users convenience when using Coin98 Super App. Last week, we supported 3 new dApps, which are:
Crema Finance: a powerful liquidity protocol built on Solana that provides superior performance for both traders and liquidity providers. Crema Finance is mainly composed of the following modules: Concentrated, Liquidity Market Maker, NFT Liquidity Farming, Smart Router. Crema supports a flexible ordering mode. Users can add a single-side asset within a specified price range, which can simulate the trading experience of the limit order trading in a CEX.  This is great news to both personal traders and professional market makers.
Kommunitas: a decentralized and tier-less launchpad. Kommunitas is the solution for Multi-Chain oriented projects with advantages of multi-chain sales, tier-less system, staking, and involve in government function in the future.
Mixture Money: is the yield-bearing interest Stable Coin protocol on Solana. Mixture Money can be seen as the optimal way to save capital with some main advantages such as High capital efficiency, Interest-free, cooperation with many lending protocols on the Solana ecosystem. From there users can earn high profits on Mixture Money.
NFTs and Tokens supported
We are delighted to support several emerging NFTs and new tokens from various blockchains as part of the Coin98 Super App. Because we bring a variety of tokens every week, it's impossible to keep track of new supported tokens. Coin98 Super App now supports a total of 10,000 tokens.
Last week embraced more NFTs to the interface: Metroverse, Dreamers by Yugal, Islands of Avax, XCarnival Lab, Kalmar, Coniunio, Hat Swap City ESP, Ethlings, My crypto heroes, CyberBrokers, Dour Darcels, Blockchain Bandits.
Overview of Coin98 on-the-spot | W10.2022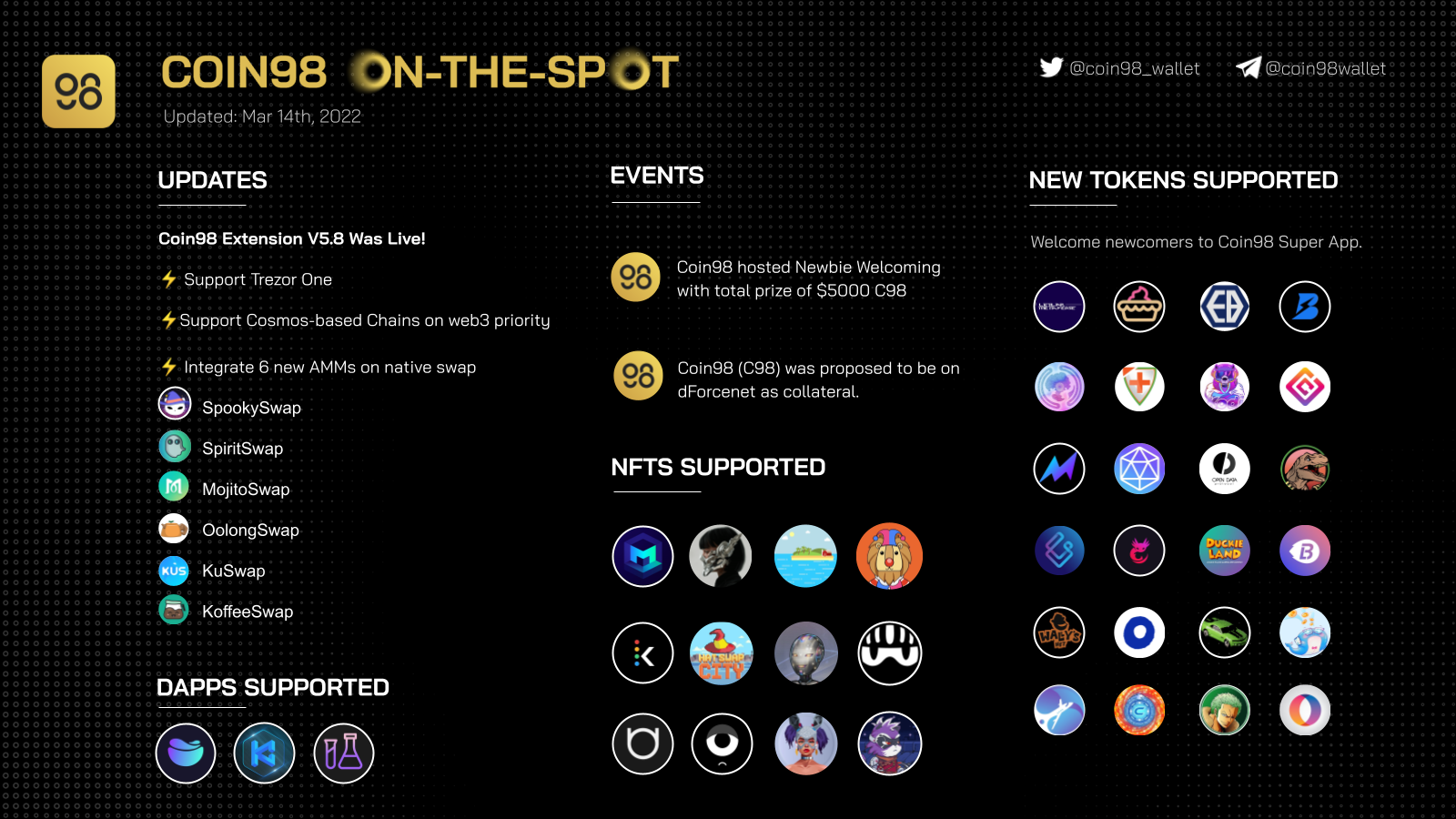 About Coin98 Super App
Coin98 is the #1 crypto super-app designed to seamlessly connect a billion users to the crypto world safely and securely.
We offer users a comprehensive and trusted ecosystem of essential services across the globe, including a non-custodial, multi-chain NFT & cryptocurrency wallet, built-in DEXs, Cross-chain Bridge & DApp Browser, a powerful Terminal, attractive Earn, Gift & Campaign, and Others.