Coin98 Super App
Coin98 Wallet continues to expand the universe with the integration of GateChain - a public blockchain dedicated to asset safety
Coin98 Wallet has integrated with Gate Chain, a next-generation public blockchain to build on-chain asset safety and decentralized trading for all users worldwide.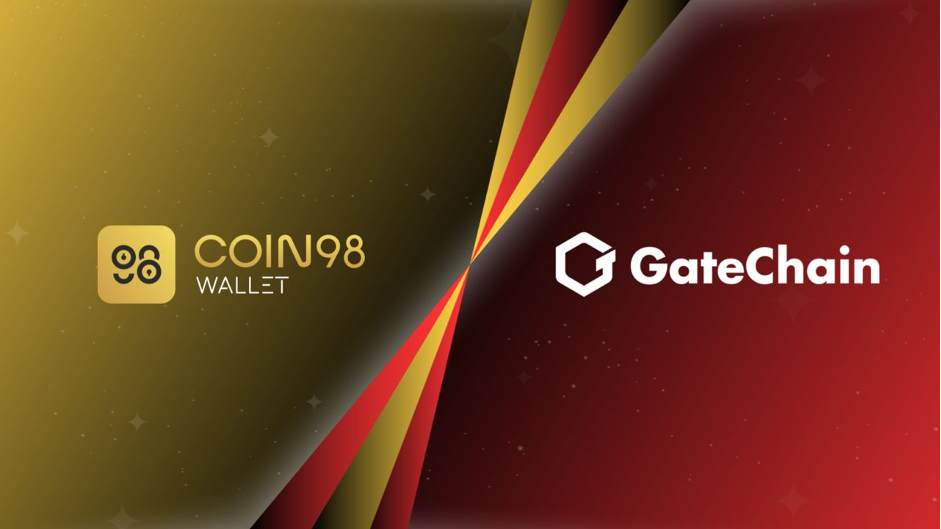 Emerged as one of the fastest-growing DeFi gateways with an ever-expanding ecosystem, Coin98 Wallet empowering 600,000+ users with our simple, secured, non-custodial wallet while taking advantage of the core multi-engine. After numerous customer-centric developments, Coin98 Wallet is also set to expand the ecosystem by building integration with Gate Chain in the latest version 10.2.
GateChain has attracted the attention of many within the crypto space due to its innovative Vault Account feature, tackling the challenges of asset theft and private key loss. Gatechain solves pain points associated with DeFi, like the ever-increasing problem of asset security, smart contract bugs, or management account breaches.
This expansion will provide users with the desired solution to the widely prevalent asset security issue in the cryptocurrency space, guaranteeing fund security. Furthermore, we'd like to support users to easily explore and experience the hottest products built on this complete DeFi Ecosystem. Decentralized trading, lending, liquidity mining, cross-chain transfers, and other high-quality projects will also be supported, alongside this core feature.
Coin98 Wallet users can now create/restore GateChain wallets, as well as store, send & receive GateChain Token (GT), the native token of GateChain and its stablecoin USDG on the Coin98 Mobile Wallet. In the future, Coin98 Wallet hopes to bring GateChain to our DApp Browser where users can freely explore numerous DApps on this blockchain and allow users to one-stop-shop for all their DeFi needs.
How to create a GateChain Wallet on the Coin98 Wallet
Coin98 Mobile Wallet
Before we begin, you need to install or update our Mobile App to the latest version:
Step 1: Open Coin98 Mobile Wallet & click Manage on the home screen.
Step 2: Click Add Wallet, choose the GateChai (GT) icon, and click Create.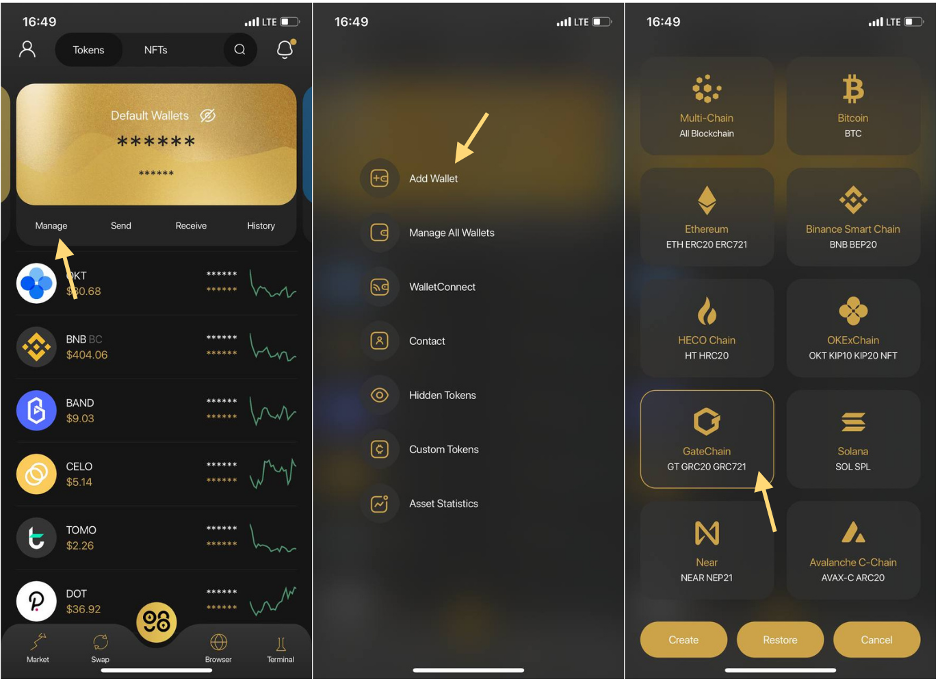 Step 3: Name the wallet. Click Next.
Paste the provided Passphrase/ Private Key into the confirmation box.
After copying & saving your Passphrase, tick the "Backup your recovery key" box to confirm & back up the provided Passphrase & Private Key. Please note that these information are crucial to keeping your assets safe.
Tick the remaining boxes to confirm you're aware of the risks.
Click Create Wallet.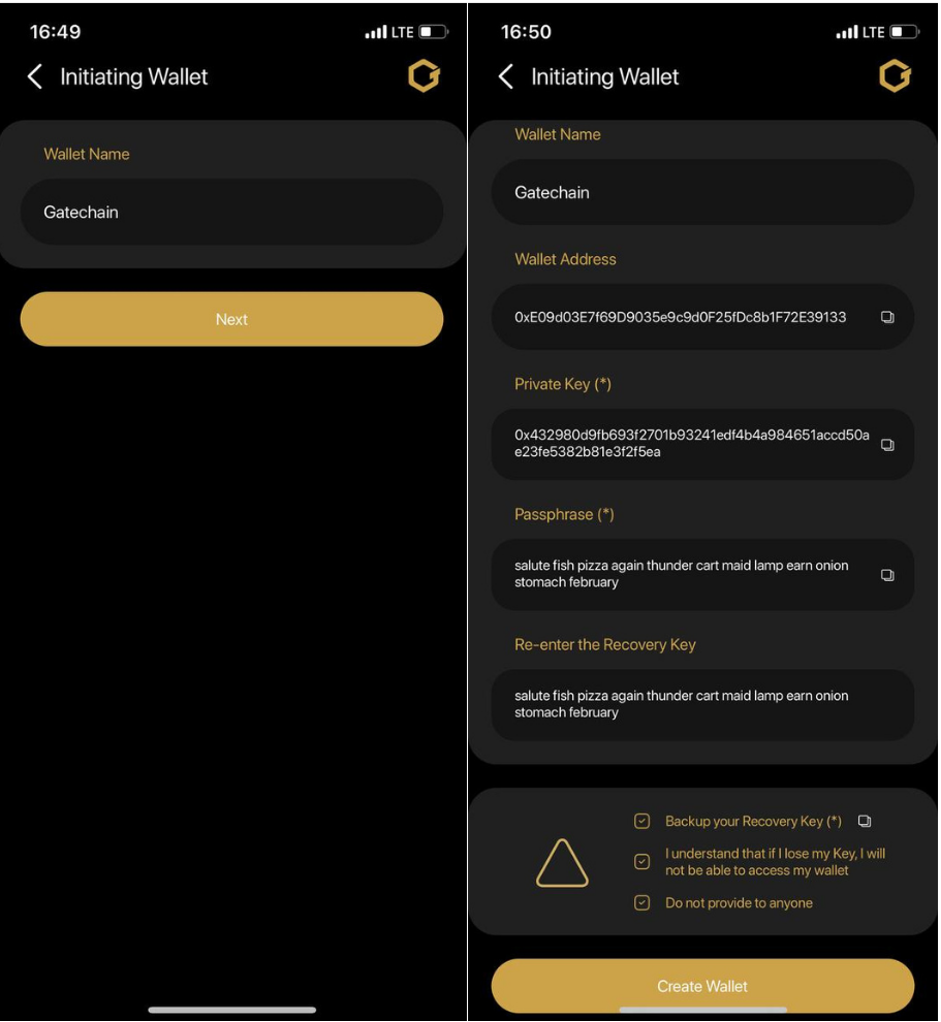 Your GT Wallet will instantly be displayed on the home screen. You can also click Manage to check your wallets.
Users can follow this step-by-step guide for further instructions on how to send and receive GT tokens on the Coin98 Mobile Wallet.
Coin98 Extension Wallet
Start by installing our Extension Wallet on Google Chrome.
The detailed instructions on how to create a GateChain Wallet, send and receive GT tokens on the Coin98 Extension Wallet can be found through this guide.
Note: The gas fee is approximately 0.0031 GT for each transaction on GateChain.
About GateChain
GateChain is an innovative public chain focused on secure storage and value exchange of Blockchain assets. Gatechain solves the threat of the user's digital assets being stolen and the loss of the private key. Innovative features include decentralized transactions and cross-chain transfers.
Twitter | Github| Medium | Facebook
About Coin98 Wallet
Coin98 Wallet is a non-custodial wallet used to store, manage, trade, swap multi-chain, multi-source digital, and NFT assets. It supports the most popular chains, including BTC, ETH, TOMO, Tron, Binance Smart Chain, Solana, Polkadot, Kusama, HECO Chain, Near, Avalanche X-Chain & C-Chain, Binance Chain, Celo, BandChain, Kava, Terra, Cosmos, ThorChain, Fantom, Polygon, Persistence, XDai, Kardiachain, Ronin, GateChain, OKExChain, Klaytn, .... Coin98 Wallet has both the Mobile App and the Extension version that act as a gateway, connecting users to the DeFi world.
Download: iOS | Android | Extension
Follow us: Twitter | Website | Docs | Blog