Coin98 Super App
Coin98 Wallet integrates Boba Network Public Mainnet and supports its emerging dApps
Coin98 Wallet has supported Boba Network since its successful Mainnet Beta Launch (August 2021) and now integrates its Public Mainnet on Mobile App to serve the growing demands of Layer 2 blockchain applications and the next wave of mass adoption.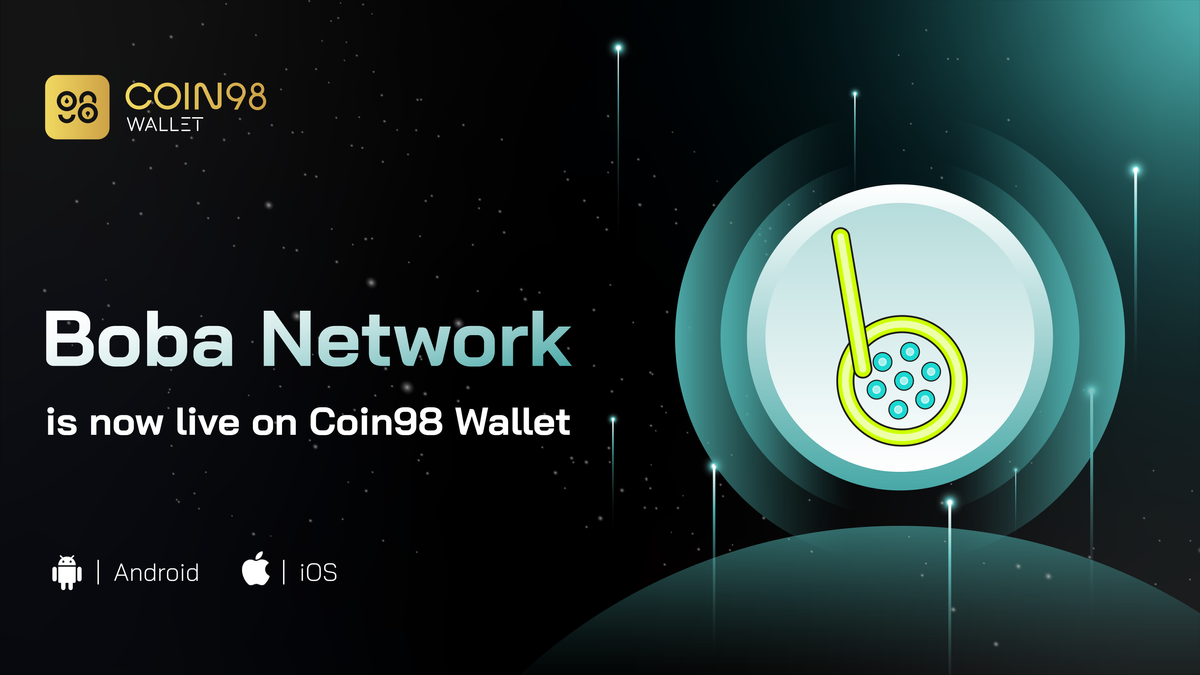 The Ethereum network is widely utilized in the development of decentralized applications, but everyone is well aware of its high gas prices and network congestion. Subsequently, Layer 2 scaling solutions are designed to make the network more scalable, faster, and more affordable than Ethereum. Just releasing Public Mainnet in September 2021, Boba Network - the next blockchain integrated on Coin98 Mobile Wallet is considered as a welcome relief for Ethereum traders, breathing life into Coin98's quest for DeFi mass adoption.
Boba Network Public Mainnet is an EVM compatible Layer 2. Combining the OMG network's scaling capabilities with the optimistic Rollups, the network aims to reduce the gas fees along with delivering an excellent user experience. What makes Boba Network Mainnet different from those is its ease of transfer of cryptos from Boba to Ethereum, which only takes a few minutes instead of the conventional seven days.  Its NFT bridge will also allow the NFTs to launch on the network easily and cost-effectively.
By integrating Boba Network Public Mainnet, Coin98 Wallet aims to connect users with one of the greatest immediate ways out of Ethereum's high gas fees. Coin98 Wallet users can now create/ restore Boba Network wallets, manage assets on this blockchain natively on Coin98 Mobile Wallet from V10.3.0 onwards, and on Coin98 Extension & Web Wallet in the upcoming versions. Our team is also welcoming and working on bringing a fast & flawless experience to users when connecting to DApps built on Boba Network.
Furthermore, the cross-chain bridge between Ethereum and Boba Network is our solution to help onboard more of Coin98 Wallet's ever-growing community to this next-gen Layer 2 Solution. This opens the door to more exciting experiences while building a launchpad for Boba Network is one of the fastest-growing crypto markets.
In the foreseeable future, Coin98 Wallet and Boba Network will be collaborating closely to move forward together lowering the entry barrier to the crypto space. Our strong product-market fit coupled with Boba Network Public Mainnet's powerful technology will continue to enhance the user experience,  bringing new innovation and untapped value to DeFi. Coin98 Wallet will continue to support Boba Network in achieving the goal of delivering a faster, cheaper, more seamless experience for the next billion users of Ethereum.
How to access your Boba Network Wallet on the Coin98 Mobile Wallet
Before we begin, you need to install or update our Mobile App to the latest version:
We recommend you create a Multi-Chain wallet on Coin98 Wallet to easily manage and get access to all single blockchain wallets with only one single Passphrase.
If you are already a Coin98 Wallet user, you should refresh your multi-chain wallets to get updated with Boba Network wallet, as well as other integrated blockchains on the latest version automatically. Follow the instructions below.
Your ETH (on Boba Network) Wallet will instantly be displayed on the home screen. You can also click Manage to check your wallets.
Users can follow this step-by-step guide for further instructions on how to send and receive ETH (Boba Network) on the Coin98 Mobile Wallet.
Besides, users can also experience the native cross-chain bridge to convert assets from Ethereum to Arbitrium, walk through how to use Arbitrum cross-chain bridge here.
About Boba
Boba is an Ethereum Virtual Machine (EVM) compatible Layer 2 Optimistic Rollup that helps Ethereum smart contracts scale while delivering a delightful user experience. Boba enables Ethereum developers to build dApps that trigger code running on web-scale infrastructure such as AWS Lambda, making it possible to leverage sophisticated algorithms that are far too expensive, far too slow, or otherwise practically impossible to execute on-chain. Learn more at boba.network.
Website | Github | Telegram | Twitter | Discord
About Coin98 Wallet
Coin98 Wallet is a non-custodial wallet used to store, manage, trade, swap multi-chain, multi-source digital assets, and NFTs. It supports the most popular chains, including BTC, ETH, TOMO, Tron, Binance Smart Chain, Solana, Polkadot, Kusama, Huobi ECO Chain, Near, Avalanche, Binance Chain, Celo, Band, Kava, Cosmos, THORChain, Fantom, Polygon, Terra, Persistence, Klaytn, OKExChain, GateChain, Kucoin Community Chain, Boba Network, Optimism, Arbitrum on Ethereum, Arbitrum on xDai,... Coin98 Wallet has both the Mobile App and the Extension version that act as a gateway, connecting users to the DeFi world.
Download: iOS | Android | Extension
Follow us: Twitter | Website | Docs