Coin98 Super App
Coin98 Wallet integrates with Klaytn stepping closer to the goal of driving DeFi mass adoption
With a mission to drive DeFi to all aspects of the world, Coin98 Wallet integrates Klaytn - a service-centric platform that brings user-friendly blockchain experiences to millions.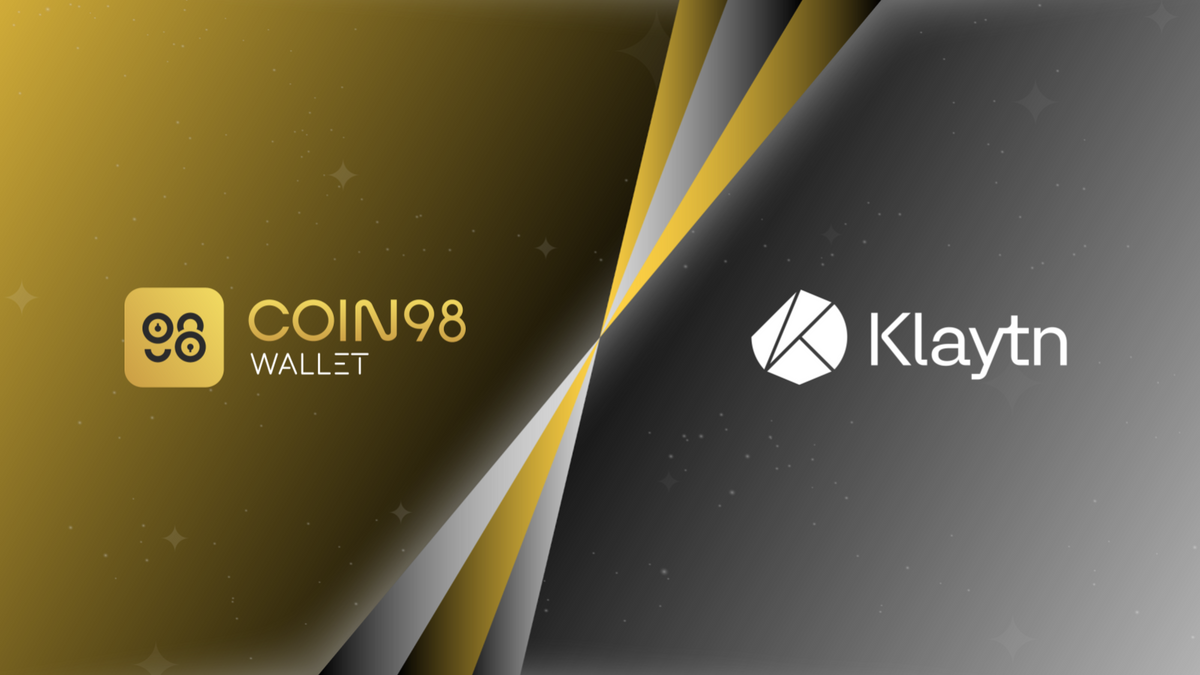 Coin98 Wallet - a well-known non-custodial cryptocurrency wallet that uses multi-engine as its core has recently released the new version, introducing 33+ blockchains in total, with Klaytn being one of the most recent to join. Klaytn is now available in all our Wallet versions: mobile, extension, and web wallet. This expands the capabilities of our DeFi gateway, allowing users to explore more of the Klaytn Ecosystem.
Klaytn is a global public blockchain built by Kakao, the company behind South Korea's most popular messaging app "KakaoTalk". With the goal of integrating business infrastructures with blockchain solutions, enabling businesses, and entrepreneurs today to capture value using blockchain technology, Klaytn is step by step affirming their position, establishing the key partnerships with numerous reputable global brands i.e. LG Electronics, SK Network, Shinhan Bank, Binance, OpenSea, Axie Infinity,... Klaytn has been gaining attention in the international market with many achievements in expanding their DeFi ecosystem and NFT sector with the minting service 'KrafterSpace' making creating and managing NFTs simple for everyone.  
From version 10.2, Coin98 Wallet users can now create/ restore Klaytn wallets, as well as store, send & receive KLAY tokens natively on all Coin98 Wallet platforms: mobile, extension, and web wallet. Furthermore, Coin98 Wallet supported the promising DApps built on Klaytn, bringing users more opportunities to explore the DeFi ecosystem of Klaytn in their own ways. Also in this version, the user experience on Klaytn is moved to the next level with the multi-send features on both Mobile App and Extension. This tool helps users send Klaytn tokens to multiple addresses simultaneously, saving a lot of time, effort, and transaction fees with no limitation of recipient addresses.
As removing friction end-users come across in their customer journey on blockchain-powered products is at the center of both Klaytn and Coin98 Wallet, Coin98 Wallet will be supporting  Klaytn on the way to building a stronger DeFi ecosystem. With this integration, Coin98 Wallet also hopes to open the door for all end-users regardless of their level of crypto-literacy to highly usable and user-friendly blockchain applications built on Klaytn while ensuring transparency and security on their DeFi journey. We will be collaborating closely with Klaytn to create lasting value for all users within our ecosystem and fulfill our mutual goal of mass adoption of blockchain applications.
How to create a Klaytn Wallet on the Coin98 Wallet
Before we begin, you need to install or update our Mobile App or Extension to the latest version:
We recommend you create a Multi-Chain wallet on Coin98 Wallet to easily manage and get access to all single blockchain wallets with only one single Passphrase.
If you are already a Coin98 Wallet user, you should refresh your multi-chain wallets to get updated with Klaytn wallet, as well as other integrated blockchains on the latest version automatically. Follow the instructions below.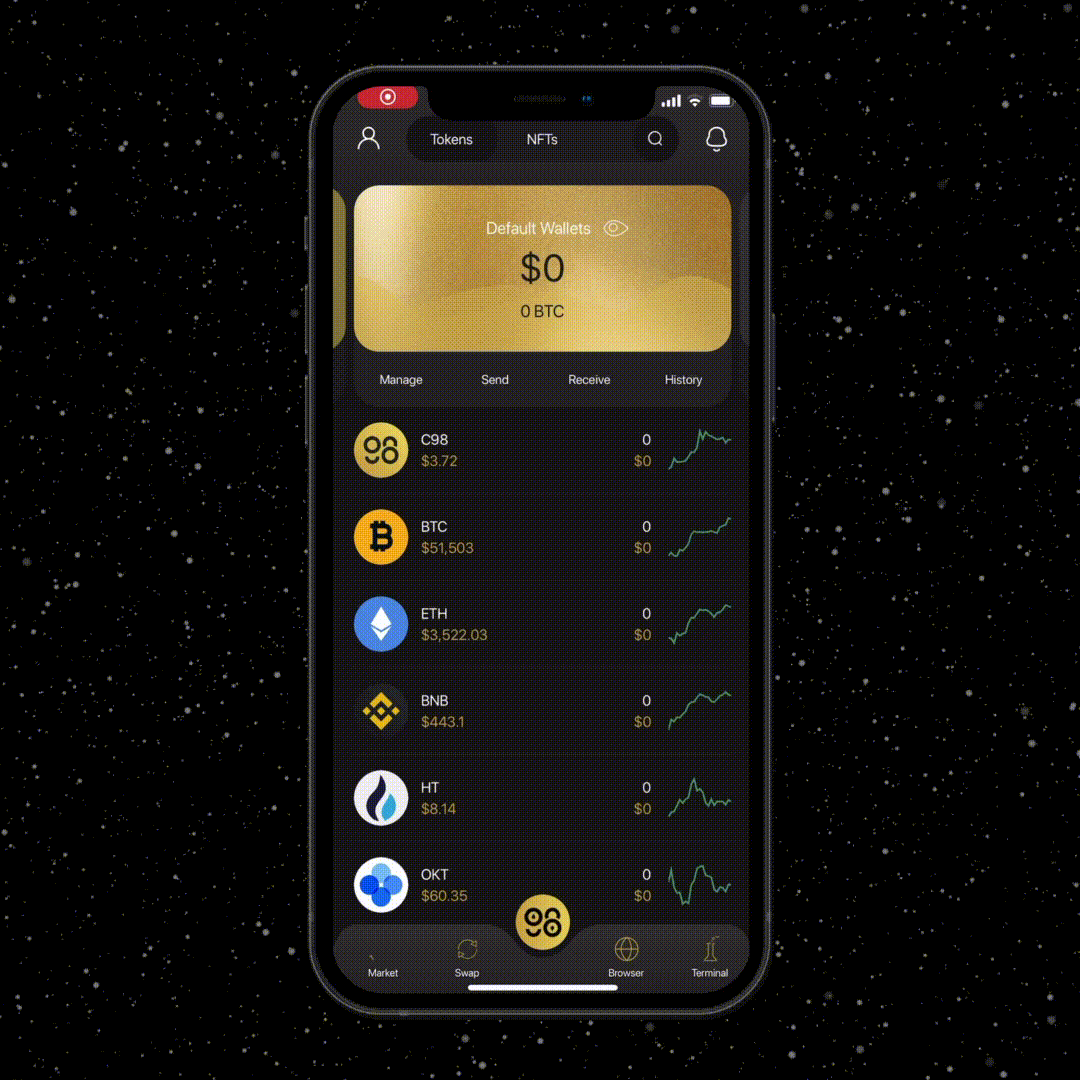 Your KLAY Wallet will instantly be displayed on the home screen. You can also click Manage to check your wallets
Users can follow this step-by-step guide for further instructions on how to send and receive KLAY tokens on the Coin98 Wallet.
Thanks for reading and stay tuned for more exciting news. Remember the best way to stay up-to-date on all partnership update is to subscribe to Coin98 Blog. If you are a member of the Klaytn Ecosystem and want to integrate our wallet, welcome to Coin98 Extension Wallet Developer Guide. This documentation contains guides for developers to get started developing on Coin98 Extension Wallet.‌
About Klaytn
Klaytn is a global public blockchain platform developed by Ground X, the blockchain subsidiary of the leading South Korean Internet company, Kakao. Klaytn is a service-centric blockchain platform providing an intuitive development environment and friendly end-user experience. It is built upon solid reliability and significant stability with substantial service development for mass adoption. The platform allows real-world applications of large scale to be produced right away so that our end-users can make full use of services without much expertise in blockchain or cryptocurrency.
Website | Group | Facebook | Twitter

About Coin98 Wallet
Coin98 Wallet is a non-custodial & NFT wallet used to store, manage, trade, swap multi-chain, multi-source digital assets. It supports the most popular chains, including BTC, ETH, TOMO, Tron, Binance Smart Chain, Solana, Polkadot, Kusama, HECO Chain, Near, Avalanche X-Chain & C-Chain, Binance Chain, Celo, BandChain, Kava, Terra, Cosmos, ThorChain, Fantom, Polygon, Persistence, XDai, Kardiachain, Ronin, GateChain, OKExChain, Klaytn, Boba Network, Arbitrum, Optimism. Coin98 Wallet has both the Mobile App and the Extension version that act as a gateway, connecting users to the DeFi world.
Download: iOS | Android | Extension
Follow us: Twitter | Website | Docs | Blog