Coin98 Super App
Coin98 Wallet September 2021 | Highlights & Future Plans
Let's summarize the highlights of Coin98 Wallet last September 2021 in this article.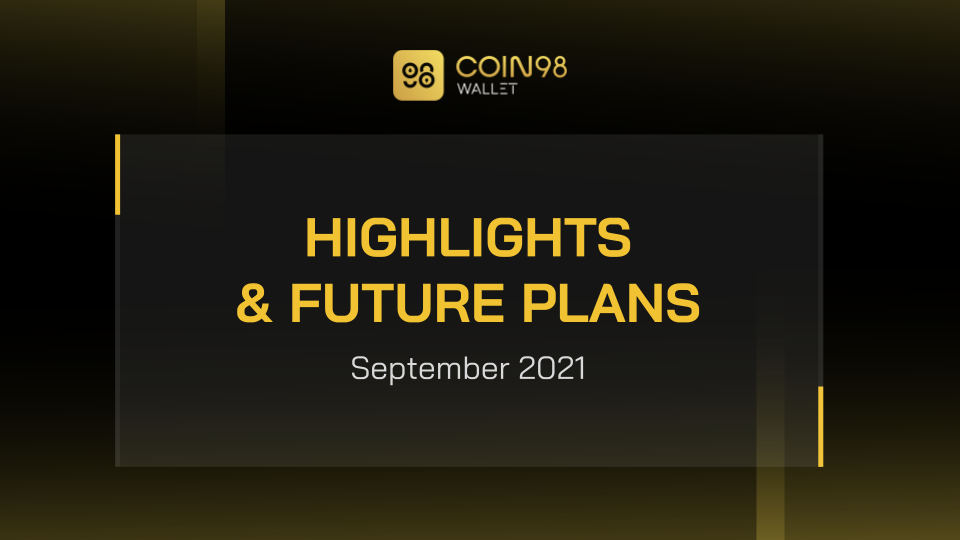 To be ready to expand the ecosystem and move towards blockchain mass adoption, Coin98 Wallet has constantly improved new features by supporting NFTs with big updates on Mobile Wallet v10.2.1, and multiple powerful features on Extension Wallet v5.5.3. We also expanded and integrated with more partners in the DeFi space such as OKExChain, Structure Finance, and Kardiachain. Many airdrop events have been held with our partners for hundreds of thousands of users all over the ecosystem. Let's summarize the highlights of Coin98 Wallet last September 2021.
C98 continues to be listed on 16 popular exchange platforms with large trading volumes
In only 2 months, C98 was listed on popular exchange platforms with large trading volumes such as Binance, FTX, Pancakeswap, and Sushiswap. This September, C98 has landed on more top platforms such as HuobiGlobal Futures, AscendEx Global, Bitazza, and Buicornswap. The time for us to cross the 2x exchange platforms threshold is getting closer and closer!
Product Developments
Coin98 Mobile Wallet
In September, Coin98 Labs released the big updated versions of the Coin98 Mobile Wallet: V10.2.0 with NFT support and followed by the latest V10.2.1.
We have officially supported NFT projects on Ethereum, Binance Smart Chain, and Solana. At first, Coin98 Wallet supported 8 new top-tier NFT projects: Axie Infinity, My Defi Pet, Faraland, CryptoBlades, Sipher, Soltopia, Bold Badgers Squad, Sollamas NFT. We are welcoming new NFT projects to join and cooperate in the near future.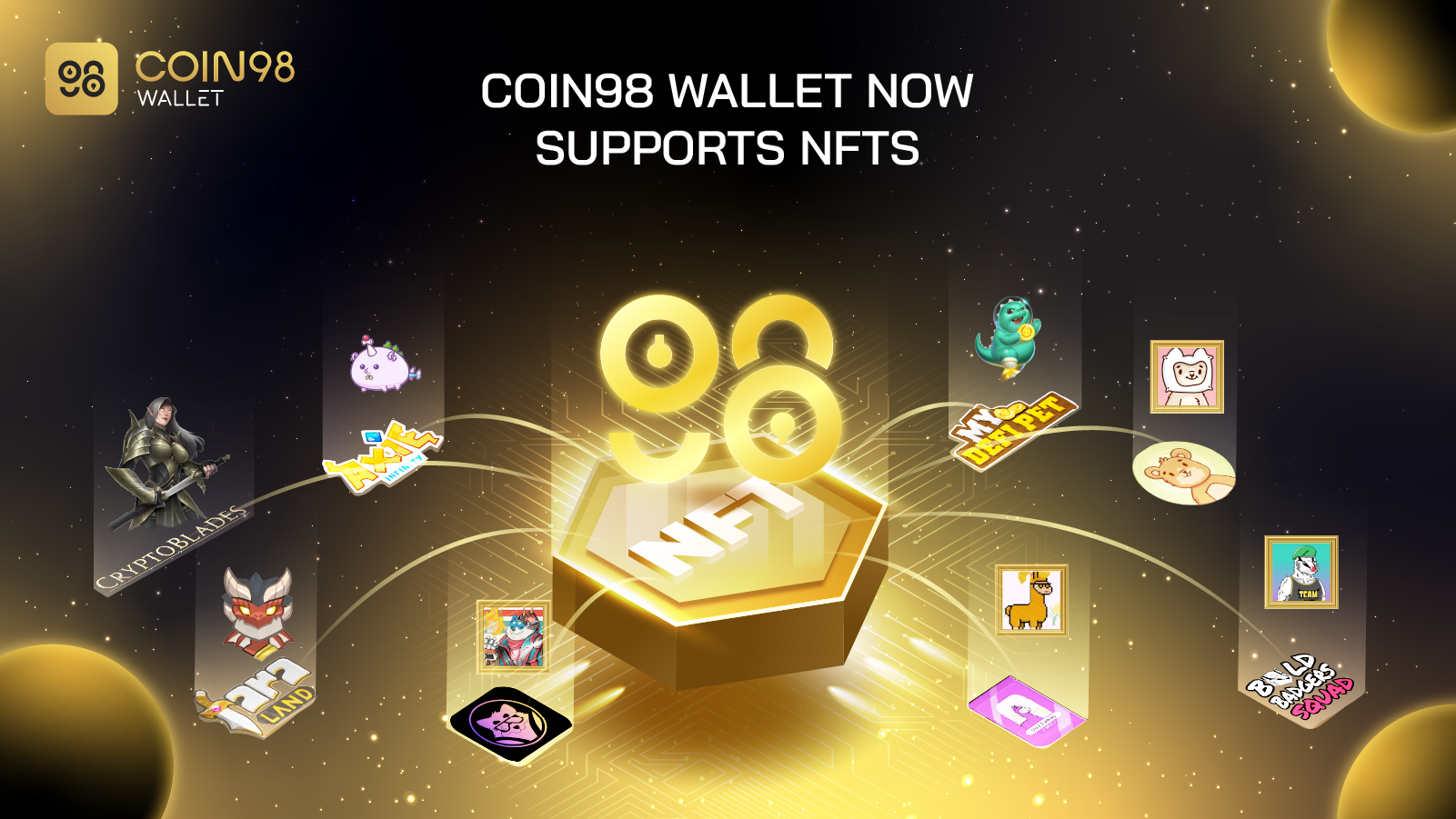 This version also integrates new Blockchains on OKExChain, GateChain, xDAI Chain, Ronin, Klaytn, KardiaChain, and a wide variety of EVM Blockchains through the Custom Networks feature. We continue to upgrade more powerful DeFi tools on Mobile Wallet in this latest version such as Wallet Approval, Solana Wallet Migration, Unwrap wSOL, Multi-send, and Blockchain Explorers, to enhance the best user experience.
Coin98 Extension Wallet
Coin98 Labs has improved the Coin98 Extension Wallet throughout user behavior in the last versions. Coming out with version V5.5.0 and V5.5.3, Coin98 Extension Wallet comes with faster performance and better UI/UX, including 8 new supported networks in multi-send feature. Especially, new Blockchains are integrated such as OKExChain, GateChain, xDAI Chain, Klaytn, KardiaChain. With Coin98 Extension Wallet, transfer assets are more flexible.
With big strides in updates from Coin98 Mobile Wallet and Coin98 Extension Wallet, let's take a bird's eye look at our Blockchain Supported universe:
Partnerships and Integrations
Coin98 Wallet has completed numerous integrations in the past month, including: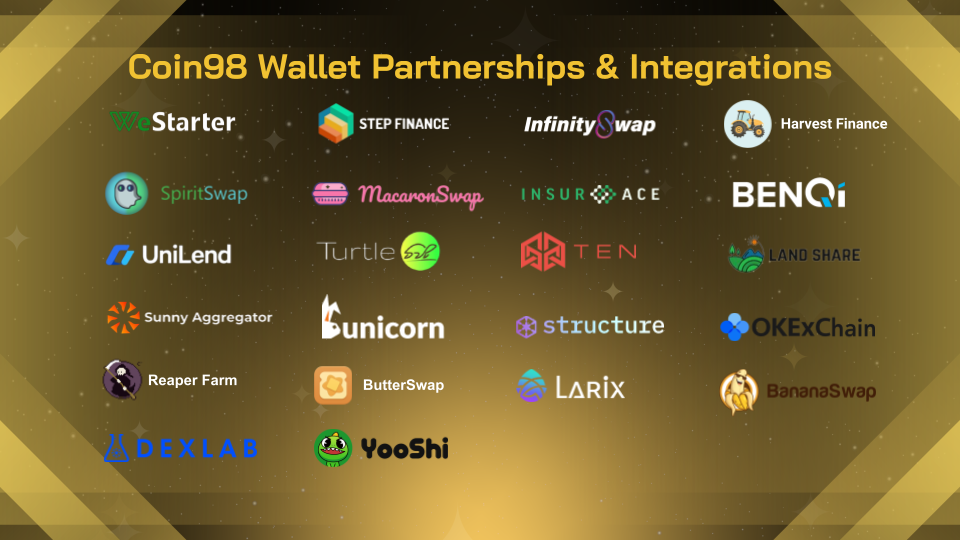 These integrations have broadened new benefits for Coin98 Wallet users in the DeFi space. In this multi-chain era, we aim to expand countless opportunities for growth and development in the future.
Events & Airdrops
We have created numerous airdrop activities through collaboration with many partners in the past month: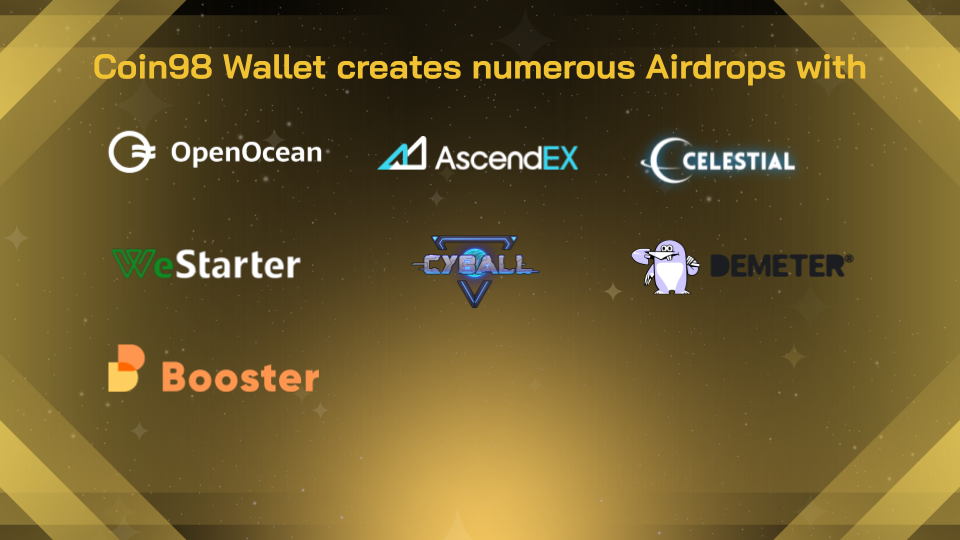 Coin98 Wallet keeps organizing & operating multiple events back-to-back to connect and show appreciation with our communities.
C98 on Binance Savings: Earn Up to 30% APY with C98 on Binance Savings
Special Live AMA: Coin98 Wallet collaborated with Bitazza to organize a talk show between Mr. Le Thanh (Co-founder of Coin98 Finance), Bitazza's CEO Kavin & CCO Didi, on how the project plans on improving the DeFi ecosystem and driving mass adoption.

C98 on Binance Reward Box: For the first time ever, C98 joined in a 48-hour only Thrilling Flash Promotion and challenged users with big prizes on Binance.
Coin98 Wallet reached over 200,000 members on Twitter
With our continuous expansion globally, Coin98 Wallet has reached over 200,000 members on Twitter. Along with the milestone of 20,000 followers on Coin98 Exchange, we decided to have a Thank-you Celebration Airdrop Event. This significant milestone witnessed such enormous growth in our community. The Coin98 team is exceptionally grateful for the support shown by our followers. Great power comes with great responsibility that pushes us to release the best outcomes we are building.
What's next?
The last quarter of 2021 is coming, our Coin98 Labs team is gradually accelerating when the year comes to an end. Next month you can expect the following updates from Coin98 Wallet:
Coin98 Titan Squad - The First Ever Global Ambassador
New Layer-2 Blockchain Integrations
New AMMs
New Cross-chain Bridges
September has been imprinted with rich milestones thanks to tremendous support from our unique communities, investors, partners, and all members of the Coin98 Labs team.
Let's follow together forward to the next step of our plan and see what we can surprise! See you in our October Highlights & Plans.
About Coin98 Wallet
Coin98 Wallet is a non-custodial and NFT wallet used to store, manage, trade, and swap multi-chain, multi-source digital assets. It supports the most popular chains, including BTC, ETH, TOMO, Tron, Binance Smart Chain, Solana, Polkadot, Kusama, HECO Chain, Near, Avalanche X-Chain & C-Chain, Binance Chain, Celo, BandChain, Kava, Terra, Cosmos, ThorChain, Fantom, Polygon, Persistence, XDai, Kardiachain, Ronin, GateChain, OKExChain, Klaytn, .... Coin98 Wallet has both the Mobile App and the Extension version that act as a gateway, connecting users to the DeFi world.
Download: iOS | Android | Extension
Follow us: Twitter | Website | Docs | Blog