Coin98 Super App
Tokens and NFTs Issuer are now available on Coin98 Wallet V10.4.0!
Coin98 Wallet is excited to roll out the new features, including Token Issuer and NFT Issuer, keeping the power in the hands of users, and naming the game with Token and NFT issued by themselves.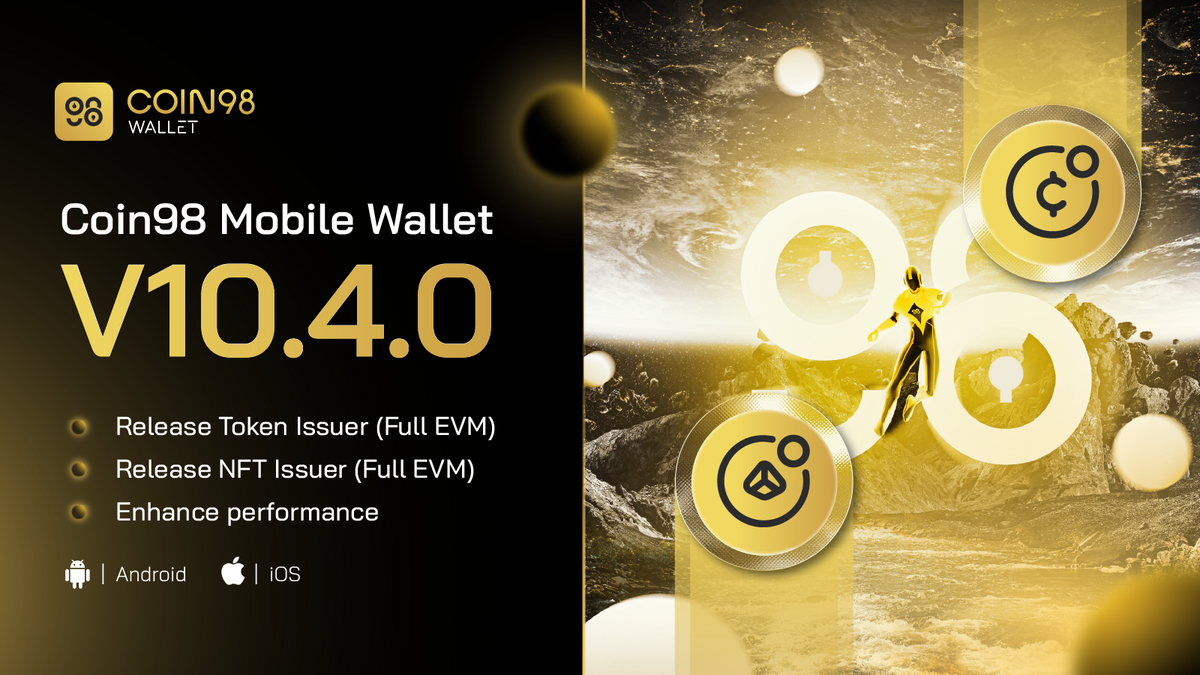 Quick take
Release Token Issuer (Full EVM)
Release NFT Issuer (Full EVM)
Improve performance
The Mobile App hasn't automatically been updated yet? You can handle it easily by yourself now!
Create your own token with Token Issuer in seconds
Have you ever come up with the idea of creating your own token? No matter who you are, a leader, a KOL, a trader, a crypto-savvy user, or even a new-kid-on-the-block, you can issue a token effortlessly without coding skill or expertise skill by Token Issuer powered by Coin98 Wallet.
Simply, Token Issuer is a tool integrated into Coin98 Wallet on both Android and iOS that enables users to release their tokens. It supports the token issuance process on 16 blockchains, including Ethereum, Binance Smart Chain, HECO Chain, OKExChain, GateChain, KuCoin Chain, Avalanche C-Chain, Polygon, Fantome, xDAi Chain, TomoChain, KardiaChain, Celo, Klaytn, and Arbitrum on xDai. More blockchains are building up to expand further.
Issue a token, and deliver to your beloved supporters, friends, followers, and workers,... as a precious present are a cutting-edge idea, aren't they?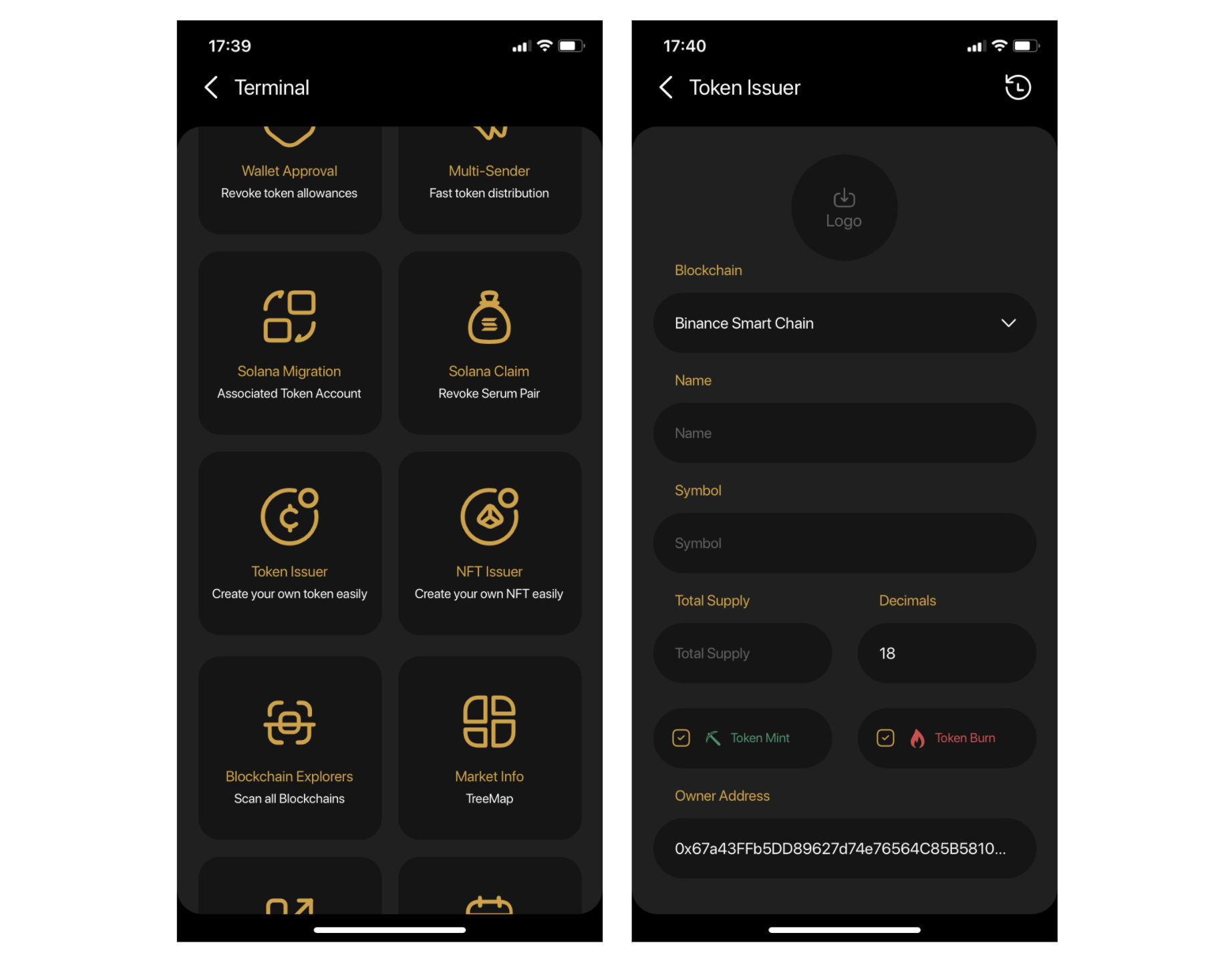 Key points that users can realize as using are:
Straightforward: No technical and programmable skill requirements
User-friendly: Simple Interface and safety procedure
Customized: Make your tokens based on your design. Your issued tokens can be burned or minted through time. Plus, the max supply is on your decision.
Read on how to use Token Issuer on Coin98 Wallet here.
Generate your own NFT with NFT Issuer at ease
The NFT marketplace is rapidly emerging and gaining popularity to own digital assets and join the Metaverse via in-game items. Apparently, NFT, with its innovative-driven, plays a critical role in the DeFi landscape and defines the whole ecosystem to massive awareness.
Together, Coin98 Wallet wishes to shine a new light on how we can connect users to the NFT market and Metaverse in a fun and engaging way. We're proud to release a new tool on the Coin98 Wallet Terminal, called NFT Issuer.
NFT Issuer is a tool integrated into Coin98 Mobile Wallet that provides users with a simple interface to release their own NFT with JPEG and PNG format. Specifically, users can easily opt for the issuance blockchains full of EVM-verse, address NFT name, traits, and owner address.
By creating an NFT, creators may verify the scarcity and authenticity of their digital works, feel a sense of belonging and turn them into "unique" pieces in the age of their infinite reproduction. Similar to issue tokens, the created NFTs can be valuable gifts. Especially, users can earn an additional income when it comes to listing on the NFT marketplace.
Let's transform your masterpieces into NFTs and manage them on-chain easily. Give it a try!
What benefits can you get when issuing your own NFTs? Deep dive into this in-depth article.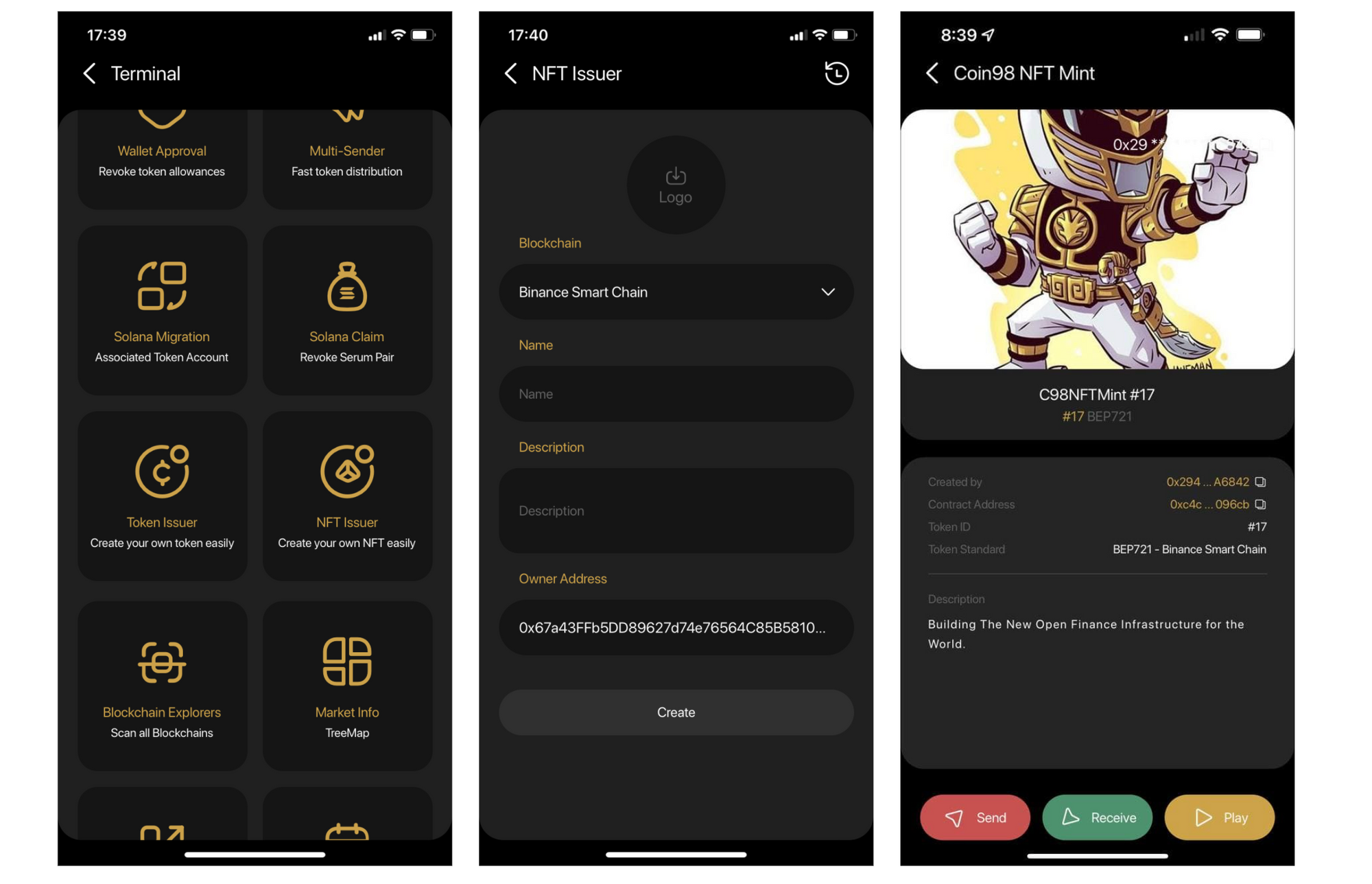 We won't stop with just the NFT image format; the NFT marketplace landscape is heating up with a slew of our NFT formats supported in the upcoming. Stay tuned for more updates!
Improve performance
Parallel with product developments, Coin98 Wallet also considers fixing minor bugs and enhancing performance. Hence, users can satisfy with our one-stop application once using it to experience DeFi services.
We don't need you to say wow because it's always wowed as you open Coin98 Wallet.
The long-waited features are here! Why don't you leap to Coin98 Wallet and explore the new thing?
Upgrade your App now 👉 https://coin98.com/wallet
Miss important annoucements? Don't let it happen again in the future by subscribing to Coin98 Blog. All updates will automatically fly to your mailbox.
Moving forward
Non-fungible Tokens don't seem to be a transient phenomenon; the surge in their demand accelerates the growth of the whole DeFi realm. What's important is that the space is constantly in a state of innovation, and Coin98 Wallet is not static; we aim to be one of the leading NFT marketplaces in the future. Therefore, we seamlessly incubate and build up groundbreaking initiatives to bring value to the community and capture the user base.
Next time, users will have a chance to witness the wave of contemporary NFTs designed by Coin98 Wallet itself and more exciting programs about its application.
NFTs have changed the way people think about art, and Coin98 Wallet is on track to change the way people create art.
About Coin98 Wallet
Coin98 Wallet is a non-custodial wallet used to store, manage, trade, swap multi-chain, multi-source digital assets and NFTs. It supports the most popular chains, including BTC, ETH, TOMO, Tron, Binance Smart Chain, Solana, Polkadot, Kusama, Huobi ECO Chain, Near, Avalanche, Binance Chain, Celo, Band, Kava, Cosmos, THORChain, Fantom, Polygon, Terra, Persistence, Klaytn, OKExChain, GateChain, Kucoin Community Chain, Boba Network, Optimism, Arbitrum on Ethereum, Arbitrum on xDai,.... Coin98 Wallet has both the Mobile App and the Extension version that act as a gateway, connecting users to the Defi world.
Follow us: Twitter | Website | Docs