Coin98 Super App
Coin98 Bi-Weekly Roundup #1
Welcome to the first episode of Coin98 Bi-weekly Roundup!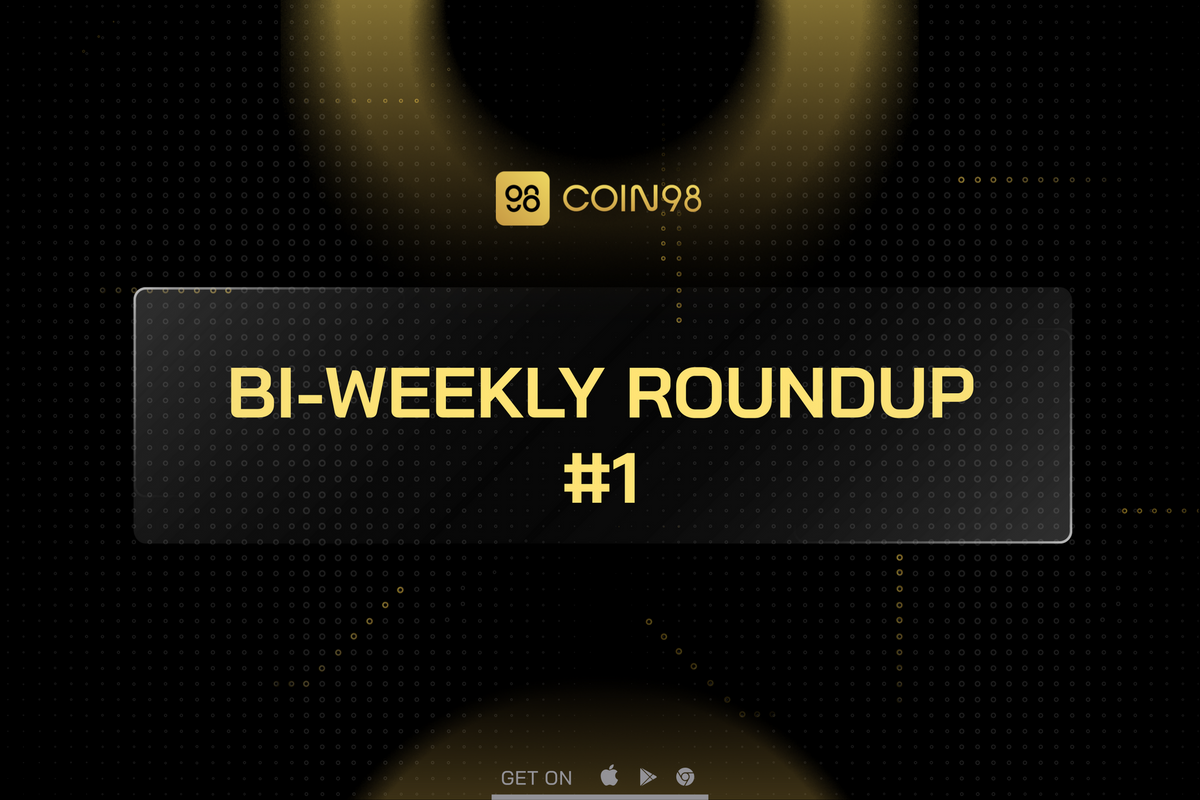 In the spirit of chewing glass together and gaining real-time community feedback, we're glad to transition the Coin98 On-the-spot series to Coin98 Bi-weekly Roundup, in which we will be retrospecting the activities of the past two weeks of the month.
Welcome to the first episode of Coin98 Bi-weekly Roundup!
DApps supported
We are aware of network economies, particularly in the context of cryptocurrencies. Coin98 makes an effort to broaden its networks by integrating many different dApps every week. With the help of that influence, Coin98 hopes to offer consumers a streamlined and welcoming experience with all of their favorite multichain dApps in one spot.
In order to make it even simpler for users to access their preferred DeFi experience, we are pleased to add three additional dApps, namely Swappin.gifts, Wombex Finance, and SynFutures, onto our dApp Browser.
Swappin.gifts is a dApp that allows users to purchase from a selection of thousands of different gift cards using thousands of different cryptocurrencies over several blockchains.
Wombex Finance is a BNB Chain native protocol for boosting yield for liquidity providers & concentrating governance power across Wombat.
SynFutures is a permissionless web3 infrastructure for derivatives. It enables solid crypto risk management functions to hedge your portfolio risks in any asset, anywhere, at any time.
Events
Coin98 had a special occasion to mark our third anniversary with our community and a variety of campaigns to sponsor, as shown in the following:
Coin98 Super Three Super Earn with the reward of up to 50,000 C98 & exclusive NFTs
Spread The Fun - Total prize of 2,666 C98
C98 Trading Contest - 62,500 C98 to be won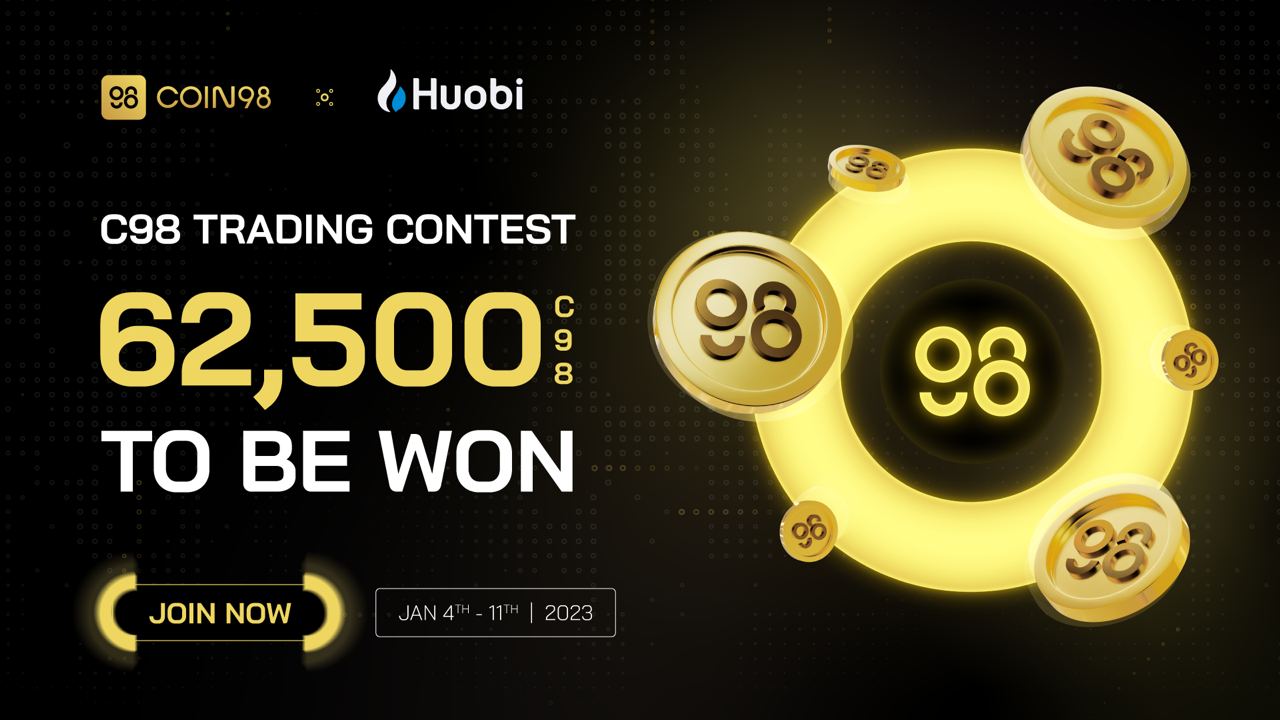 Coin98 x LEAGUE OF KINGDOMS - Social Giveaways of 50 Drago Mystery Boxes
The release of the C98 - CUSD Pool on THENA
NFTs Supported
As a secure Web3 home for NFTs, Coin98 is dedicated to storing NFTs on multiple blockchains, including Ethereum, Polygon, BNB Smart Chain, Avalanche, and more. A handful of the tens of thousands of NFTs that are available on our service, such as The CaptainZ, Mutant Hound Collars, Bored Ape Kennel Club, and others, deserve a special mention.
Download Coin98 Super App & enjoy All-In-One DeFi services right away: https://coin98.com/wallet
Coin98 Bi-Weekly Roundup #1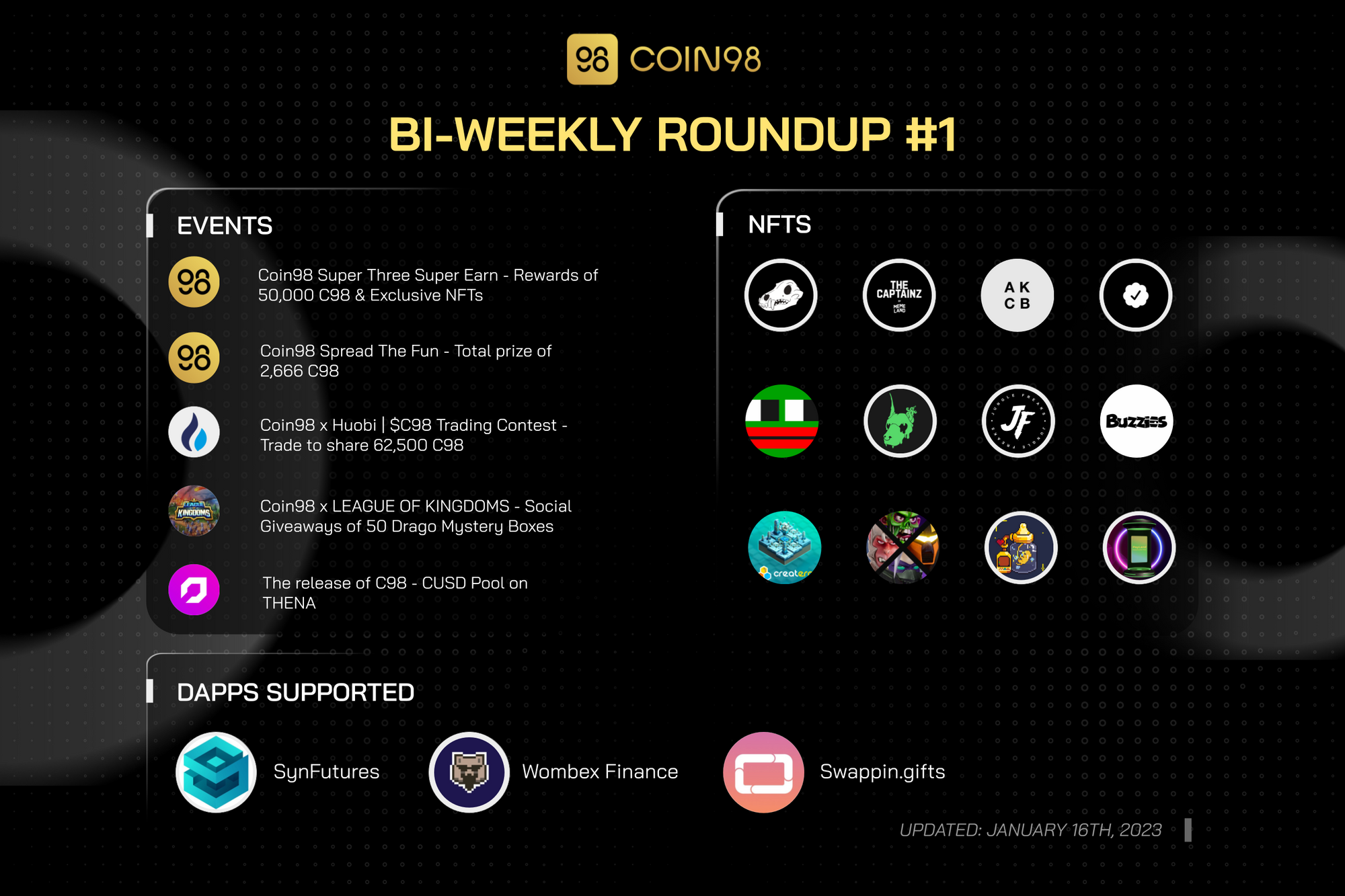 About Coin98 Super App
Coin98 is the #1 crypto super app designed to seamlessly connect a billion users to the crypto world safely and securely.
We offer users across the globe a comprehensive and trusted ecosystem of essential services, including but not limited to a non-custodial, multi-chain NFT & cryptocurrency wallet, built-in DEXs, Cross-chain Bridge & DApp Browser, a powerful Terminal, attractive Earn, Gift & Campaign, and Others.