Coin98 Super App
Coin98 collaborates with dYdX to level up the DeFi trading experience
Coin98 has recently been added to dYdX's official list of wallets, boosting all users' access to a powerful and professional exchange for trading perpetuals.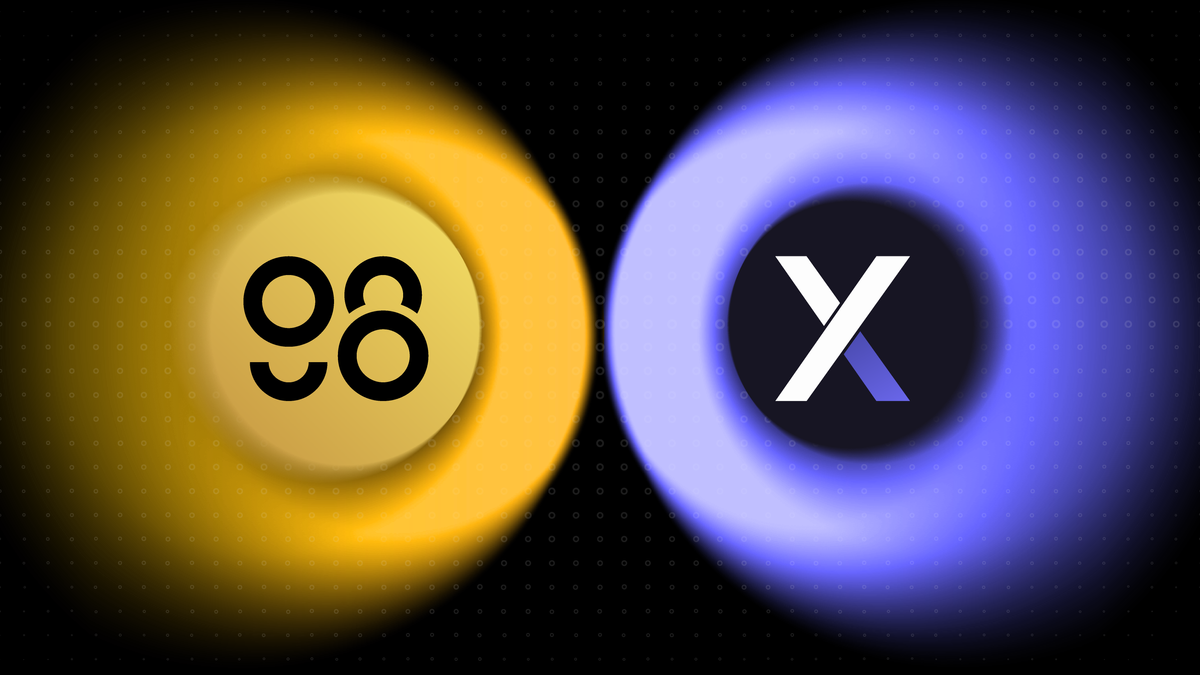 Perpetuals trading is an intriguing use case for blockchain technology that can be viewed as a significant step forward in adoption and is a perfect match for DeFi. Since 2017, dYdX has been committed to building a user-friendly, crypto-native, and powerful derivative exchange powered by blockchain. At the moment, the leading DEX for crypto derivatives offers a trustless and decentralized financial infrastructure for advanced crypto-financial products. This has enabled dYdX to provide an institutional-grade, liquid, and low slippage trading experience for the DeFi market, enabling traders to better manage risk, and allocate capital more effectively from anywhere.
Coin98, the leading non-custodial, multi-chain wallet offering a comprehensive solution that caters to all aspects of the DeFi experience, has recently been listed in the official wallets of dYdX. On the other way around, dYdX is also supported natively on our Coin98 Super App DApp Browser, enhancing all users' experience with industry-leading order types, deep liquidity, and access to the top Perpetual Contract markets. Coin98 integration is expected to drive a significant user base from our strong communities to the dYdX ecosystem, further increasing its footprint in the Asia market.
Coin98 and dYdX all work towards the mutual goal of contributing to the betterment of the DeFi world by empowering the community members with the best trading efficiency and experience ever. As we aim at setting a new standard in DeFi, we believe that this opportunity will steer us towards resolving common obstacles to mass adoption by developing a palette of new innovative solutions and untapped value to DeFi. Additional collaboration avenues will appear further down the line, so keep an eye out for our new initiatives.
"dYdX is a hugely important player in the market, bringing significant value to DeFi and the blockchain ecosystem. We are more than excited to integrate with dYdX to accelerate the growth of DeFi solutions. We believe this collaboration marks a key milestone for dYdX in expanding to a fast-developing user base in Vietnam, and will undoubtedly propel not only the two projects but the whole DeFi industry ahead!" - ​​Vinh The Nguyen, Co-Founder & CEO of Coin98 Finance
"We are excited to announce that users of Coin98 can now easily onboard to dYdX!  As we continue to strive towards full decentralization and offer perpetual trading to everyone across the globe, we will continue to expand the list of wallets we support.  To the Coin98 users in Vietnam, welcome to our community and we hope you enjoy trading on the exchange!  - Nate Cha, Senior Marketing Associate at dYdX
Coin98 x dYdX Social campaign
To celebrate this event, we have decided to organize a social campaign to celebrate with a total reward of 1,000 USDT. Click here to participate.
The event will last from Jun 16 to Jun 21, 2022, including just simple social tasks. Participants will get 1 lucky ticket per finished task.
To join the event, participants need to finish these below tasks:
Rewards will be distributed as follows:
2 reward pools:
One pool is evenly shared for all participants that meet the requirements;
80 lucky prizes:  $10 each
One for top referrals.
Top 1: $100
Top 2~3: $50 each
The rewards will be distributed through the Coin98 Vault.
Earn the reward easily now >> Click here to get started.
How to connect your Coin98 to dYdX
Coin98 Extension
To connect your Coin98 Extension to dYdX, follow these steps: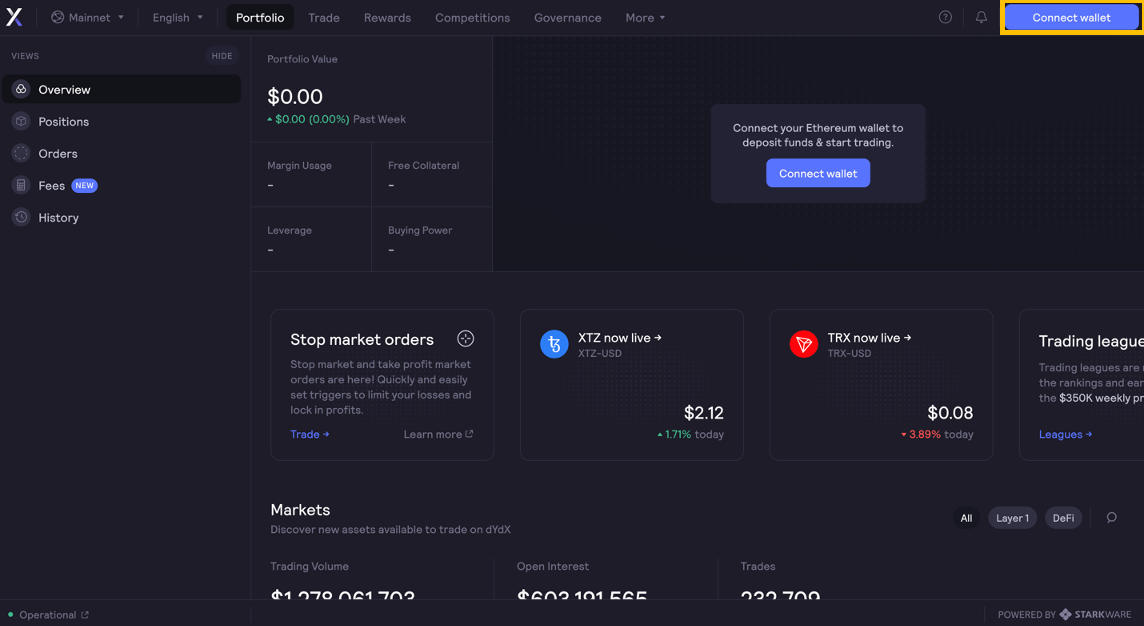 Step 2: Select Coin98 from the list.
Step 3: Click Connect on the pop-up window.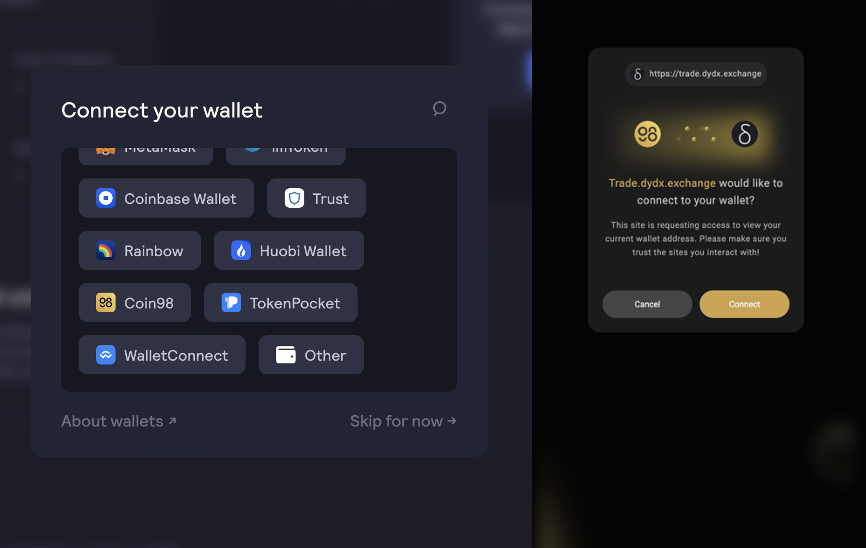 Coin98 Super App
To use dYdX via the DApp Browser on Coin98 Super App, follow these steps:
Step 1: Open Coin98 Super App and click Browser on the home screen.
Step 2: Look for dYdX in the searching bar. Enter the dApp.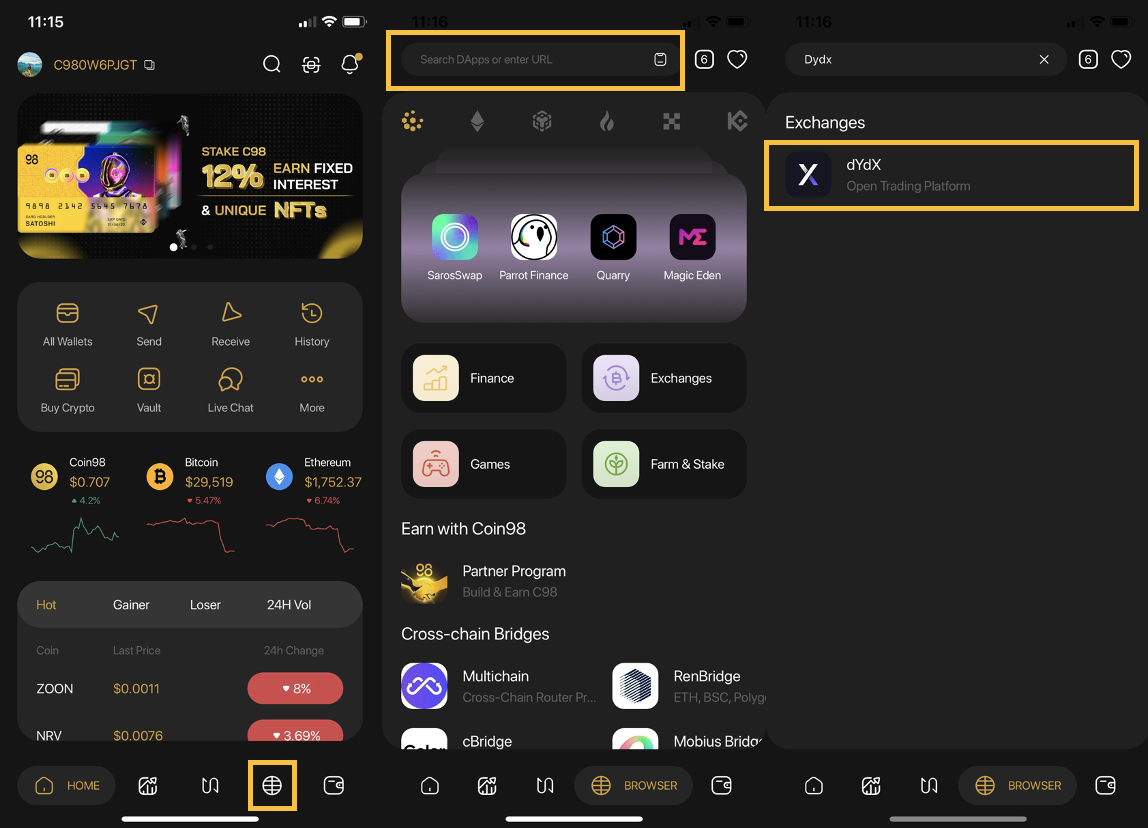 Step 3: Click Connect Wallet at the bottom right corner of the screen, then select Coin98 from the list.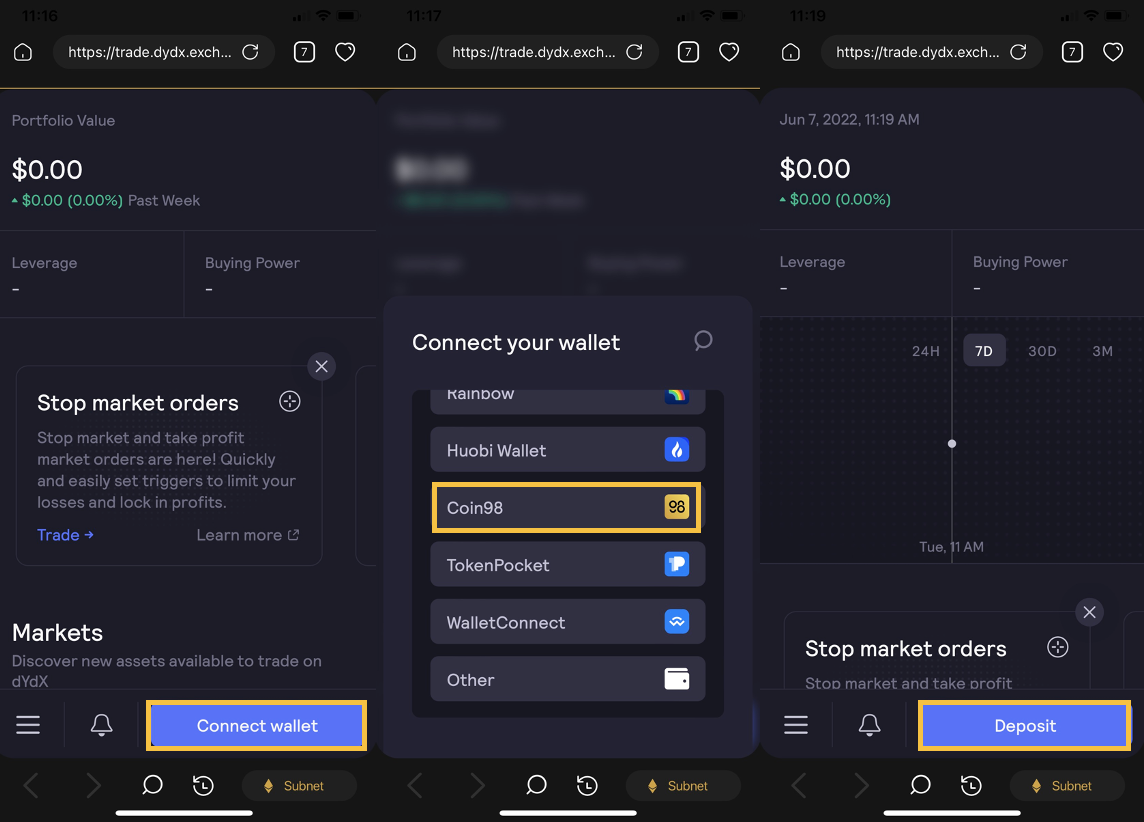 After connecting, users can freely enjoy one of the most well-designed and powerful tools for crypto-traders today.
Detailed guide: How to use dYdX Exchange.
Safe trading, happy trading!
About dYdX
dYdX is the developer of a leading decentralized exchange on a mission to build open, secure, and powerful financial products. dYdX runs on audited smart contracts on Ethereum, which eliminates the need to trust a central exchange while trading. We combine the security and transparency of a decentralized exchange, with the speed and usability of a centralized exchange.
Website | Discord | Twitter | Github
About Coin98 Super App
Coin98 is the #1 crypto super-app designed to seamlessly connect a billion users to the crypto world safely and securely. We offer users a comprehensive and trusted ecosystem of essential services across the globe, including a non-custodial, multi-chain NFT & cryptocurrency wallet, built-in DEXs, Cross-chain Bridge & DApp Browser, and a powerful Terminal, attractive Earn, Gift & Campaign, and Others.