Coin98 introduces a Decentralized dApp Store powered by the NEAR Blockchain Operating System (B.O.S)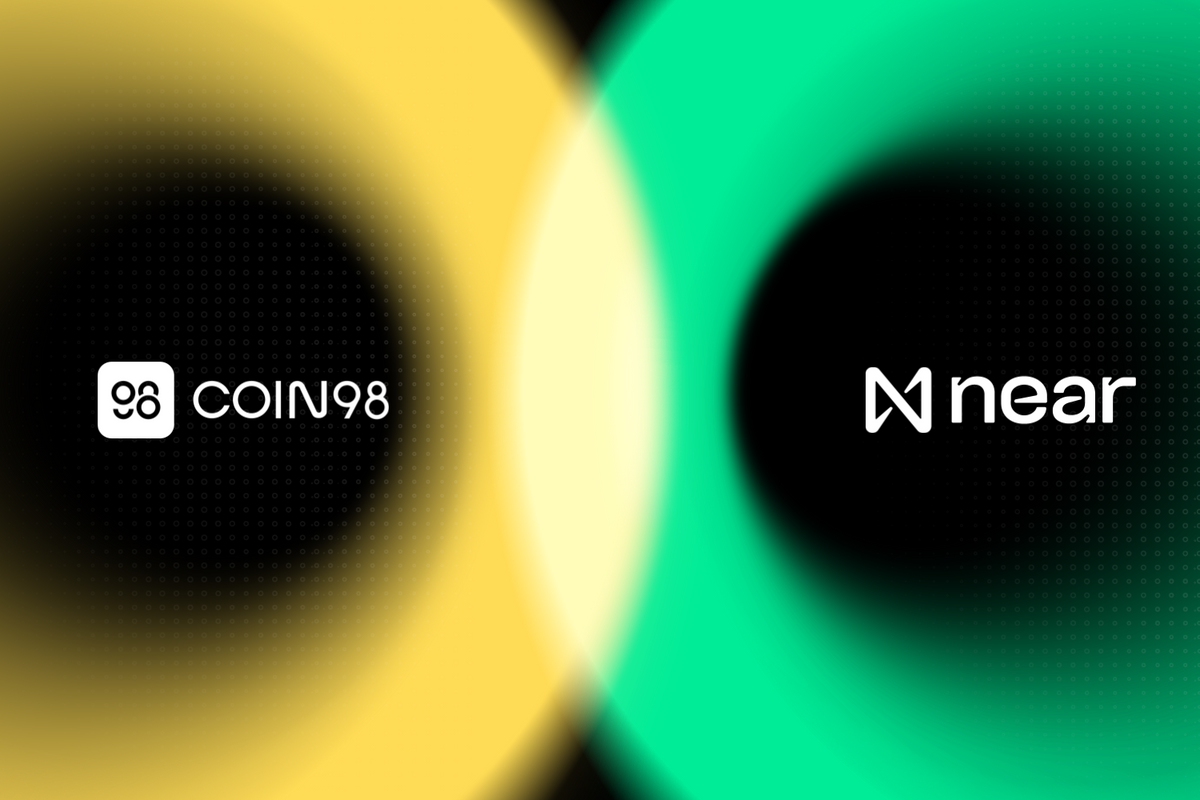 Coin98 is thrilled to announce that we have joined forces with NEAR to launch a decentralized app store powered by the NEAR Blockchain Operating System (B.O.S), enabling a one-stop shop for streamlined access to the most prominent L2 ecosystems. Now, Coin98 users can easily access these innovative solutions through both the Coin98 website and the Coin98 Super App mobile application.
Focused on a one-stop DeFi experience for the everyday Web3 user, we offer both a web and a mobile application supporting over 70 chains and 15,000 compatible dApps. With the B.O.S gateway added to Coin98 Super App, users interested in exploring new L2 or DeFi ecosystems can find applications, cross-chain bridging, money markets, and decentralized exchanges all in a single interface––and thanks to the power of the B.O.S, the frontend code is 100% decentralized and stored on-chain, on NEAR.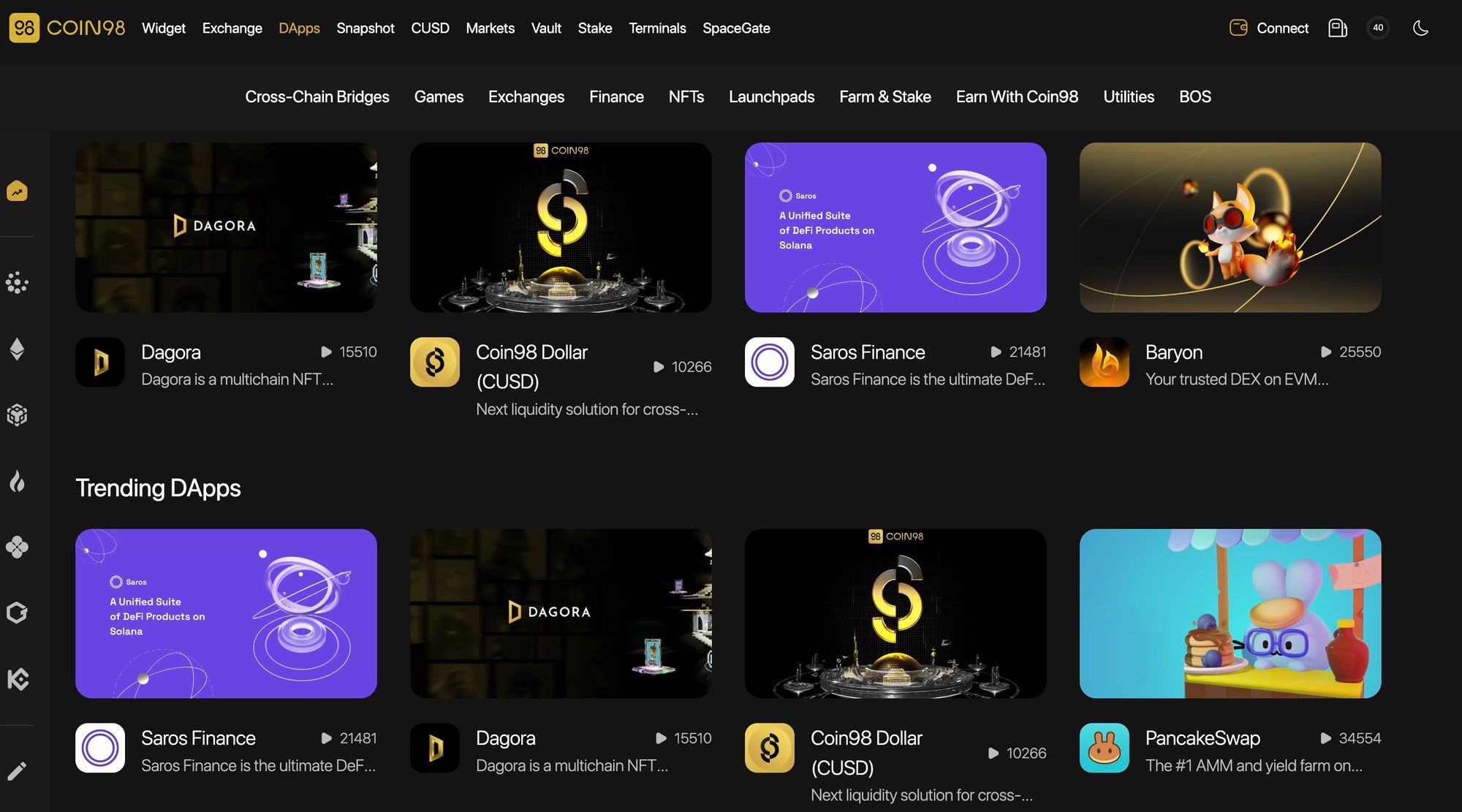 Our innovative use of NEAR's chain-agnostic B.O.S tech stack results in a genuinely user-friendly decentralized app store. All the showcased dApps on the Coin98 gateway are frontend components with their code securely stored on-chain via NEAR. This approach enables direct interaction with the smart contracts on the original chains, providing a user-friendly and fully decentralized app store experience.
The strategic addition of a decentralized dApp store to the Coin98 Super App is driven by a commitment to improve the user experience and enhance engagement in the competitive wallet market. By offering an efficient and straightforward means of engaging with top Layer-2 solutions, we, Coin98, position ourselves as a builder in the blockchain space. The use of B.O.S for the frontend layer not only simplifies development but also ensures scalability over time. This means that developers can easily select frontend components from a catalog for incorporation, making it significantly more user-friendly and flexible compared to native chain integrations.
This decentralized app store perfectly exemplifies the transformative power of B.O.S in improving the Web3 user experience. It effectively addresses the persistent challenges of complex onboarding and fragmented user experiences, offering a user-friendly and efficient gateway for both newcomers and experienced users. B.O.S stands at the forefront as a solution that streamlines the onboarding process, providing a user-friendly and efficient gateway for both novices and seasoned users.
Thanh Le, Coin98 Founder, said: "At Coin98, we are dedicated to providing our users with the very best one-stop DeFi experience in our pursuit of the vision to make Web3 accessible for everyone. With NEAR's B.O.S, we can create a user-friendly interface thanks to its composability, while enabling decentralization under the hood. Our dApp store offers hassle-free interaction with the most exciting L2s in the market. Soon, we will expand our collection to offer even more ecosystems and dApps, as B.O.S greatly reduces the development process, enabling a fast and scalable way to integrate new applications."
Utilizing the B.O.S as a frontend layer makes the development process is not only easy but scalable over time, thanks to a catalog of frontend components from which developers can easily pick and choose––which unlike native chain integrations makes it significantly easier to incorporate new ecosystems at scale.
The Coin98 decentralized app store demonstrates the power of B.O.S to improve the Web3 user experience, effectively solving the persistent challenges of complex onboarding and fragmented user experience in the Web3 space. B.O.S takes center stage as a solution that streamlines the onboarding process, providing a user-friendly and efficient gateway for both new and experienced users.
Illia Polosukhin, co-founder of NEAR Protocol, said: "The NEAR ecosystem is excited to see Coin98 build their decentralized app store on the B.O.S and deliver much better experiences to their users. This is exactly why we set out to build the B.O.S: because NEAR's technology can help founders achieve decentralization and discoverability in parallel. Now Coin98's users can explore multiple L2 ecosystems all in one app, through the wallet of their choice, in seconds, with no complexity or switching costs. NEAR's mission is to drive mainstream adoption of the Open Web through great user experiences and we hope more founders and projects will join us on the B.O.S."
Coin98's introduction of a user-friendly decentralized app store complements the recent launches of major B.O.S gateways by Polygon zkEVM and Mantle, two leading L2 ecosystems. The success of these wallet gateway partners underscores the value that B.O.S offers to Coin98 users in enhancing the end-user experience, reaffirming NEAR's commitment to facilitating products that simplify the blockchain experience and expand global access to the Open Web.
About NEAR Foundation
NEAR Foundation is a non-profit that supports the growth and development of the NEAR ecosystem and the Blockchain Operating System (B.O.S), a full stack Web3 development and app distribution platform at the heart of an open web. The B.O.S is compatible with all blockchains, making it the entry point to the open web for users and developers alike. Founded on the principles of openness and sustainability, the NEAR Foundation is driven by the vision of putting information and technology in the service of humanity rather than political or corporate interests.
For more information, please visit: NEAR Foundation
About Coin98 Super App
Coin98 is the #1 crypto super app designed to seamlessly connect a billion users to the crypto world safely and securely.
We offer users across the globe a comprehensive and trusted ecosystem of essential services, including but not limited to a non-custodial, multi-chain NFT & cryptocurrency wallet, built-in DEXs, Cross-chain Bridge & DApp Browser, a powerful Terminal, attractive Earn, Gift & Campaign, and Others.