Coin98 Super App
KardiaChain, Ronin, xDai Chain are available on Coin98 Extension Wallet V5.4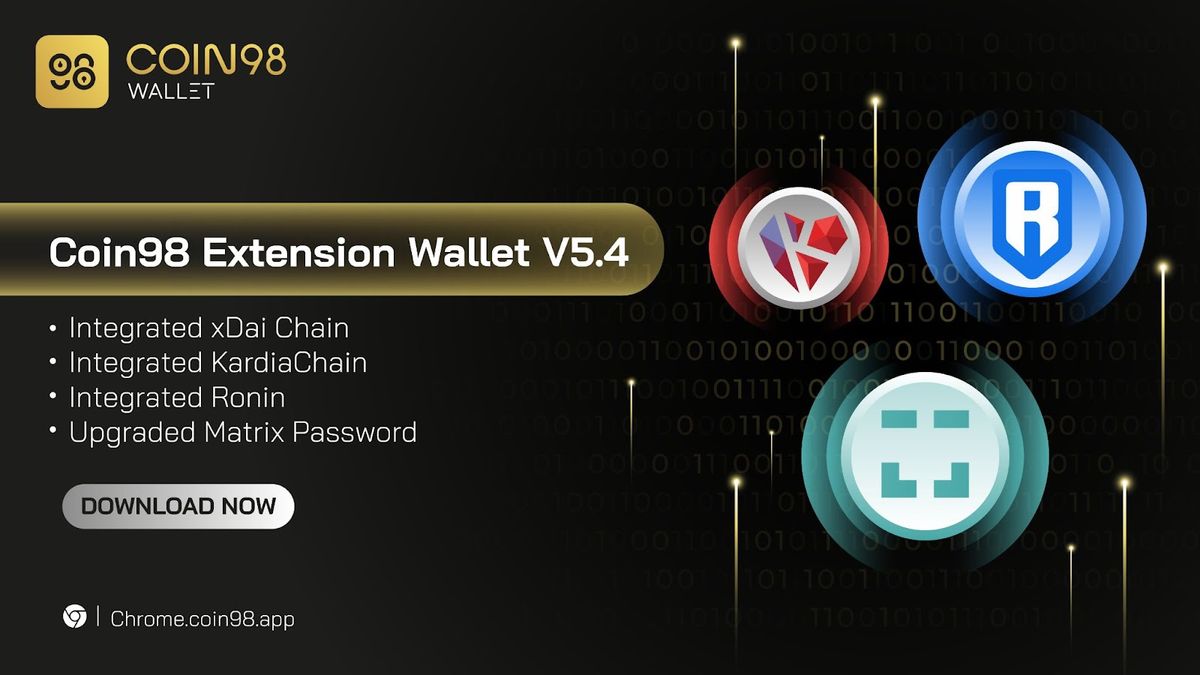 Coin98 Extension Wallet has integrated 3 more blockchains: KardiaChain, Ronin, and xDai Chain, as well as upgraded the Matrix Password in the newest version 5.4.0.
What's new on version 5.4.0
New supported blockchains
In the latest version 5.4.0, Coin98 Extension Wallet now supports KardiaChain, Ronin and xDai Chain, increasing the diversity of blockchains on Coin98 Wallet. Users can now store, send & receive KAI, RONIN, and XDAI on Coin98 Wallet from here onwards.
Kardia Chain is the first decentralized interoperable and self-optimized blockchain infrastructure that aims to solve one of the most prominent challenges: fragmentation of the blockchain ecosystems.
Ronin is a global industrial-scale blockchain platform with a specific focus on mining cryptocurrencies. Ronin concentrates on scale, innovative technologies, and low-cost energy supply.
xDai Chain is a stable payments EVM (Ethereum Virtual Machine) blockchain designed for fast and inexpensive transactions with a unique dual-token model.
Upgraded Matrix Password
Coin98 Wallet always prioritizes users' privacy and security, therefore, we have designed the Matrix Password for all Coin98 Extension Wallet users since the very beginning. The Matrix Password is known for its strong security level, preventing your wallets from being peeped at or recorded without authorization. However, not many wallets in this market have this feature, and this is one of the differences that makes Coin98 Wallet stand out from the crowd.
Your security is now elevated to a whole new level. In the latest version 5.4.0, Coin98 Extension Wallet has upgraded the Matrix Password in order to enhance users' security when storing assets on Coin98 Wallet.
Enhanced performance
Coin98 Extension Wallet version 5.4.0 has better performance, providing a flawless asset-management experience with a faster connection to different trading platforms.
After this update, Coin98 Wallet now supports more than 22 blockchains in total. Follow this guide & install Coin98 Extension Wallet to enjoy version 5.4.0 now.
About Coin98 Wallet
Coin98 Wallet is a non-custodial wallet used to store, manage, trade, swap multi-chain, multi-source digital assets. It supports the most popular chains, including BTC, ETH, TOMO, Tron, Binance Smart Chain, Solana, Polkadot, Kusama, Huobi ECO Chain, Near, Avalanche, Binance Chain, Celo, Band, Kava, Cosmos, Thor, Fantom, Polygon, Persistence. Coin98 Wallet has both the Mobile App and the Extension version that act as a gateway, connecting users to the DeFi world.
Download
Follow us