Coin98 Super App
Coin98 (C98) Farming Is Now Available On SarosFarm
Coin98 Farming is now live on SarosFarm with the C98/ USDC LP pool. Farm and earn high APY today!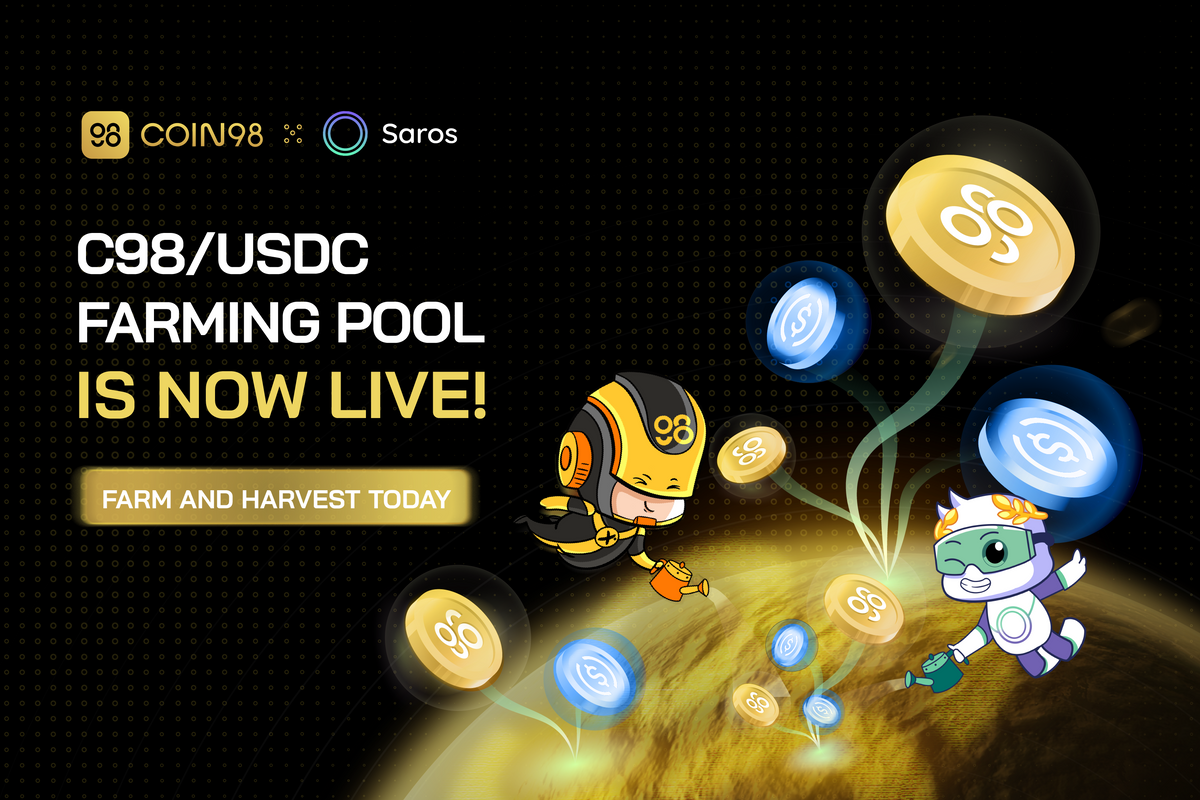 The Coin98 Farming Pool is the next stage in our attempts to provide an ideal environment for users to produce higher yields and enhance the utility of C98 across blockchains. The moment we've all been waiting for has arrived. Farm C98 and USDC on Saros to leap the appealing APY today!
Head over to https://saros.finance/farm.
Introducing C98/USDC Farming Pool
The Coin98 farming pool is the first pool launched on SarosFarm, including C98 (SPL) and USDC (SPL). Users can provide those LP tokens to earn the reward from this ongoing campaign after adding liquidity to Saros Pool.
LP pool: C98/USDC
Total reward:: 20,000 C98
Duration: June 14th - June 28th, 2022
Learn more about SarosFarm.
How to farm C98/USDC on SarosFarm
Please ensure you already have Coin98 Extension or Coin98 Super App with the Solana Wallet beneath.
Download: https://coin98.com/wallet
How to get C98/USDC LP Tokens
You need to add liquidity with the pair of C98 and USDC before farming, let's follow those steps below:
Step 1: Click Connect Wallet on the top right of the screen.
Step 2: Choose Liquidity → Click Add Liquidity.
Step 3: Select C98 and USDC  pairs with your desired amount.
Step 4: Click Supply. All done!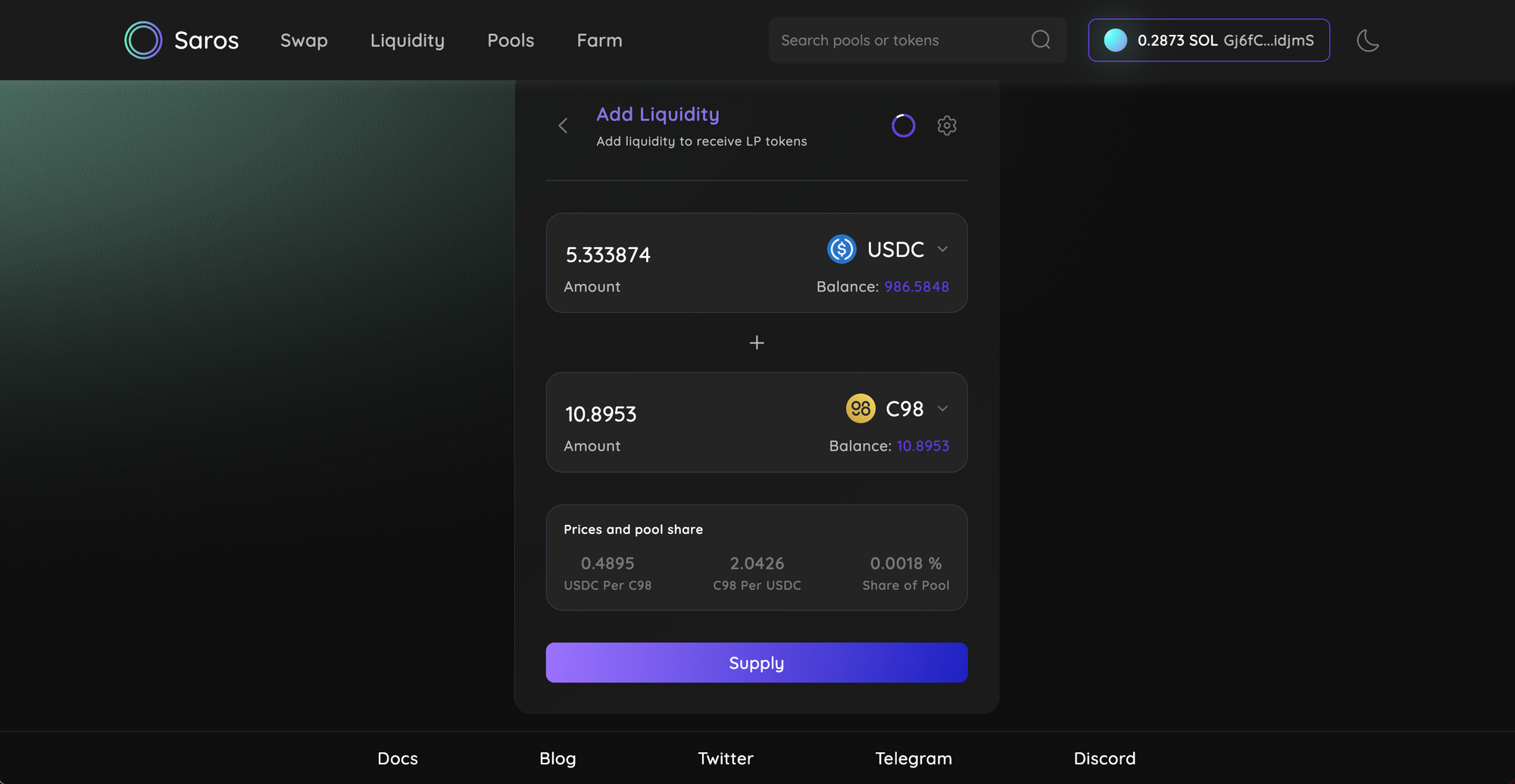 How to farm C98/USDC LP Tokens
After adding liquidity to Saros Pool, you can farm these LP tokens to earn more rewards.
Step 1: Access tab Farm via https://saros.finance/farm.
Step 2: On the Active tab in this interface, choose C98/USDC pool → Click Stake.
Step 3: Slide to choose your LP token amount and Stake to complete.
See the detailed instruction here.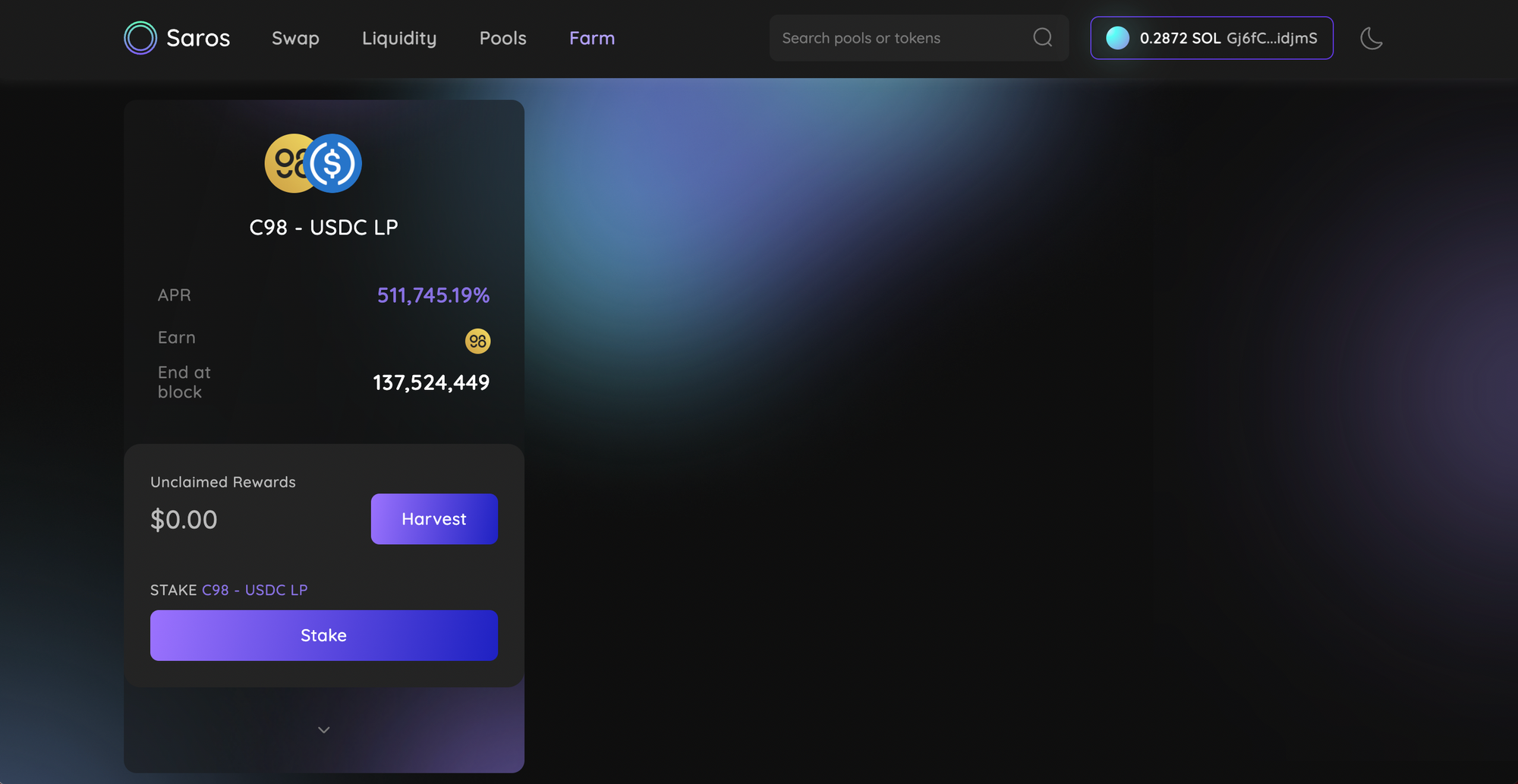 Are you ready to farm and reap the rewards? Gear up your Coin98 with the Solana wallet and join our pool now at https://saros.finance/farm.
Following the release of this farming pool, we'll kickstart a social event to celebrate this mark. Further information will be released soon. Stay tuned!
Coin98 is making significant headway in providing C98 holders with additional value and positive DeFi experiences. So far, we've been widening the ecosystem's expansion on Solana. Aside from that, we will also develop the utility of C98 in multiple blockchains, including Ethereum and BNB Smart Chain, to let users interact and benefit from a wide range of DeFi legos, such as Yield Farming, lending & borrowing, derivatives, and more.
FAQs about the Coin98 Farming Pool
Is it safe when farming on Saros?
Yes. SarosFarm is a part of Saros Finance, a decentralized platform. It is transparent with open-source software and audited by Inspex.
What is the amount of C98 & USDC I can stake?
There is no limitation in quantity; the more crypto assets you stake, the more reward you harvest later.
Can I harvest my reward anytime?
Yes, you can harvest your reward anytime you want.
Can I withdraw my LP token anytime?
Yes. You can add more LP tokens into the pool or unstake them whenever you desire.
About Saros
Saros Finance is the ultimate DeFi platform native to Solana, with trading, staking, and yield farming services. Built by Coin98 Labs, Saros Finance aims to adopt millions of users to DeFi.
Follow us: Website | Twitter | Telegram | Discord
About Coin98 Super App
Coin98 is the #1 crypto super-app designed to seamlessly connect a billion users to the crypto world safely and securely. We offer users a comprehensive and trusted ecosystem of essential services across the globe, including a non-custodial, multi-chain NFT & cryptocurrency wallet, built-in DEXs, Cross-chain Bridge & DApp Browser, and a powerful Terminal, attractive Earn, Gift & Campaign, and Others.