Coin98 Super App
Coin98 Titans - Coin98 Global Ambassador
Are you willing to help build massive and devoted communities for Coin98 Ecosystem? Apply to become a Coin98 Titan and join our family.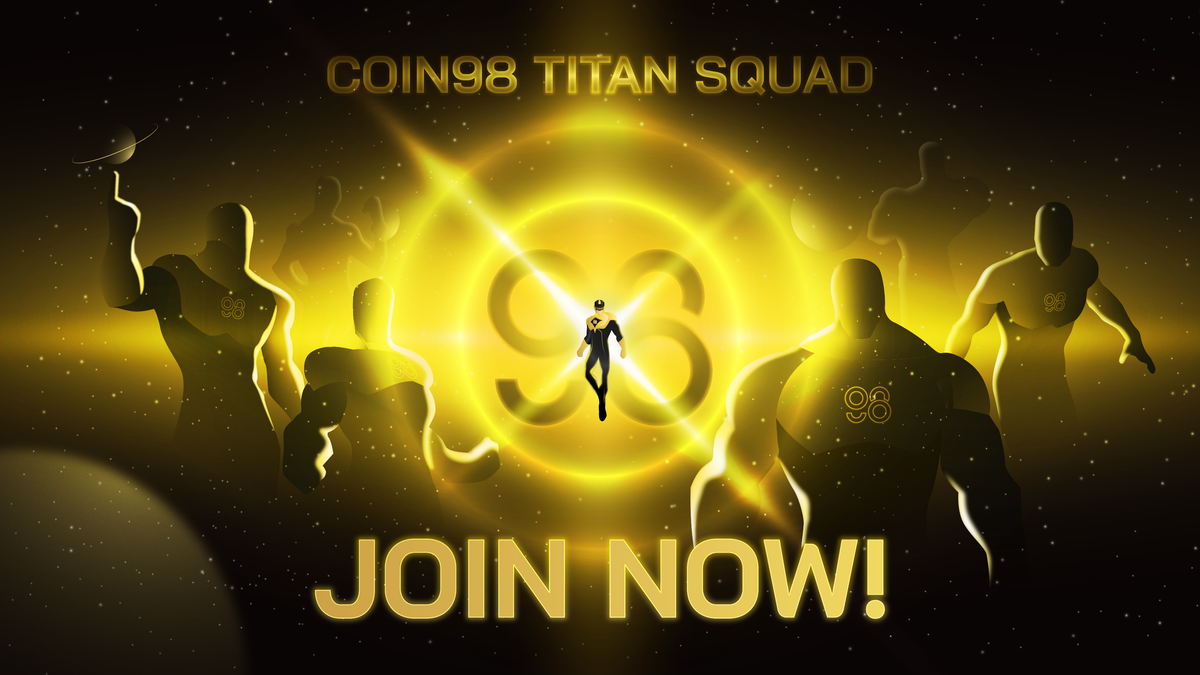 Founded in a small condo in early 2017, Coin98 strives to be one of the forces in the Crypto-verse. In the Labs of Coin98, we focus on creating & developing an ecosystem of DeFi protocols, applications on multiple blockchains, and thus, seek to become a renowned DeFi brand. Coin98 Wallet - one of Coin98's flagships - now reaches 500,000+ downloads with over 220 million USD trading volume in 2021, and is still growing strong.
Bearing in mind the everlasting mission of making blockchain and DeFi services accessible to everyone, we believe that a strong and engaging community would play a vital role in the project development. This led us to the search for Coin98 Titans - active supporters of our project - who are bold, determined and fearless, who can act as a solid bridge between Coin98 and our communities around the world !!!
If you feel like standing strong by Coin98's side, let's go through a typical checklist of a Titan.
What we look for in a Coin98 Titan
An enthusiastic and motivated person who can show how much he is passionate about the Coin98 Ecosystem and the team
Interested in the future of DeFi and willing to learn about different blockchains
Ready, capable, and motivated to nurture awareness about Coin98 as well as help connect Coin98 to people all around the world. Thus the Titans must be well versed in using  Coin98 Products: Wallet, Exchange, Portfolio, etc
As Coin98 seeks to go Global, being proficient in English is inevitable. Other languages is a plus
Prior experience in building blockchain or community-based projects is preferred. (Not compulsory but preference will be given to the individuals who have experience)
So what does an ideal C98 Titan do?
Be engaged and friendly to all members/ users
Be able to educate and assist users about our products in different communities (not only Official Coin98 communities but others as well) across multiple platforms (Telegram, Twitter, Discord)
Support online and offline events for Coin98 communities
Be willing to create your own content about the Coin98 Ecosystem
Benefits of becoming a Coin98 Titan
Exclusive skin-in-the-game within a fast-paced, innovative DeFi start-up
Active discussions regarding ambassador's feedback, ideas, and suggestions for global expansion initiatives
Opportunity to grow ambassadors' personal network
Opportunity to interact with members from the Coin98 team
Receive exclusive badge of honor once committed to being an official ambassador
Coin98 unique Swag Packages
Disqualification
A Titan will be disqualified under any of the following circumstances:
Failing to actively cooperate with and assisting Coin98 in producing content as well as engaging the various communities
Submitting copyrighted data; publishing content against community value
Instant disqualification for those conducting suspicious or fraudulent activities with Coin98 users under any circumstances, including but not limited to DM-ing users first, asking for passphrases, false airdrops or announcements,...
The Coin98 Titan Selection Process
Step 1: Fill in the application form
If you are interested in becoming a Coin98 Titan, please fill in this application.
Step 2: Coin98 team screening
Once we receive the response, your application will be under review by core team members.
Step 3: Apprenticeship Challenge Period
The candidate will go through a two-week test period, where they will be allowed to demonstrate their enthusiasm as a Coin98 Titan.
Step 4: Getting on board!
Once a candidate passes the two-week test period, they will officially start their Coin98 Titan journey.
If you are interested, don't hesitate to go through the details and fill out the application form. Don't miss the chance to be a Coin98 Titan. Apply now!!!
Note:
This is an unpaid, volunteer position.
All support, the discussion will take place in Coin98 communities. Personal DMs are not under Coin98 administration.
Please send any content draft to the Coin98 team before publishing. Coin98 has the right to share ambassador's content through our social media channels.
Quality of work and engagement will carry more weight in terms of benefits.
Coin98 reserves the right to amend the benefit rules or cancel the reward at any time.
All decisions from Coin98 are final decisions and will be effective immediately.