Coin98 Super App
Coin98 integrates Casper Network into the latest version
Coin98 is excited to integrate Casper Network. Users can now store, send and receive CSPR on the Mobile App and more experience. Explore now!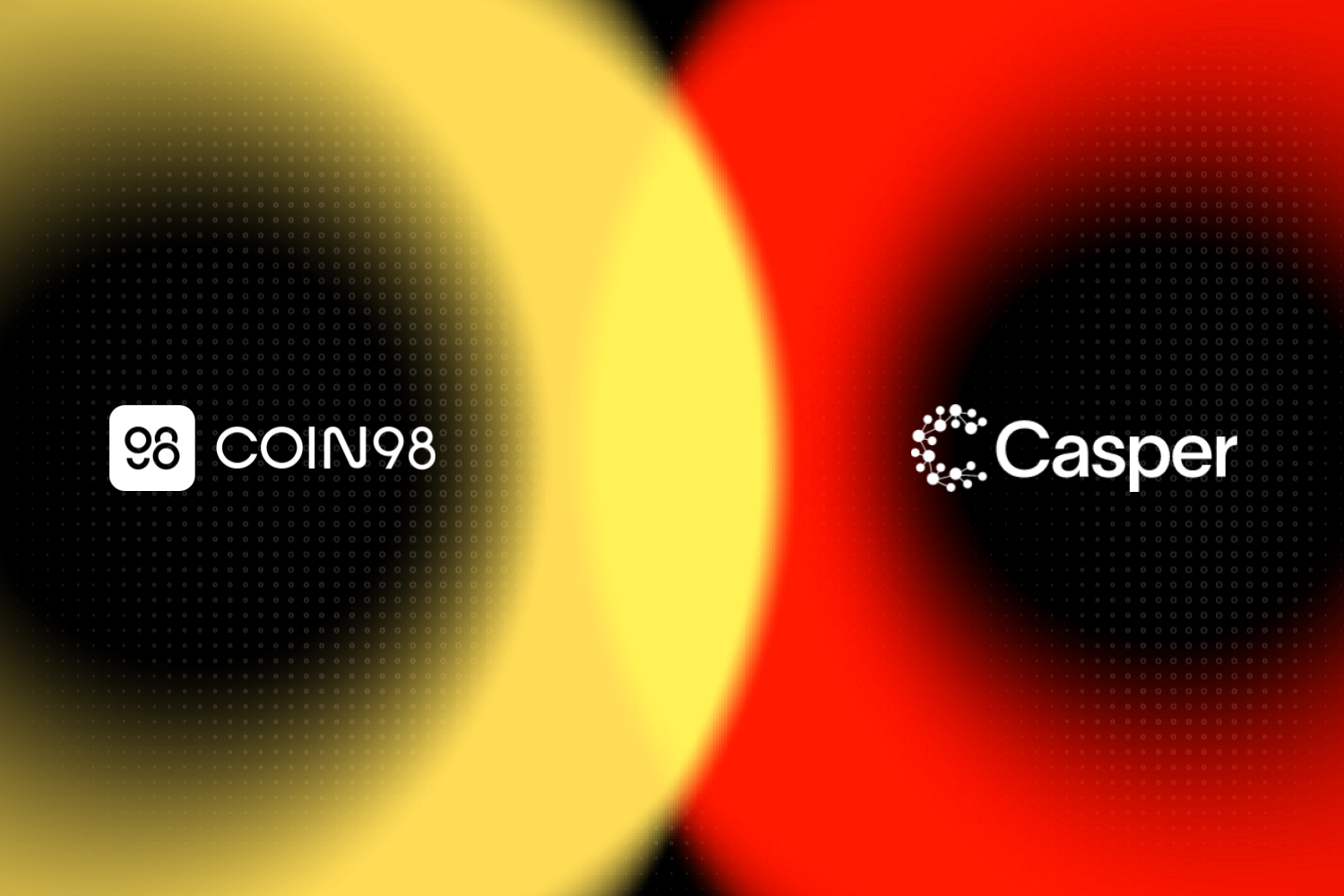 Coin98 is glad to announce the accessibility of Casper Network in Coin98 Super App V12.0, which helps boost blockchain adoption and involves Web2 users in the Web3 surge.
Coin98 consolidates over 57+ blockchains at present. However, there is a multitude of outstanding blockchains that we are making an effort to support in order to meet user needs. In response to an eager request from the community, Casper Network is already on Coin98 Super App and will be live on Coin98 Extension soon.
Casper Network is a layer-one blockchain designed for application development and scalability. It is built on the Proof-of-Stake consensus mechanism, developed based on CBC specifications that Ethereum developers partially designed.
On the strength of a strong team with a professional background and technology, Casper Network is on track to break the barriers which support applications without sacrificing usability, cost, decentralization, or security.
As one of the first-of-its-kind mobile multichain crypto wallets supporting Casper Network, Coin98 Super App enables users to gain a much easier experience in this blockchain, such as storing, sending, and receiving CSPR tokens - the native token of Casper Network. Afterward, Coin98 will add Casper Network to the Coin98 Browser. Users will be able to access this growing ecosystem, ranging from NFT, gaming projects, Defi infrastructure, KYC solution providers, and more.
Through this integration, Coin98 and Casper are on the way to enhancing the adoption of blockchain technology into the business processes of companies worldwide. Therefore, users will have an opportunity to get a quick, scalable, and productive platform to connect with businesses. Millions of Coin98 users will contribute to the platform's growth while also embracing and skin-in-the-game the emerging wave of the DeFi landscape.
How to create a Casper Wallet on Coin98 Super App
Before we begin, you need to install or update our Super App to the latest version:
iOS: https://ios.coin98.com
Android: https://android.coin98.com
We recommend you create a Multi-Chain wallet on Coin98 Super App to easily manage and access all single blockchain wallets with only one Passphrase.
If you are already a Coin98 user, you should refresh your multi-chain wallets to get updated with the Casper wallet, as well as other integrated blockchains on the latest version automatically. Follow the instructions below:
About Casper Network
The Casper Network is a Proof of Stake (PoS) enterprise blockchain that is designed to help enterprises begin building blockchain-enabled products and services quickly and effectively. The Casper Network features upgradeable smart contracts, developer-friendly features, and lower transaction costs than most Layer-1 blockchain offerings. Casper uses a type of PoS consensus protocol called Casper CBC, which is what the Ethereum network is expected to adopt once it transitions to its eventual 3.0 model. More information:
About Coin98 Super App
Coin98 is the #1 crypto super-app designed to seamlessly connect a billion users to the crypto world safely and securely. We offer users a comprehensive and trusted ecosystem of essential services across the globe, including a non-custodial, multi-chain NFT & cryptocurrency wallet, built-in DEXs, Cross-chain Bridge & DApp Browser, and a powerful Terminal, attractive Earn, Gift & Campaign, and Others.