Coin98 Super App
Coin98 integrates Coinbase Pay, simplifying the way to buy crypto
Coin98 integrates Coinbase Pay to the latest version!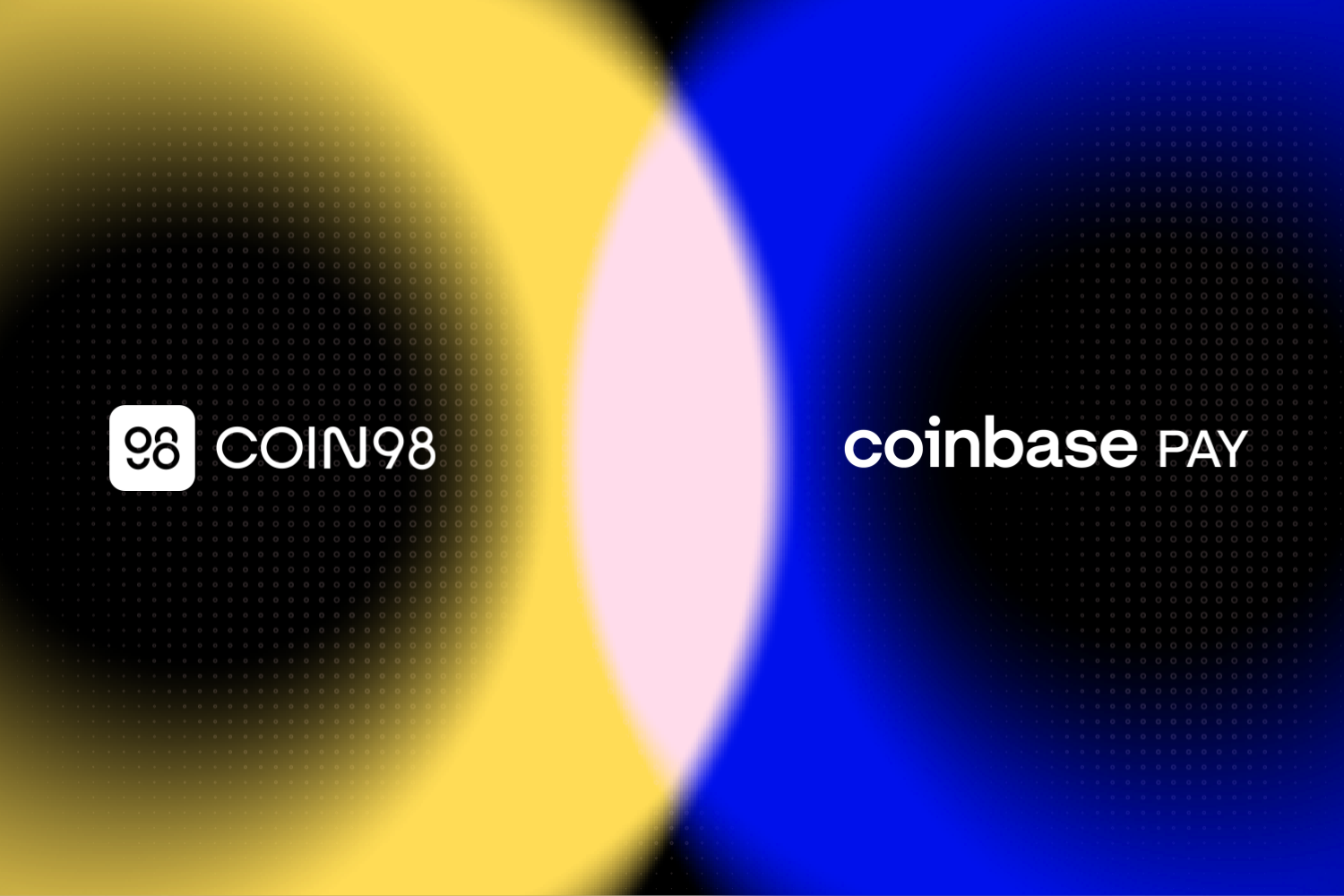 Coin98 is excited to embrace Coinbase Pay to the super app, where users can purchase popular coins and pay with their preferred payment method in their Coinbase accounts in a few clicks.
Update your app and enjoy today!
Coin98 is eager to connect users to the Web3 ecosystem without difficulty. Buying cryptocurrency with fiat directly on a non-custodial wallet is now as simple and straightforward as on typical e-commerce platforms.
If you are scouring every nook and cranny of the industry in search of the top fiat on-ramp, Coin98 is a decentralized hub that has what you need.
As a leading non-custodial multichain wallet, Coin98 offers users a range of DeFi services, such as managing crypto assets, swapping tokens natively, accessing dApps, and buying crypto with fiat. With this upgrade, Coin98 adds Coinbase Pay, providing users with more options for purchasing their preferred cryptocurrency directly from their Coinbase accounts.
Coinbase Pay is Coinbase's fiat-to-crypto solution. Users can purchase or transfer cryptocurrency to a wallet or dApp to seamlessly start using DeFi or purchasing NFTs.
Through this connection, users can purchase a variety of coins/tokens from Coinbase Pay, including ADA, ALGO, ATOM, AVAX, BCH, BTC, CELO, DOGE, DOT, ETH, LTC, MATIC, and SOL. They can use their preferred payment option saved in their Coinbase accounts, including debit cards and bank accounts.
"Rather than splitting the fiat on-ramp provider into separate locations, Coin98 combines everything in one place, giving users the best ability to save time, money, and effort. The web3 universe is going to be covered by billions of individuals who are experiencing and entering the next stage of the decentralization world thanks to the strength of Coinbase Pay and the participation of Coin98."  Vinh The Nguyen - CEO & co-founder of Coin98 Finance
How to buy crypto with fiat through Coinbase Pay on Coin98 Super App
Please ensure Coin98 Super App is on your devices and has a multichain wallet.
iOS: ios.coin98.com
Android: android.coin98.com
Learn more: How to create a multichain wallet
First-time users will be required to connect their Coin98 app to their Coinbase account (with steps shown below). After the initial verification, users can purchase or transfer existing crypto directly from their Coinbase accounts in a few clicks, without needing to log in again.
Step 1: Open Coin98, choose to Buy crypto
Step 2: In this interface:
Currently, users only buy one of the tokens in this list via Coinbase Pay: ADA, ALGO, ATOM, AVAX, BCH, BTC, CELO, DOGE, DOT, ETH, LTC, MATIC, SOL.
Find and select your favorite token
Enter the amount
Click Confirm
Step 3:
Enter card details
Read the information carefully and tick the terms, then choose Continue.
Step 4: Start buying your desired crypto!
Notes:
Each transaction has a $51 minimum and $50,000 maximum purchase.
When using Coinbase Pay, the system automatically grants the active wallet as the recipient address.
It takes you a short time to review your KYC. Please wait for its status before the transaction completion.
After completing the above steps and connecting your Coin98 app to your Coinbase account, you will not need to verify your credentials or log in again.
About Coinbase Pay
Coinbase Pay lets web3 users with a Coinbase account easily fund a self-custody wallet or dapp. Users can make crypto purchases or transfers directly from within their wallet or dapp, using the crypto balance or preferred payment method in their Coinbase accounts. Coinbase Pay supports 60+ fiat and 200+ cryptocurrencies.
About Coin98 Super App
Coin98 is the #1 crypto super app designed to seamlessly connect a billion users to the crypto world safely and securely.
We offer users across the globe a comprehensive and trusted ecosystem of essential services, including but not limited to a non-custodial, multi-chain NFT & cryptocurrency wallet, built-in DEXs, Cross-chain Bridge & DApp Browser, a powerful Terminal, attractive Earn, Gift & Campaign, and Others.
Download | Twitter | Discord | Telegram | Docs | Blog
Information is provided for educational purposes only and is not investment advice. This information does not constitute an offer, or solicitation of an offer nor is it a recommendation to buy or sell a particular digital asset. Coinbase makes no representation as to the accuracy, suitability, or validity of any information provided. Coinbase is not registered with the U.S. Securities and Exchange Commission or the U.S. Commodity Futures Trading Commission. Links provided to third-party sites are not under Coinbase control, and Coinbase is not responsible for content on such third-party sites. Assets presented may reflect assets traded on Coinbase and/or select other cryptocurrency exchanges.