Coin98 Super App
Coin98 integrates Injective to bring forth a new age of interconnected finance
Coin98 is excited to announce that we have onboarded Injective in the latest version of the Coin98 Super App.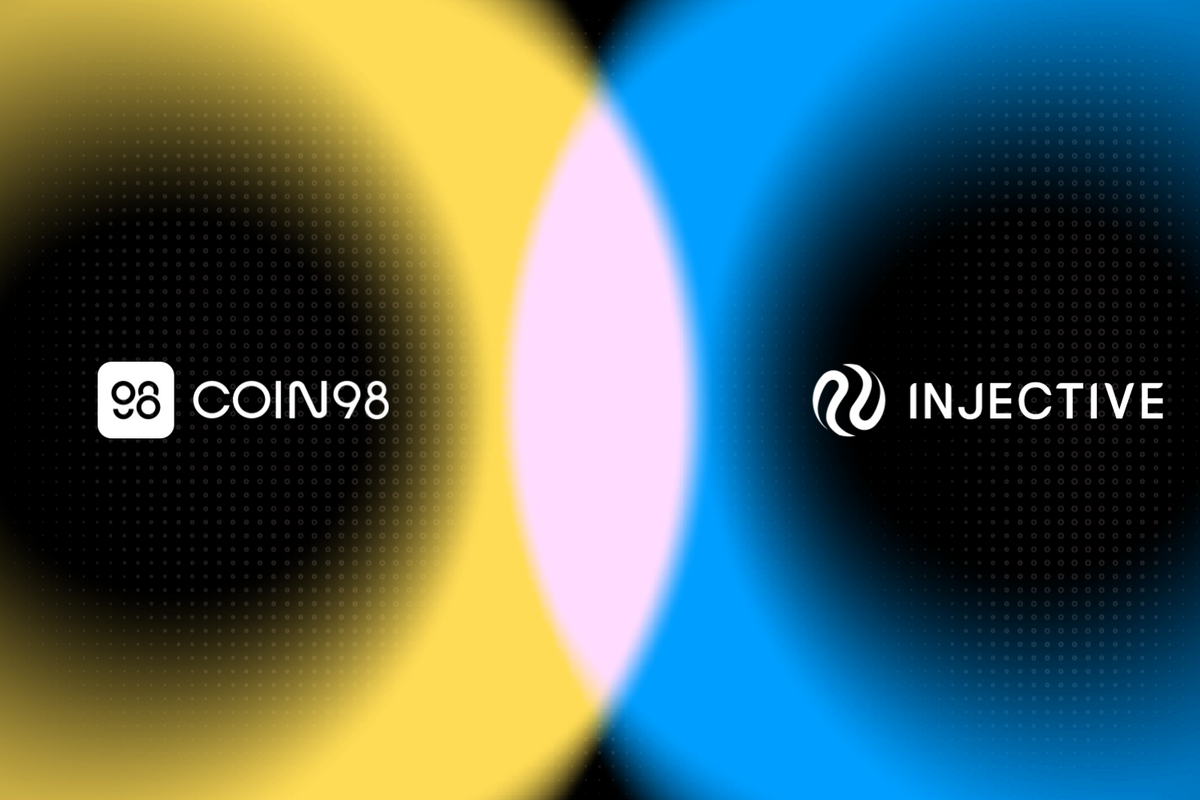 Coin98 is excited to announce that we have onboarded Injective in the latest version of the Coin98 Super App. Through this integration, you can access novel dApps built on Injective entirely via the Coin98 Super App or browser extension. This means popular applications built on Injective such as Helix or Wavely can be accessed directly from Coin98, enabling millions of new users to access dApps on Injective.
Update your Coin98 & enjoy today!
Coin98 has rapidly expanded to onboard the most promising blockchain ecosystems in order to produce a vibrant multichain experience. Every advancement is taken into account as we plan the future phases, which will maximize the benefits and value to users, including asset management and DeFi exploration.
Injective is an ideal blockchain for our integration efforts at Coin98. Injective is an open, interoperable smart contracts platform tailored for building decentralized finance applications.
Injective is a lightning-fast PoS blockchain, capable of processing transactions with instant finality for near-zero fees. Injective is also the first blockchain to be entirely MEV resistant while uniquely providing a set of Web3 modules such as an on-chain orderbook, derivatives, and binary options. Developers can utilize these modules in a plug-and-play manner in order to create novel dApps. For instance, a project building a predictions market dApp can combine the orderbook, oracle and binary options modules in order to rapidly go to market with a sophisticated product that would otherwise have taken years to build.
Following the integration, 6,000,000+ new users can create their own Injective wallet while exploring 100+ projects in the Injective ecosystem through the Coin98 dApp Browser in the near future. Users, for instance, can soon trade spot or perpetual markets on premier exchange dApps built on Injective such as Dexterium directly through the Coin98 app. In addition, users can place bets on sporting events via prediction markets dApps built on Injective such as Frontrunner.
"Coin98 is a tremendously valuable wallet application that has helped to onboard millions of new users into Web3. The integration with Injective will unlock a world of new opportunities while providing users with seamless access to next-generation dApps built on Injective," said Injective Labs co-founder and CEO, Eric Chen.
"Traditionally, decentralized finance has always been a key pillar of Web3, but the sector is riddled with pressing issues with respect to liquidity, latency, and usability. This, in turn, led us to discover Injective, a blockchain infrastructure optimized for decentralized finance. Coin98 hopes to empower users with unprecedented opportunities in the decentralized finance markets," said founder of Coin98 Finance, Thanh Le.
Get started
How to create an Injective wallet
Before we begin, you will need to install or update our Super App to the latest version:
We recommend you create a Multi-Chain wallet on the Coin98 Super App to easily manage and access all blockchain wallets with only one Passphrase.
If you are already a Coin98 user, please choose Manage on the WALLETS section. Next, choose Active Blockchains, and finally, activate Injective.
To complete the process, you should refresh your multi-chain wallet to get access to the updated Injective wallet. You can also follow the instructions in the video below:
About Injective
Injective is a custom interoperable layer one protocol for building powerful exchange, DeFi, derivatives & Web3 applications. Injective was created using the Cosmos SDK and is able to achieve instant transaction finality while sustaining lightning fast speeds. INJ is the native deflationary scarce asset that powers the Injective Protocol and its rapidly growing ecosystem. Injective is incubated by Binance and is backed by Pantera Capital.
Website | Telegram | Discord | Blog | Twitter | Learn | Youtube | Facebook | LinkedIn | Reddit | Instagram | Orbit Newsletter
About Coin98 Super App
Coin98 is the #1 crypto super app designed to seamlessly connect a billion users to the crypto world safely and securely. We offer users across the globe a comprehensive and trusted ecosystem of essential services, including but not limited to a non-custodial, multi-chain NFT & cryptocurrency wallet, built-in DEXs, Cross-chain Bridge & DApp Browser, a powerful Terminal, attractive Earn, Gift & Campaign, and Others.