Coin98 Super App
Coin98 integrates KyberSwap natively, enhancing users' trading experience on BNB Chain
As part of our ongoing work to enrich the liquidity on BNB Chain, Coin98 is excited to welcome the landing of KyberSwap - a next-gen AMMs on its Native Swap.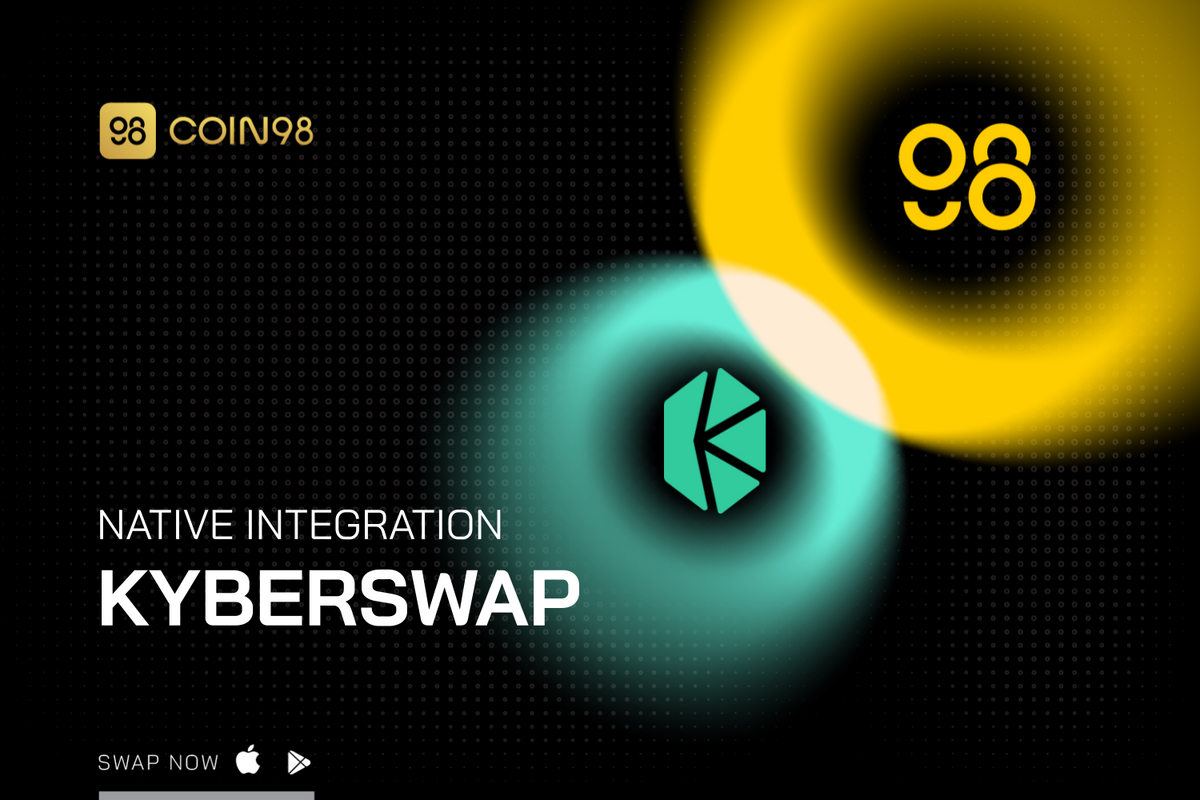 Coin98 is the first crypto super app in the market offering users a comprehensive and trusted ecosystem of essential DeFi services including the Native Swap feature. Since its launch, Coin98 has collaborated with top-tier AMMs on BNB Chain in cooperative efforts to bootstrap the liquidity and drive the adoption. And KyberSwap - powered by Kyber's on-chain liquidity protocol, is one of the newest to join our ecosystem.
KyberSwap has proven to be one of the most potential DEXs built on multi-chain, primarily designed as the fastest and easiest way to buy and sell BEP20 tokens in a fully decentralized manner. As DeFi's first dynamic market maker giving traders the best rates while enhancing liquidity with amplified pools, KyberSwap can assist users to swap tokens through a simple process that requires no deposits, order books, or wrapping.
With this integration, from Coin98 Super App V11.5.0 and soon on our next release of Extension, 1M+ users can not only enjoy the seamless and best swap experience with fast speeds from KyberSwap also a simple and intuitive interface from Coin98 Native Swap. Furthermore, Coin98 also enables users to adjust their own transaction fee using the convenient & optimized gas bar according to their needs. The default gas fee on Coin98 Super App has been set for the highest speed with the most reasonable cost.
The major focus of this collaboration will be on the mutual objective between the two projects: improving the multi-chain experience and liquidity for BNB Chain users. Coin98 and KyberSwap have comparable product development approaches in the DeFi space, as well as similar perspectives on cross-chain economic growth, which will surely help future synergies. Coin98 and KyberSwap are pushing the envelope on fast and scalable solutions for users. By working together we bring new fascinating opportunities to the BNB Chain ecosystem.
How to use KyberSwap natively on Coin98 Super App
Easy steps to trade crypto natively on Coin98 Super App through KyberSwap. Let's walk through how it works.
Step 1: Open Coin98 Super App, then choose the Swap tab on the home screen.
Step 2: Select KyberSwap
Step 3: Choose the desired tokens and start trading!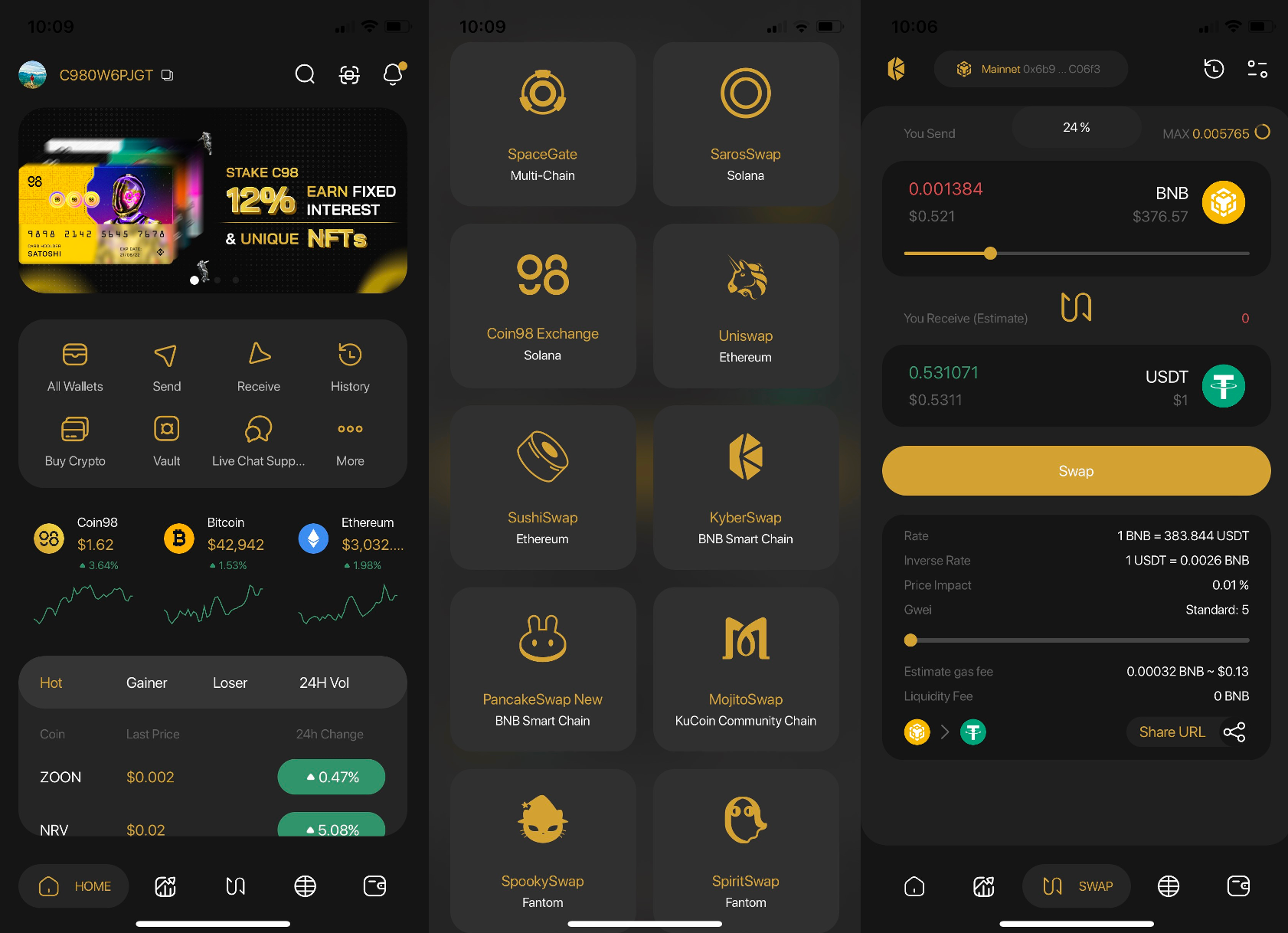 Read on the full details of the instruction HERE.
About KyberSwap
KyberSwap is Kyber Network's flagship Decentralized Exchange (DEX) aggregator, provides the best rates for traders in DeFi, and maximizes returns for liquidity providers.
KyberSwap powers 100+ integrated projects and has facilitated over US$7 billion worth of transactions for thousands of users since its inception and is currently deployed across 9 chains including Ethereum, BNB Chain, Polygon, Avalanche, Fantom, Cronos, Arbitrum, Velas, Aurora.
Website | Discord | Twitter | Blog | Reddit | Facebook | Github | Docs
About Coin98
Coin98 is the #1 crypto super app designed to seamlessly connect a billion users to the crypto world safely and securely. We offer users across the globe a comprehensive and trusted ecosystem of essential services including but not limited to a non-custodial, multi-chain NFT & cryptocurrency wallet, built-in DEXs, Cross-chain Bridge & DApp Browser, a powerful Terminal, attractive Earn, Gift & Campaign, and Others.