Coin98 Super App
Coin98 integrates Mercuryo, harmonizing and easing crypto payments for millions of users
Using a service added by Mercuryo to the most recent version of the Coin98 Super App!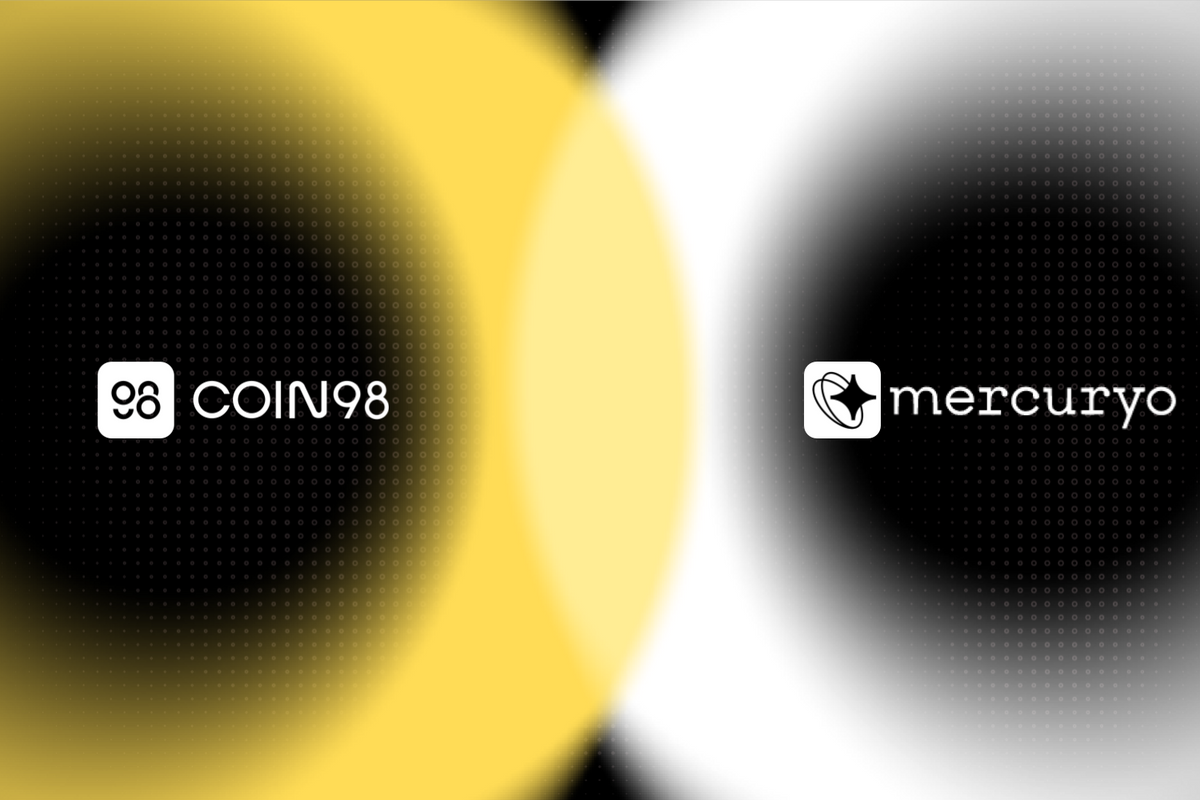 Using a service added by Mercuryo to the most recent version of the Coin98 Super App, users are now able to buy cryptocurrency with fiat currency using a range of different payment methods thanks to this integration.
Update your App to the latest version and enjoy today!
Coin98 aspires to explore uncharted territory and seize the opportunity to cater to the needs of all its users. This places a strong emphasis on the fiat on-ramp function as a means of attracting further clients into the cryptocurrency industry for the purpose of adopting the new wave of crypto users as well as the future of the financial system.
In the latest version, Coin98 integrates Mercuryo, a leading on- and off-ramp service provider, already revolutionizing the convenience with which customers may make payments for more than 250 and counting businesses all over the world.
Mercuryo is a worldwide payments ecosystem that develops and harmonizes crypto and fiat solutions to enable businesses in any part of the globe to unlock and leverage the power of cryptocurrency transactions. Its objective is to leverage cryptocurrencies to convert every business into a global business by making all types of business payments, regardless of their nature, easier and more accessible than ever before.
After this upgrade, users have more options for purchasing cryptocurrencies. Thanks to the automation process, the system will obtain data from many providers and quickly determine the best rate for users. This acts as an incentive for users to jump into the crypto realm with one single app: Coin98 Super App.
Through this integration, we intend to broaden the outreach to the mass audience, hence, recruit more users for the app. This makes Coin98 a Defi gateway to bridge the gap between Web2 and Web3 users enabling crypto to be more accessible for everyone, and people are ready to use it as payment.
How to buy crypto with fiat through Mercuryo on Coin98 Super App
Please ensure Coin98 Super App is on your devices and has a multichain wallet.
Learn more: How to create a multichain wallet
Step 1: Open Coin98, choose to Buy crypto
Step 2: In this interface:
Choose the crypto that you wish to buy
Choose Mercuryo
Click Confirm
Step 3:
Complete email verification step
Input your personal information
Choose payment methods (it depends on each region/country)
Click Continue
Step 4: Complete the KYC process (if you are a first time buyer with a minimum of €900)
Step 5: Start buying your desired crypto!
Notes:
The purchase range will be different for each fiat.
You can skip KYC process if you are a first time buyer and buy less than €900
It may take a few minutes to verify your KYC, please patiently wait until it is done
About Mercuryo
Mercuryo is a global payments infrastructure platform, providing businesses from both the fiat and crypto worlds with a wide range of financial services accessible through API integration. Since its inception in 2018, Mercuryo has secured over 200 partners, working with leading industry players to accelerate growth and boost revenues for enterprises worldwide.
About Coin98 Super App
Coin98 is the #1 crypto super app designed to seamlessly connect a billion users to the crypto world safely and securely. We offer users across the globe a comprehensive and trusted ecosystem of essential services, including but not limited to a non-custodial, multi-chain NFT & cryptocurrency wallet, built-in DEXs, Cross-chain Bridge & DApp Browser, a powerful Terminal, attractive Earn, Gift & Campaign, and Others.