Coin98 Super App
Coin98 integrates MoonPay, bringing trillions of dollars from TraFi to DeFi
Coin98 integrates MoonPay opening up the possibility for millions of new users to experience DeFi.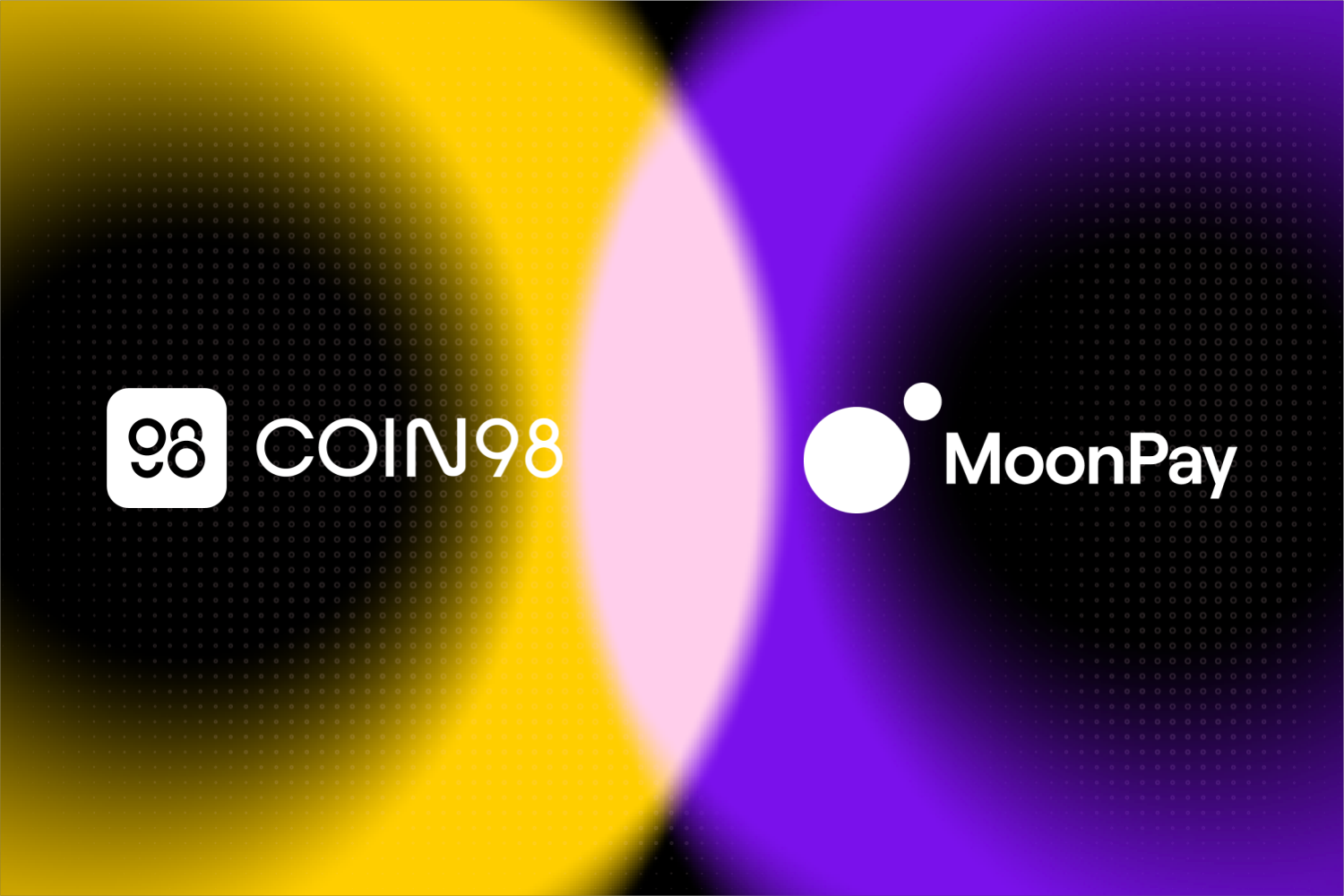 The Challenges
For quite a while, the entry point for new people coming into crypto has been via CEX's, like Binance or FTX, as it was the quickest and easiest way to swap fiat into crypto.
Moreover, in order to access DeFi protocols, these new entrants would need the time to learn, whilst also spending a lot of money paying gas fees.
The integration with MoonPay eliminates the need for on/off ramping via CEXs to participate in DeFi. We are happy to say users can bypass these barriers completely and move straight into the future of Web3, in one single app: Coin98!
Our goal is to make DeFi accessible for everyone. This integration, combined with our already existing multichain core, native swap, and web3 browser opens up the possibility for millions of new users to experience DeFi.
It just doesn't get easier than this. Take a quick look here: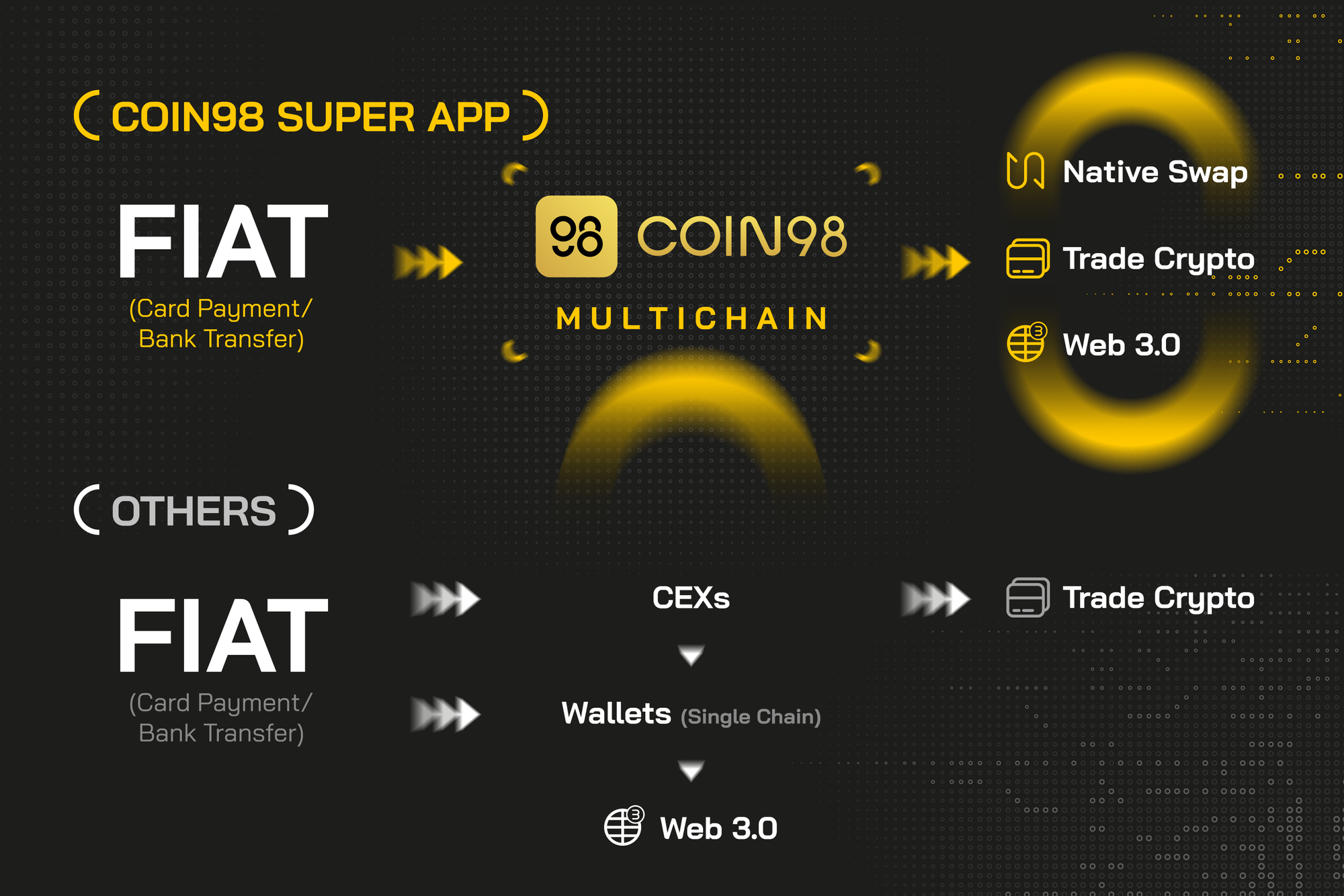 The Gateway to DeFi is now complete!
The goal of this partnership is to enhance the end-users' experience dramatically. We have added support via MoonPay for 40+ fiat currencies. In addition, users can purchase crypto via credit/debit card, Apple Pay, Google Pay, bank transfer, and other payment methods.
Please download the Coin98 app and find it under [Buy Crypto] on the homepage to buy tokens. The tokens that users buy will be credited to their respective accounts.
Fiat currencies list via MoonPay:
AUD, BGN, BRL, CAD, CHF, COP, CZK, DKK, DOP, EGP, EUR, GBP, HKD, HRK, IDR, ILS, JOD, JPY, KES, KRW, KWD, LKR, MAD, MXN, MYR, NGN, NOK, NZD, OMR, PEN, PKR, PLN, RON, RUB, SEK, SGD, THB, TRY, TWD, USD, VND, ZAR
Cryptocurrencies list via MoonPay:
AAVE, ADA, ALGO, ATOM, AVAX_CCHAIN, AXS, BCH, BNB_BSC, BTC, BUSD_BSC, CELO, COMP, CUSD, DAI, DOGE, DOT, ETH, ETH_POLYGON, LINK, LTC, LUNA, MATIC, MATIC_POLYGON, NEAR, RUNE, SAND, SHIB, SOL, SRM, TRX, TUSD, USDC, USDT, UST, XRP
Read more about the detailed instruction on MoonPay through this link.
About MoonPay
MoonPay is a fintech company that builds payments infrastructure for crypto. Our on-and-off-ramp suite of products provides a seamless experience for converting between fiat currencies and cryptocurrencies using all major payment methods including debit and credit cards and local bank transfers. MoonPay is active in more than 160 countries and is trusted by 250+ leading wallets, websites, and applications to accept payments and defeat fraud.
Website | Twitter | Instagram | LinkedIn | Blog

About Coin98 Super App
Coin98 is the #1 crypto super-app designed to seamlessly connect a billion users to the crypto world safely and securely. We offer users a comprehensive and trusted ecosystem of essential services across the globe, including a non-custodial, multi-chain NFT & cryptocurrency wallet, built-in DEXs, Cross-chain Bridge & DApp Browser, a powerful Terminal, attractive Earn, Gift & Campaign, and Others.