Coin98 Super App
Coin98 Integrates Nautilus Chain, Accelerating Real-time Streaming Payment
Coin98 is delighted to announce that we have onboarded Nautilus Chain into the latest version of Coin98 Super Wallet and Coin98 Extension.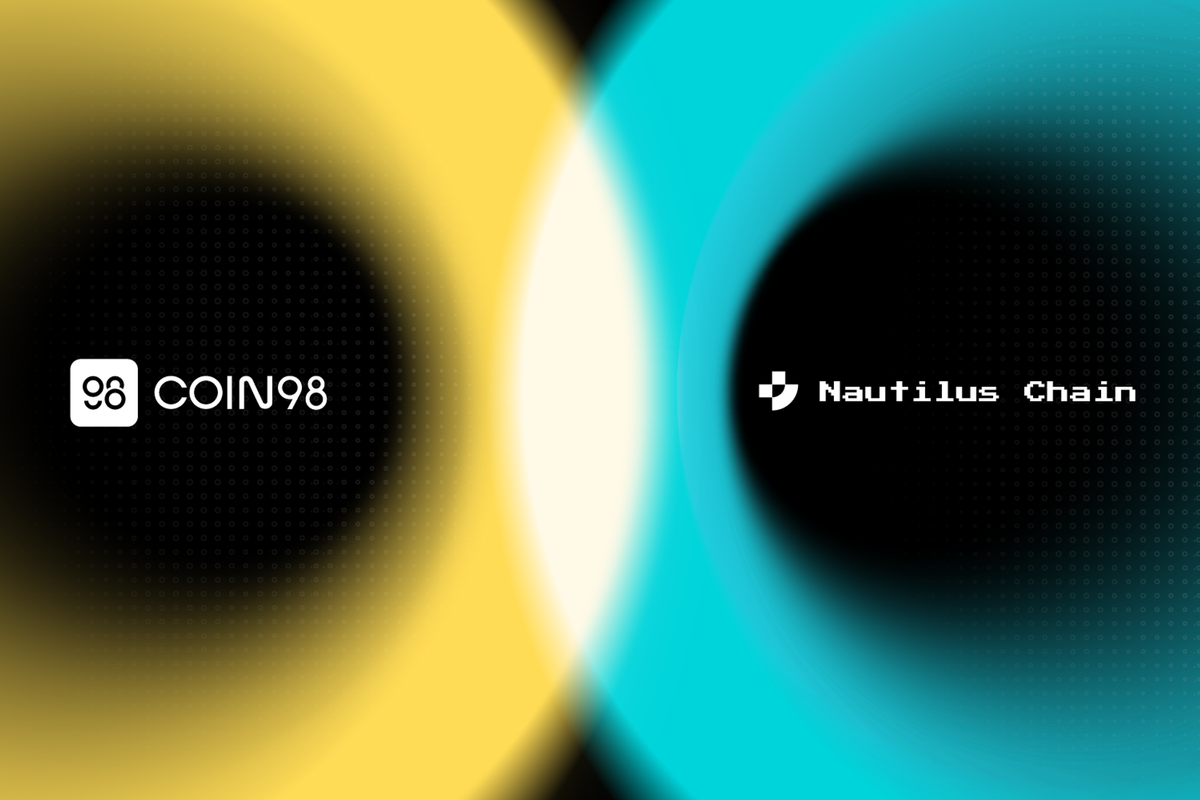 Coin98 is delighted to announce that we have onboarded Nautilus Chain into the latest version of Coin98 Super Wallet and Coin98 Extension. This integration aims to promote Zebec, a dApp for real-time payment streaming soon to be deployed on Nautilus which is set to elevate the experience for Coin98 users, offering seamless and efficient payment solutions.
Real-time payments are gaining immense significance, especially within the Web3 landscape. With the emergence of blockchain technology and DeFi, the demand for instantaneous transactions has surged significantly. That's why Nautilus, a revolutionary blockchain platform purpose-built for the future of decentralized finance (DeFi) and Web3 applications, stands out for its high performance and adaptability in real-world scenarios.
Real-time payment streaming, as offered by Zebec on the Nautilus blockchain, surprisingly fastens financial transactions within Web3. Zebec specializes in tax-compliant, real-time payment streaming services on the robust rails of Web3, facilitating a groundbreaking approach to handling finances.
As a gateway welcoming over 7 million users into the Web3 world, Coin98 Super Wallet recognizes the invaluable potential of each connected blockchain in meeting diverse demands. We always have the dedication to strive to envision a decentralized finance platform capable of fulfilling real-world demands in traditional finance, all through the capabilities of our crypto wallet.
Now, thanks to the collaboration with Zebec and Nautilus, Coin98 users can seamlessly store, send, and receive ZBC, while securely conducting transactions within Web3 at unprecedented speeds. Furthermore, in conjunction with this collaboration, we aim to introduce new business solutions for enterprises through Coin98 Super Wallet, utilizing Zebec's Payroll solution. For example, Zebec's Payroll solution empowers businesses to pay employees in real-time, allowing immediate access to earnings and leveraging the time value of money. This approach eliminates the necessity for predatory payday loans, providing individuals with financial stability, while enabling businesses to streamline payroll processes efficiently.
How to create a Nautilus wallet
Before beginning, you will need to install or update Coin98 to the latest version:
We recommend you create a multi-chain wallet on the Coin98 Super Wallet to easily manage and access all blockchain wallets with only one Passphrase.
Activate Nautilus on Coin98 Super Wallet:
If you are already a Coin98 user, please choose Active Chains on the main screen, search for Nautilus and activate it.
Follow these step-by-step instructions to create a totally new multi-chain wallet:
Step 1: Click on the icon New Wallet on WALLETS tab.
Step 2: At the top right corner, choose Hot Wallet and click Continue
Step 3: Click-on Multi-Chain then Create!
Activate Nautilus on Coin98 Extension:
Step 1: Click on the icon Services on the main screen..
Step 2: Choose Active Blockchains.
Step 3: Search Nautilus on the Search bar and then you're all done!
About Nautilus
Nautilus Chain is the first production-ready modular chain in Web3. Through its modular architecture, Nautilus combines the speed of Solana with the decentralization and security of Ethereum to become the fastest EVM chain available, capable of parallel transaction processing.
Developers can use Nautilus to build next-generation payment dApps capable of real-time settlement. Nautilus provides Solidity developers with the efficiency and customization to build dApps that wouldn't be possible on other EVM foundations.
With Nautilus, Web3 technology will have the reliability and scalability needed to replace traditional payment rails worldwide.
Twitter | Medium | Website | Telegram | Discord
About Zebec
Zebec is a tax-compliant payment protocol with over 60 business clients and over $100 million in TVL. It is a continuous settlement protocol founded by Sam Thapaliya that makes payments more efficient, fair, and decentralized.
Businesses, ecosystem partners, and institutions use Zebec Protocol to stream real-time, per-second payments to payees. By more efficiently leveraging the time value of money, Zebec makes money worth more.
Follow Zebec on Social Media:
Twitter | Discord | Telegram | Operation Horizon | Website
About Coin98 Super Wallet
Coin98 is the #1 crypto super app designed to seamlessly connect a billion users to the crypto world safely and securely.
We offer users across the globe a comprehensive and trusted ecosystem of essential services, including but not limited to a non-custodial, multi-chain NFT & cryptocurrency wallet, built-in DEXs, Cross-chain Bridge & dApp Browser, a powerful Terminal, attractive Earn, Gift & Campaign, and Others.