Coin98 Super App
OolongSwap, the biggest DEX on Boba Network, is now on Coin98 native swap!
Coin98 is excited to announce that we have integrated OolongSwap - a DEX developed on Boba Network into the native swap.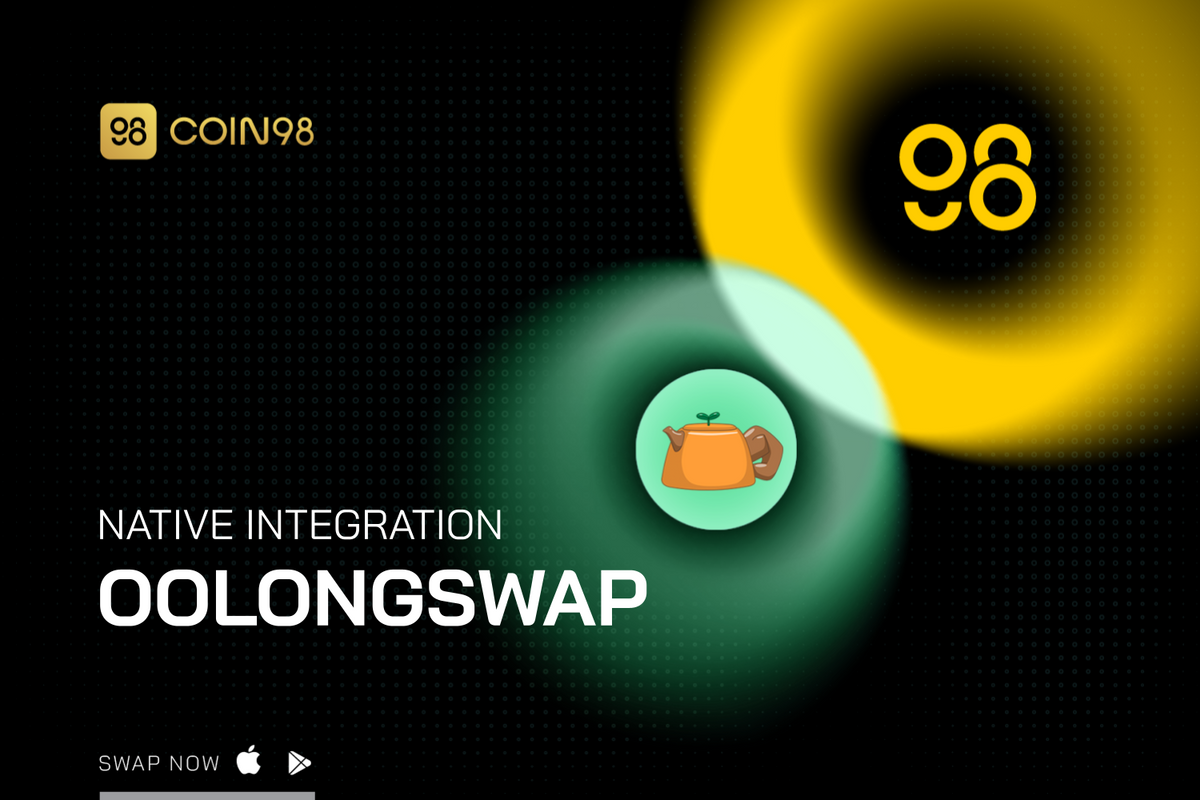 One of the newest AMMs integrated into Coin98 native swap is OolongSwap, an AMM to provide not an ordinary everyday DEX but to create a gateway between Boba Network and the rest of the DeFi world. Coin98 is getting a step closer to achieving its goal of becoming the world's most popular Crypto Super App by providing users with access to OolongSwap which offers not only smooth but also incredibly cost-effective transactions.
OolongSwap is built with a suite of DeFi services such as Swapping, Farming, Staking, Adding Liquidity Pool. OolongSwap combines all of the capabilities you'd expect from a typical DEX with DeFi 2.0 innovations like Protocol Controlled Value (PCV). On Coin98 Super App V11.3.2 and Coin98 Extension V5.8, users can now benefit from a safe, smooth AMM while it is also fascinating and innovative. As the largest DEX on Boba Network, OolongSwap provides the ultimate experience while maintaining Boba's outstanding network infrastructure and unbroken throughput. OolongSwap leverages the advantages of an Ethereum Layer 2 Optimistic Rollup scaling solution, therefore, it provides users optimized gas fee, lowest slippage rate, and transaction throughput improvement.
"The association of Coin98 with OolongSwap will undoubtedly be beneficial. The integration is a key part of our team's effort for more innovative and exciting technology solutions for the community. This will definitely boost the attempt to maximize the mutual benefits - strengthening the DeFi world and offering the "DEX suitable for all" to millions of users. Together we will be heading to achieve our goals: creating a healthy environment and educating users about DeFi knowledge." Vinh The Nguyen, Co-Founder & CEO of Coin98 Finance.
"Since Oolong's launch last year as Boba's first native DEX, we have introduced many more features to our users and the Boba Network such as bonding, YOLO pool, and our most recent lending and borrowing. And now being able to integrate with Coin98 is another big milestone for us! We are excited to present our products and innovation to a wider audience and we look forward to working with the Coin98 team and thriving together with the Coin98 community!" Bytedust, Founder of OolongSwap.
About OolongSwap
OolongSwap is the biggest DEX on Boba Network, a layer-2 Ethereum scaling solution. As Boba's first native AMM, it is Oolong's mission to create the best exchange, best user experience, and deepest liquidity on Boba as our motto is "more to earn, less to spend". Aside from the regular DEX features, we have also introduced features such as dynamic pair fees to offer users lower trading slippage, multea farm for users to earn double the rewards with the same investment capital, PCV and bonding to offer a sustainable future for Oolong, lending, and borrowing that allow users to utilize different DeFi investment strategies. Our vision is to become the gateway between Boba and the rest of the DeFi world, expanding the Boba ecosystem and helping new and experienced DeFi users alike find their crypto home.
Twitter | Discord | Telegram | Docs
About Coin98 Super App
Coin98 is the #1 crypto super app designed to seamlessly connect a billion users to the crypto world safely and securely. We offer users across the globe a comprehensive and trusted ecosystem of essential services including but not limited to a non-custodial, multi-chain NFT & cryptocurrency wallet, built-in DEXs, Cross-chain Bridge & DApp Browser, a powerful Terminal, attractive Earn, Gift & Campaign, and Others.