Coin98 Super App
Coin98 integrates Simplex by Nuvei, empowering worldwide users with an easy on-ramp to crypto
Coin98 is delighted to integrate Simplex by Nuvei into the latest version.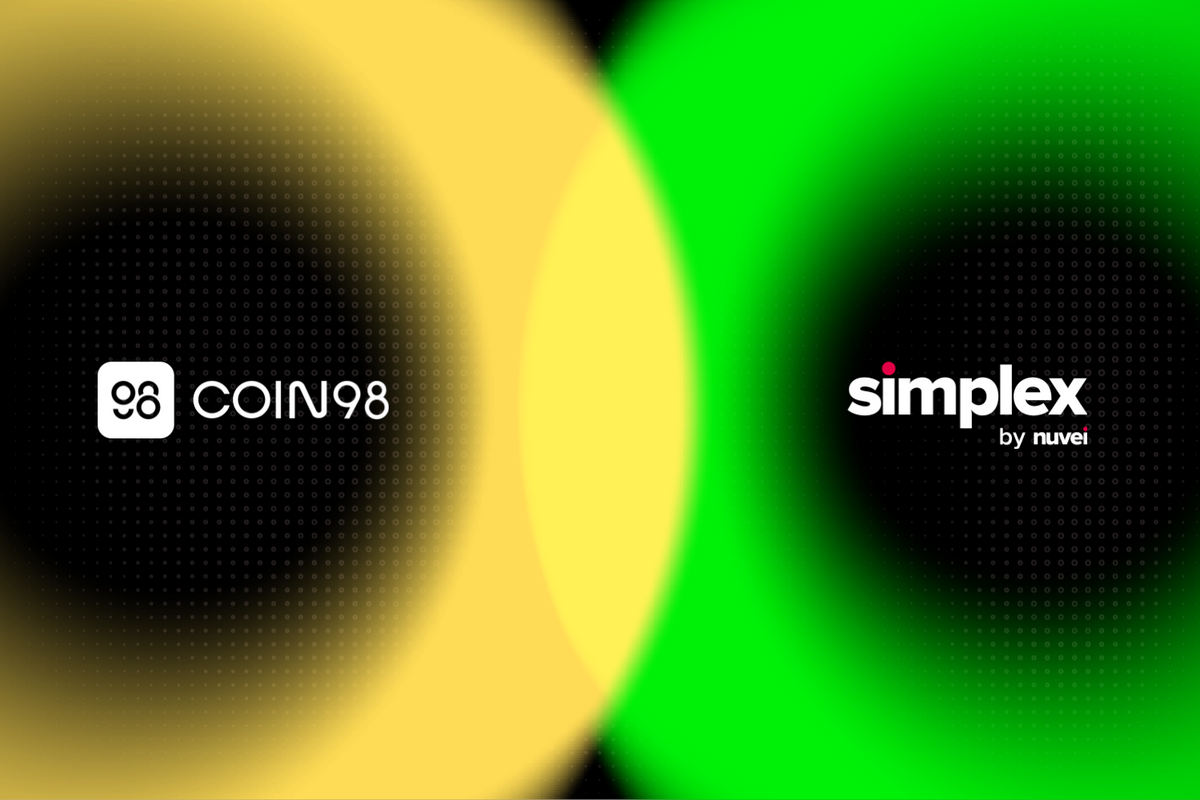 With the introduction of Simplex by Nuvei, Coin98 is delighted to release a new update on the fiat on-ramp feature. Users can now purchase crypto with fiat through a variety of payment options thanks to this link.
Update your app to the latest version and enjoy today!
For decentralized engagement, Coin98 offers a zone where users can smoothly trade tokens on multiple blockchains. Similarly, Coin98 emphasizes the fiat on-ramp feature to get more customers into the cryptocurrency space.
Simplex is a licensed financial institution and a Level 1 Service Provider, acquired by Nuvei, a leading global payment technology provider, giving the cryptocurrency sector access to a complete fiat infrastructure. It is also one of the first in the crypto market to allow consumers direct access to crypto-friendly debit cards by being named a Principal Member of the Visa network.
We hope to deliver an on-ramp solution through this integration that will make cryptocurrency more universally available. Users of Coin98 have access to a variety of payment options, including Visa, MasterCard, Apple Pay, SWIFT, SEPA, and more, to buy 170+ cryptocurrencies using more than 100+ fiat currencies.
"To provide Coin98 users with the simplicity of cryptocurrency purchase, we are closely collaborating with Simplex. Coin98 is geared to expand beyond Asia, America, Europe, Africa, and other continents thanks to Simplex's extensive network." Vinh The Nguyen - CEO & co-founder of Coin98 Finance.
How to buy crypto with fiat through Simplex on Coin98 Super App
Please ensure Coin98 Super App is on your devices and has a multichain wallet.
iOS: ios.coin98.com
Android: android.coin98.com
Learn more: How to create a multichain wallet
Step 1: Open Coin98, choose to Buy crypto
Step 2: In this interface:
Choose the crypto that you wish to buy
Choose your desired provider
Click Confirm
Step 3:
Enter card details
Read the information carefully and tick the terms, then choose Next.
Step 4: Add the billing address where you registered your card and personal details. Then, click PAY NOW.
Following that, you will need to input a 4-digit code that will be sent to your email. Then, you might upload your identity document and provide its information on the document upload page after the email has been validated.
Notes:
Each transaction has a $51 minimum and $50,000 maximum purchase.
When using Simplex, the system automatically grants the active wallet as the recipient address.
It takes you a short time to review your KYC. Please wait for its status before the transaction completion.
About Nuvei
Simplex by Nuvei (Nasdaq: NVEI) (TSX: NVEI) is the fiat/crypto infrastructure for the entire world. An EU-licensed financial institution, Simplex by Nuvei aims to change the status quo of the current crypto markets by providing simple, seamless, and secure channels to convert over 100+ fiat currencies to 170+ cryptocurrencies. Simplex by Nuvei already empowers its vast network of partners to accept a wide range of payment methods for cryptocurrency on/offramps, including Visa, MasterCard, Apple Pay, SWIFT, SEPA, and more.
About Coin98 Super App
Coin98 is the #1 crypto super app designed to seamlessly connect a billion users to the crypto world safely and securely.
We offer users across the globe a comprehensive and trusted ecosystem of essential services, including but not limited to a non-custodial, multi-chain NFT & cryptocurrency wallet, built-in DEXs, Cross-chain Bridge & DApp Browser, a powerful Terminal, attractive Earn, Gift & Campaign, and Others.