Coin98 Super App
Coin98 integrates SpookySwap - Fantom's leading AMM
Coin98 has just integrated SpookySwap into the Native Swap feature, connecting 1M+ users to one of the biggest community-driven, trader-focused DEXs on Fantom.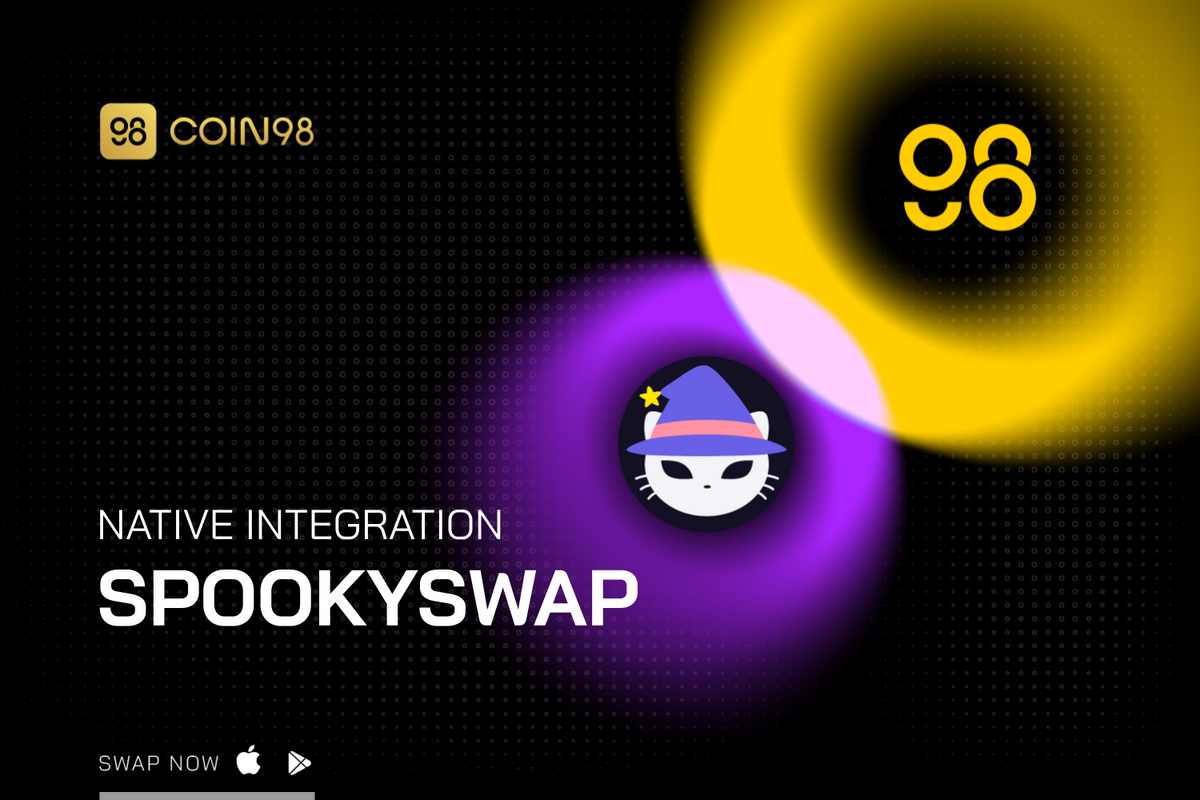 Recently, the DeFi world has witnessed a significant number of users getting onboarded.  In a multichain era, the demand for an ultimate focal point to implement trader-friendly features grows with it. Coin98 has made a huge step forward in this direction by offering the Native Swap feature on its Super App, which is powered by many leading AMMs across top-tier blockchains.
Fantom was one of the earliest blockchains we supported, which came with multiple Fantom-based DApps integrated into our Web3 Browser since the outset stage of the development. Aiming at promoting quality Fantom-native projects to our communities and the greater DeFi ecosystem, Coin98 Native Swap has built the integration with SpookySwap, empowering users with a secured approach to trade FRC20 tokens natively right on our Super App from version 11.3.
Maintaining the high TVL according to DeFi Llama statistics, SpookySwap described itself as a leading AMM on Fantom, utilizing the chain's low fees and fast transaction times to create a seamless swapping experience.  Different from other DEXs, SpookySwap is invested in building a strong foundation with user-centered service valuing both functionality and usability. Token swaps on Spooky are a simple and lowest swap fee way to trade one token for another via automated liquidity pools while still preserving a light-hearted fun feel. SpookySwap now holds over $200,000,000 in stable coin pairs whose high volume enables large trades at lower price impact.
This collaboration was formed in an effort to maximize our mutual advantages rejuvenating the DeFi world and bringing new capabilities to the Fantom ecosystem at large. The integration enables users to simply leverage Coin98 Super App's ultimate trading experience and fast polished interface while accessing the lowest fee, top speed, security, and scalable transactions all via SpookySwap. In the future, we will explore even deeper integrations with the SpookySwap team to bring the best of the Fantom network reaching towards the mutual goal of making crypto less cryptic every day.
How to use SpookySwap natively on Coin98 Super App
Easy steps to trade crypto natively on Coin98 Super App through SpookySwap. Let's walk through how it works.
Step 1: Open Coin98 Super App, then choose the Swap tab on the home screen.
Step 2: Select SpookySwap
Step 3: Choose the desired tokens and start trading!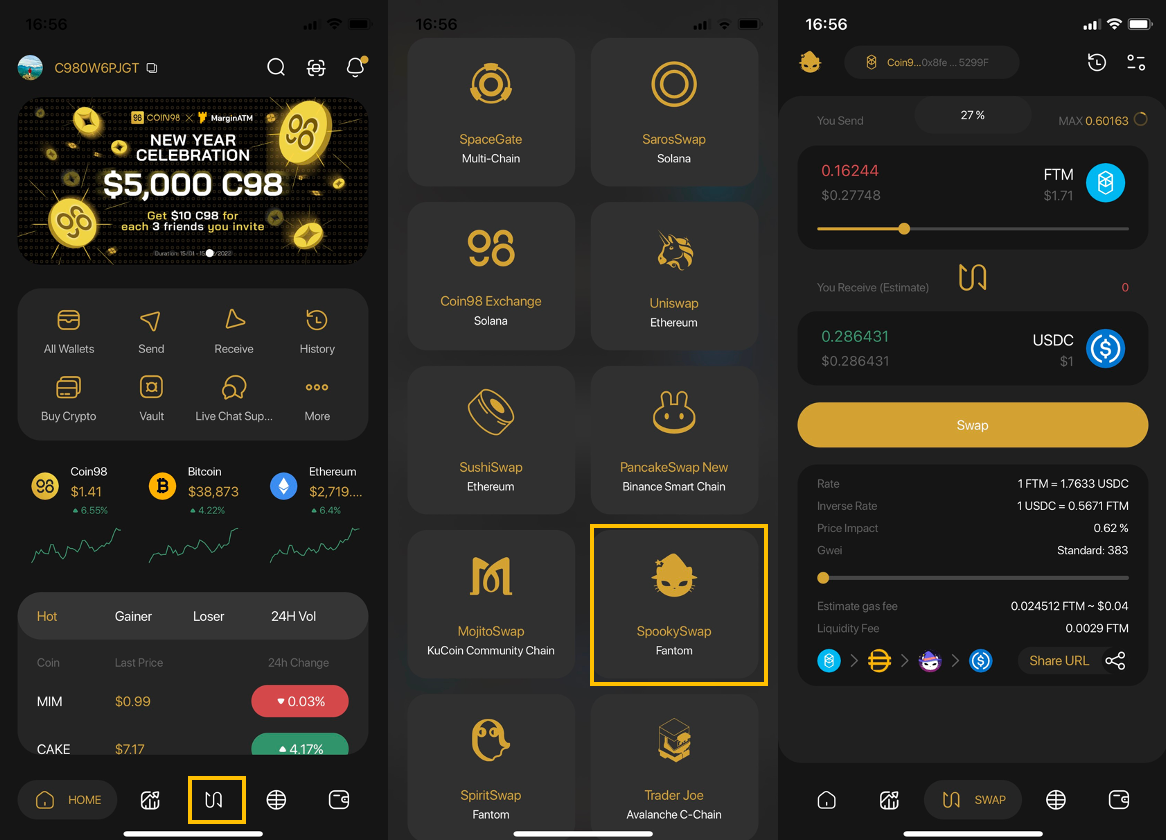 Read on the full details of the instruction HERE.
About SpookySwap
SpookySwap is an automated market-making (AMM) decentralized exchange (DEX) for the Fantom Opera network. SpookySwap's priority is to be trader-first, community-governed, and self-sufficient.
SpookySwap intends to build tools such as trading charts, order history, and more in order for users to receive the richest trading experience as well as establish a fully functional DAO to govern the future of the protocol.
Homepage | Discord | Twitter | Github
About Coin98 Super App
Coin98 is the #1 crypto super-app designed to seamlessly connect a billion users to the crypto world safely and securely. We offer users a comprehensive and trusted ecosystem of essential services across the globe, including a non-custodial, multichain NFT & cryptocurrency wallet, built-in DEXs, Cross-chain Bridge & DApp Browser, a powerful Terminal, attractive Earn, Gift & Campaign, and Others.