Coin98 Super App
Coin98 integrates Stargaze, pervading the trend of NFT to users
Coin98 integrates Stargaze in our latest version.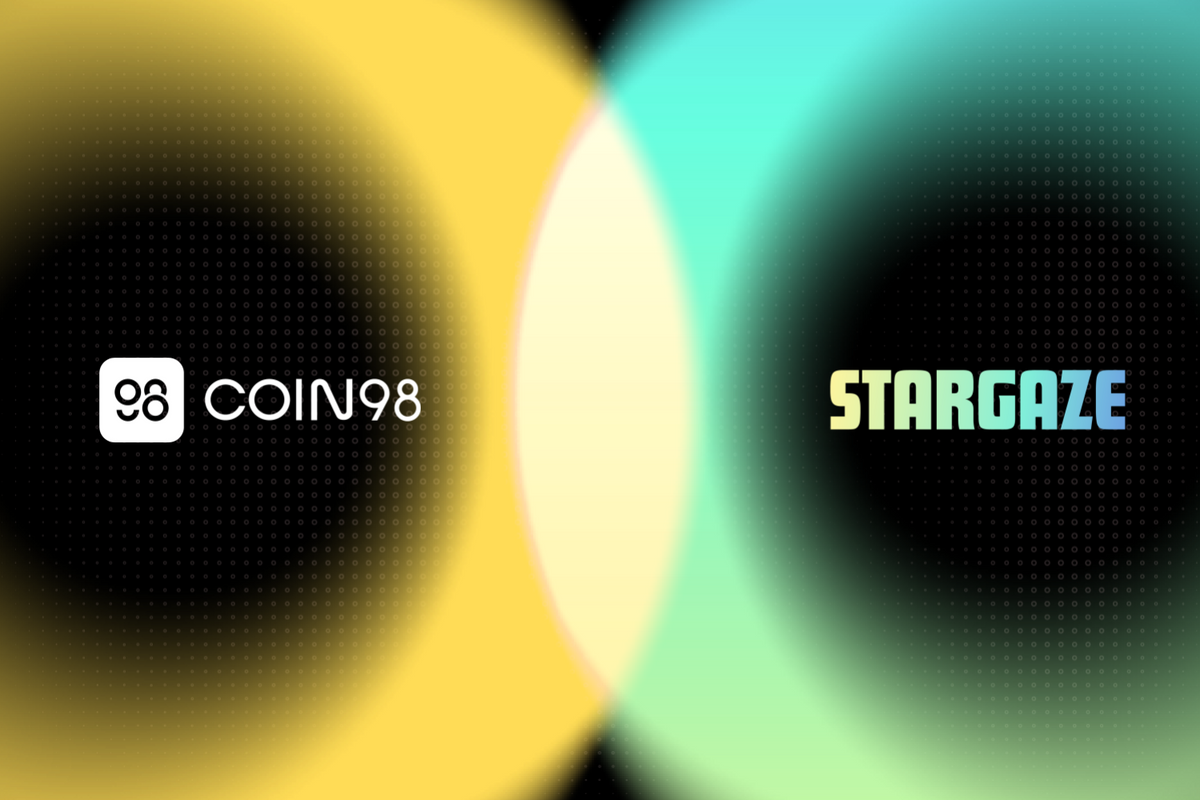 Coin98 integrates Stargaze in our latest version. From now on, users can experience an NFT launchpad, marketplace, stake and swap right in Coin98 Super App & Coin98 Extension.
Update the latest Coin98 version NOW:
Coin98 aims to maximize user experience as an all-in-one DeFi platform that offers a comprehensive yet trusted ecosystem of essential services, including the NFT sector. Having said that, Coin98 proudly presents our new integration with Stargaze, a blockchain specified for NFT launched on the Cosmos ecosystem.
Stargaze is a decentralized and community-driven proof-of-stake Layer 1 for NFTs built on Cosmos. The protocol features a zero gas fee NFT Launchpad and a NFT Marketplace. Stargaze aims to be a decentralized NFT market, totally owned and governed by its users.
With this integration, Coin98 users can directly connect Coin98 wallet to Stargaze with just a few clicks. On top of that, users will soon be able to utilize Cosmos IBC Name Service, as well as buy, mint and store all NFT on this platform, such as Stargaze Punks, Bad Kids, The Space Ape Society, and many more. Besides, users can also stake STARS token (Stargaze Protocol's native token) and give their voting power to make new proposals.
Stargaze is still in the process of expanding its ecosystem and deploying new features. Thus, Coin98 is interested in exploring opportunities to work with and jointly build the Stargaze ecosystem, bringing up a diverse journey to the NFTs in the crypto universe.
Stay connected with us to get the latest news..
Get Started
How to create a Stargaze wallet on Coin98 Super App
Before we begin, you need to install or update our Super App to the latest version:
We recommend you create a Multi-Chain wallet on Coin98 Super App to easily manage and access all single blockchain wallets with only one Passphrase.
If you are already a Coin98 user, please choose to Manage on the WALLETS section, choose Active Blockchains, and then Activate Stargaze.
To complete the process, you should refresh your multi-chain wallets to get updated with the Stargaze wallet. Follow the instructions:
About Stargaze
Stargaze is a Cosmos-based blockchain for minting and trading NFTs. Stargaze is a proof of stake (PoS) blockchain and uses the IBC protocol for interoperating with other Cosmos-based networks like THORchain and Cronos.
About Coin98 Super App
Coin98 is the #1 crypto super app designed to seamlessly connect a billion users to the crypto world safely and securely.
We offer users across the globe a comprehensive and trusted ecosystem of essential services, including but not limited to a non-custodial, multi-chain NFT & cryptocurrency wallet, built-in DEXs, Cross-chain Bridge & DApp Browser, a powerful Terminal, attractive Earn, Gift & Campaign, and Others.