Coin98 Super App
Coin98 integrates Transak to make crypto more accessible over the globe
Coin98 is excited to integrate Transak into the latest version. More Fiat On-Ramp providers for users!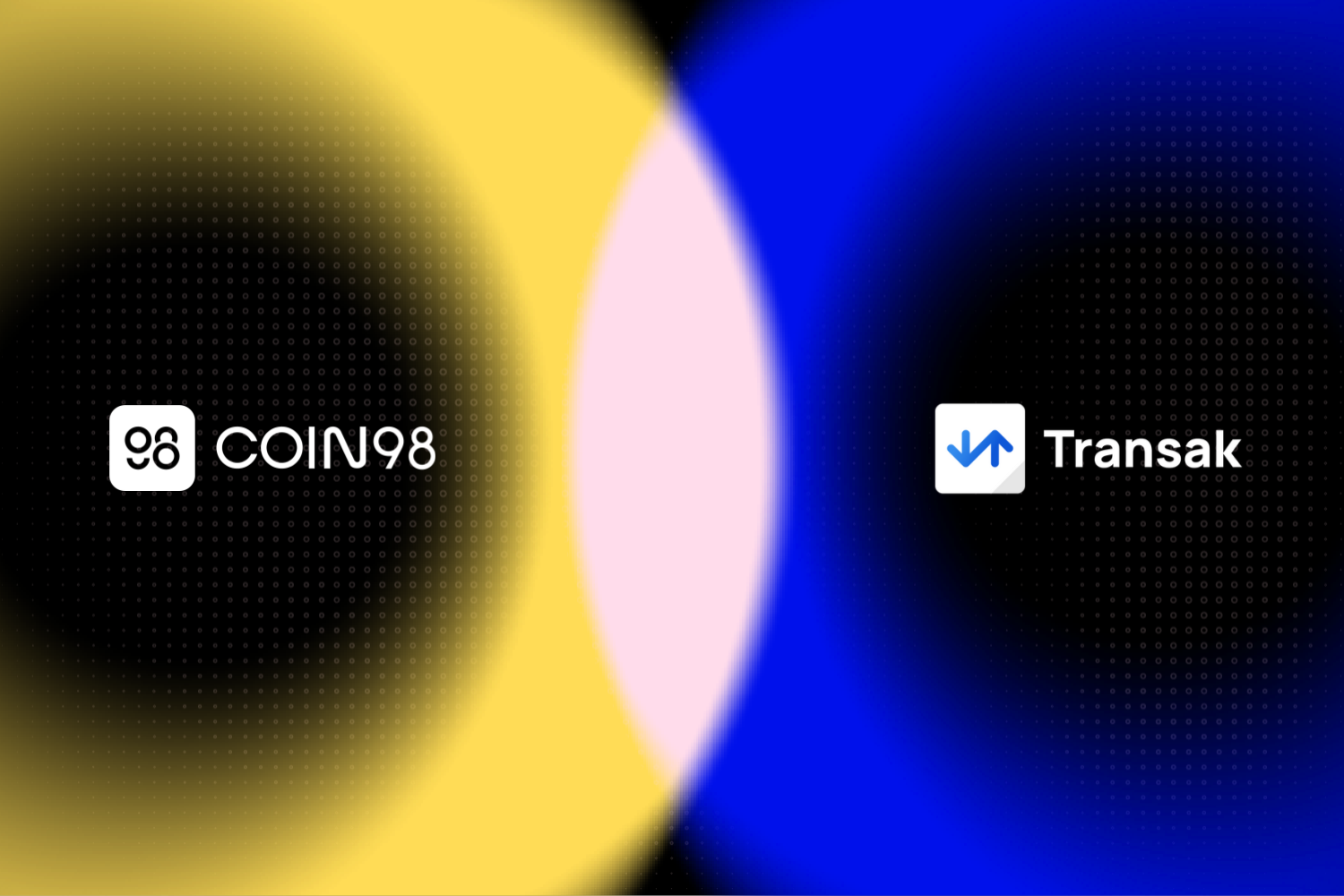 Integrating Transak is an extension of Coin98's mission to attract millions of traditional users to the DeFi landscape.  From now on, users can have more options to buy crypto directly within our app.
Update your Coin98 and buy crypto today!
A bridge between TraFi and DeFi
DeFi progressively acquires mainstream popularity. However, there is still a considerable gap between traditional markets and decentralized applications. Given this, Coin98 seeks to drop the hurdle and emerge as an inclusive gateway for all users globally.
Transak's presence widens the DeFi gateway, enabling users to pay with fiat and instantly purchase cryptocurrencies using a variety of payment methods while collaborating with Coin98 to accomplish the mission of serving in the multichain.
Transak is solving the problem of onboarding in web3, and part of that effort is their fiat<>crypto on-ramp solution, which can be used to buy 130+ cryptocurrencies over 75+ blockchains from 125+ countries. Transak supports payment methods like debit/credit cards, ApplePay and Google Pay globally. It also enables users to pay with local methods like GCash in the Philippines, SEPA in Europe, Faster Payments in the UK, Pix in Brazil, and many more.
How to buy crypto via Transak on Coin98 Super App
Please ensure Coin98 Super App is on your devices and a multichain wallet.
Learn more: How to create a multichain wallet
Step 1: Open Coin98, choose Buy Crypto, then select Transak
Step 2: In this interface:
After choosing a currency or nation, enter the amount you wish to pay
Select a payment method (Upon regions, Transak supports any different payment methods)
Choose the token you want to buy
Check several necessary information, including the fee, rate, slippage, and average processing time.
Tap Buy Now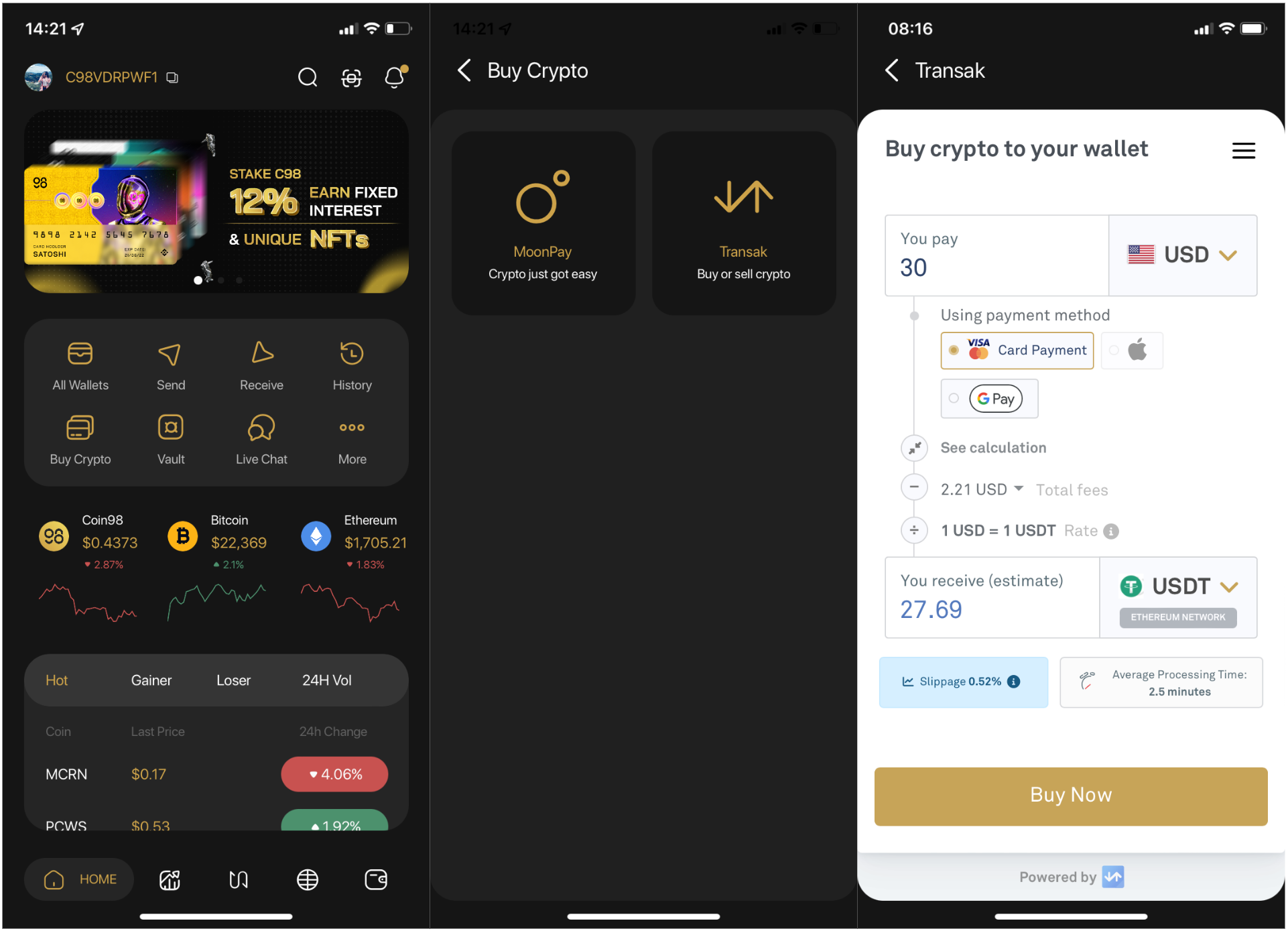 Step 3: Enter your wallet address (please check the network of tokens to make sure you input the correct address), and choose Buy USDT (We take USDT as an example)
Step 4: Complete the KYC process
Step 5: Input the payment information and confirm to pay!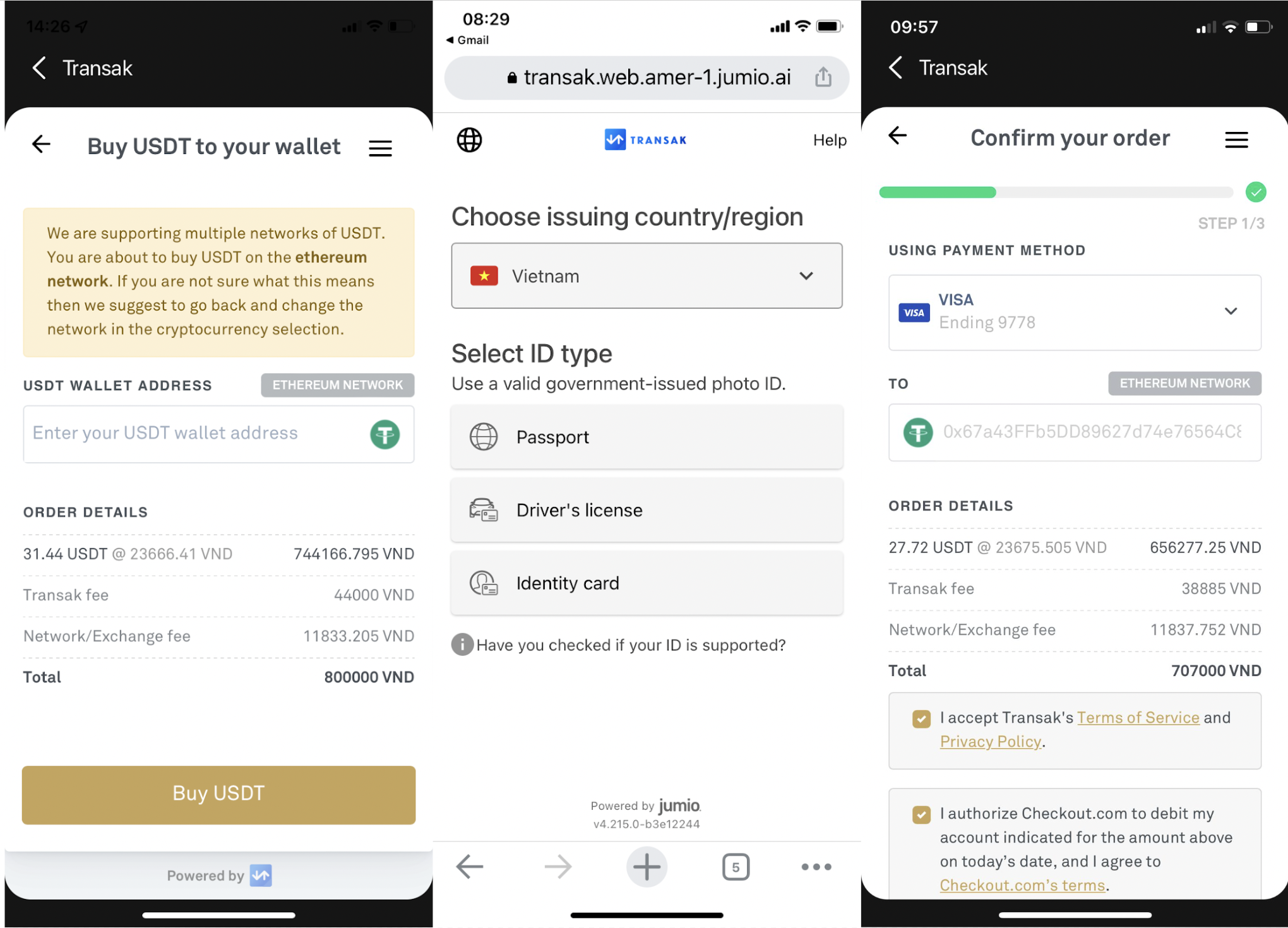 Notes:
Each transaction has a $30 minimum and a $1500 maximum purchase amount.
It takes you a short time to review your KYC, please want its status before going to the next steps.
Transak supports a variety of cryptocurrencies and ways of payment; if you need further details, please check here:
About Transak
Transak is a single integration for applications to enable fiat<>crypto on/off-ramp from a global user base. It does so by providing API-driven fiat payment methods to on/off-ramp to 130+ crypto assets and abstracting away the complexity of user KYC, risk monitoring & compliance, payment methods and customer support. Transak's widget can be integrated into an app in just a few lines of code.
Transak currently supports 125+ countries, 130+ cryptocurrencies and 75+ blockchains. Transak is backed by top VCs, including Consensys, and graduated from the Tachyon accelerator program. More info:
About Coin98 Super App
Coin98 is the #1 crypto super app designed to seamlessly connect a billion users to the crypto world safely and securely.
We offer users across the globe a comprehensive and trusted ecosystem of essential services, including but not limited to a non-custodial, multi-chain NFT & cryptocurrency wallet, built-in DEXs, Cross-chain Bridge & DApp Browser, a powerful Terminal, attractive Earn, Gift & Campaign, and Others.