Introducing Coin98 Labs
Coin98 Labs is a DeFi product builder focusing on creating & developing an ecosystem of DeFi protocols, applications on multiple blockchains.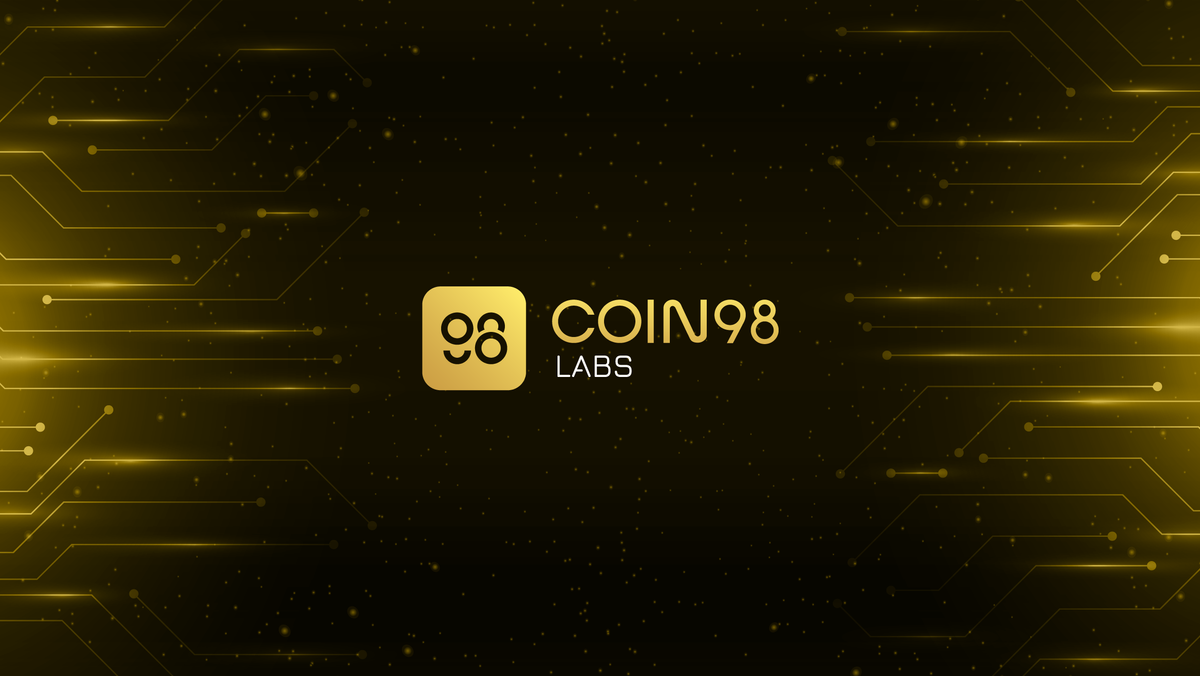 What is Coin98 Labs?
Coin98 Labs is a DeFi product builder focusing on creating and developing an ecosystem of DeFi protocols and applications on multiple blockchains. Our mission is to fulfill untapped demand and enhance in-demand utilities in the DeFi space, helping people to access DeFi services effortlessly.
An Ecosystem of DeFi products
Our inspiration for product development arises merely from the particular needs of the team. Once a product comes into being and is launched, we would constantly listen to the community's feedback for improvements and iterations.
Our two product development strategies:
Maximizing the user experiences of existing products
Exploring untapped demands with in-depth research & Building innovative products to satisfy them.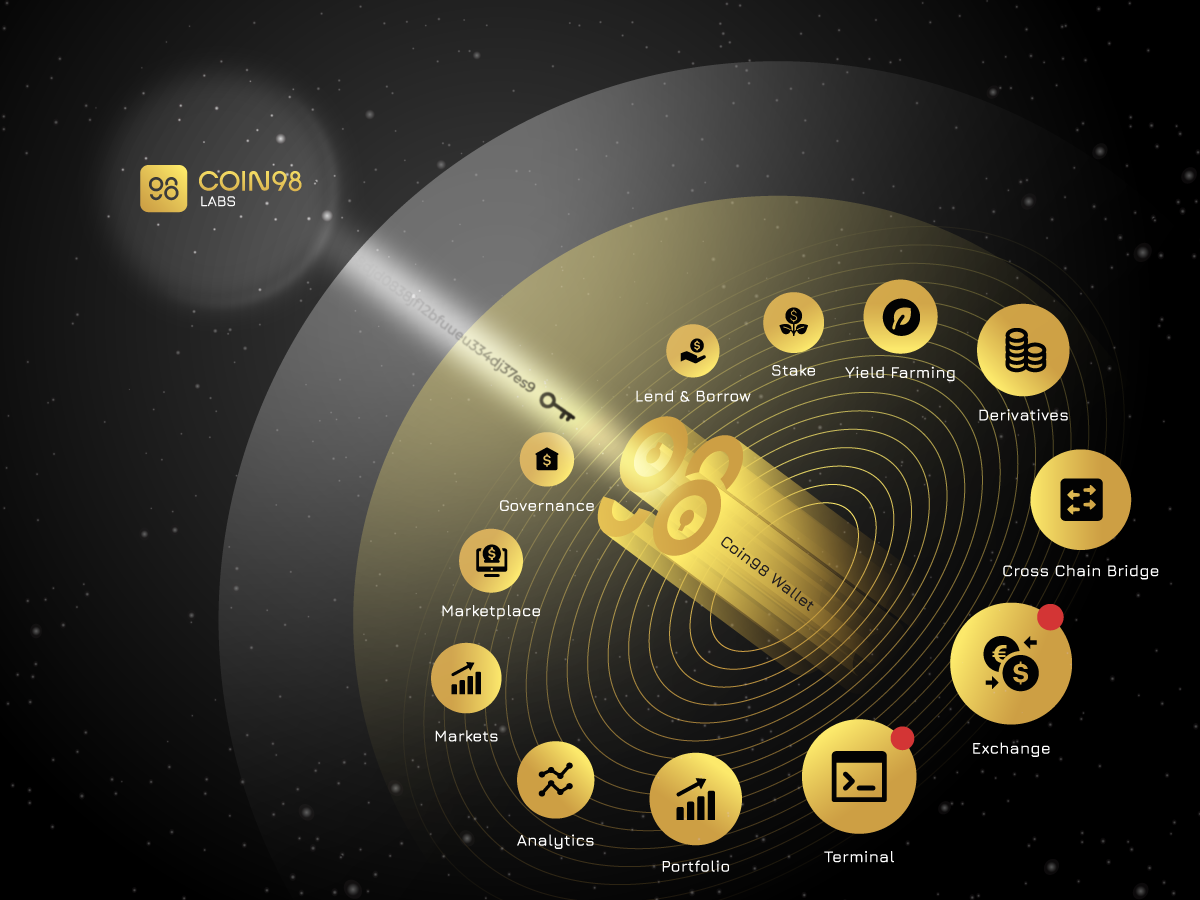 Above all, our product suite always focuses on cross-chain interoperability and user-friendliness to get DeFi closer to massive adoption.
Coin98 Wallet
Coin98 Labs' first product is Coin98 Wallet, a non-custodial wallet that owns the first multichain wallet engine. Coin98 Wallet is the core component of future multichain protocols/applications, serving as one entry to access numerous DeFi services across separate blockchains. We have laid a solid foundation for bolstering our suite of products by having iterations on the wallet.
Coin98 Wallet has acquired more than 200,000 users worldwide, supporting multiple blockchains, available on mobile, browser extension, and website after a year of launch.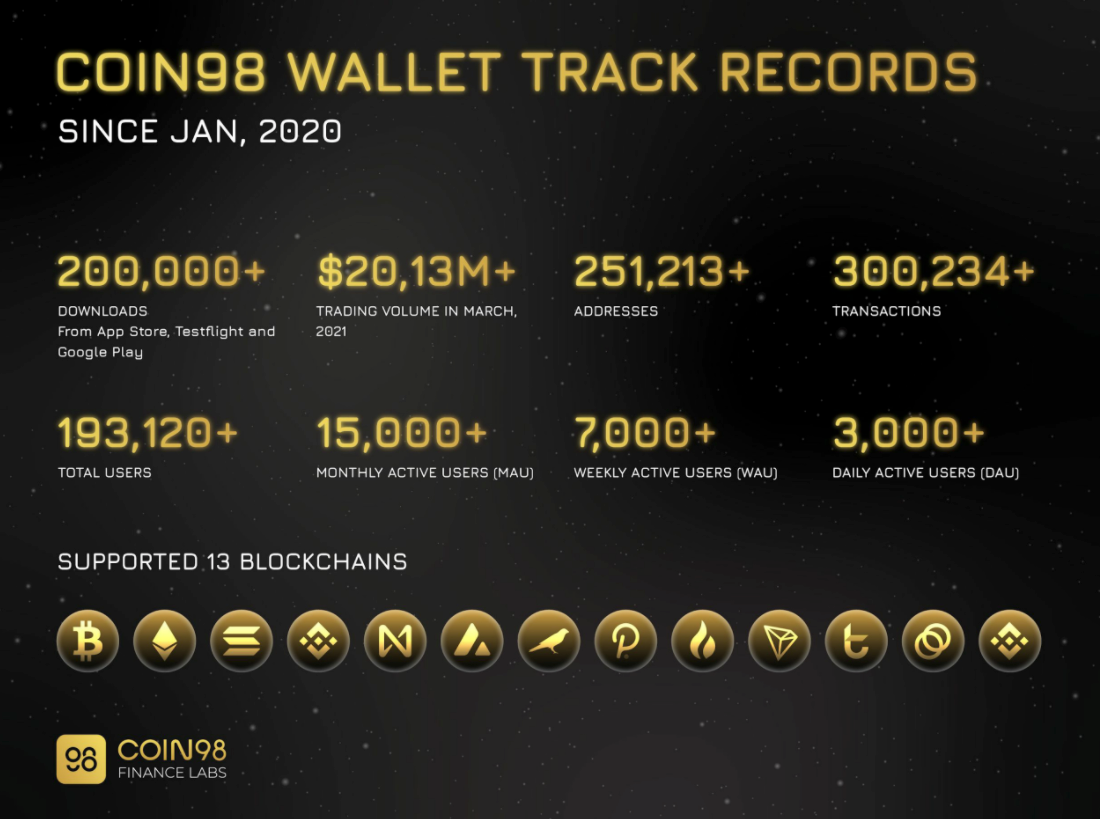 We believe multi-chain and cross-chain will be the future of blockchain. Therefore, Coin98 Wallet is the first product we decided to develop as a non-custodial wallet with an advanced multi-chain wallet engine. Coin98 Wallet, as the core of our suite of products, facilitates our users to interact with DeFi protocols on various blockchain in the most convenient way.
Products in progress
Our following products are built based on extensive research of users' needs with Coin98 Wallet as the core.
Coin98 Exchange: Cross-Chain Liquidity Aggregation Protocol
Coin98 Lend & Borrow: Multichain Money Markets Aggregator
Coin98 Staking: Multichain Staking As A Service
Coin98 Yield Farming: Farm Assets on Multichain
Coin98 Terminal: Built-In Toolkit on Multichain
Coin98 Portfolio: Tracking Assets on Multichain
With many upcoming products.
At this moment, we are still heading down for the building. Eventually, the community will figure out a better picture for all the DeFi stacks we are nurturing.
DeFi is the century's innovation, which will undoubtedly change how global finance works in the future. Coin98 Labs is proud to be a special part of the journey of making DeFi accessible to everyone, regardless of their knowledge and familiarity with blockchain.
Follow us