Coin98 Super App
Coin98 Mobile Wallet releases the latest update (V10.0.7) to enhance a fully decentralized experience for users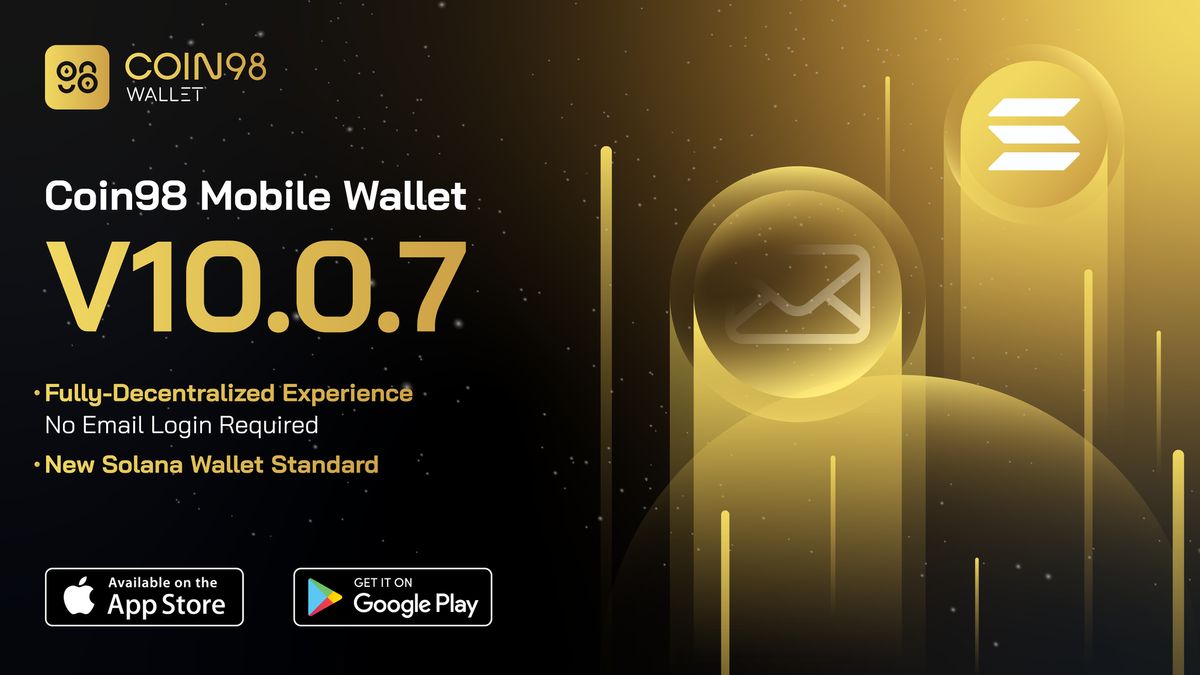 Coin98 Mobile Wallet version 10.0.7 enables users to set up the app without logging in using email addresses, as well as upgrading the new Solana wallet standard, allowing it to become a fully decentralized wallet that connects users closer to the DeFi world.
Using Coin98 Wallet without logging in
Unlike the previous versions, Coin98 Mobile Wallet version 10.0.7 allows users to enjoy the wallet directly without registering an account via email address. No personal information provided or collected ensures the non-custody, decentralization, and absolute privacy of the Coin98 Wallet.
Follow this guide to learn more on how to restore a wallet.
In the meantime, Coin98 Wallet is designed to provide the ultimate DeFi experience and superb customer service to users, therefore we made login by email address optional. Users can go to the Account Tab to add their email address and enjoy an exclusive user loyalty program and various other benefits. This setting doesn't bind to users' funds and their blockchain wallets.
Hence, please pay attention to the benefits you can earn when linking your email to Coin98 Wallet:
Saving the trade history and in-app settings that prevent users from the burden of taking actions over and over.
Participating in the X-Point reward system with many exciting rewards that will be updated soon.
How to register an account by email on Coin98 Wallet (optional).
Note:
To review your personal information and participate in the X-point Reward program, you can click on the Account icon at the upper left corner of the home screen.
To log out of your wallet account, click on the icon at the upper right corner of the account screen. Newly-created or restored wallets can be used normally.
Read more: What is X-point?
New Solana wallet standard
Solana Wallets get a completely different wallet address when restored to other digital wallets, which could result in inconvenience & frustration. Coin98 Wallet version 10.0.7 eliminates this by offering a new Solana wallet standard for users, allowing them to freely restore the original Sollet/Phantom wallet addresses on Coin98 Wallet and vice versa.
You can choose between 2 options:
Multi-Chain wallet users (Coin98 Wallet, Trust Wallet, Metamask,...): Select "Old Standard".
Sollet, Phantom users: Select "New Standard" - the latest solution by Coin98 Wallet that prevents Sollet wallet addresses from being changed when restored to other wallets.
Read more: Wallet recovery instructions
Enhanced performance
Coin98 Mobile Wallet version 10.0.7 has better performance, increasing the transaction speed and DApps connection, providing a faster, more seamless user experience.
Follow Coin98 Wallet Beginners Guide to experience version 10.0.7 today.
About Coin98 Wallet
Coin98 Wallet is a non-custodial wallet used to store, manage, trade, swap multi-chain, multi-source digital assets. It supports the most popular chains, including BTC, ETH, TOMO, Tron, Binance Smart Chain, Solana, Polkadot, Kusama, Huobi ECO Chain, Near, Avalanche, Binance Chain, Celo, Band, Kava, Cosmos, Thor, Fantom, Polygon, Persistence. Coin98 Wallet has both the Mobile App and the Extension version that act as a gateway, connecting users to the DeFi world.
Download
Follow us