Coin98 Super App
Coin98 On-the-spot | W14.2022
Walk through the Coin98 On-the-spot W14 with many events and updates. Let's find out!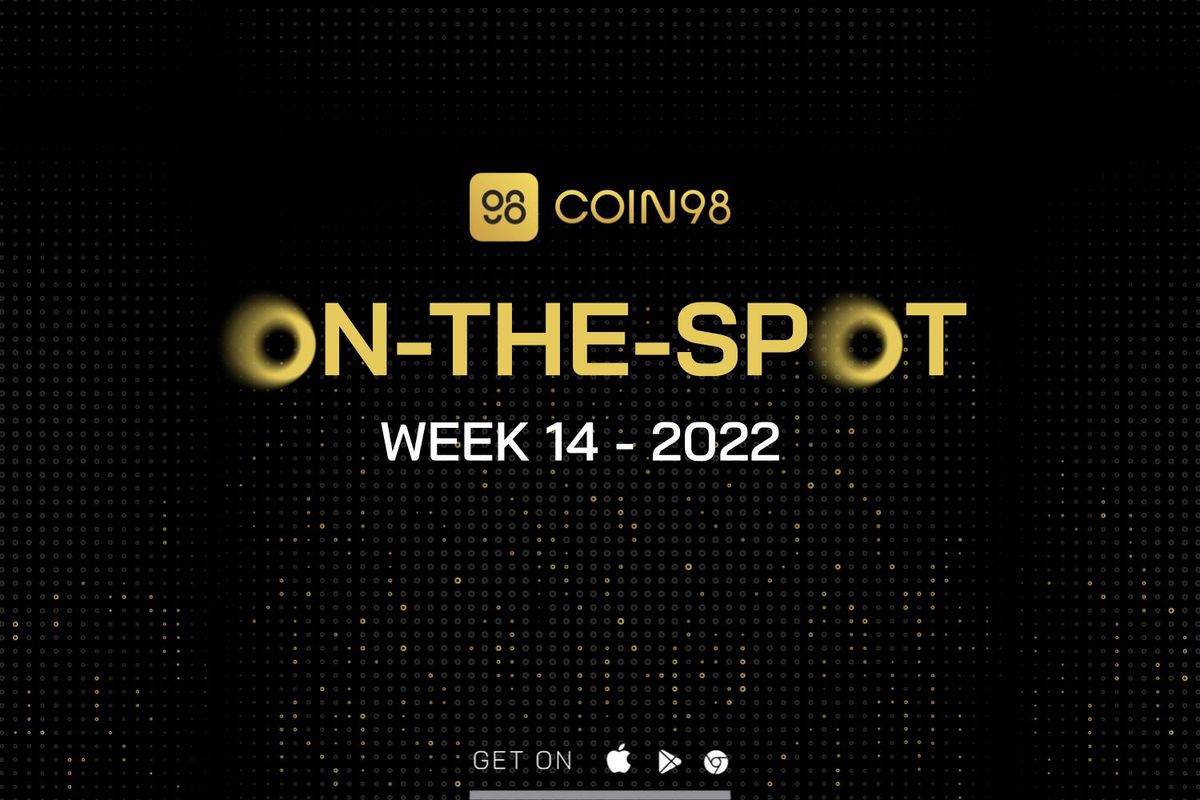 Another week has passed, and Coin98 is happy to bring you a summary of all the activities happening in the Coin98 ecosystem. This week, we focus on the events exclusively for Coin98 users to skin-in-the-game and updates for app performance. Are you ready to find out the details? Let's go!
Updates  
Coin98 Super App 11.5.4 is available with the update for performance. This improvement will help to leverage the user experience and is a premise for the upcoming updates, promising to integrate more interesting features.
Download Coin98, experiencing now: https://coin98.com/wallet.
Events
Wake The Prophets Up Event is a warm-up event for the Universe of Prophet. It was held from March 25 to April 8 2022 that lets you collect X Points and receive rewards with a total prize is $5000 C98. The more X you gain during the event, the bigger the present.
After earning X Point with Wake The Prophets Up event, don't miss Universe of Prophets - a brand-new dApp, built on the Coin98 Super App that lets you try your ability to prophesy Bitcoin's price in the universe and receive treasures. To become a prophet, the Coin98 Universe citizens have to use their X points (also known as Tickets) to prophesy exactly where Bitcoin will be in the Universe at 08:00 PM (UTC+7).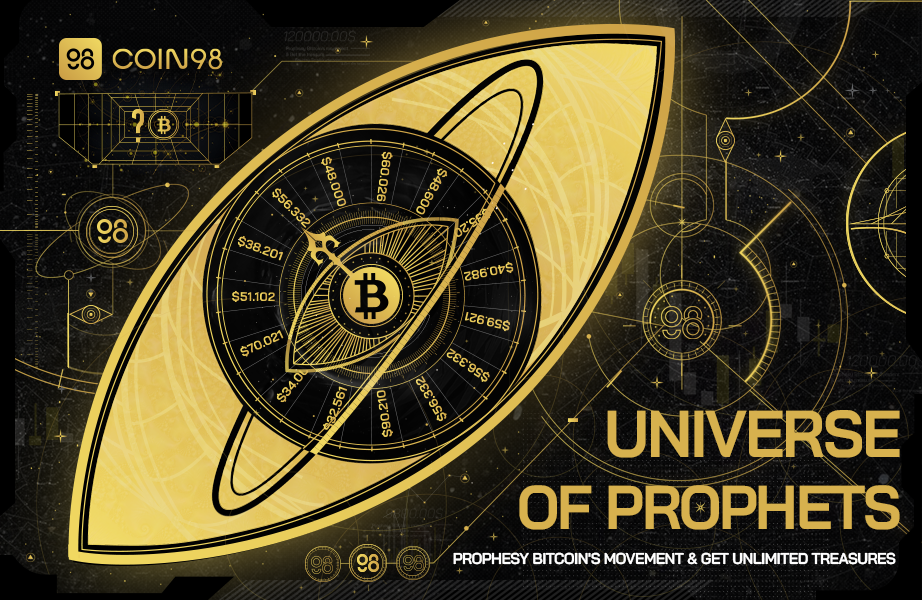 You can access the Coin98 Super App daily, use Tickets and make prophecies.
If one of your prophecies is correct, you will have the chance to receive unlimited treasure.
More details: Coin98 releases "Universe of Prophets" Game - Prophesy Bitcoin's movement
DApps supported
BovineVerse is a new Fi+ metaverse platform in the era of Web 3.0. Among the multiple parallel worlds in BovineVerse, BovineVerse will successively release 3 creative and interesting games on-chain and apply DAO governance to a virtual social network, crossing games and offering high flexibility. At the same time, players can own their bovine animals to socialize, adventure, and create, building a diverse and colorful world together.
Token and NFTs supported
Coin98 Super App already supports NFT on BNB Chain, Solana, Polygon, Avalanche, and EVM blockchains so users can transfer and store NFT right on Coin98 Super App. Many new NFTs support Super App Weekly including Arcade Land, Shinsekai, "MOAR" by John Cornella, Akuma Origins, Sneaky Vampire, 888 inner circle, Mutants Cat, ZENFT, Impostors, and more to come in the future.
Similar to NFT, Coin98 is trying to support all the new and most popular tokens in the market to benefit users when using Coin98 Super App.
Overview for Coin98 on-the-spot W14.2022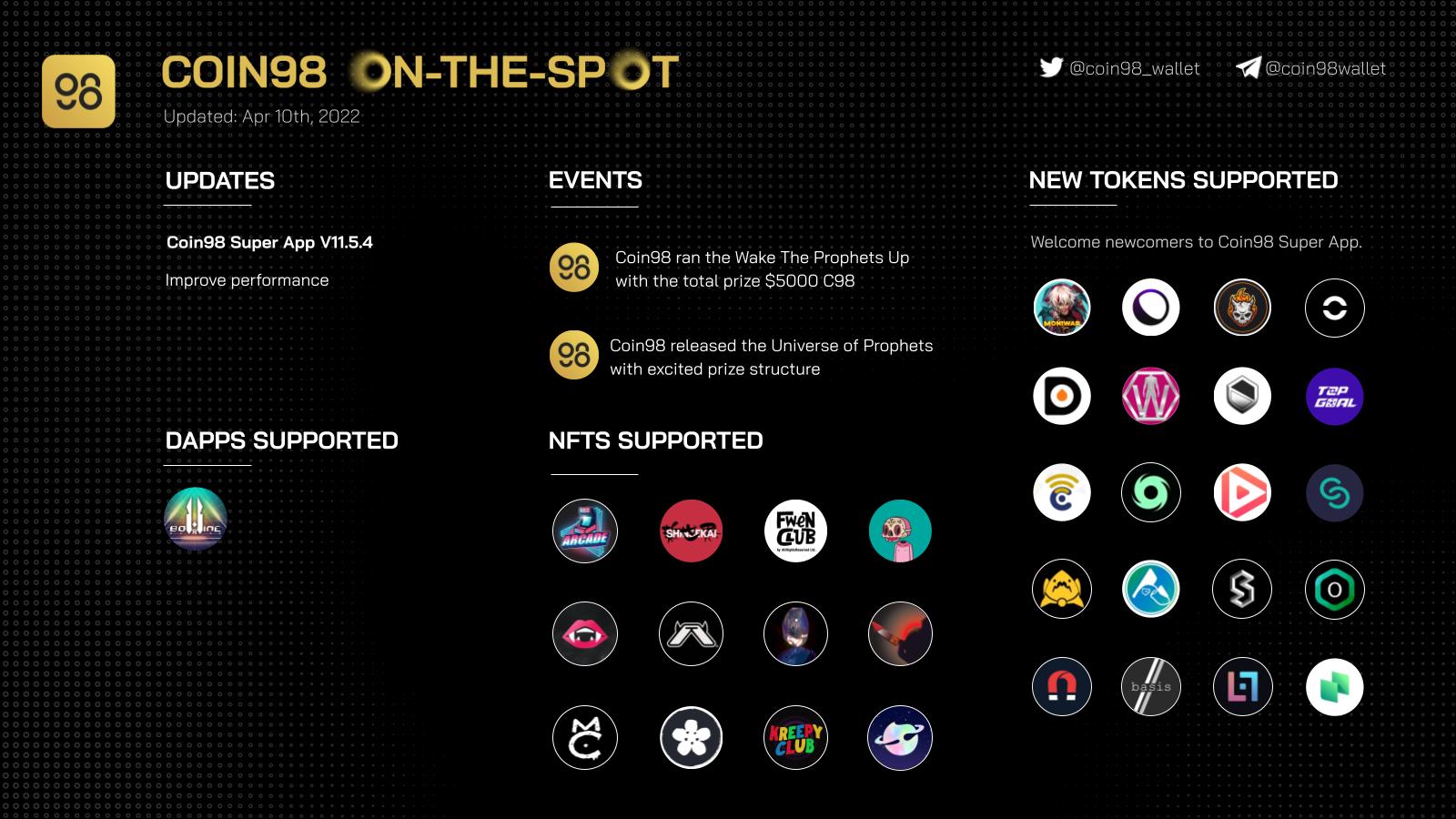 About Coin98 Super App
Coin98 is the #1 crypto super app designed to seamlessly connect a billion users to the crypto world safely and securely. We offer users across the globe a comprehensive and trusted ecosystem of essential services including but not limited to a non-custodial, multi-chain NFT & cryptocurrency wallet, built-in DEXs, Cross-chain Bridge & DApp Browser, a powerful Terminal, attractive Earn, Gift & Campaign, and Others.