Coin98 Super App
Coin98 On-the-spot | W16.2022
Coin98 On-the-spot W16 is a place to recap all outstanding events during a week.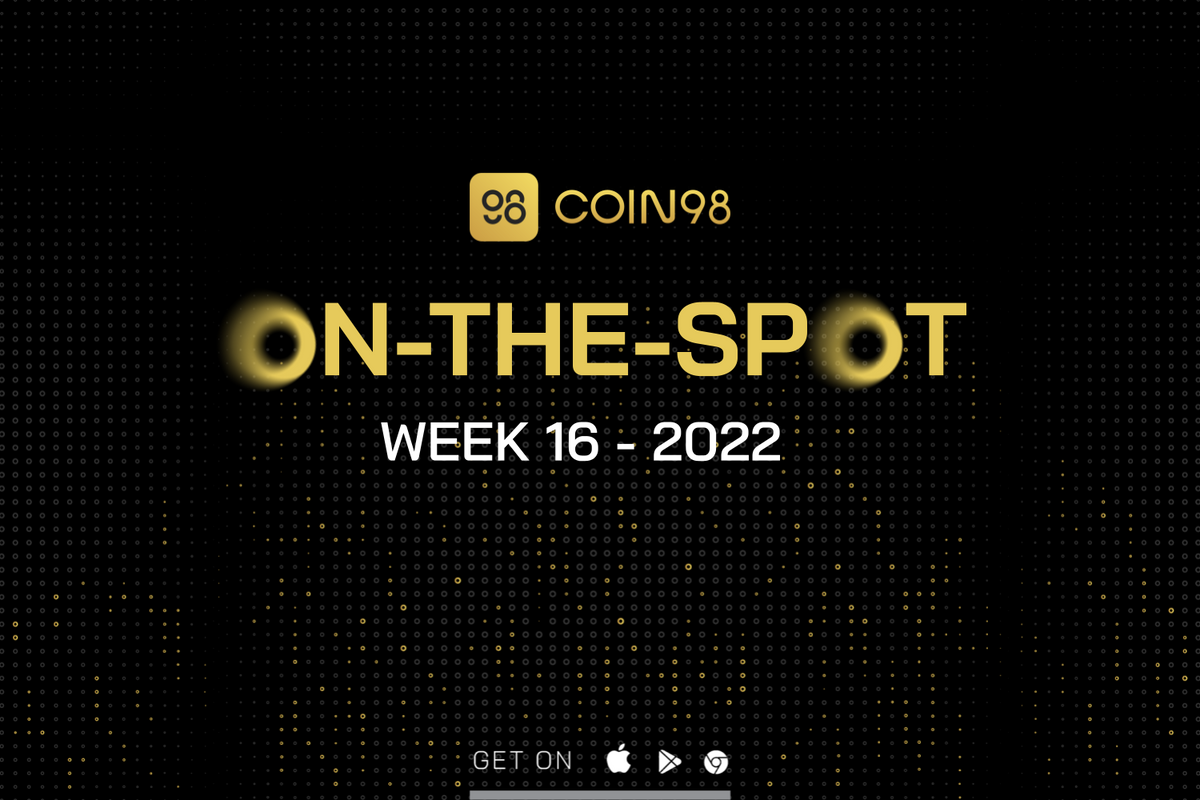 Week 16 has passed with new exciting movements on the Coin98 ecosystem, especially the release of Coin98 Extension 5.9 and earning events with Coin98. And we are ecstatic about giving a summary for you to rewind. Let's check it out now!
Updates
Development and improvement are non-stop work of Coin98 since day one. On Week 16, we released Coin98 Extension 5.9.0 with the key points as follows:
Support connecting to dApps on Terra and Cosmos-based chains, expanding the gateway for users to explore these fascinating ecosystems smoothly and boundlessly;
Release a brand new user interface, providing users with more optimized and minimalist wallet experience;
Upgrade performance.
Download and enjoy Coin98 Extension now: chrome.coin98.com
Events
Proposal of adding xC98 synthetic on Synthetify
In our constant effort for unlocking more C98 token utilities, especially on Solana space, we are planning to drop some yield over there if the proposal of adding xC98 synthetic on Synthetify is passed.
To all C98 Holders, let us see your hands, cast your vote and discuss more here: https://c98.link/xC98-synthetic-proposal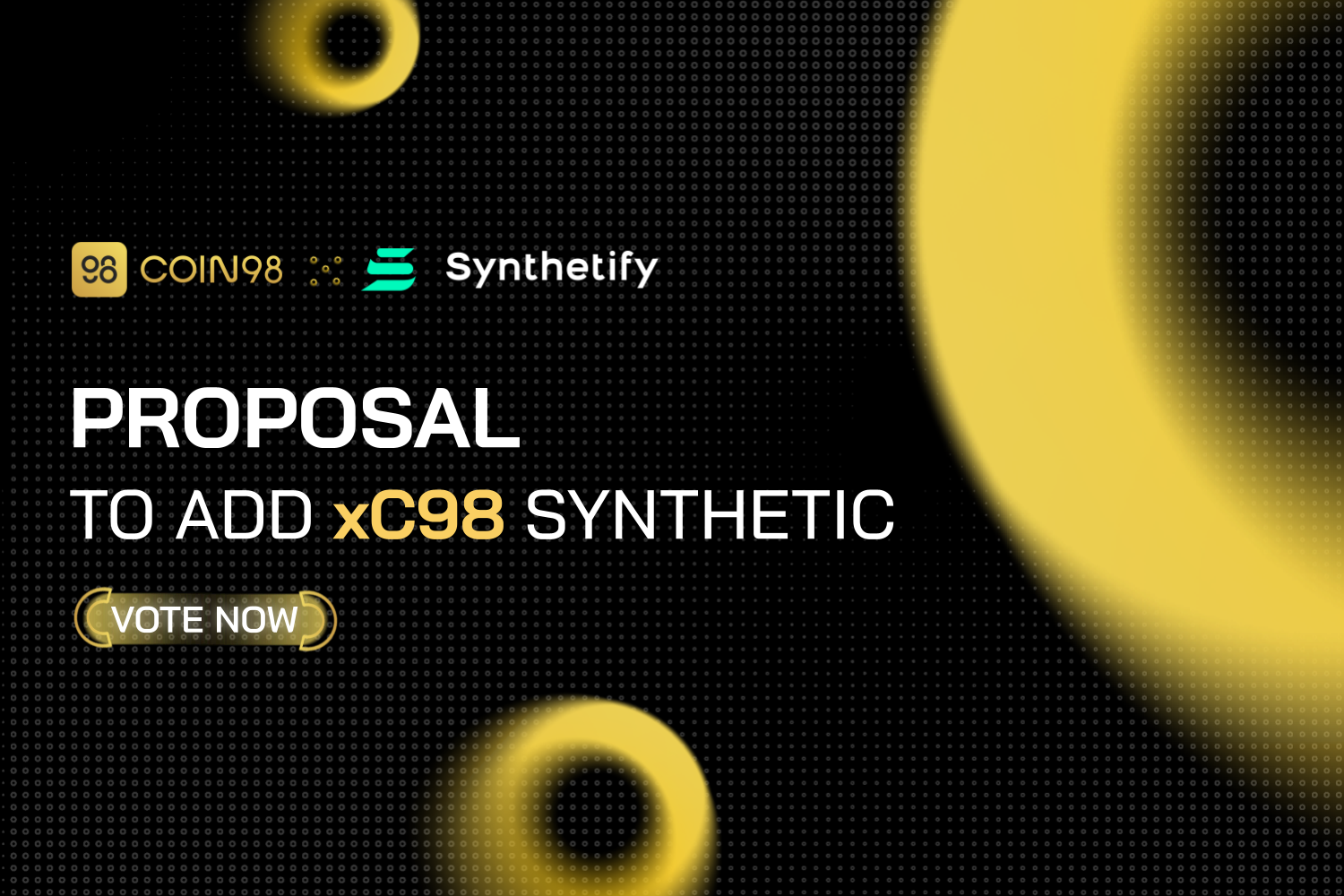 Universe of Prophets: Kick-start the Carnival Season
"Universe of Prophets" kick-starts the Carnival Season with a new attractive offer of only 150X per participation ticket, which unlocks more opportunities for users to earn with X-Points while enjoying the thrill of predicting Bitcoin price of the day.
The event opens daily from 10:00 PM (UTC+7) till 7:00 PM (UTC+7) the next day. Let's go get X and join now!
Read more: Coin98 releases "Universe of Prophets" Game - Prophesy Bitcoin's movement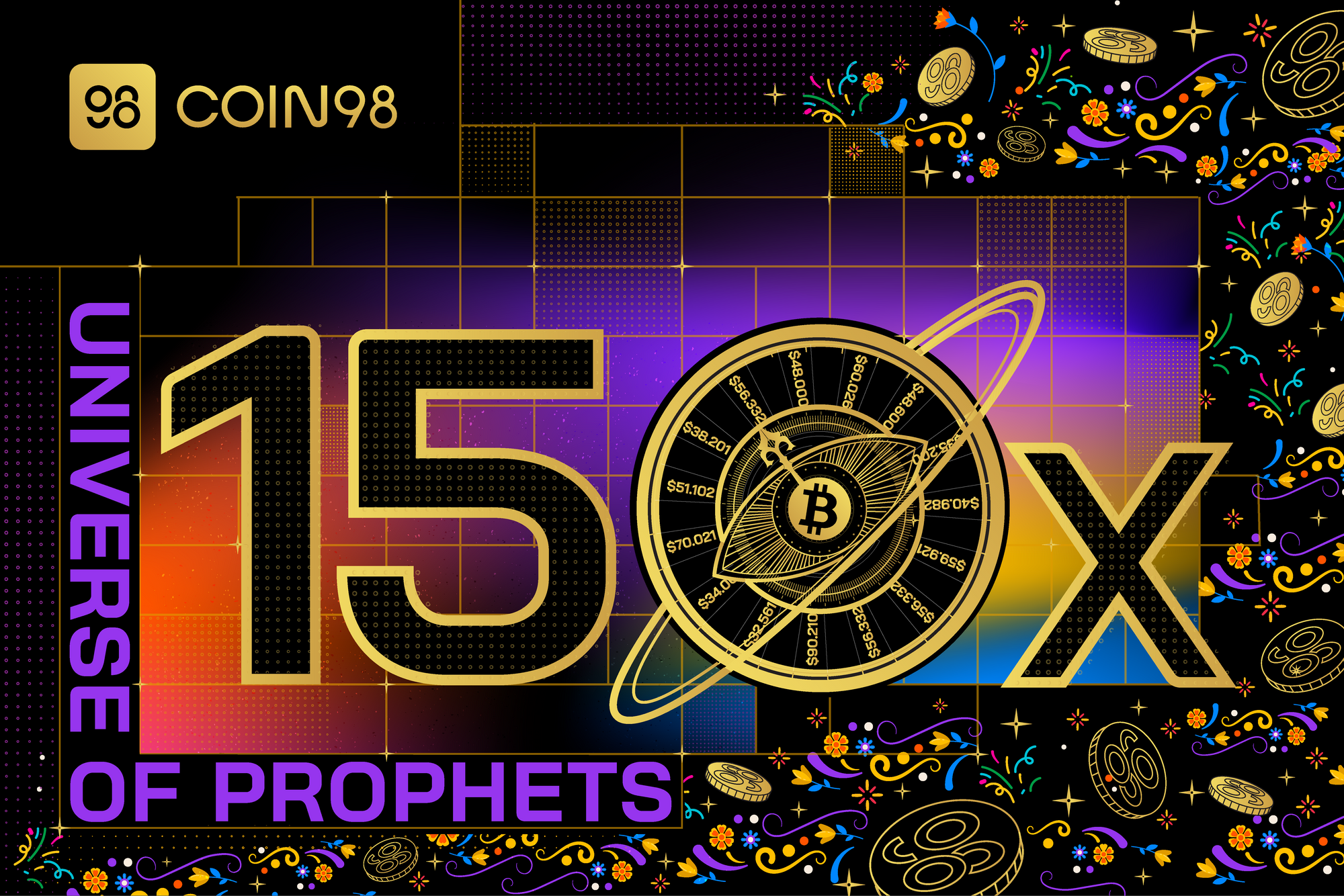 Celebrate $C98 $UXD pool on Solend with Social Giveaways
Coin98 Isolated Pool on Solend started with a bang and continues heating up until now.
On this occasion, Coin98 Earn collaborated with UXD on giving a social giveaway of 100 C98 to 10 luckiest winners from qualified participants.
The winners are revealed. Let's check out the result here: https://twitter.com/Coin98Earn/status/1517784852640440320
Curious about Coin98 Isolated Pool on Solend? Let's check out more details here: https://coin98.net/coin98-isolated-pool-on-solend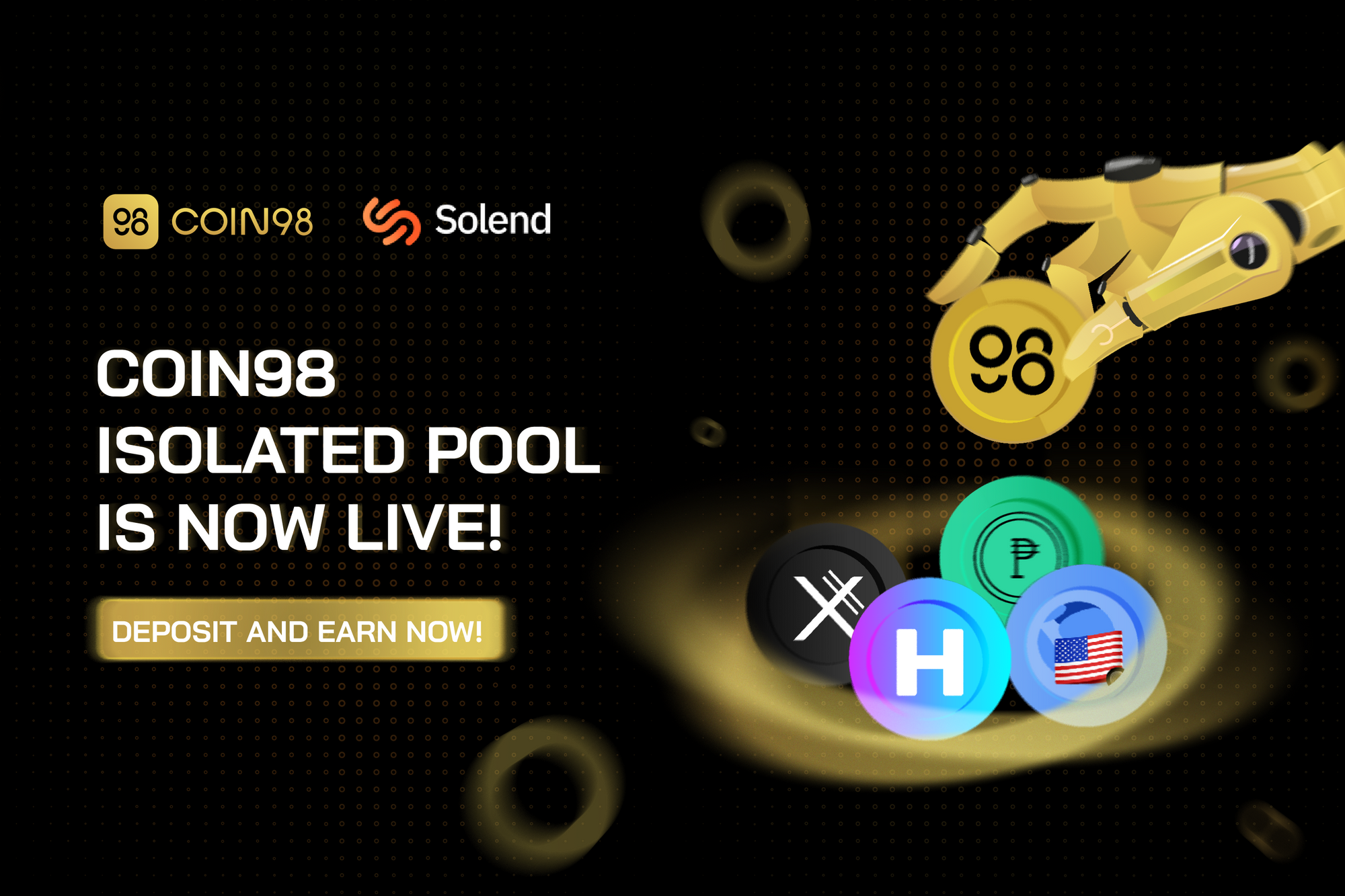 DApps supported
More dApps are supported on Coin98 Super App weekly. Let's welcome 6 new friends to Coin98 on Week 16:
MojitoSwap is the first decentralized exchange on KCC driven by the community, allowing users to benefit from trading a diversity of KRC20 tokens with the deep liquidity.
Cryowar is a real-time multiplayer arena game based on the. Solana network. Players engage in fierce, multi-realm battles in player-versus-player (PvP) mode. It's an all-out fight for resources, territories and world domination throughout Cryowar's massive in-game universe.
Position Exchange is the new Decentralized Trading & Exchange platform, powered by a virtual Automated Market Maker (vAMM) and operating on BNB Smart Chain (BSC), aiming to bridge the gap between people and the cryptocurrency markets and enhance trading experiences.
DSG Metaverse is a Metaverse protocol based on BNB Smart Chain, providing DeFi, SocialFi, and GameFi services.
CafeSwap is a yield farming and staking platform on the BNB Smart Chain. The project aims to provide the best experience with farming while regulating the supply.
Wingswap is a dedicated Decentralized Exchange (DEX) and a staking platform based on Fantom network, allowing users to provide liquidity to the DEX, trade different types of assets in a decentralized way, and get rewarded for doing so.
Tokens and NFTs supported
Coin98 Super App already supports NFTs on BNB Smart Chain, Solana, Polygon, Avalanche, and other EVM blockchains, which allows users to transfer and store NFT right on the app and extension. Many new NFTs support on Coin98 this week including StarSharks, GuildOfGuardians, AgeOfGods, CryptoZunks, PhantaBear, Los Muertos, Deadfellaz, Proof, Acrocalypse, Anata NFT, The Lobstars, adidas Originals Into the Metaverse.
Coin98 always aims to support not only more NFTs but also all the new and most popular tokens in the market to adapt to users' increasing demands on DeFi.
Overview of Coin98 on-the-spot W16.2022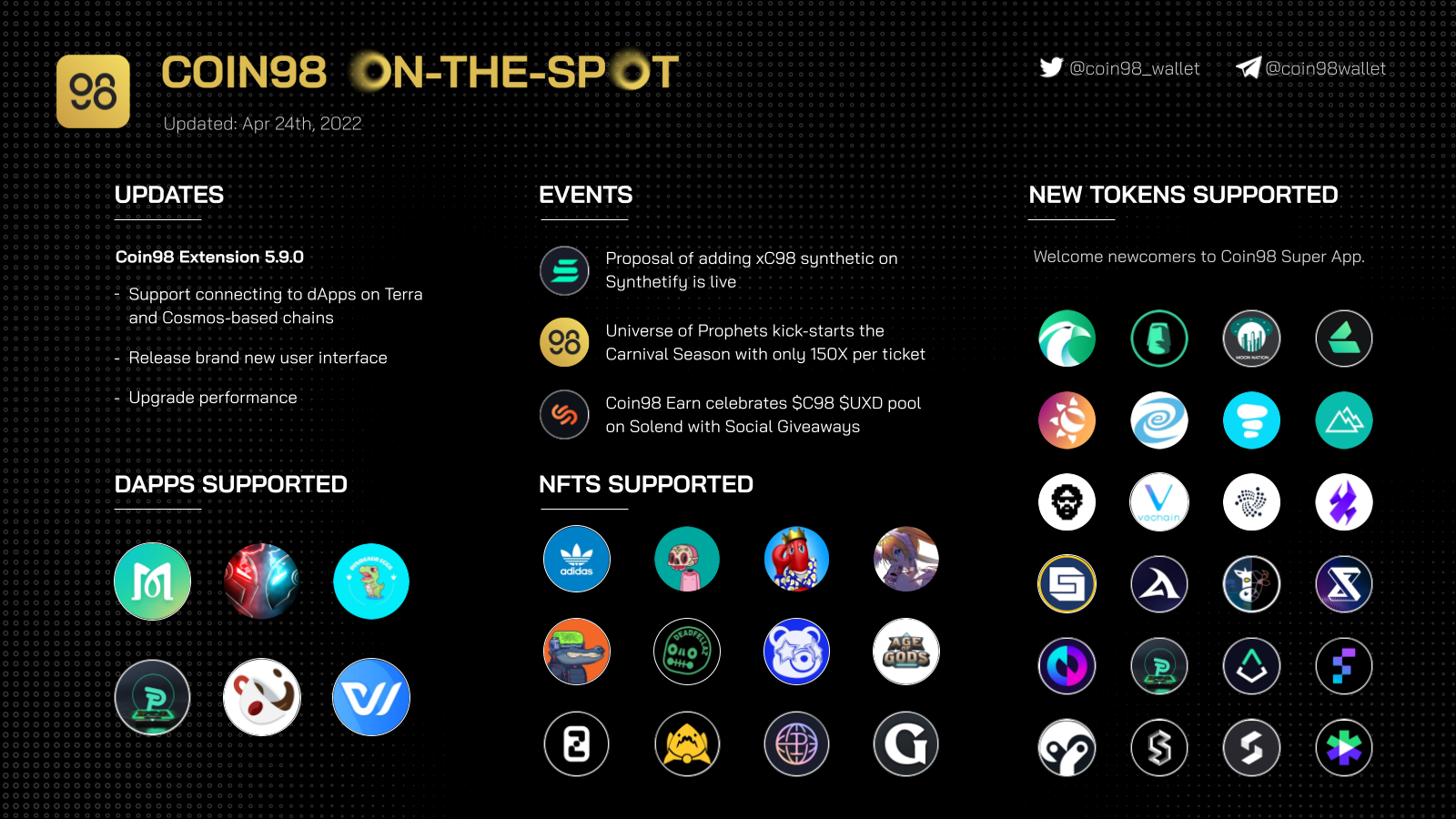 About Coin98 Super App
Coin98 is the #1 crypto super app designed to seamlessly connect a billion users to the crypto world safely and securely. We offer users across the globe a comprehensive and trusted ecosystem of essential services including but not limited to a non-custodial, multi-chain NFT & cryptocurrency wallet, built-in DEXs, Cross-chain Bridge & DApp Browser, a powerful Terminal, attractive Earn, Gift & Campaign, and Others.