Coin98 Super App
Coin98 On-the-spot | W25.2022
The Yunero Studios acquisition was a breakthrough in expanding the gaming arm of the Coin98 universe to accelerate Web3 mass adoption via GameFi. What's else? Let us keep you up to date!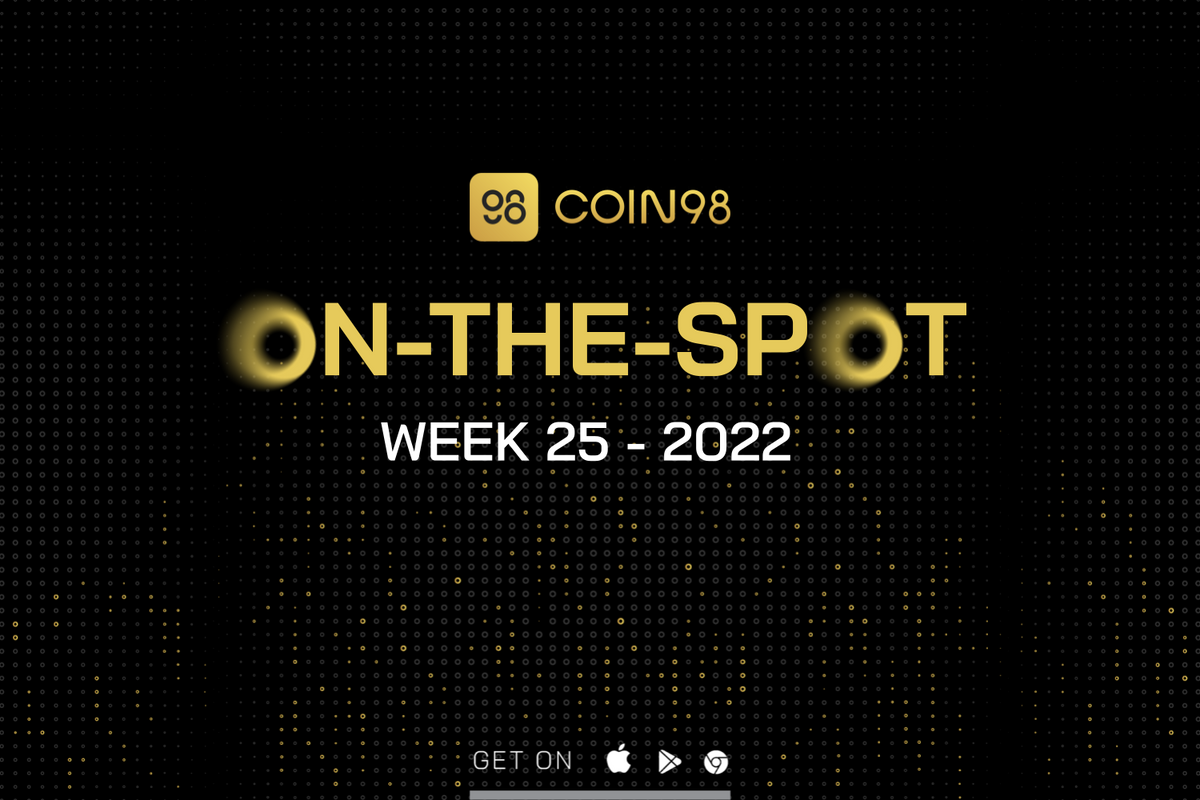 Updates
Coin98 Extension 6.0.8
As the leading DeFi & NFT wallet, Coin98 empowers users by putting together the missing puzzles for their crypto-everything experience and constantly improving the products. Following the big upgrades with new features, Coin98 Extension released a series of updates to enhance performance. The latest one was version 6.0.8 on the 25th week. Make sure to have your extension updated for the best operation!
Enjoy DeFi on multichain smoothly and seamlessly with Coin98 today: http://chrome.coin98.com.
Events
Coin98 acquired Yunero Studios to accelerate Web3 mass adoption via GameFi
Yunero is a game studio based in Vietnam on a journey to build its dream. The team consists of experienced gaming professionals who have worked at leading companies, including VNG Corporation, Eway JSC, and Vega Corporation.
The Coin98 gaming arm has just started with this first acquisition. Combining Yunero's incredible experience and passion for game development with Coin98's global presence and value, we believe both ecosystems will be much more powerful and extensive.
Read more: Coin98 Labs Acquires Yunero Studios to Accelerate Web3 Mass Adoption via GameFi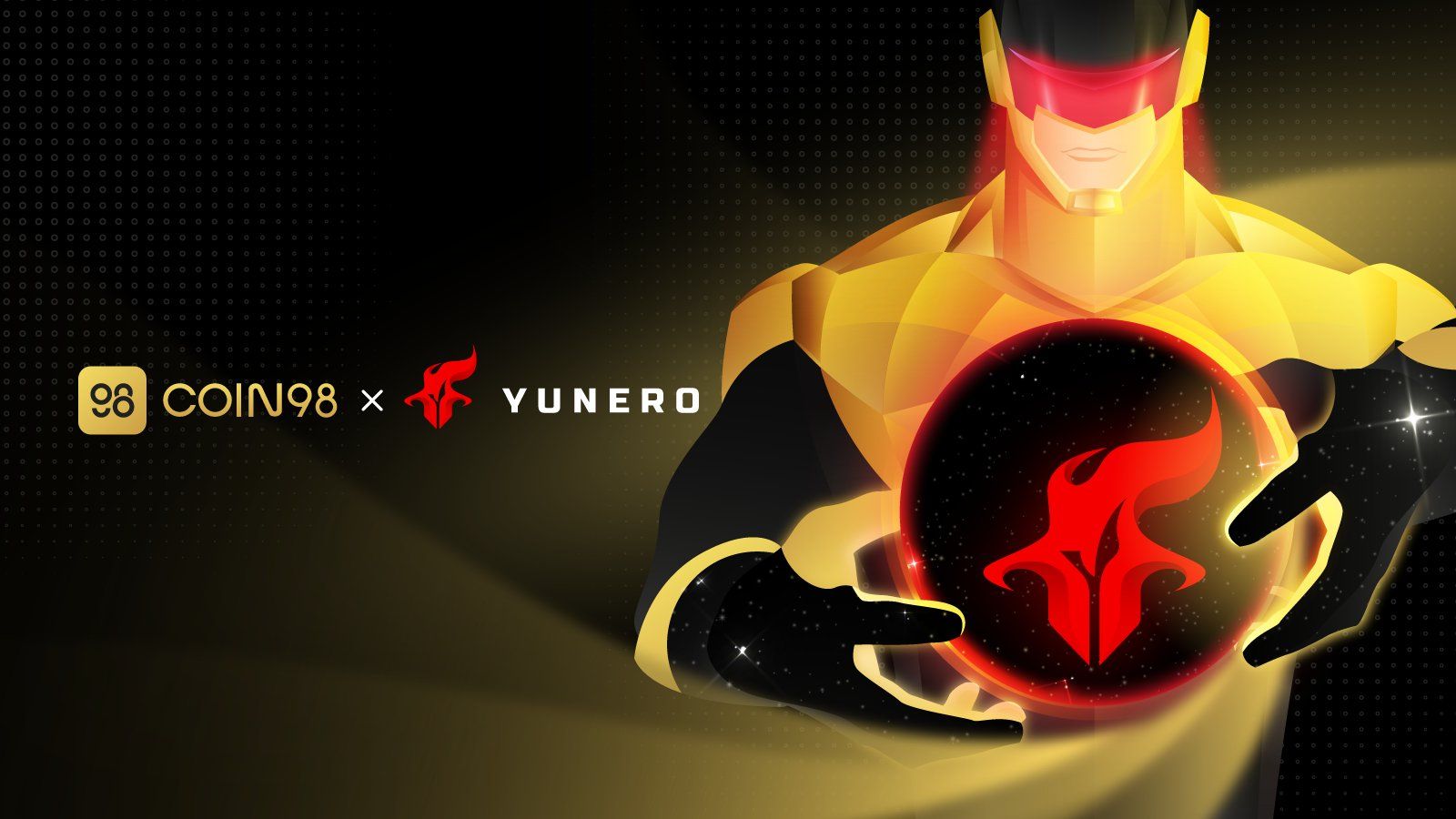 The Prediction Minigame announced the winner list
50 lucky winners of the Prediction Minigame were revealed. Wondering if you are among the winners? Let's check out this list.
In the case of missing the minigame, be at ease. There are still many attractive prizes from the Swap2Earn event waiting for you.
Find out more and Swap2Earn today: https://coin98.com/swap-to-earn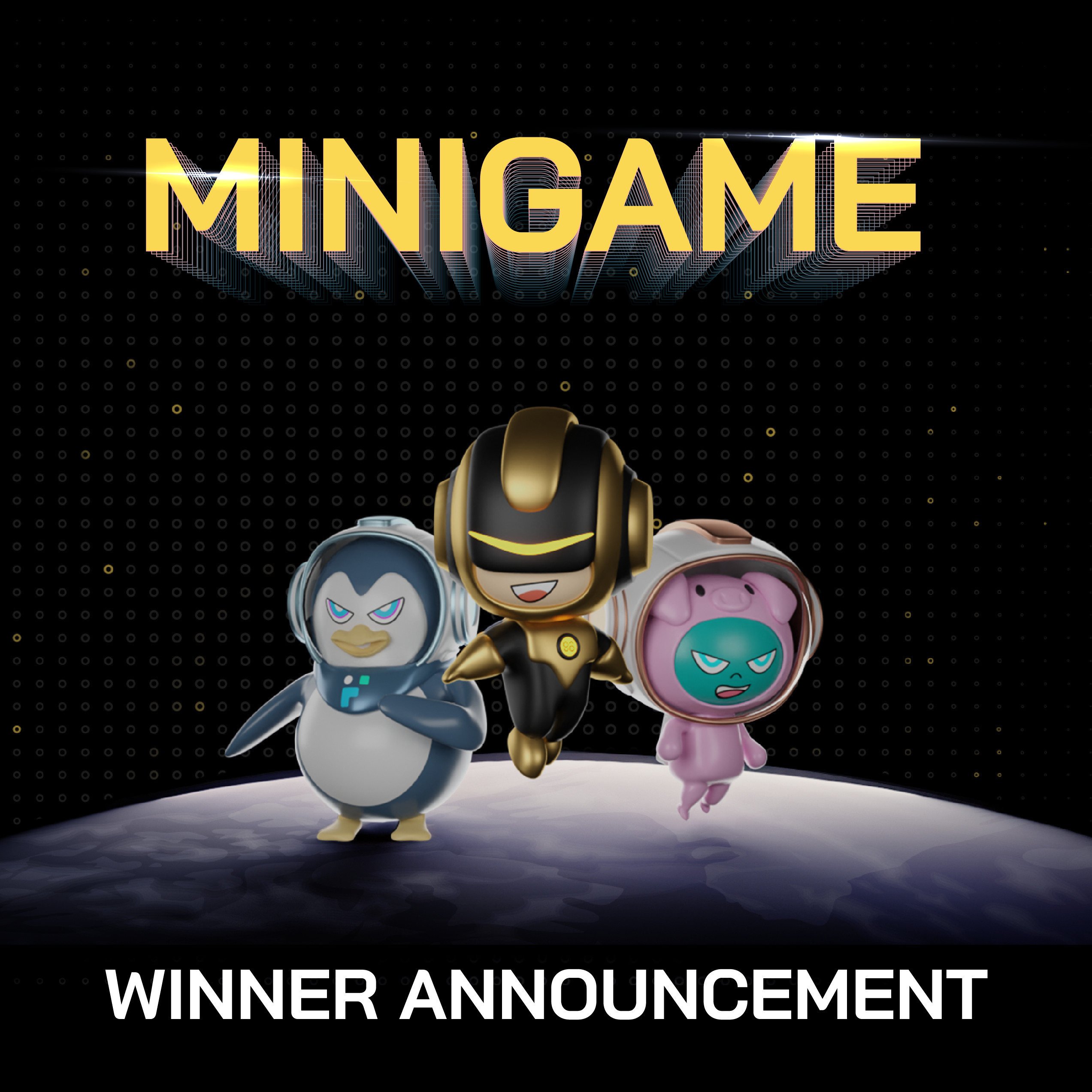 DApps supported
Coin98 is meant to help users explore DeFi on multichain at ease. Not only supporting dApps on 30+ blockchains so far, but we also support more new dApps every week for a better user experience. Let's welcome 3 new dApps to Coin98 on the 25th week:
Convergence Finance is a decentralized interchangeable assets protocol designed to bridge real-world asset exposure with the liquidity of decentralized finance (DeFi).
CougarSwap is a yield farm based on the BNB Smart Chain. Featuring futuristic design choices, CougarSwap aims to provide users with top-tier security and reliability.
DeBank is a dashboard for tracking DeFi portfolios, with data and analytics for decentralized lending protocols, stablecoins, margin trading platforms and DEXes.
Tokens and NFTs supported
Coin98 Super App already supports NFTs on BNB Smart Chain, Solana, Polygon, Avalanche and other EVM blockchains, which allows users to transfer and store NFT right on the app and extension. Many new NFTs landed on Coin98 during the week, namely Dooplicator, Lacoste UNDW3 Official, Moonrunners, WeAre by John Johnny, Gossamer Seed, Moonbirds Oddities, RENGA Black Box, Town Star, PREMINT Collector Pass, Starcatchers, CryptoNinja Partners, Rebels - Night Card.
Coin98 aims to support not only more NFTs but also all the new and most popular tokens in the market to adapt to users' increasing demands on DeFi.
Overview of Coin98 On-the-spot W25.2022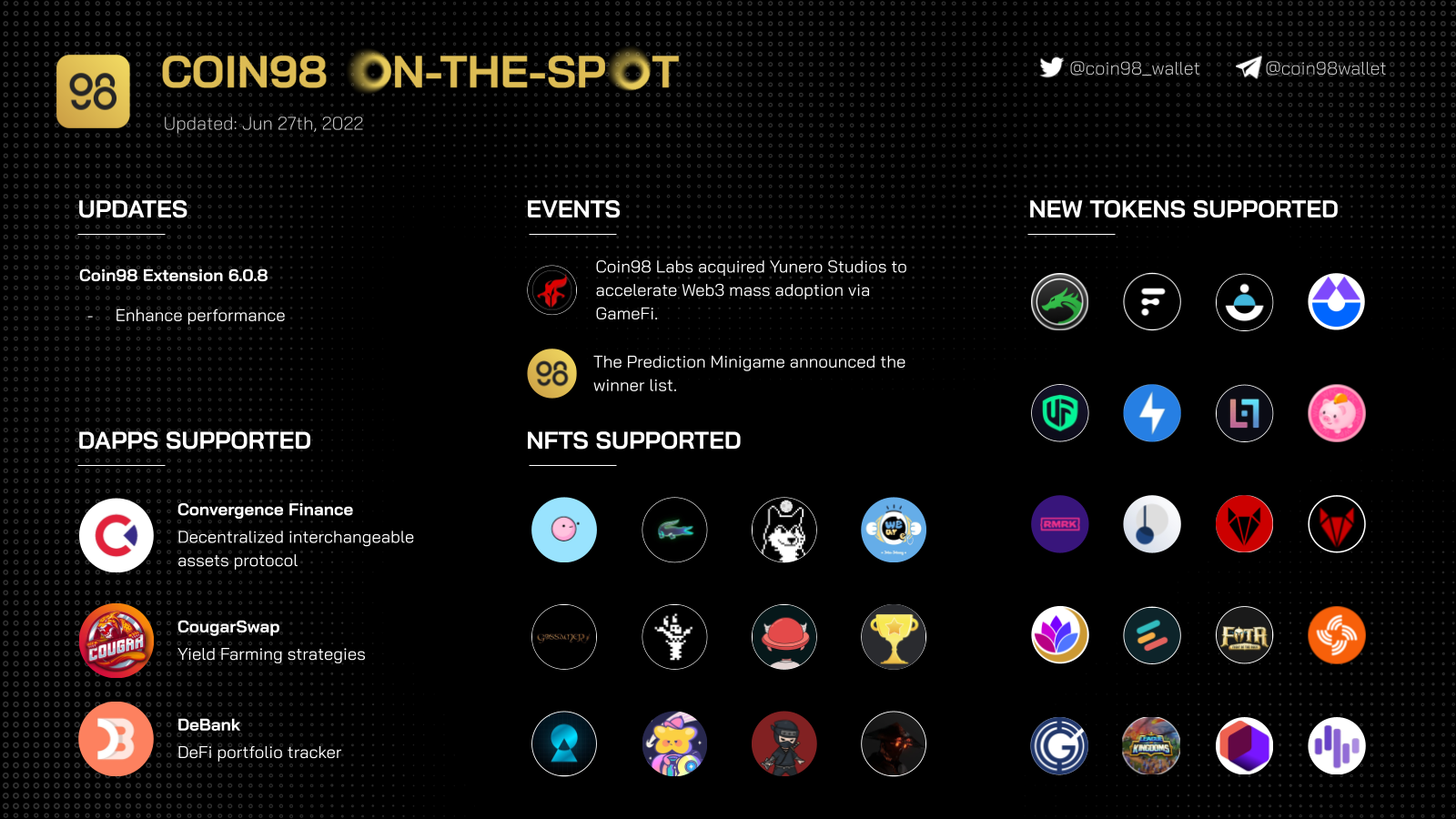 About Coin98 Super App
Coin98 is the #1 crypto super app designed to seamlessly connect a billion users to the crypto world safely and securely. We offer users across the globe a comprehensive and trusted ecosystem of essential services including but not limited to a non-custodial, multi-chain NFT & cryptocurrency wallet, built-in DEXs, Cross-chain Bridge & DApp Browser, a powerful Terminal, attractive Earn, Gift & Campaign, and Others.