Coin98 Super App
Coin98 On-the-spot | W27.2022
Let's take a moment to review the highlights of Coin98 W27.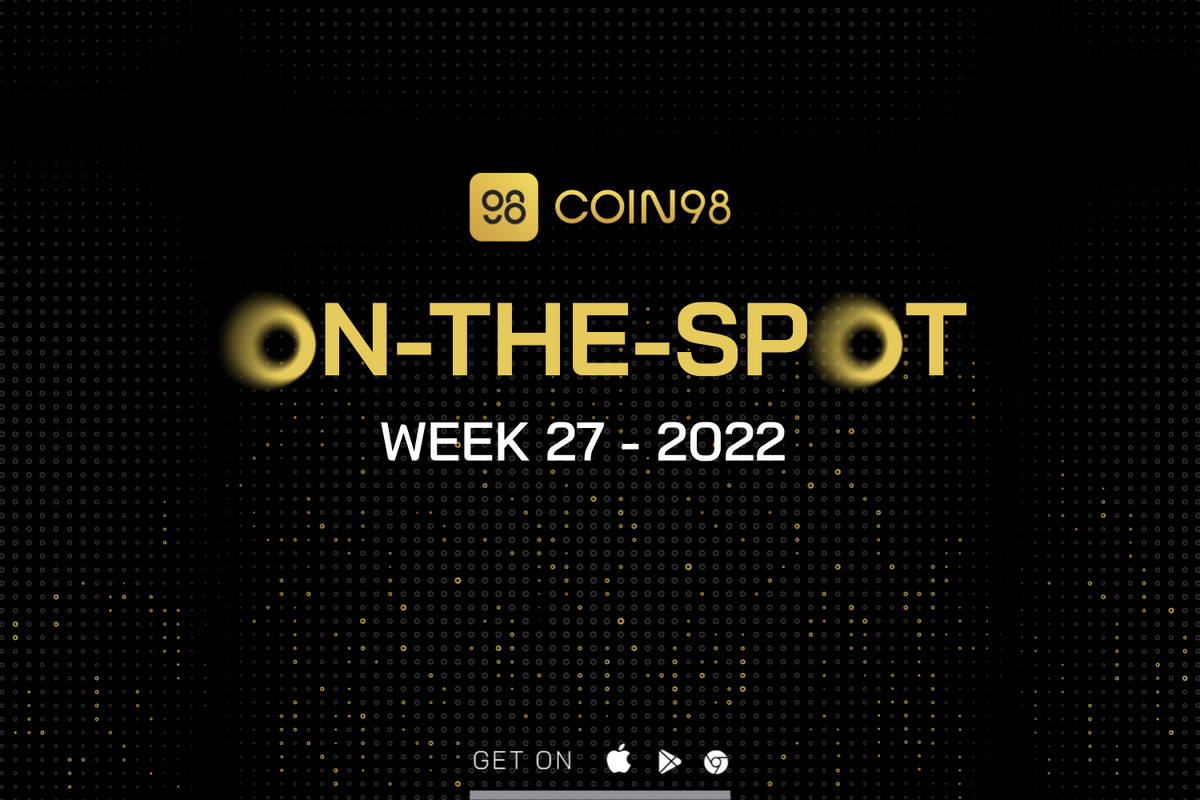 It has been another exciting week as we announced the partnership with Opera and ongoing campaigns for the community to earn with Coin98. Have you missed any news? Stay updated through Coin98 On-the-spot now!
Updates
Coin98 Super App 12.1.0
As your crypto everything app, not only does Coin98 empower users to explore DeFi at ease, but also strives to enrich their experience by upgrading the app performance constantly. Make sure to update to the latest version (V12.1) for the best security and operation!
Be with Coin98 Super App for everything you need in the crypto world: https://coin98.com/wallet
Partnership
Coin98 was ecstatic to partner with Opera, one of the most popular web browsers. This is another stepping stone of Coin98 to onboard the next millions of users to the Web3 revolution in Southeast Asia and over the globe.
Read more: Coin98 partners with Opera, unlocking the gateway to Web3 in Southeast Asia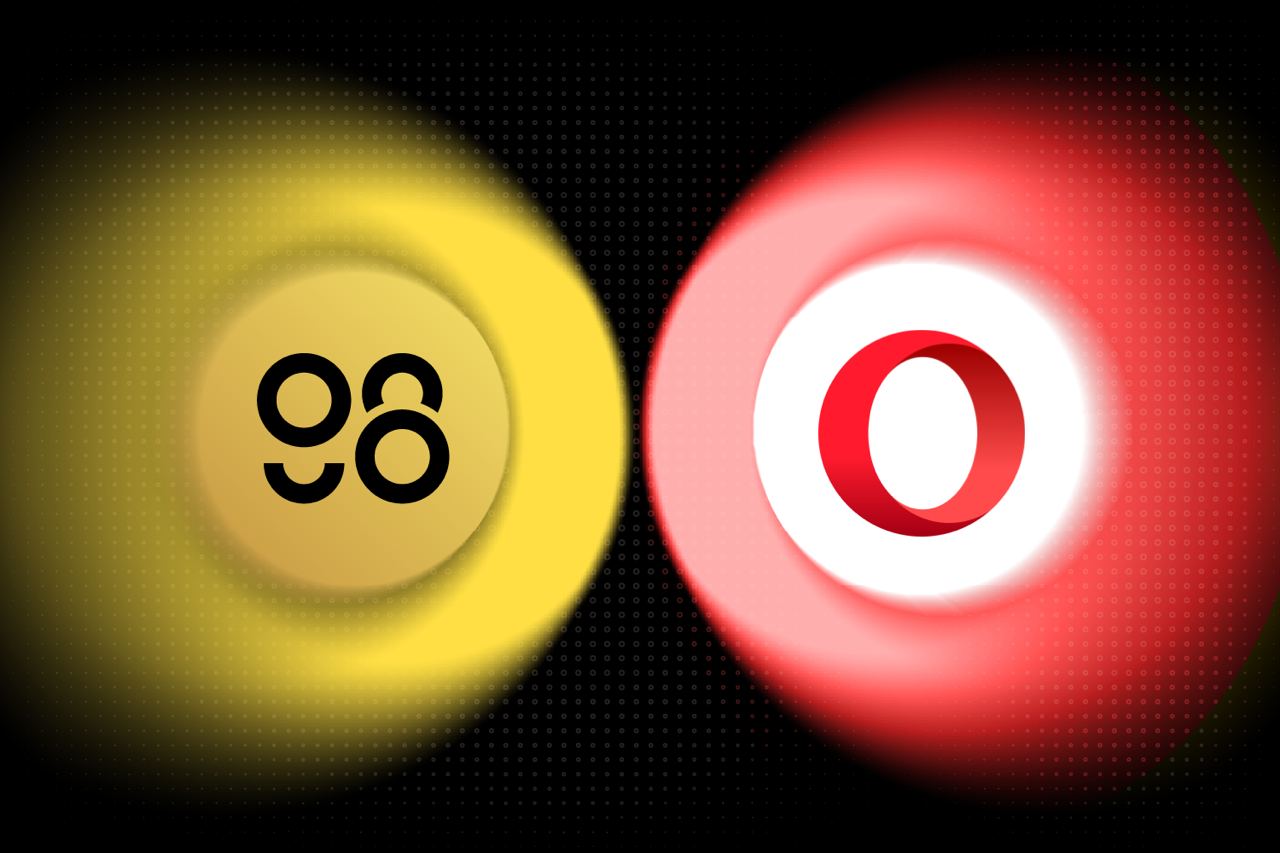 Events
"Rewards Carnival" with a total prize up to $500,000
Despite the market winter, Coin98 always seeks to bring more value to the community. We launched the biggest-ever campaign called "Rewards Carnival" with the support from our partners dYdX, Summoners Arena, and GuildFi.
The event consists of 3 games designed for all kinds of players to play and earn, with a total prize pool of up to $500,000.
The rewards remain appealing. Make sure to get your Coin98 Super App updated and join the event today!
Check out more details here: Coin98 Rewards Carnival Event - $500,000 is waiting for you
Minigame "Share to Earn" with total rewards of $1,000 C98
Following Coin98's super campaign – Rewards Carnival, Coin98 and Summoners Arena co-hosted the minigame "Share to Earn'' including super simple tasks to get attractive airdrops of up to $1,000 C98.
The minigame will last until 11:59 PM, Jul 20th, 2022 (UTC+7).
Seize the chance to earn today: https://c98.link/Share-to-earn-1000-C98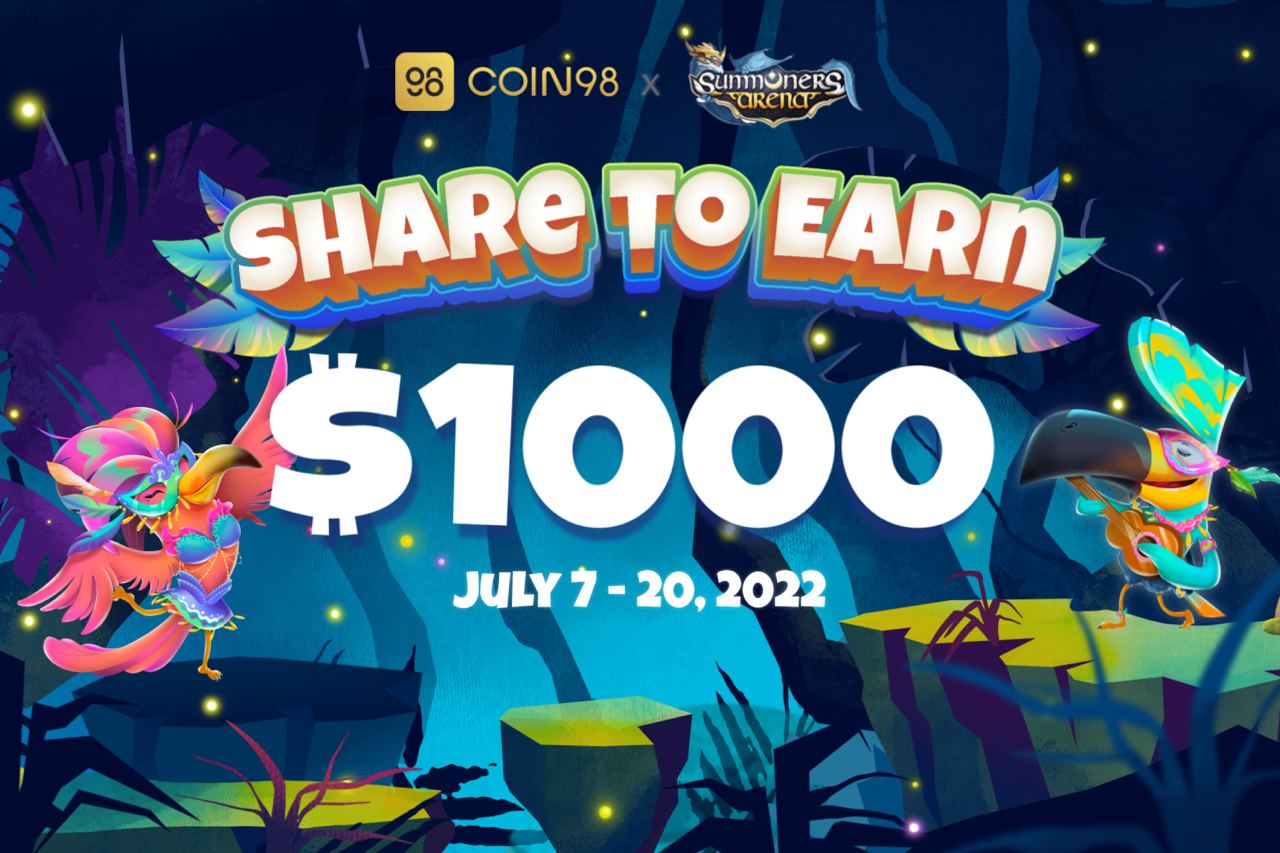 DApps supported
Coin98 is meant to help users explore DeFi on multichain at ease. Not only supporting dApps on 30+ blockchains so far, but we also support more new dApps every week for a better user experience. Let's welcome 3 new dApps to Coin98 on the 27th week:
Symmetry is a permissionless, composable Index Protocol on-chain, complemented with portfolio management and decentralized exchange (DEX) built on Solana.
Solanax is a Solana blockchain-based automated market maker (AMM) that uses the decentralized exchange's central order book to facilitate lightning-fast trades, pooled liquidity, and additional features for earning income.
Aboard an order-book decentralized derivatives exchange and an advisory protocol with the aim to further the development of the crypto derivatives market and related asset management business.
Tokens and NFTs supported
Coin98 Super App already supports NFTs on BNB Smart Chain, Solana, Polygon, Avalanche and other EVM blockchains, which allows users to transfer and store NFT right on the app and extension. Many new NFTs landed on Coin98 during the week, namely 0xApes Trilogy, The Art of Seasons, Wilder World, The Saudis, Whoopsies Doopsies, Crash Test Joyride, Milady Maker, PunkScapes, Bastard Gan Punks V2, Collider Craftworks - Cypher Drop #1, IlluminatiNFT by Truth Labs, NFTBoxes.
Coin98 aims to support not only more NFTs but also all the new and most popular tokens in the market to adapt to users' increasing demands on DeFi.
Overview of Coin98 On-the-spot W27.2022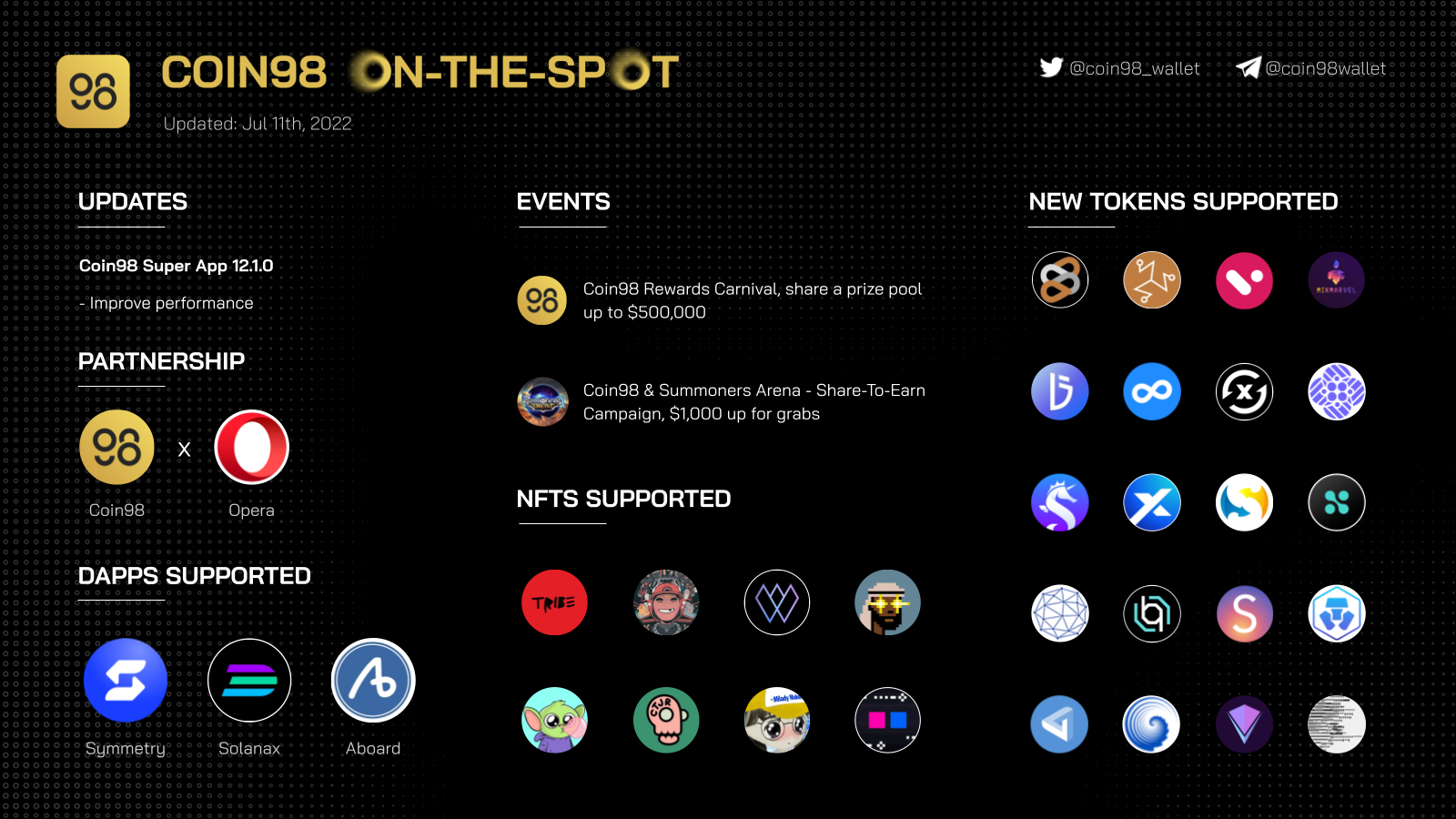 About Coin98 Super App
Coin98 is the #1 crypto super app designed to seamlessly connect a billion users to the crypto world safely and securely. We offer users across the globe a comprehensive and trusted ecosystem of essential services including but not limited to a non-custodial, multi-chain NFT & cryptocurrency wallet, built-in DEXs, Cross-chain Bridge & DApp Browser, a powerful Terminal, attractive Earn, Gift & Campaign, and Others.