Coin98 Labs
Coin98 Makes A Strategic Investment In Leading Web3 Social Login Ramper, Reinforces Its Mission of Web3 Mass Adoption
Coin98 is thrilled to announce that we have made a strategic investment in Ramper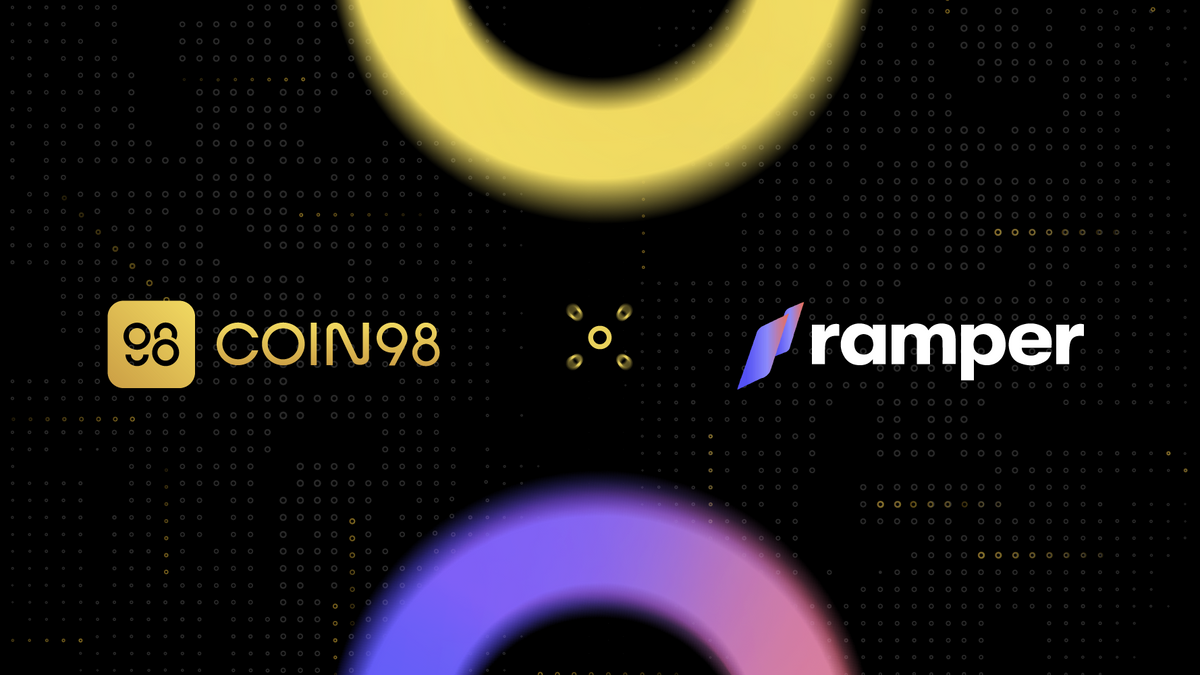 Coin98 is thrilled to announce that we have made a strategic investment in Ramper, a leading Web3 Social Login, developed by a US-based high-profile team from Tesla, Facebook, Uber, Apple, and Google. The investment reassures our strategy to focus on the wallet infrastructure to make Web3 accessible to everyone.
Ramper is building a suite of SDK/APIs for auth, key management, and crypto/NFT purchase for DApps built on multi-chains to simplify Web3 user onboarding. To make its mission possible, the Ramper team has developed a new key management architecture called Restorative Performant Multiencryption System (RPMS). RPMS is being built to acquire the next billion users by prioritizing speed, security, portability, and ease of use.
We believe that the Web3 onboarding process should have fewer layers, and be frictionless. With this vision, Coin98 plans to leverage Ramper's technology to introduce a brand-new social login solution, that is, rest assured, scalable, user-friendly, and safe for developers to rely on. This solution is becoming a fundamental building block in CWS - a new Web3 infrastructure will be launched soon by Coin98 Labs.
In addition to technology, we are excited to partner deeply with Ramper's top-notch team to provide exciting enhancements to our product offering and expand the Coin98 user base.
Thanh Le, Coin98 Co-Founder commented: "We believe that social login is an important factor in moving the blockchain industry forward and drawing in billions of new users. At Coin98, we are looking to continue supporting startups that enhance the wallet infrastructure and thus Web3 mass adoption."
Sisun Lee, Ramper Co-Founder, said "Joining forces with Coin 98 allows us to continue our mission at Ramper at a bigger scale. We are excited for the new chapter ahead."
Coin98 and Ramper share the same mission of making Web3 accessible to everyone. Together, we are lowering the barriers, creating a smooth transition, and bringing meaningful adoption to Web3 space.
About Coin98
Coin98 is a DeFi product builder focusing on creating and developing an ecosystem of DeFi protocols, Web3 applications, and NFTs on multiple blockchains. Our mission is to fulfill untapped demand and enhance in-demand utilities in the DeFi space, helping people to access DeFi services effortlessly. The Coin98 universe is now consolidating Coin98 Super App, Saros Finance, Baryon Network, Dagora, and many more incubating initiatives.
Website | Blog | Twitter | | Discord
About Ramper
Ramper is a platform that provides SDK/API solutions that bridge the gap between Web 2 and Web 3. It is on a mission to onramp the masses to Web 3 by simplifying its user processes.