Coin98 Super App
Coin98 Super App September 2022 | Highlights & Milestones
What striking events took place within Coin98 in September? Let's check it out!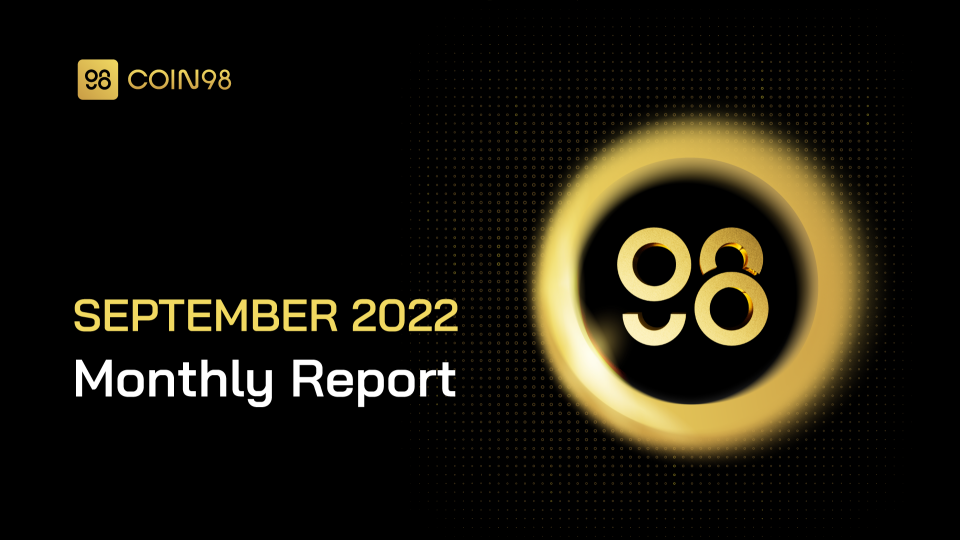 The last month of Q3-2022 marked the great effort of Coin98 when delving into users' needs and expectations, leading the way to expand the DeFi and Web3 world. With a series of updates for Coin98 Super App and Coin98 Extension, we keep on track to advance and polish the user experience.
What other striking events took place within Coin98 in September? Let's check it out!
Key takeaways:
Support Transak - new fiat on-ramp provider on Coin98 Super App
Integrate 2 new-generation blockchains on Testnet: Aptos and Sui
Release Faucet for claiming Testnet tokens
Support converting to CUSD

Every second of the DeFi world's movement is speedy, but with the support from Coin98, users can easily adapt to market changes. The newest version of Coin98 Extension, along with advancing the functionalities of allowing select active chains, will bring the user experience one step forward. Besides, Coin98 recently integrated EthereumPoW, enabling users to manage assets effortlessly and get ETHW, and more.
Don't forget to update your Coin98 to have the ultimate experience!
With the long-lasting mission to equip every user with full-packed functionalities to surpass boundaries and dive deep into the Crypto realm, Coin98 will continue to support new blockchains, engage in more integrations, and enhance multiple features on Super App and Extension. Especially, we're planning to create something fun.
Keep up with Coin98 latest news by following us on Twitter!
About Coin98 Super App
Coin98 is the #1 crypto super app designed to seamlessly connect a billion users to the crypto world safely and securely.
We offer users across the globe a comprehensive and trusted ecosystem of essential services, including but not limited to a non-custodial, multi-chain NFT & cryptocurrency wallet, built-in DEXs, Cross-chain Bridge & DApp Browser, a powerful Terminal, attractive Earn, Gift & Campaign, and Others.