Coin98 Raises $11.25M in Strategic Funding Round Led by Hashed and Spartan Group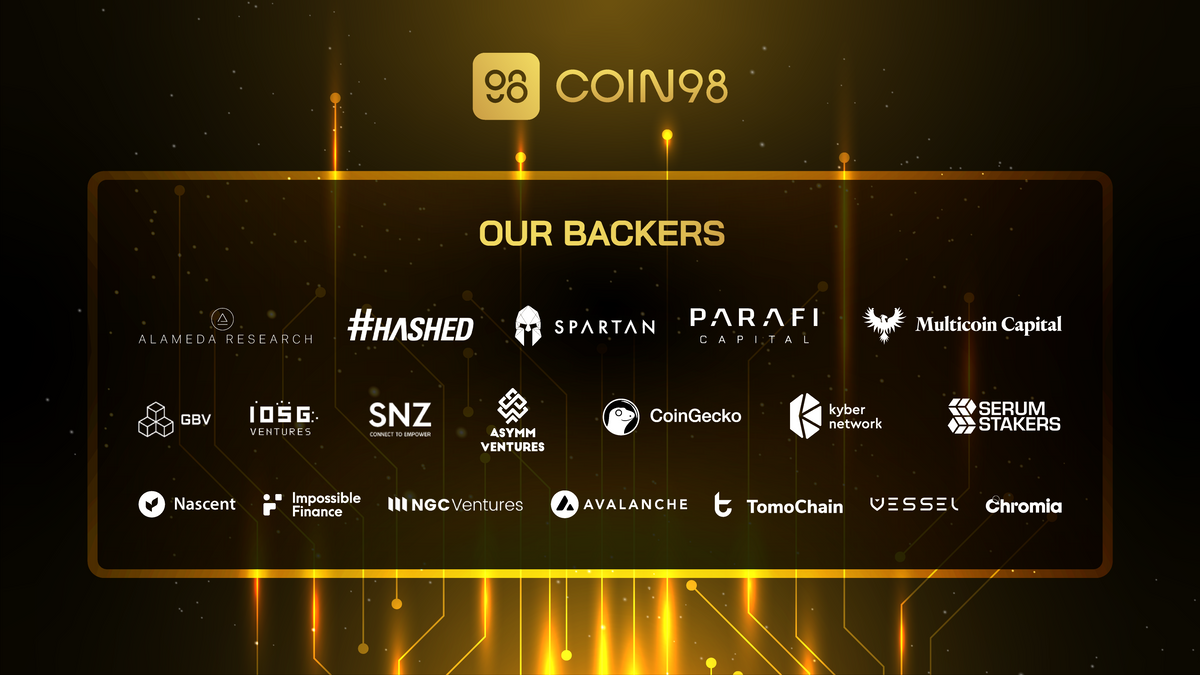 We are thrilled to announce the completion of an $11.25M strategic funding round, which was successfully concluded at the end of May 2021.
The team is honored and grateful to gain the support of renowned backers, including Hashed, and Spartan Group, who co-led our strategic round.
Our incredible investors include ParaFi Capital, IOSG Ventures, GBV Capital, Nascent, SNZ, Asymm Ventures, NGC Ventures, Vessel Capital, BTC12 Capital, Evernew Capital, AU21 Capital, Solidity Ventures, Paribus Ventures, Origin Capital, Moonwhale Ventures, K300 Ventures, Magnus Capital, Kyros Ventures, Spark Digital Capital, Black Mamba Ventures, HC Ventures, STC Capital, BTA Ventures, Basics Capital, Serum Stakers, Consensus Lab, Raptor Capital, Shima Capital, Gate Labs, Everse Capital, TAG Ventures, GTA Ventures, Bingbon, and others.
In addition, we are excited to get tremendous support from our friends at CoinGecko, Avalanche, Kyber Network, TomoChain, Near Protocol, Chromia, Injective Protocol, Impossible Finance, Frontier, BlockTempo, Cryptomind, Origin Protocol, DAO Maker, Muhabbit, and others.
Coin98 is building an ecosystem of protocols and applications on multiple blockchains to fulfill untapped demand in the DeFi space, making DeFi accessible to everyone anywhere in the world.
Starting with Coin98 Wallet, a crypto's first cross-chain compatible wallet, we introduced the blockchain and dApps world to thousands of people worldwide. After years of tireless building, Coin98 Wallet has become the most potent DeFi Gateway, supporting people to access numerous dApps on different blockchains.
Seeing the explosion of demand in the space, we believe that more products and features should be offered, and it is time to launch Coin98 Exchange. We envision Coin98 Exchange quickly becoming an all-in-one solution for DeFi, covering the full spectrum of DeFi users' needs, including swapping, staking, borrowing, lending, investing, and farming with crypto at ease. With our highlighted Space Gate (Cross-chain Bridge), transferring tokens across networks has never been easier. We plan to release more features that truly expedite everyone's DeFi journey in the near future.
To maximize the potential of our platform in a cross-chain and multi-chain future, Coin98 strategically aligned itself with some of the greatest investors in the field. We collaborate closely with our investors to leverage their wide-ranging resources to accelerate our global expansion and exponential growth. Specifically, this diverse support of our amazing backers will allow Coin98 to pursue a number of objectives, including scaling the team, establishing substantial development resources, and expanding its presence across the globe.
Our lead investors are also excited about the future of Coin98.
"The growth of DeFi in Asia has generally lagged behind the U.S. and major European markets in recent months. But, DeFi is beginning to see sizable adoption in Asia, with the public starting to open up towards DeFi in South Korea and Japan. Coin98 is at the forefront of mainstream DeFi adoption in Southeast Asia, and we believe the Coin98 team can lead the next wave of adoption, particularly in Asia." - said Joseph Young, Investment Analyst at Hashed.

"Spartan Group is excited to be one of the major investors in Coin98. With over 300K users and multi-chain support, Coin98 is becoming one of the leading DeFi platforms in Asia." - said Kelvin Koh, Partner at Spartan Group.

"Based on our strong user base, robust trading volume in Asia, and tremendous support from our prominent backers, we believe that Coin98 Exchange will be well-positioned to become an ultimate DeFi gateway for everyone," said Thanh Le, Founder of Coin98 Finance. "This funding round brings us another step closer to realizing that vision."

As the industry continues to advance at high speed, Coin98 is set to spearhead an industry paradigm shift focusing on improved experience for crypto users. We're excited about this next chapter and look forward to making waves in DeFi.
About Coin98
Coin98 is a DeFi product builder focusing on creating and developing an ecosystem of DeFi protocols and applications on multiple blockchains. Our mission is to fulfill untapped demand and enhance in-demand utilities in the DeFi space, helping people to access DeFi services effortlessly.
The first product of Coin98, Coin98 Wallet, has quickly grown to become one of the most outstanding wallets in Southeast Asia, with more than 300,000 users, multiple blockchains support, and mobile, browser extension, and website availability.