Coin98 Super App
Coin98 Super App V12.0 - A new terrace of smart routing experience
Coin98 upgrades its native swap with smart order routing on version 12.0, where you can get the best rate and trading experience.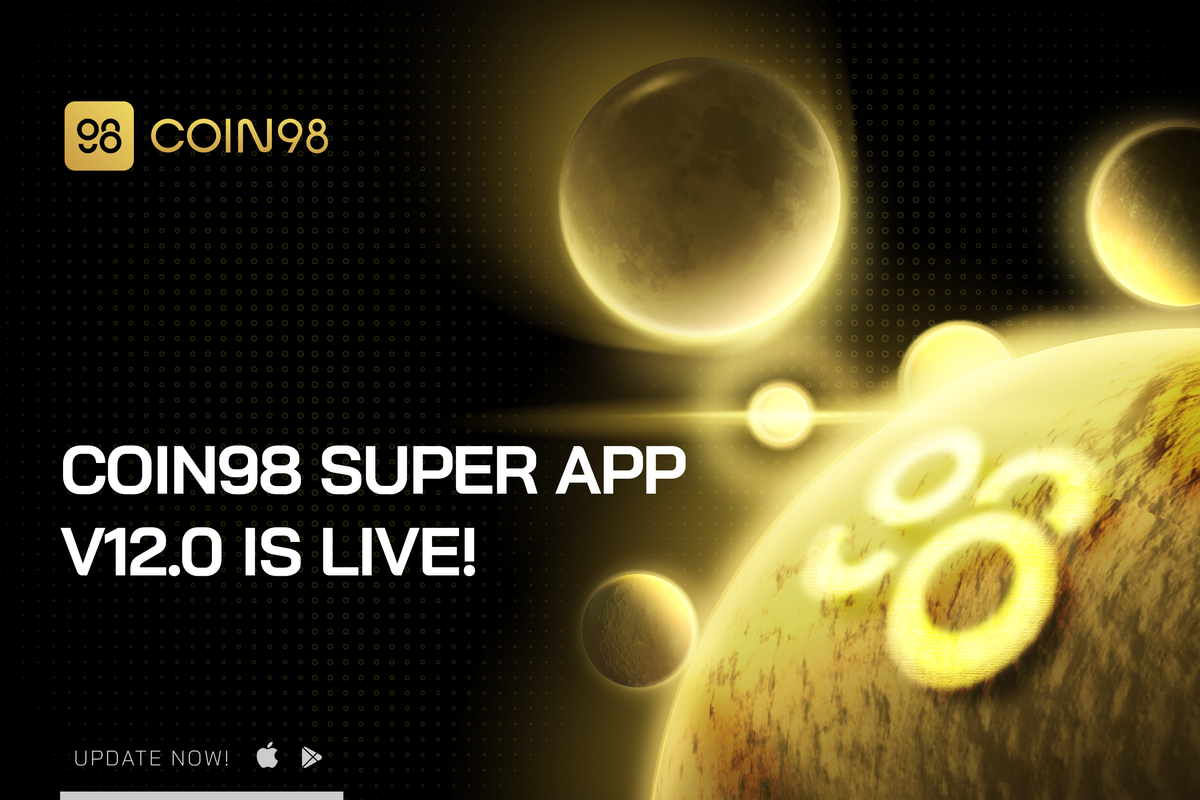 Coin98 is pleased to announce that we upgrade our native swap with smart order routing on version 12.0, where you can get the best rate and trading experience.
Now available on Coin98 Super App. Update your Coin98 today!
On the scene
Someone wondered: "What if we just simply swap a token without having to choose the DEXs?"
Users also agree with us on simplifying the trading experience, making it a lot easier and more convenient for users to enjoy.
The update about the Coin98 swap experience has been on our backlog for around a year, and now it is being rolled out!
We decided to redesign the trading interface in the Coin98 Super App V12.0, where it has replaced 16+ AMMs with Coin98 Exchange 2.0 with the smart order routing on multiple blockchains besides the Coin98 SpaceGate (cross-chain bridges).
Meet Coin98 Exchange 2.0
Coin98 Exchange is trying to pursue its goal of being the world's first All-In-One multichain DeFi Platform for everyone. It's officially expanding its horizon to present as a DEX aggregation platform - Coin98 Exchange 2.0, providing smart order routing, allowing users to make a swap easier, cheaper, and faster than ever before.
Find out more about Coin98 Exchange.
Let's have a deep dive into what's new on the trading interface on Coin98 Super App.
More liquidity sources - Less fragmentation
One of the challenges in the DEX sector is fragmented liquidity. It is not impossible to beat this order in a decentralized exchange given you swap with a massive volume; yet, the price impact on users is relatively high. Isn't that inefficient?
Coin98 Exchange, the next generation of DEX aggregator, is now accessible to alleviate the situation of liquidity fragmentation by gathering together a large number of liquidity sources in one site.
Liquidity is initially derived from various big blockchains: Ethereum, BNB Smart Chain, Avalanche C-Chain, Polygon, Fantom, Kucoin Community Chain, Boba Network, HECO Chain, and more. We currently connect over 67 liquidity sources across blockchains, such as PancakeSwap, Uniswap, SushiSwap, 1Inch, Apeswap, and many more, so users can get the best prices.
Take a detailed overview of the Coin98 Exchange liquidity sources below: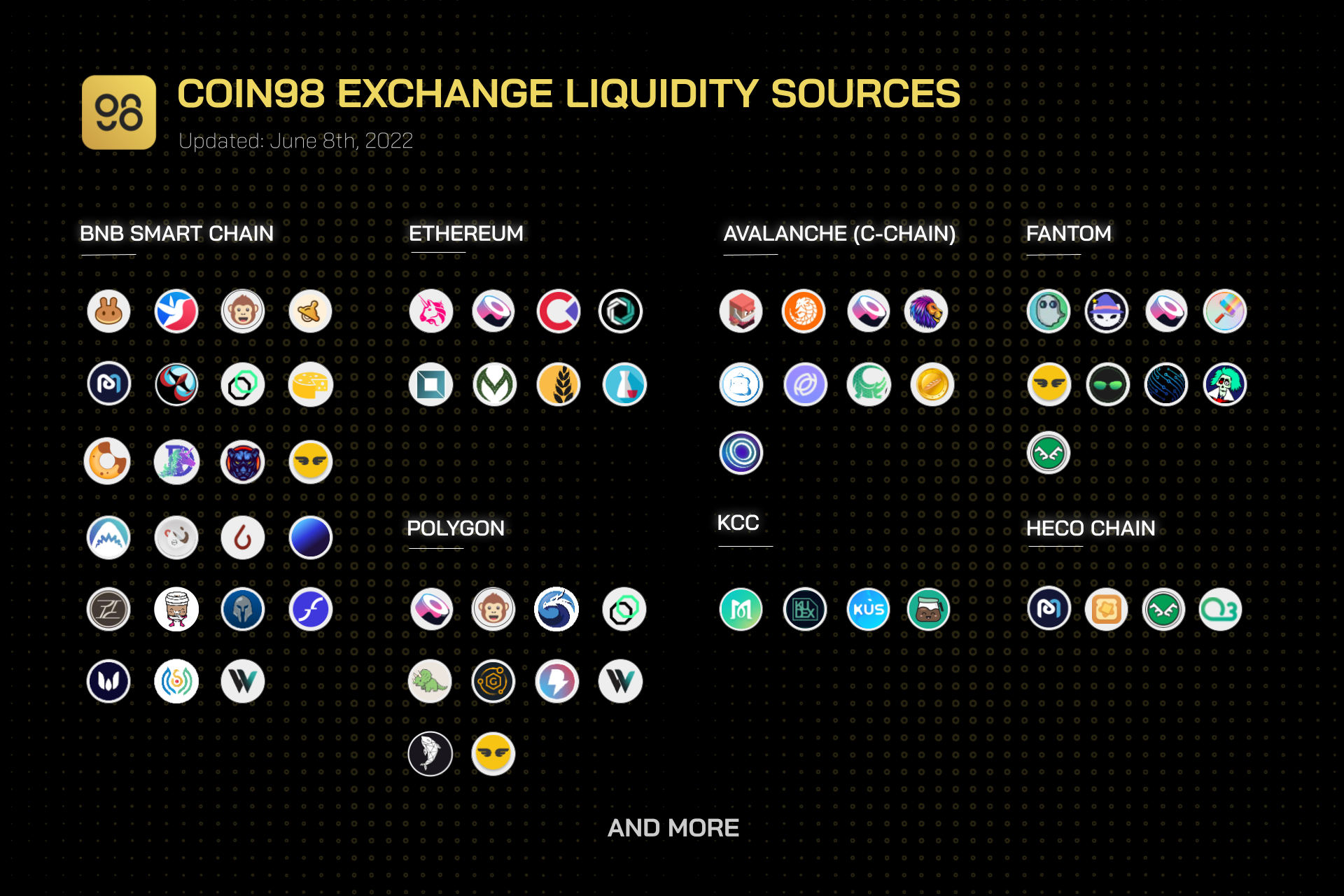 Best rate thanks to SuperLink
So how do you usually swap a token? Probably need to check on multiple DEXs before making a swap, right?. Manually checking takes a lot of time and effort, and it doesn't even guarantee that users will find the most efficient way.
Coin98 Exchange has integrated SuperLink, an Aggregated and Affiliated Liquidity Provider, to optimize the route and save users money on swaps. The protocol finds numerous liquidity sources across multiple DEXs for the best price, lowest slippage for users, and low gas fees.
Then Coin98 will offer you the best match of your trade and how much you can save money while allowing you to track the root of your liquidity. Are you ready to deep dive into a whirlwind of emotions of every trade with Coin98 Super App V12? Let's save time and resources with us by taking closer steps on how it works.
It only takes seconds to discover the best path for modest orders. It takes a couple of minutes to execute more extensive orders, which require more parameters and deeper liquidity, and the route gets rather complicated.
More explanations on how SuperLink works:
Automation with a best-in-class interface
When there are so many AMMs on the market, choosing the right one can be challenging for a rookie. Is that issue puzzling you?
Coin98 is hungry to enhance our ability to do new things while maintaining our core value to provide the pinnacle of the interface. We shorten the swap process by allowing users to choose a blockchain and complete a transaction with just a few taps. Bringing the automation and convenience of swap is our ultimate purpose.
Coin98 Super App with the native swap is suitable not only for newbies but also for veterans. We cover all sophisticated technical steps in the backend and leave easy things for users to experience.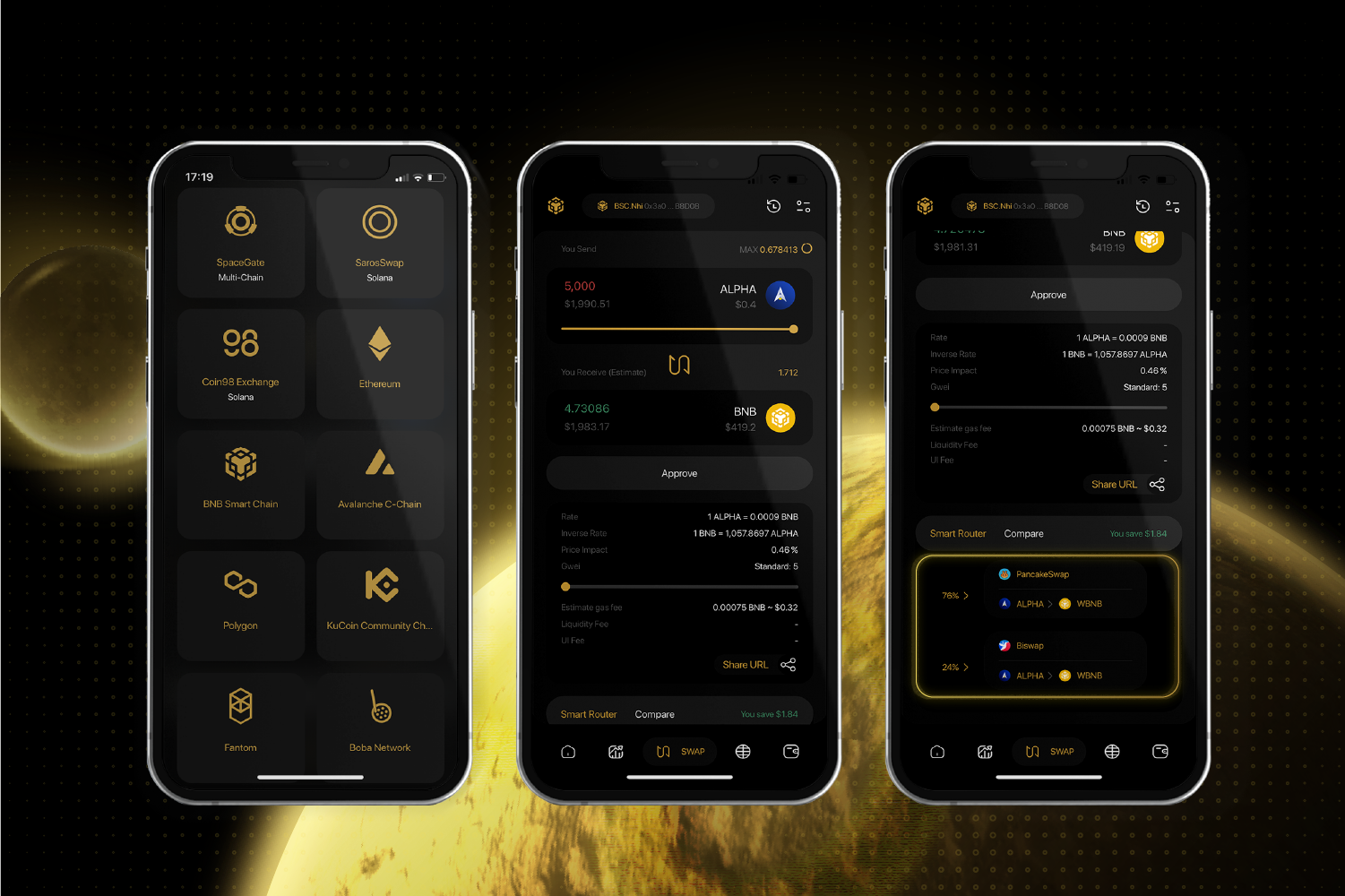 Are you ready to explore the new trading journey on Coin98? Get started now.
How to trade crypto on Coin98 Super App
Are you excited about the new native swap look and experience? Let's head over to Coin98 Super App and find the detailed guide!
Looking into the future
Coin98 Super App - Your crypto everything app, we want to become the one-stop solution for everyone, in which we can serve our users all DeFi services every time and everywhere in the decentralized world.
Coin98 principally concentrates on the swap experience. We currently provide Coin98 Exchange 2.0 with smart routing across diversified liquidity sources. The following steps aim to integrate more liquidity sources in other blockchains as well as the cross-chain DEX aggregation. For PC lovers, the built-in DEXs with smart routing will be available on Coin98 Extension.
Stay tuned!
About Coin98 Super App
Coin98 Super App is the #1 crypto super-app designed to seamlessly connect a billion users to the crypto world safely and securely.
We offer users a comprehensive and trusted ecosystem of essential services across the globe, including a non-custodial, multichain NFT & cryptocurrency wallet, built-in DEXs, Cross-chain Bridge & DApp Browser, a powerful Terminal, attractive Earn, Gift & Campaign, and Others.