Coin98 Super App
Coin98 Super Wallet Partners with OneID to Introduce ".c98" Decentralized ID, Advancing Multi-chain Experience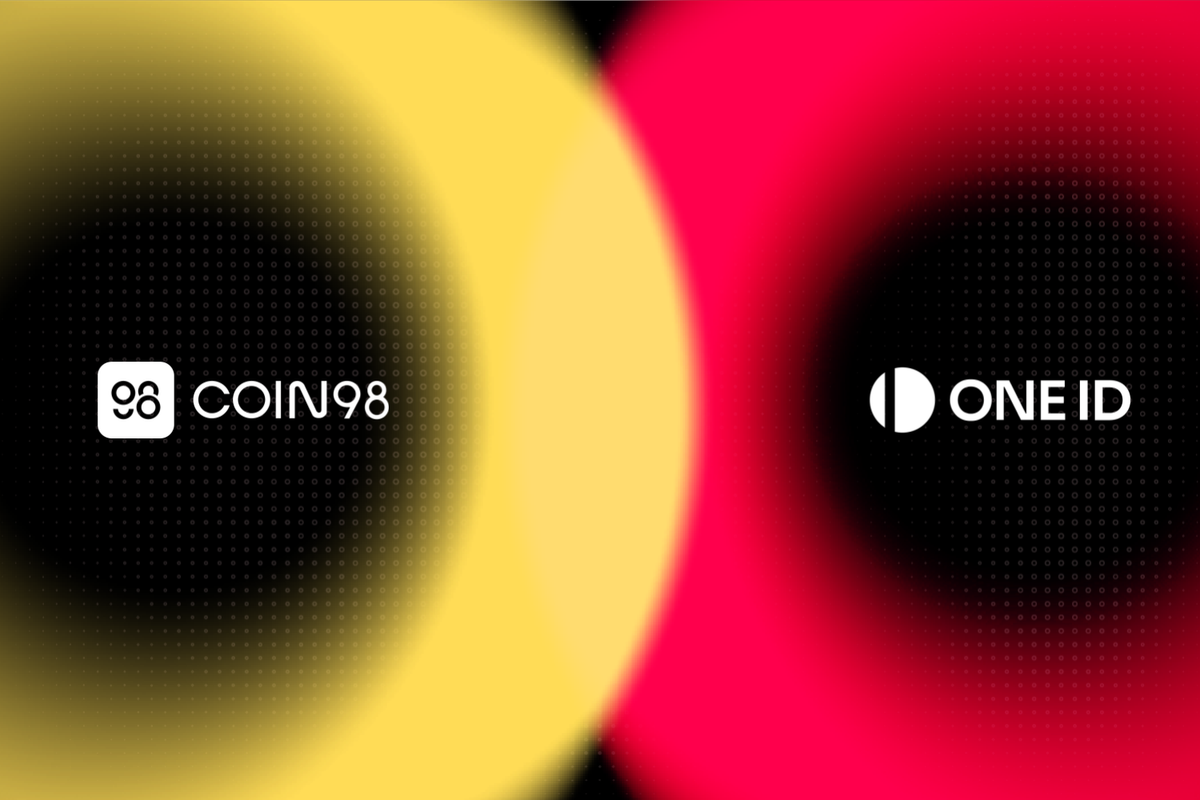 Coin98 is thrilled to onboard OneID on the latest version of Coin98 Super Wallet and Coin98 Extension and bring forth ".c98," a decentralized identity solution, aimed at making the multi-chain experience better for Coin98 users.
OneID is a comprehensive identity solution that provides Web3 users with a seamless and secure digital experience through a unified, decentralized identity (DID) across multiple blockchains. They are committed to simplifying access to diverse networks and streamlining the management of Web3 identities, thereby ultimately enhancing user convenience and confidence in the Web3 space. OneID comes along with a vast array of conveniences, including but not limited to:
A universal identity for the vast global digital world.
Automatic connectivity to 70+ blockchains without manual intervention.
Effortless management of assets and secure transactions on all supported chains.
Full decentralization, free from the control or influence of central authorities or third parties.
As a gateway to the open world of Web3, Coin98 recognizes the importance of providing our users with DID solutions in addition to wallet solutions. Together, this shall become a must-have pair for seamless discovery and connection in this universal space. Hence, we are thrilled to announce our strategic partnership with OneiD to advance users' experience. This collaboration includes the integration of OneID into Coin98 Super Wallet, support for Coin98 Extension on the OneID website, and the public registration of the ".c98" DID.
A ".c98" DID brings forth a host of benefits:
Cost Efficiency: With a single payment, you gain identity access to 70+ blockchains, saving you money and simplifying your Web3 experience.
Personalization: It empowers you to personalize your wallet address, making it more convenient for others to locate, remember, and send funds to your wallet via your ".c98" DID. For instance, you can use yourname.c98 instead of a 42-character alphanumeric address like 0x4hd…
In-app Management: With a ".c98" DID, Coin98 users can effortlessly discover, register, and manage ".c98" identities directly within Coin98 Super Wallet, all at your fingertips.
To celebrate the launch of ".c98" DID, Coin98 Super Wallet and OneID are excited to introduce exclusive benefits for every ".c98" DID owner, such as:
Free 1-year subscription for your ".c98" DID if it is more than 5 characters long;
A 50% discount on 5-year subscriptions;
For a comprehensive breakdown of fee and extra benefits, please refer to the table below.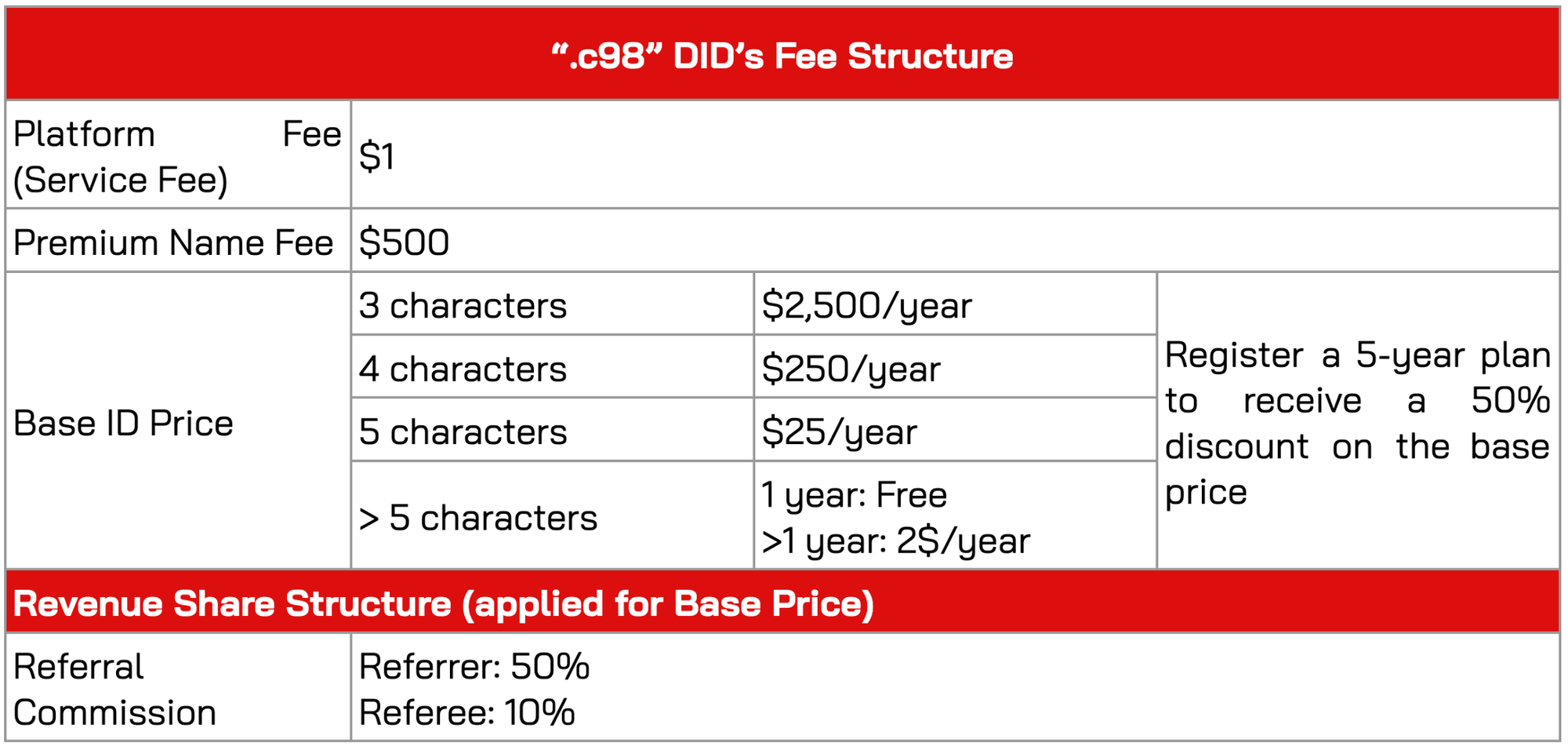 Getting your own .c98 ID now at: https://www.oneid.xyz/
The ".c98" DID is not limited to our 8-million-user community; it is open to all individuals passionate about the Web3 world, the realm of cryptocurrencies, and a truly decentralized digital space.
About OneID
OneID is your universal identity to the digital world, offering a unified multichain identity across 70+ blockchains. In addition, our OneID SDK & API empowers developers to build on-chain identities with ease. We're committed to simplifying access to diverse networks and managing Web3 identities, thereby improving user convenience. Our focus extends beyond creating on-chain identities; we're passionate about empowering users to explore the digital world effortlessly with a single, universal identity.
Website | X (Twitter) | Blog | Docs
About Coin98 Super Wallet
Coin98 is the #1 crypto super app designed to seamlessly connect a billion users to the crypto world safely and securely. We offer users across the globe a comprehensive and trusted ecosystem of essential services, including but not limited to a non-custodial, multi-chain NFT & cryptocurrency wallet, built-in DEXs, Cross-chain Bridge & DApp Browser, a powerful Terminal, attractive Earn, Gift & Campaign, and Others.