Coin98 Super App
Coin98 Wallet to integrate with Avalaunch, bringing 300,000 users to numerous projects on the Avalanche Ecosystem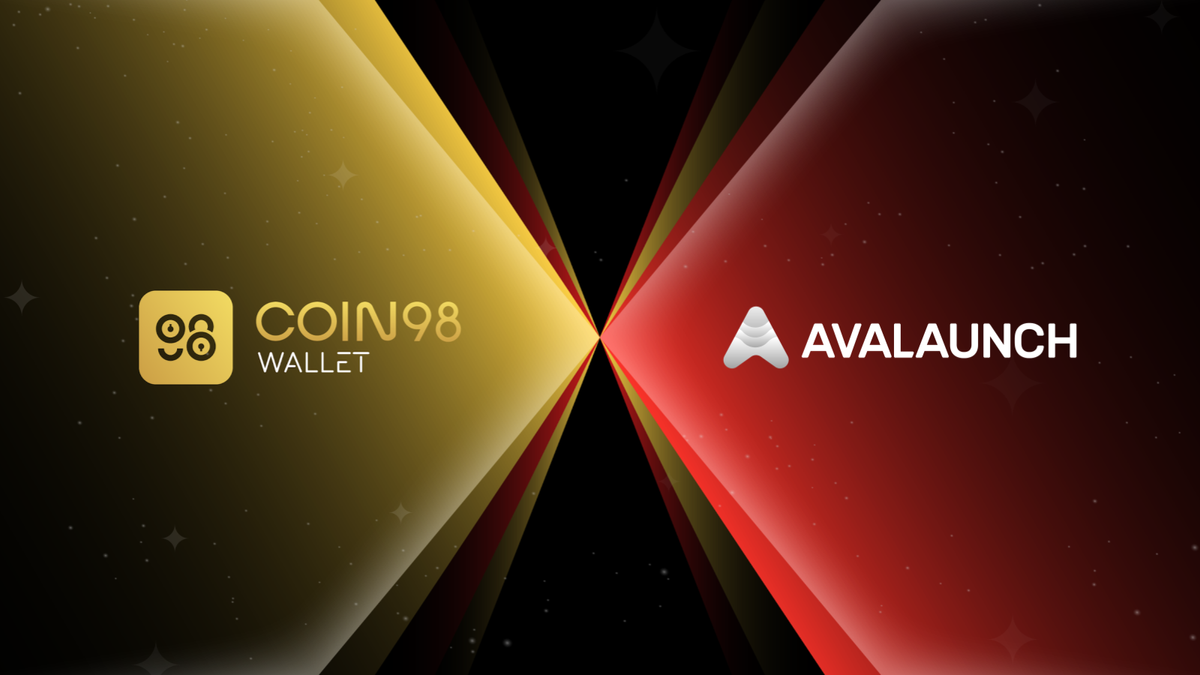 Coin98 Wallet will soon integrate with Avalaunch, the first protocol on Avalanche that offers a fast, secure and efficient platform for decentralized fundraising, to support potential projects and boost the Avalanche Ecosystem.
The collaboration with Avalaunch is based on the early integration of Avalanche X-Chain & C-Chain on Coin98 Wallet. This said, Coin98 Wallet will connect its communities with nearly 300,000 users to many projects on Avalaunch, powering the Avalanche Ecosystem to thrive more rapidly.
Users will soon be able to connect to the Avalaunch platform through both the Coin98 Mobile Wallet and the Coin98 Extension Wallet to access numerous features offered by Avalaunch, such as interoperable swap pools, permissionless listings, or The Avalaunch Farm. By doing this, all Coin98 Wallet users will contribute in developing promising projects on Avalanche while potentially generating benefits from this platform.
"The Coin98 Wallet and Avalaunch integration will definitely go a long way. Our team has been seeking for more authentic and promising projects for our users and this collaboration holds an important position in this. Coin98 Wallet and Avalaunch will be working side-by-side to not only accelerate the growth of Avalanche in the market, but also to fulfill our mission of bringing DeFi to more aspects of our world." - Vinh The Nguyen, Co-Founder & CEO of Coin98 Finance
"Avalaunch couldn't be more excited about our integration with the Coin98 Wallet and what it offers our users. From day one, Coin98 has been a strong ally and supported our efforts to grow the ecosystem, while investing their resources into making sure the Avalanche platform gets the attention it rightly deserves. Our partnership with Coin98 will ensure our current community members have the best application experience possible, while leveraging their large and influential network to get in front of new users. Coin98 saw the potential of Avalanche before many others and we are thrilled to continue our work together." - Mark Stanwyck, Co-Founder of Avalaunch
About Avalaunch
Avalaunch is a launchpad powered by the Avalanche platform, allowing new and innovative projects to seamlessly prepare for launch with an emphasis on fair and broad distribution. With its values deeply rooted in the early Avalanche community, we are able to offer projects confident, informed users who are aligned with the long-term goals of the rapidly expanding application ecosystem.
Leveraging Avalanche's scalable, high-throughput, and low-latency platform, Avalaunch is built by users, for teams, to help grow strong communities.
About Coin98 Wallet
Coin98 Wallet is a non-custodial wallet used to store, manage, trade, swap multi-chain, multi-source digital assets. It supports the most popular chains, including BTC, ETH, TOMO, Tron, Binance Smart Chain, Solana, Polkadot, Kusama, HECO Chain, Near, Avalanche X-Chain & C-Chain, Binance Chain, Celo, BandChain, Kava, Terra, Cosmos, Thor, Fantom, Polygon, Persistence. Coin98 Wallet has both the Mobile App and the Extension version that act as a gateway, connecting users to the DeFi world.
Download
Follow us