Coin98 Super App
Coin98 Wallet to partner with Crowny - a brand new DeFi loyalty program for users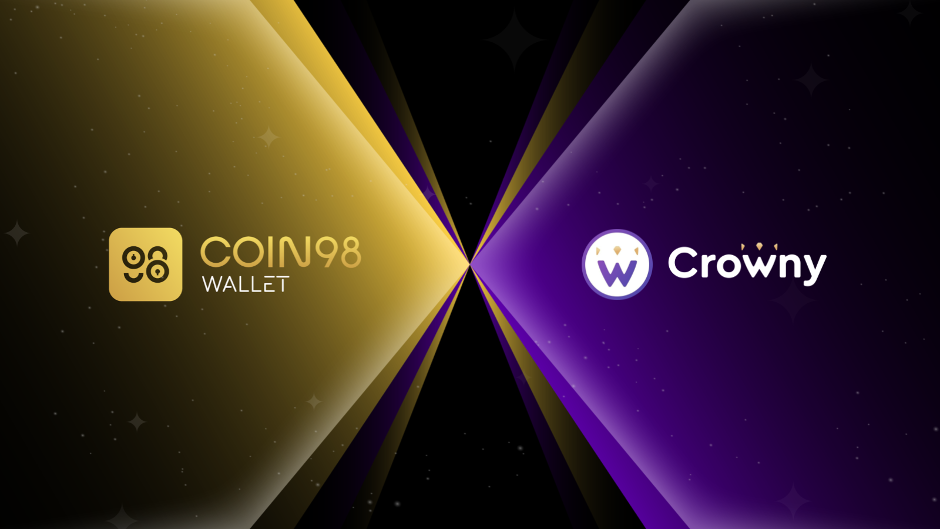 Coin98 Wallet is excited to announce our partnership with Crowny, an advertising platform. This partnership potentially extends the door to driving more users to experience a brand new loyalty program of DeFi.
Coin98 Wallet is the leading non-custodial wallet in the market, with over 22 integrated blockchains, 9+ AMMs, and numerous dApps where users can explore various use cases of DeFi. Coin98 Wallet has always been looking for projects where users' comfort and privacy are also considered as priorities. Crowny and their innovative application is the newest to join, where advertisers can reach their target audience without invading users' privacy and personal data.
All users can now store, send & receive CRWNY, their native token on Coin98 Wallet. The opportunities are wide open for all users to explore as CRWNY is currently an ERC20 token and is swappable via UniSwap natively on Coin98 Wallet. Coin98 Wallet will also support CRWNY SPL token once they complete the token migration to Solana in the near future.
A limited number of Coin98 Wallet users can also expect early access to the Crowny App Beta Testing and try out the exclusive benefits while generating profit through earning CRWNY by performing certain activities. We will be working closely together on this, so stay tuned for more announcements!
About Crowny
The Crowny platform grants users access to personalized offers, rewards, exclusive discounts, and loyalty points to use with their favorite brands. By enabling users to choose when and where to see advertisements, Crowny cuts out the annoying and repetitive ads, and puts the power back into their hands.
About Coin98 Wallet
Coin98 Wallet is a non-custodial wallet used to store, manage, trade, swap multi-chain, multi-source digital assets. It supports the most popular chains, including BTC, ETH, TOMO, Tron, Binance Smart Chain, Solana, Polkadot, Kusama, HECO Chain, Near, Avalanche X-Chain & C-Chain, Binance Chain, Celo, BandChain, Kava, Terra, Cosmos, ThorChain, Fantom, Polygon, Persistence. Coin98 Wallet has both the Mobile App and the Extension version that act as a gateway, connecting users to the DeFi world.
Download
Follow us