Coin98 Super App
Coin98 Wallet integrates with Kyber Network, supporting Kyber DMM to enhance DeFi trading experience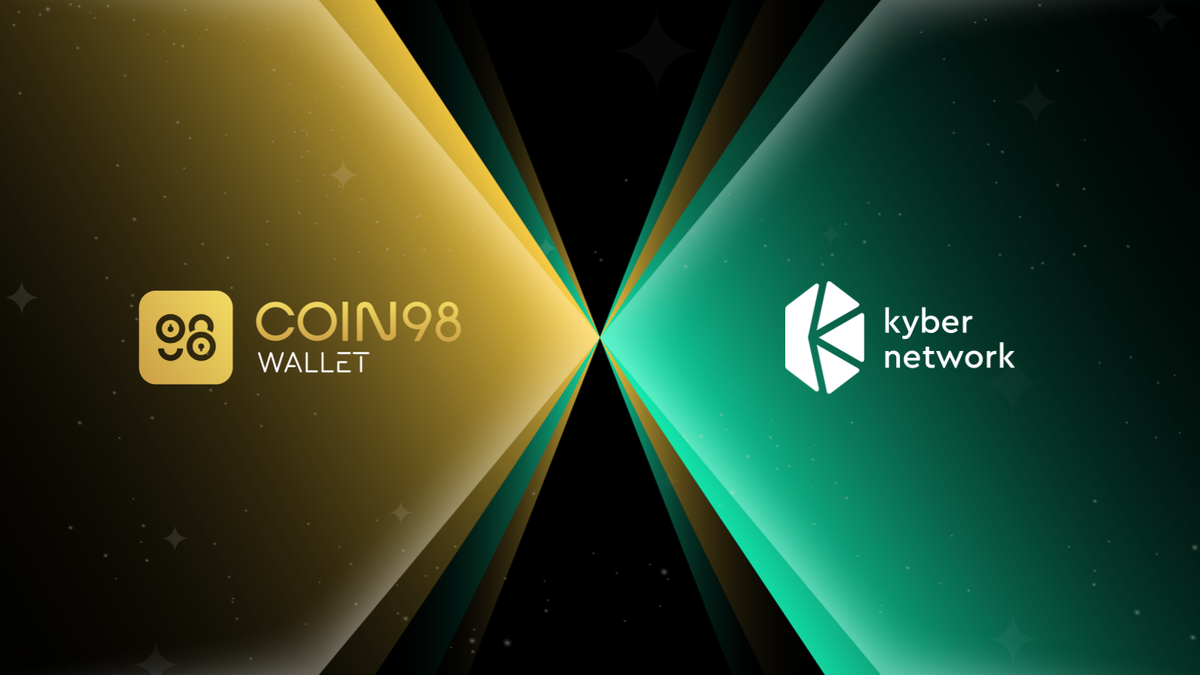 Coin98 now integrates with Kyber Network, a blockchain-based liquidity hub, for instant & secure crypto exchange in DeFi.
Coin98 Wallet and Kyber Network have been working together harmoniously on numerous projects with equal respect for each other's work and accomplishments. After co-sponsoring the Vietnam Regional Track in the successful Solana Szn Hackathon a few months back, Coin98 Wallet and Kyber Network have decided to continue our journey to build DeFi by forming an official partnership.
With the collaboration, Coin98 Wallet will support Kyber DMM, a capital-efficient liquidity protocol with optimized returns, via our Multi-chain DApp Browser on the Coin98 Mobile Wallet. All users are able to connect to Kyber's dmm.exchange on Ethereum via both the Coin98 Mobile Wallet and the Extension Wallet. Moreover, since our version X now integrates Polygon (MATIC) as one of the 22+ supported blockchains, all Coin98 Wallet users can also use the Kyber DMM on Polygon & enjoy the cost-efficient user experience without any interruptions.
Coin98 Wallet users can also participate in Kyber DMM's newly launched 'Rainmaker' liquidity mining program to receive KNC and MATIC rewards on top of dynamic fees, in return for providing liquidity to selected pools on Ethereum and Polygon. Within the first two days, over $300 million in tokens have already been deposited to Kyber DMM pools, representing the successful launch of the novel liquidity protocol.
"This collaboration opens numerous opportunities for Coin98 Wallet users to explore more of Kyber & generate profit from providing liquidity. On a larger scale, we will be working closely together to accelerate the growth of DeFi on new blockchains, making it more accessible for everyone." - Vinh The Nguyen, Co-Founder & CEO of Coin98 Finance

"With the increasing adoption and rapid pace of the DeFi world, Kyber Network is proud to partner with fast-paced and innovative DeFi projects such as Coin98 Wallet to bring the best possible products to the most users in a secure and sustainable way. Furthermore, the timely expansion of both the Kyber DMM and Coin98 Wallet to Polygon is a catalyst to even wider adoption, and we look forward to continued cooperation to accelerate the growth of DeFi solutions." - Loi Luu, Co-Founder & CEO of Kyber Network
About Kyber Network
Kyber Network is a blockchain-based liquidity hub that connects liquidity from a wide range of sources to power instant and secure crypto exchange in any decentralized application without the need for an intermediary. Decentralized finance needs decentralized liquidity, and Kyber is the key infrastructure that provides the necessary liquidity for the whole ecosystem of DApps to operate.
About Coin98 Wallet
Coin98 Wallet is a non-custodial wallet used to store, manage, trade, swap multi-chain, multi-source digital assets. It supports the most popular chains, including BTC, ETH, TOMO, Tron, Binance Smart Chain, Solana, Polkadot, Kusama, HECO Chain, Near, Avalanche X-Chain & C-Chain, Binance Chain, Celo, BandChain, Kava, Terra, Cosmos, ThorChain, Fantom, Polygon, Persistence. Coin98 Wallet has both the Mobile App and the Extension version that act as a gateway, connecting users to the DeFi world.
Download
Follow us