Coin98 Super App
Coin98 Wallet partners with Mercurial Finance to accelerate DeFi on Solana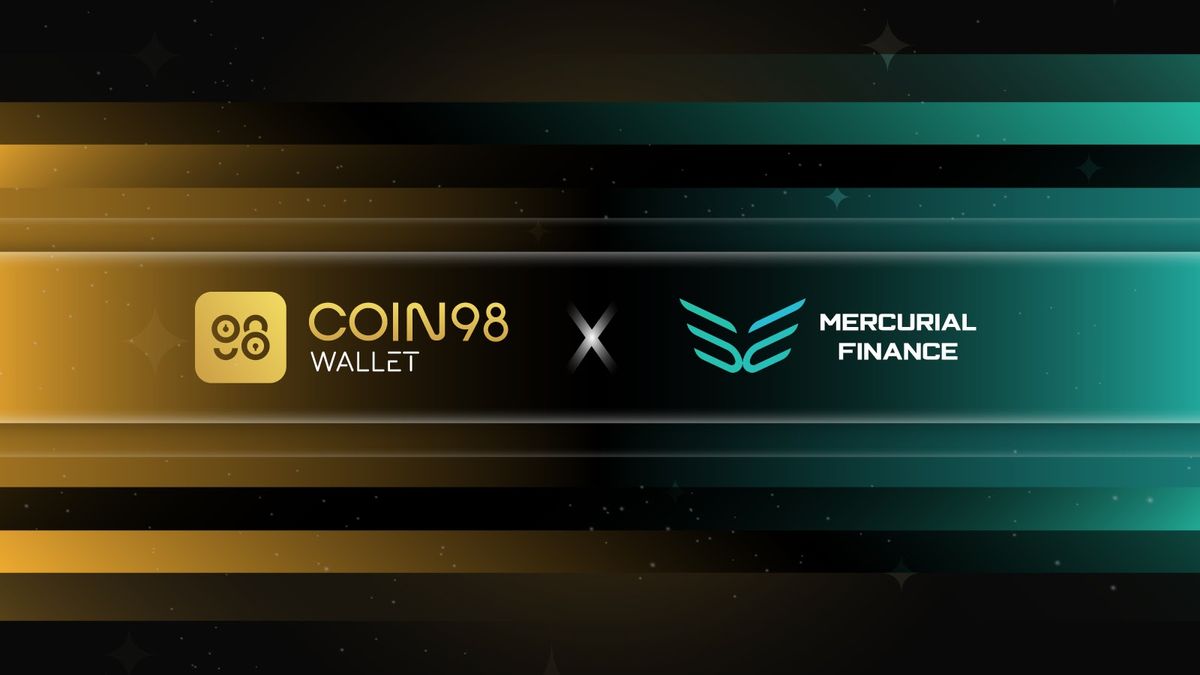 Coin98 Wallet has partnered with Mercurial Finance, the first dynamic vault for stable assets on Solana, with the aim to boost the growth of the Solana Ecosystem.
Seeing the potentials of the Solana Ecosystem, such as high scalability and low cost, Coin98 Wallet has supported Solana since the very early stage, creating a concrete base for this partnership. Mercurial Finance has recently launched its MER IDO on Raydium this May, with an ongoing Devnet and an upcoming Mainnet this year, making it one of the fastest growing platforms on Solana.
With the integration of the Solana Ecosystem on both the Mobile Wallet and Extension Wallet, Coin98 Wallet could unlock various potentials for new projects and DApps on Solana. Our collaboration with Mercurial Finance is expected to improve the user experience with stable assets on Solana, providing more liquidity while accelerating the growth of DeFi in this ecosystem.
"Our team from Coin98 Wallet is excited to start working with Mercurial Finance. Our mutual goal is to generate profits for users, fulfilling their demands of liquidity and further accelerate the growth of the Solana Ecosystem in the market. With the enhanced speed and a huge diversity of blockchains in the upcoming Coin98 Wallet version X, it would be much easier to drive awareness and adoption for this ecosystem, unlocking more potentials for Mercurial Finance in the long run." - Vinh The Nguyen, Co-Founder & CEO of Coin98 Finance
"Coin98 is one of the best wallets and one of the most supportive players in the Solana ecosystem. We are glad to partner with them to integrate liquidity directly into Coin98, driving liquidity for stable assets on Solana and improving the whole DeFi ecosystem." - Ming Ng, Mercurial Finance
About Mercurial Finance
Mercurial is building DeFi's first dynamic vaults for stable assets, providing the technical tools for users to easily deposit and mint stable assets, generating liquidity for their own requirements or offering them to ecosystem participants with such demands.
About Coin98 Wallet
Coin98 Wallet is a non-custodial wallet used to store, manage, trade, swap multi-chain, multi-source digital assets. It supports the most popular chains, including BTC, ETH, TOMO, Tron, Binance Smart Chain, Solana, Polkadot, Kusama, Huobi ECO Chain, Near, Avalanche, Binance Chain, Celo, Band, Kava, Cosmos, Thor, Fantom, Polygon, Persistence, Elrond, Harmony... Coin98 Wallet has both the Mobile App and the Extension version that act as a gateway, connecting users to the DeFi world.
Download
Follow us