Coin98 Super App
Coin98 Wallet integrates with Polygon, brings 300K users to the rising Ethereum Scaling solution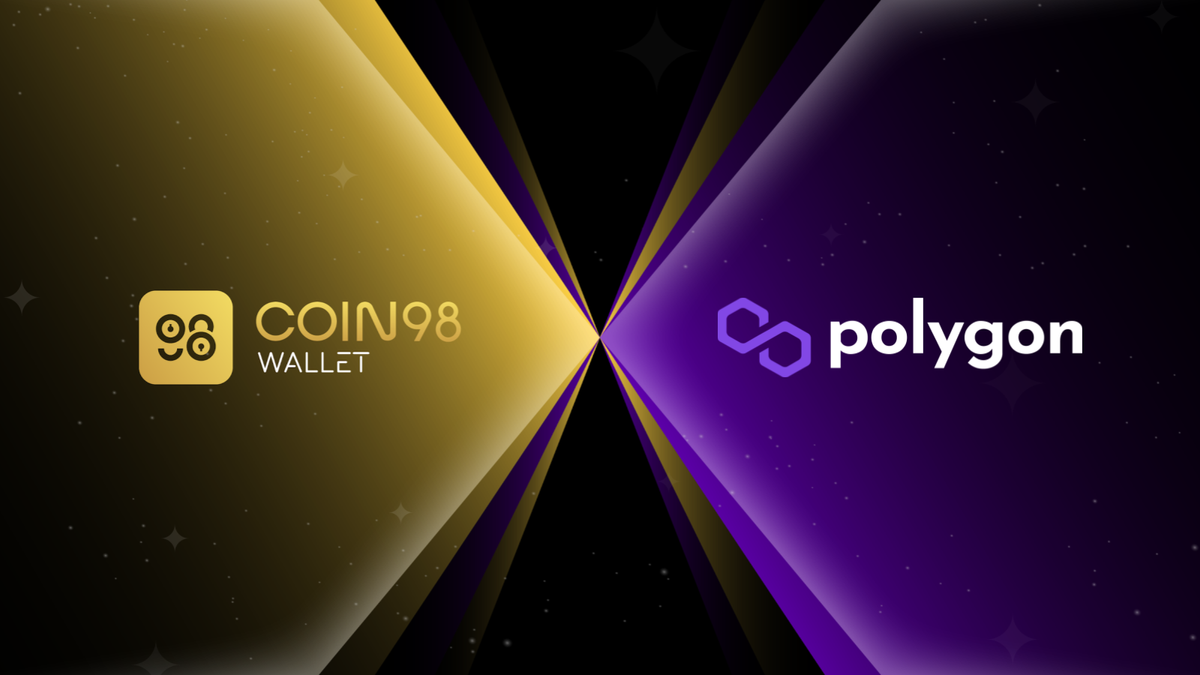 Coin98 Wallet has integrated Polygon, a framework for building & connecting Ethereum-compatible blockchain networks. This integration opens the door to new opportunities for users while accelerating the growth of this ecosystem.
Coin98 Wallet is a well-known DeFi Gateway that uses multi-engine as its core, making DeFi accessible for users all over the world, starting from South-East Asia. It is currently supporting 22+ most popular blockchains, with Polygon being one of the newest to join our system.
Polygon has been receiving a large amount of attention from users and investors all over the world, achieving many impressive results. Recently, Polygon has reached multiple new ATHs with 75,000 Daily Active Addresses, 7.2 million Daily Transactions, and $1B+ TVL on Aave, SushiSwap & QuickSwap. This integration will drive a large number of users from  Coin98 Wallet communities to this ecosystem, further increasing its potential for development in the future.
With this collaboration, Coin98 Wallet now supports MATIC, the native token of Polygon that users can store, send & receive natively on both our Mobile App and Extension version. In the upcoming Coin98 Wallet version X, users will also be able to swap with Polygon's DEX - QuickSwap, increasing the diversity of DEXes on our system.
In the near future, Coin98 Wallet users can expect to get access to new promising projects on Polygon, such as Polystarter or DinoSwap, as well as numerous interesting DApps on this blockchain through our expanding DeFi gateway. We will be collaborating closely with Polygon to deliver new opportunities to our users, taking larger steps towards our mission of driving DeFi mass adoption.
About Polygon
Polygon is a protocol and framework for building & connecting Ethereum-compatible blockchain networks. With Polygon, any project can easily spin up a dedicated blockchain network that combines the best features of stand-alone blockchains (sovereignty, scalability, and flexibility) and Ethereum (security, interoperability, and developer experience). Additionally, these blockchains are compatible with all the existing Ethereum tools (Metamask, MyCrypto, Remix, etc), and can exchange messages among themselves and with Ethereum.
About Coin98 Wallet
Coin98 Wallet is a non-custodial wallet used to store, manage, trade, swap multi-chain, multi-source digital assets. It supports the most popular chains, including BTC, ETH, TOMO, Tron, Binance Smart Chain, Solana, Polkadot, Kusama, Huobi ECO Chain, Near, Avalanche, Binance Chain, Celo, Band, Kava, Cosmos, Thor, Fantom, Polygon, Persistence, Elrond, Harmony... Coin98 Wallet has both the Mobile App and the Extension version that act as a gateway, connecting users to the DeFi world.
Download
Follow us