Coin98 Super App
Coin98 Wallet integrates Trader Joe for a one-stop trading experience on Avalanche
Coin98 Wallet empowers users with a secured approach to the marvelous DeFi services on Avalanche by building the integration with Trader Joe.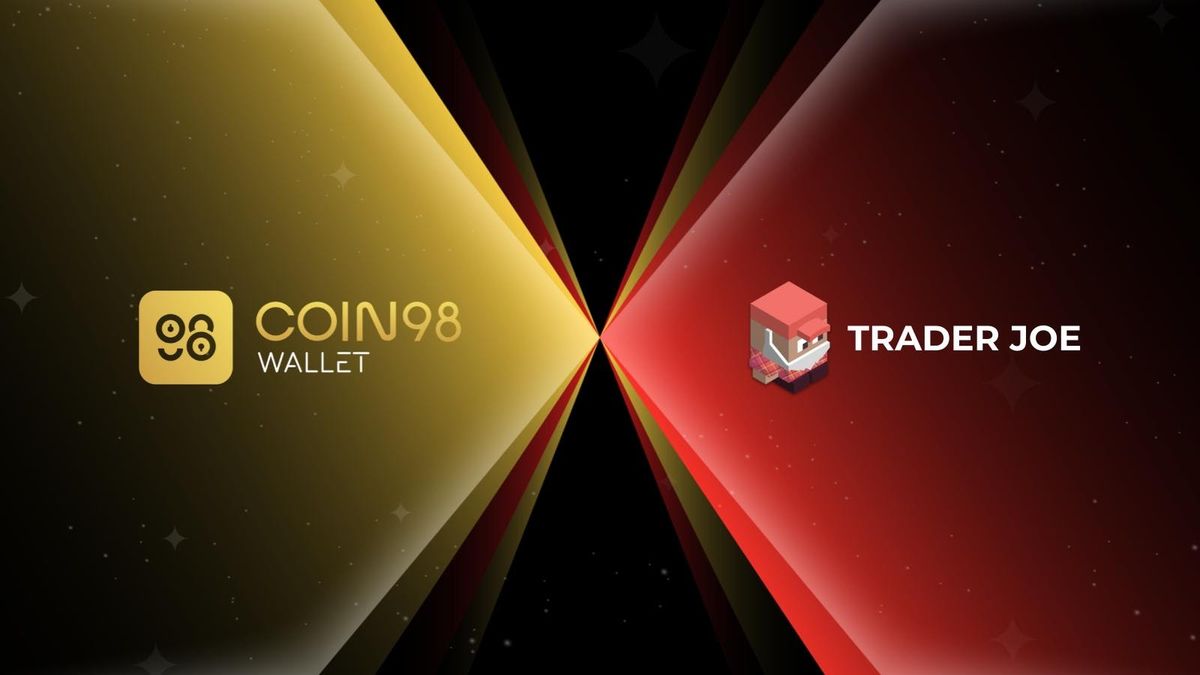 Since the early stage of our development, Coin98 Wallet has supported Avalanche blockchain, which came with multiple Avalanche-based DApps integrated into our Multi-chain DApp Browser as well as the X-chain & C-chain Cross-Chain Bridge featured in the app. We believe that this integration will drive more users to explore various opportunities and offerings of the rapidly growing Avalanche Ecosystem.
Trader Joe is a one-stop trading platform on the Avalanche network leveraging the speed and innovation of this emerging blockchain. The protocol started with Automatic Market Maker (AMM) and Yield Farm features, and quickly captured users with its fun and engaging user experience. Recently, the team announced the launch of Banker Joe as part of its one-stop trading platform offering investors the ability to lend or borrow against whitelisted assets, enabling the deployment of flexible DeFi investment strategies on the blazingly fast, low-cost Avalanche network.
Since July, Coin98 Mobile and Extension Wallet have been the very first wallet-connection option on Trader Joe. Coin98 Wallet also integrated Trader Joe into the DApp Browser for both iOS and Android users enabling our ever-growing user base to add liquidity to Trader Joe's pools as well as join the farming and earning services. And Banker Joe is the next DeFi service we supported, bringing users to one of the potential Lending protocols on the Avalanche ecosystem.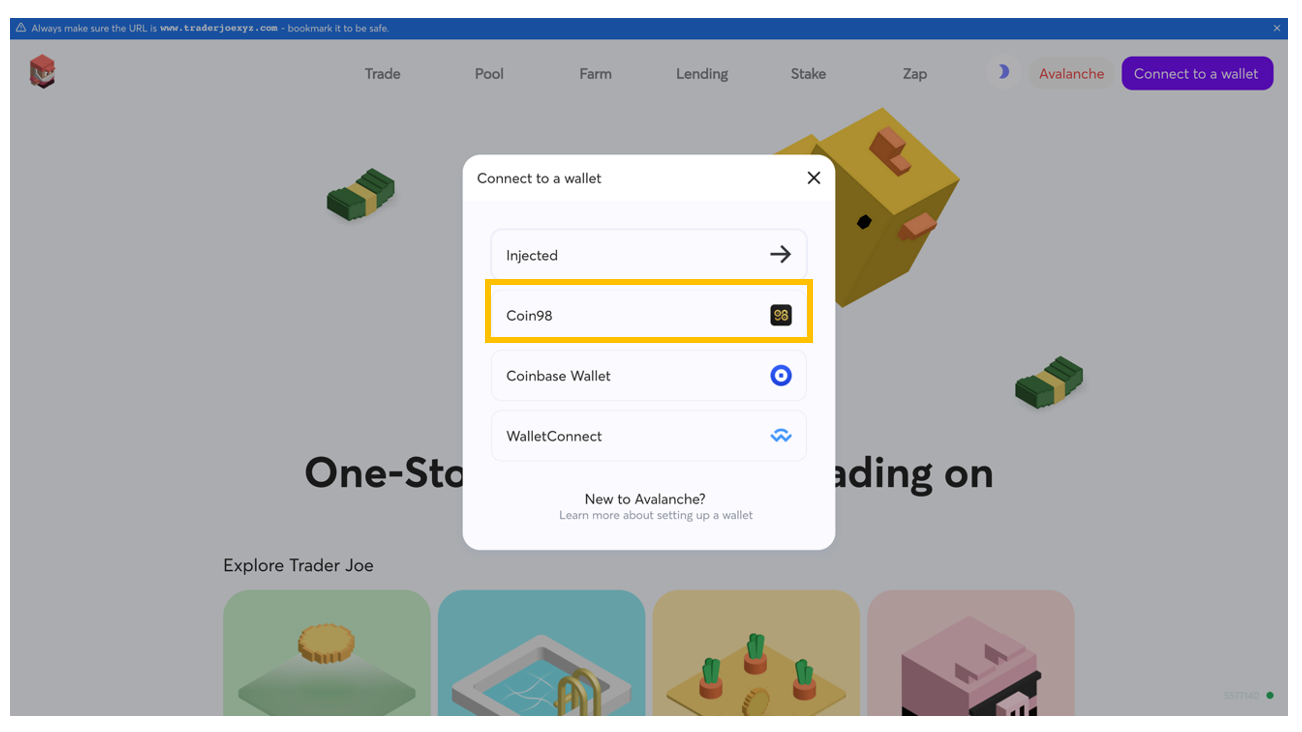 To deepen our ties,  from Coin98 Mobile Wallet version 10.3, users can access our built-in Swap feature to trade ARC20 tokens natively on Trader Joe. By swapping on Trader Joe on our native swap, users can enjoy multiple benefits that are critical in this rapidly growing market, including optimized transaction speed & gas fee, minimized risks of being scammed, seamless and easy experience.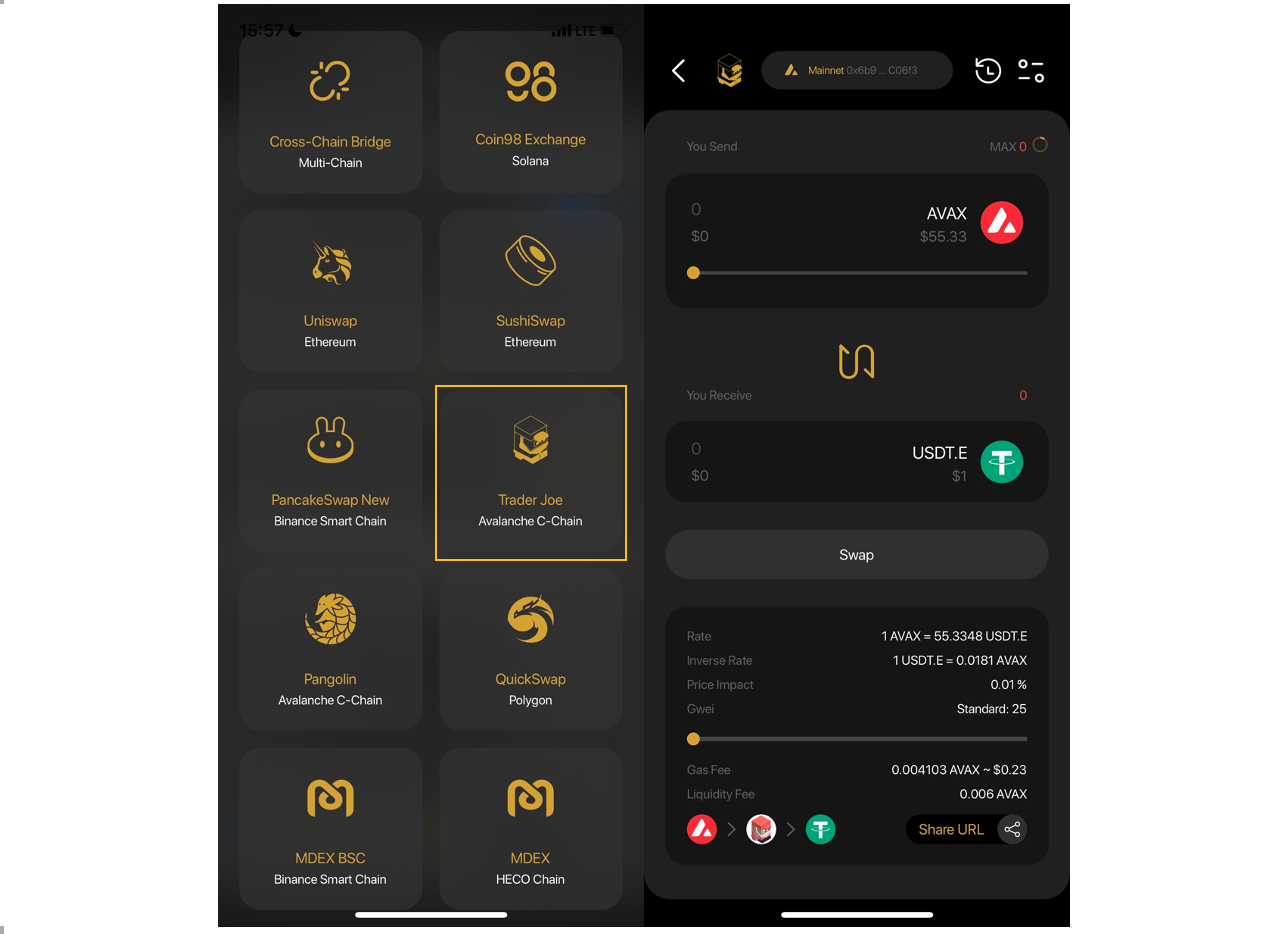 This collaboration potentially holds the key to many new opportunities that drive DeFi mass adoption. With the same concentration on DeFi, Coin98 Wallet and Trader Joe will work side by side to achieve our mutual vision of pushing the frontiers of DeFi innovation. We're working towards the Multi-Chain Wallet Engine, and the integration with Trader Joe on our native swap will bring out the best of our products.
About Trader Joe
Trader Joe is a one-stop trading platform on Avalanche. The project will launch first with regular trading and later with lending, which combine together to offer leveraged trading. Many DEXes like to shift their focus on other horizontals. As degen DeFi users, Trade Joe's team focused on what they know best: DeFi. Nothing else.
About Coin98 Wallet
Coin98 Wallet is a non-custodial wallet used to store, manage, trade, swap multi-chain, multi-source digital assets. It supports the most popular chains, including BTC, ETH, TOMO, Tron, Binance Smart Chain, Solana, Polkadot, Kusama, HECO Chain, Near, Avalanche X-Chain & C-Chain, Binance Chain, Celo, BandChain, Kava, Terra, Cosmos, ThorChain, Fantom, Polygon, Persistence, XDai, Kardiachain, Ronin. Coin98 Wallet has both the Mobile App and the Extension version that act as a gateway, connecting users to the DeFi world.
Download
Follow us
Join our communities