Coin98 Super App
Coin98 integrates EthereumPoW, enabling users to effortlessly manage assets and get ETHW
Coin98 is excited to integrate EthereumPoW into the latest version!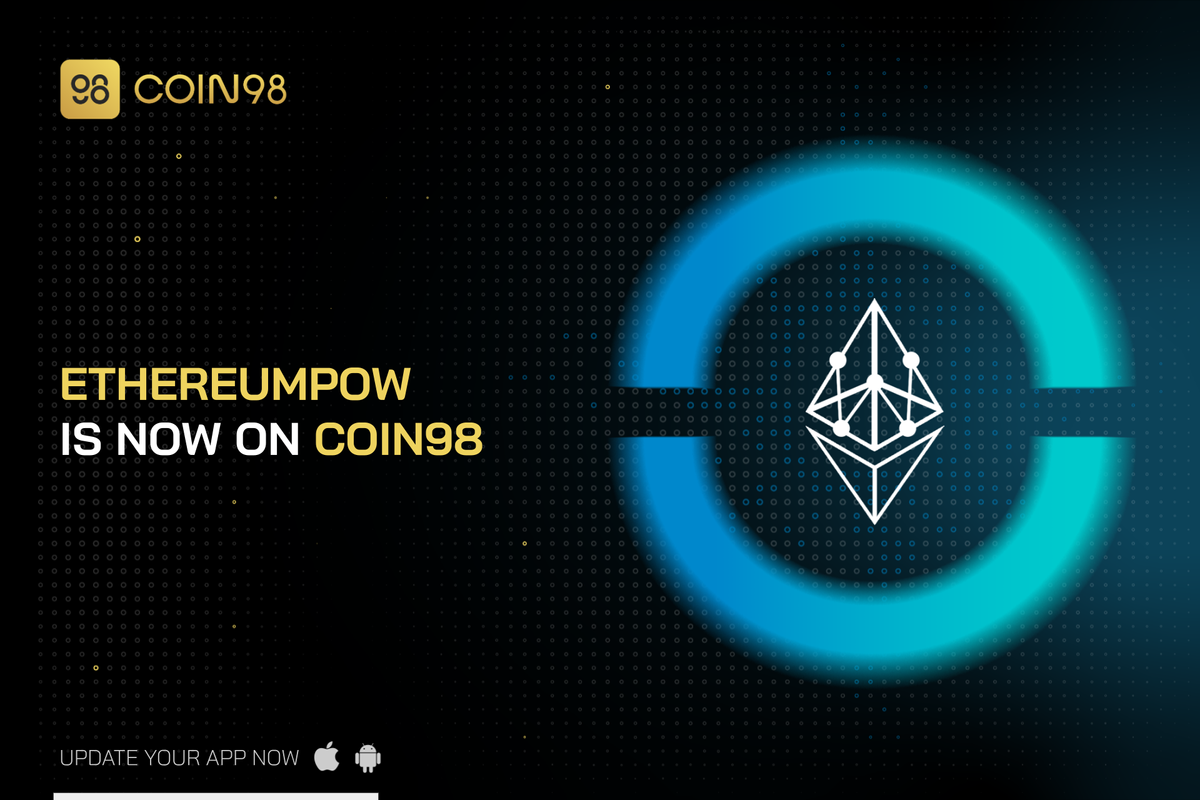 The newest version of Super App will now include EthereumPoW, the original Ethereum Blockchain powered by Proof of Work. Update your App and experience today!
Following the Merge, Ethereum's Proof-of-Work consensus mechanism was formally upgraded with a Proof-of-Stake one. Nevertheless, a portion of the core team and community chose to stick with and continue developing the PoW Ethereum.
We constantly identify what users need and deliver it in a timely manner as a super crypto app with the multichain engine at its core. As our pursuit, Coin98 invites EthereumPoW to join Coin98 Super App.
Every blockchain has a native token, and the one for EthereumPoW is ETHW, which is used to pay the miners. Following the hard fork, holders of ETH would get a 1:1 split of tokens between ETH and ETHW.
After the blockchain connection, Coin98 users can manage and transfer their ETHW and automatically receive the airdrop from EthereumPoW.
Not only supporting crypto assets management, Coin98 is also looking forward to seeing the growth of EthereumPoW, and will eagerly support dApps built on top of that platform.
Get started
How to create an EthereumPoW wallet
Before we begin, you need to install or update our Super App to the latest version:
We recommend you create a Multi-Chain wallet on Coin98 Super App to easily manage and access all single blockchain wallets with only one Passphrase.
If you are already a Coin98 user, please choose to Manage on the WALLETS section, choose Active Blockchains, and activate EthereumPoW.
To complete the process, you should refresh your multi-chain wallets to get updated with the EthereumPoW wallet. Follow the instructions:
How to claim ETHW airdrop
All you need to do is update your Coin98 to the latest version. Then, make sure you turn on the EthereumPoW; your airdropped ETHW will automatically appear on the wallet on the home screen.
About Coin98 Super App
Coin98 is the #1 crypto super app designed to seamlessly connect a billion users to the crypto world safely and securely.
We offer users across the globe a comprehensive and trusted ecosystem of essential services, including but not limited to a non-custodial, multi-chain NFT & cryptocurrency wallet, built-in DEXs, Cross-chain Bridge & DApp Browser, a powerful Terminal, attractive Earn, Gift & Campaign, and Others.