Integration
MojitoSwap, top #1 DEX on KCC, is now ready on Coin98 native swap!
In Coin98 Super App version 11.3, we are delighted to invite MojitoSwap to the native swap to let users trade tokens easily with the low gas fee and high speed on KCC.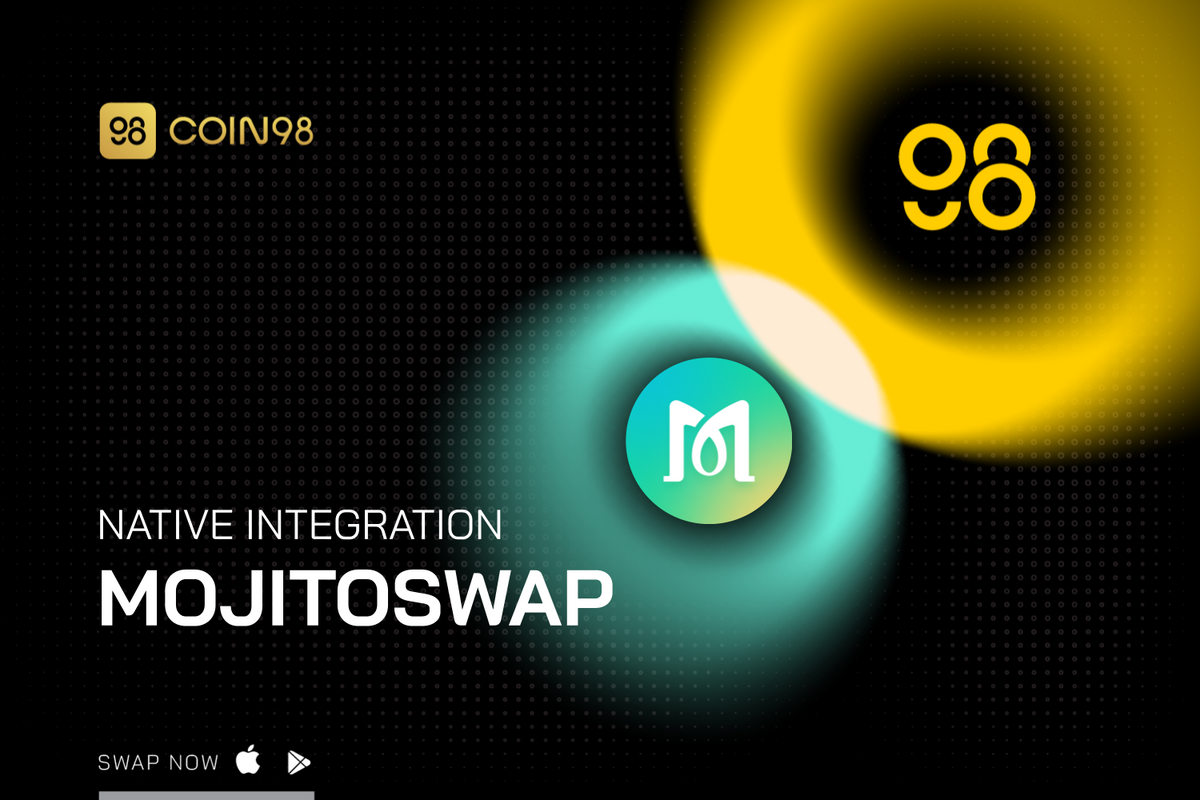 The native swap of Coin98 Super App comes to life with over 15 prominent AMMs in the market. Recognizing the increased trading demand on KCC, Coin98 has ultimately integrated MojitoSwap, a decentralized exchange with various features that allow users to earn and win tokens at ease.
MojitoSwap is the first decentralized exchange on KCC driven by the community, and will gradually become community-owned through DAO. Apart from being a premier AMM on this prospective blockchain, MojitoSwap also offers a tremendous trading experience by taking advantage of cheap gas network fees, fast latency from the Kucoin Community Chain. Plus, users can benefit from trading a diversity of KRC20 tokens with the deep liquidity from MojitoSwap - a leading AMM with the most enormous trading volume on KCC as of writing time.
In terms of this integration, Coin98 and MojitoSwap hope that we will have a chance to work together and upgrade our inventive features for users. Beyond that, the mass adoption mission will be fulfilled, partly contributing to the firm expansion of Kucoin Community Chain.
"According to DeFi Llama, MojitoSwap is currently ranked #1 on the KCC blockchain. Coin98 believes that the integration of MojitoSwap on the Coin98 native swap will give a chance for over 1M users to use MojitoSwap at a finger and enrich the trading volume for that decentralized exchange. Coin98 and MojitoSwap will collaborate to shift the ultimate trading experience as well as fill in the gap in the KCC blockchain anyways." - Vinh The Nguyen, Co-Founder & CEO of Coin98 Finance.
How to use MojitoSwap natively on Coin98 Super App
Easy steps to trade crypto natively on Coin98 Super App through MojitoSwap. Let's walk through how it works.
Step 1: Open Coin98 Super App, then choose the Swap tab on the home screen.
Step 2: Select MojitoSwap
Step 3: Choose the desired tokens and start trading!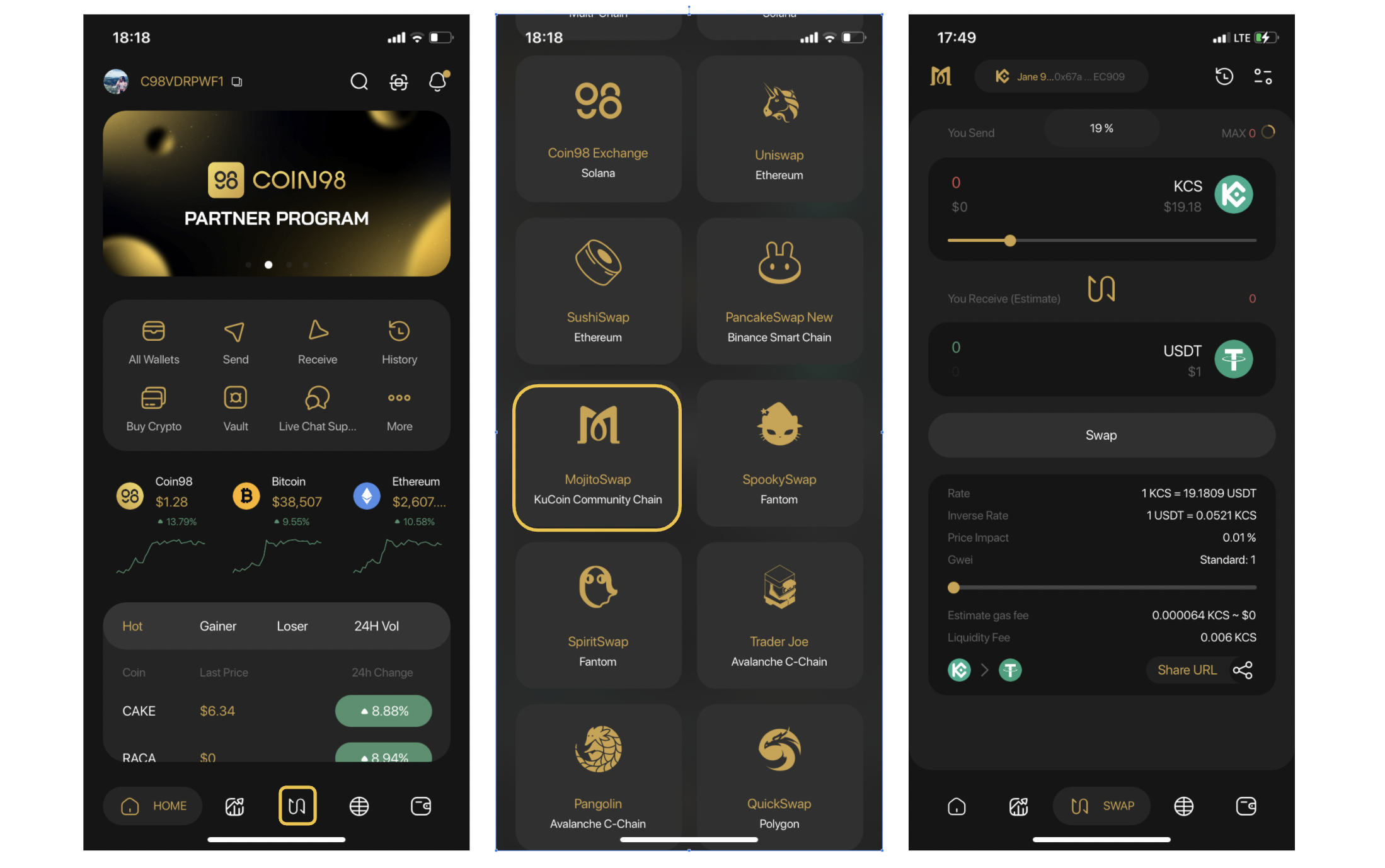 Read on the full details of the instruction here.
About MojitoSwap
MojitoSwap is the first audited decentralized exchange with AMM and a high APR on KCC . It provides users a safe environment for their assets and a place to potentially yield a high return. The team of MojitoSwap comprises in-depth technical experts in blockchain development and the DeFi ecosystem.
About Coin98 Super App
Coin98 is the #1 crypto super-app designed to seamlessly connect a billion users to the crypto world safely and securely. We offer users a comprehensive and trusted ecosystem of essential services across the globe, including a non-custodial, multichain NFT & cryptocurrency wallet, built-in DEXs, Cross-chain Bridge & DApp Browser, a powerful Terminal, attractive Earn, Gift & Campaign, and Others.