Coin98 Super App
A new wave of Coin98 Farming Pools is now available on SarosFarm!
We are eager to continue the massive success of Coin98 Farming's release on SarosFarm. Start earning C98 today!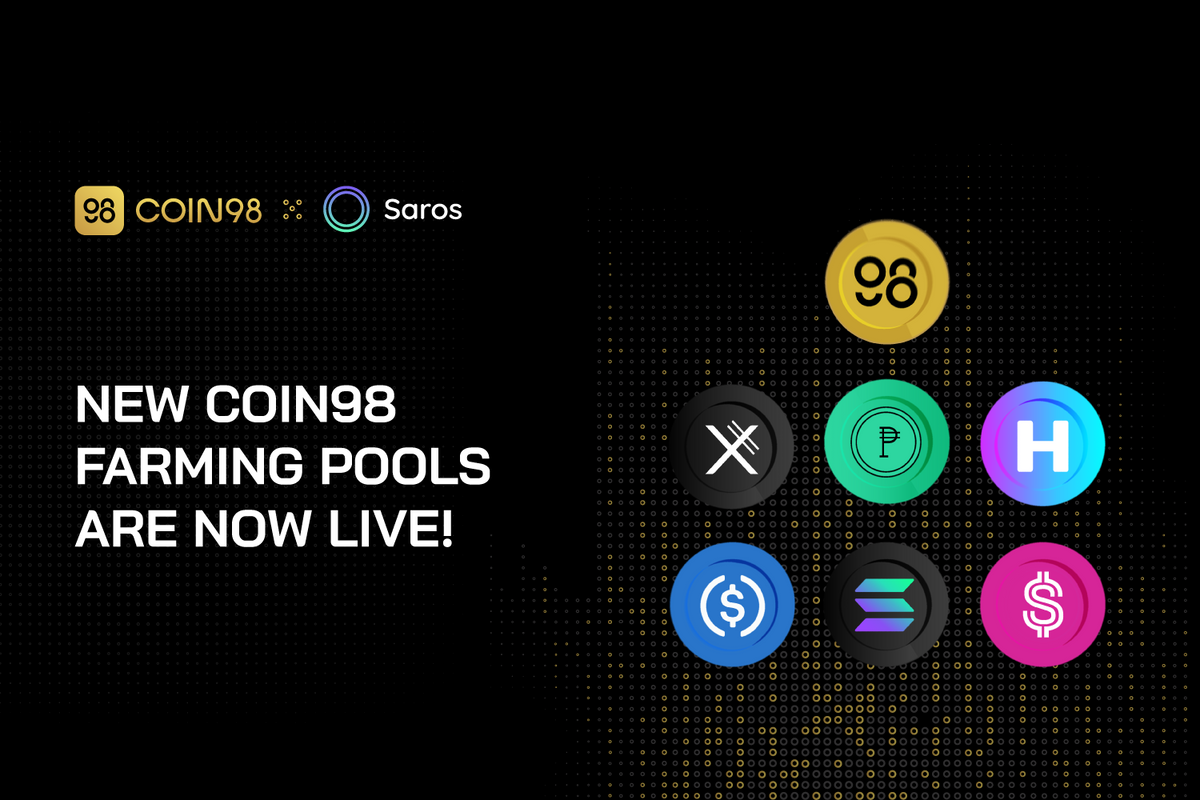 Visit: https://saros.finance/farm.
Coin98 Farming Pools information
We offer 6 new unique C98 farming pools on SarosFarm, including C98/USDC, C98/SOL, C98/PAI, C98/UXD, C98/USH, and C98/USDH, with details as below:
According to the estimation for the Solana block, C98 farming pools will occur from July 11 to August 11, 2022.
Learn more about SarosFarm.
How to farm LP tokens on SarosFarm
Please ensure you already have Coin98 Extension or Coin98 Super App with a Solana wallet ready.
Download: https://coin98.com/wallet
Add liquidity to get LP tokens
You need to add liquidity with your preferred token pair before farming. Let's follow those steps:
Step 1: Click Connect Wallet on the top right of the screen.
Step 2: Choose Liquidity → Click Add Liquidity.
Step 3: Select a token pair with your desired amount.
Step 4: Click Supply. All done!
See detailed instructions here.
Farm LP Tokens on SarosFarm
After adding liquidity to Saros Pool, you can farm these LP tokens to earn more rewards.
Step 1: Access tab Farm via https://saros.finance/farm.
Step 2: On the Active tab in this interface, choose an LP token pool → Click Stake.
Step 3: Slide to choose your LP token amount and Stake to complete.
See the detailed instructions here.
Are you ready to deepen into C98 Farming Pools? Get started at https://saros.finance/farm.
Notes:
There is no limitation in quantity; the more LP tokens you stake, the bigger reward you earn.
You can harvest your reward and withdraw your LP tokens at any time.
You need some SOL for network fees.
In the Coin98 ecosystem, users are centered, and your needs are prioritized. There has never been a better time for us to concentrate on creating and innovating the products while also improving the token utilities in a diversity of blockchains to grow in size and value. For $C98, there are still endless possibilities to explore. Stay tuned!
About Saros
Saros Finance is the ultimate DeFi platform native to Solana, with trading, staking, and yield farming services. Built by Coin98 Labs, Saros Finance aims to adopt millions of users to DeFi.
Follow us: Website | Twitter | Telegram | Discord
About Coin98 Super App
Coin98 is the #1 crypto super-app designed to seamlessly connect a billion users to the crypto world safely and securely. We offer users a comprehensive and trusted ecosystem of essential services across the globe, including a non-custodial, multi-chain NFT & cryptocurrency wallet, built-in DEXs, Cross-chain Bridge & DApp Browser, and a powerful Terminal, attractive Earn, Gift & Campaign, and Others.