Coin98 Super App
Open Coin98 Vault!
Coin98 Wallet has released Coin98 Vault to bring asset management to a new level and provide users with a unique "token claim" experience. Retroactive Airdrop 18,000 C98 for this event!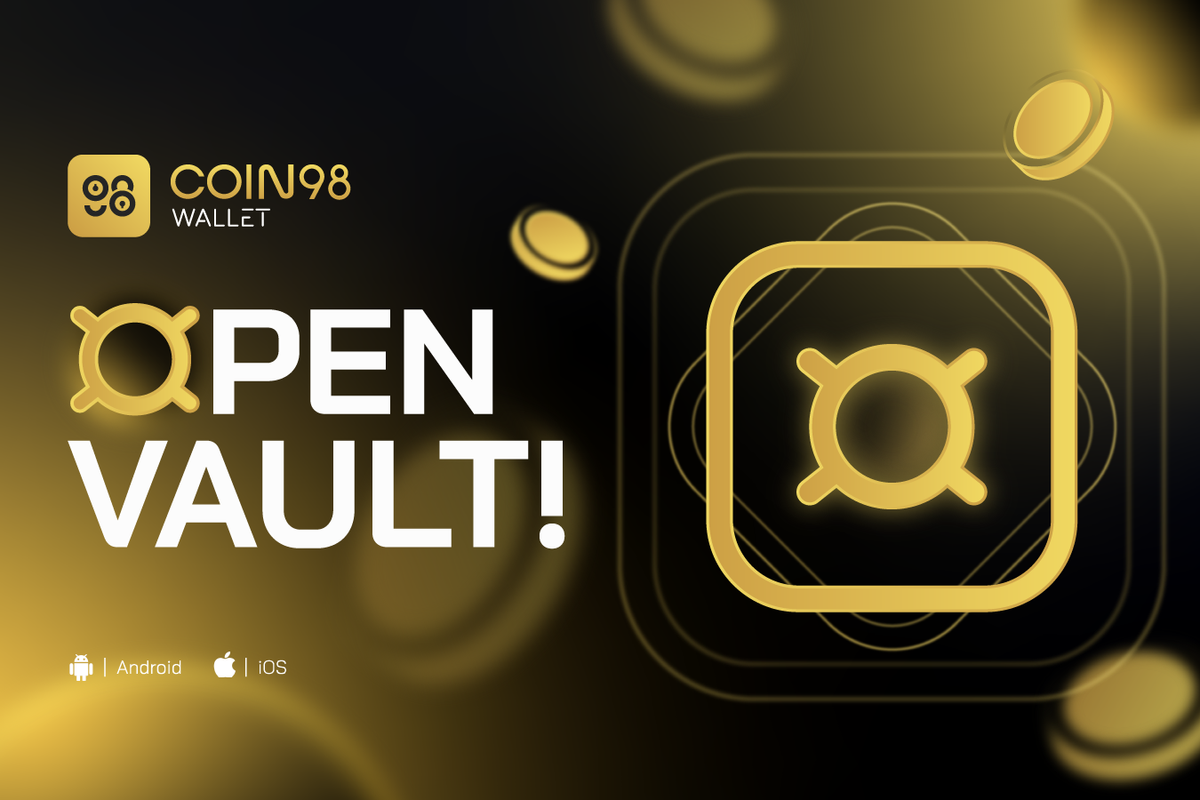 Meet Coin98 Vault
In the latest mobile app version, we released Coin98 Vault to bring asset management to a new level and provide users with a unique "token claim" experience.
Simply put, you can think of the Vault as a crypto storage used to manage assets (tokens/NFTs). With this feature, users can quickly and conveniently claim rewards, receive scheduled payment, while the project owners can automate the token distribution and beyond.
To be ready for future use, Coin98 Vault is designed in an architecture where its contract is separated from the protocol contract, making sure security is our top priority.
Right now, Coin98 Wallet users can meet the Vault by opening their app, going to the Terminal, then choosing Coin98 Vault.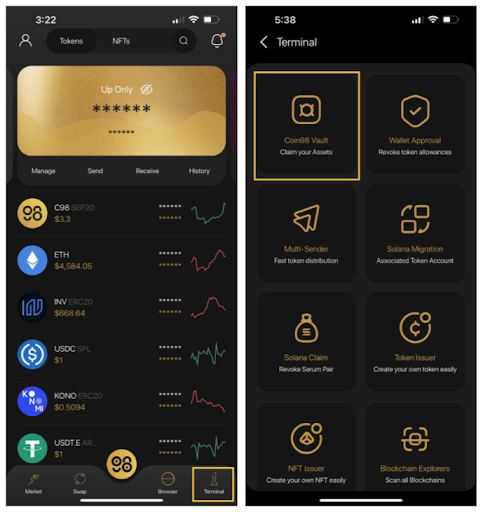 (*) Please update your app to the newest version to have this feature.
Open Vault!
Let's say Open Vault! Magic is happening!
In an attempt to help users understand and have real experience with our new feature while appreciating early supporters of Coin98, through the Vault, we are distributing nearly 18,000 C98 to Coin98 Wallet users.
Retroactive airdrop eligibility
All addresses that have bought C98 via PancakeSwap natively on Coin98 Wallet with the minimum amount of 10 C98 before October 31, are eligible for the retroactive airdrop.
Rewards allocation
The reward allocation was determined by the amount of C98 that you bought on Coin98 Wallet. The more C98 you swapped, the more retroactive airdrop you can get. There are 4 tiers with 4 different allocations, here are the details: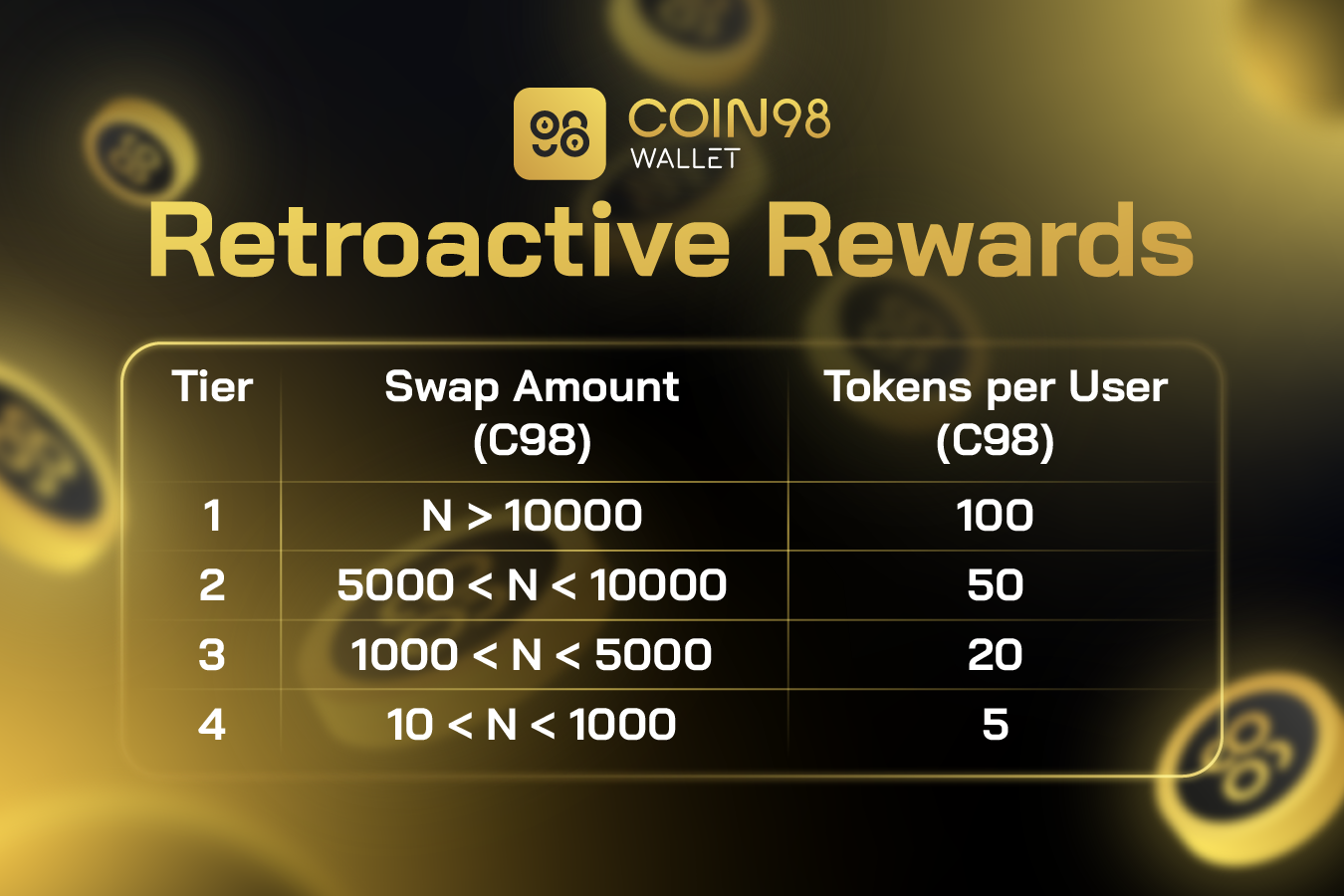 Vault claim
If you are eligible for the retroactive airdrop, you should have got a notification by now, and be able to see the rewards in Coin98 Vault, under the Terminal section in the app. There is a countdown and you will be able to claim the tokens at 9PM (UTC+7) tomorrow.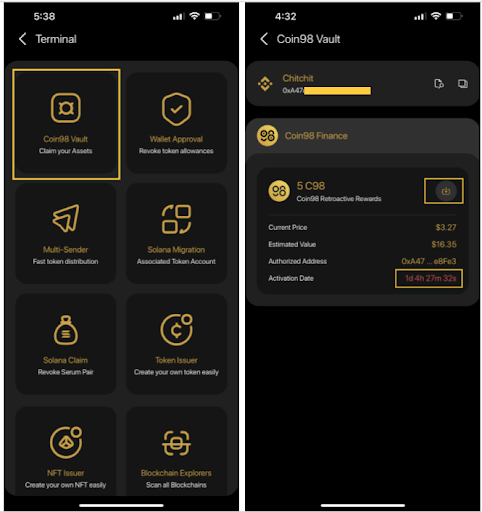 *Once claimed successfully, please wait for the transaction to be executed and the tokens will show up in your balance.
If you are not lucky for this retroactive airdrop, don't be sad since this is the first airdrop. Keep using our products and more events with huge rewards will be coming.
Looking forward
We believe Coin98 Vault will be an excellent tool for not just users but also builders. Therefore, in the following versions, Coin98 Vault will be upgraded to assist project owners, managers to distribute token allocation, event rewards, airdrop… and advanced use cases.
About Coin98 Wallet
Coin98 Wallet is a non-custodial, NFT wallet used to store, manage, trade, and swap multi-chain, multi-source digital assets. It supports most popular chains, including BTC, ETH, TOMO, Tron, Binance Smart Chain, Solana, Polkadot, Kusama, HECO Chain, Near, Avalanche X-Chain & C-Chain, Binance Chain, Celo, BandChain, Kava, Terra, Cosmos, ThorChain, Fantom, Polygon, Persistence, XDai, Kardiachain, Ronin, GateChain, OKExChain, Klaytn, KCC, Boba Network, Optimism, Arbitrum, ... Coin98 Wallet is available on Mobile, Extension, and Web. It aims to be the gateway to connect users to the DeFi world.
Download: iOS | Android | Extension
Follow us: Twitter | Website | Docs | Blog