Coin98 Super App
Coin98 Wallet Is Now Coin98 Super App - Your Crypto Everything App Is Here!
With version 11.0, Coin98 Wallet is revamped to Coin98 Super App - A crypto everything App, where your trading experience and DeFi services exploration are defined to the optimal level.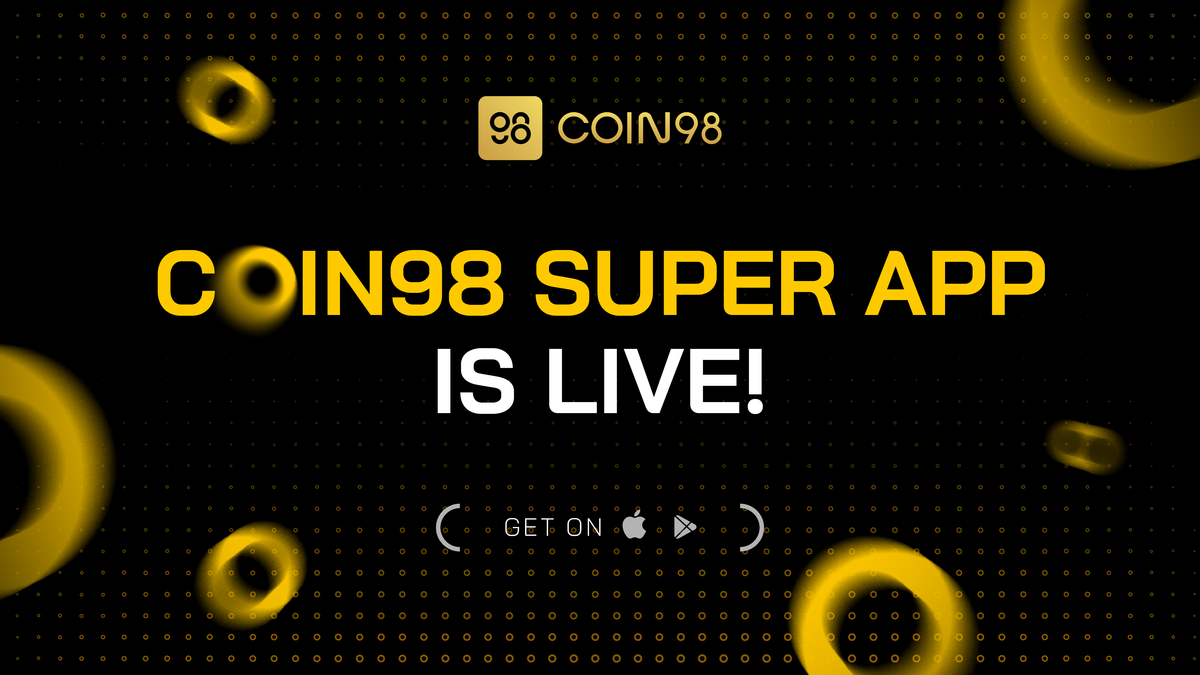 Quick Take:
A brand new look for Coin98 Super App
Integrate Elrond, Tezos, Conflux, Aurora
Release multi-tab in dApp Browser
Support Ethereum Name Service (ENS) & Solana Name Service (SNS)
Support ERC-1155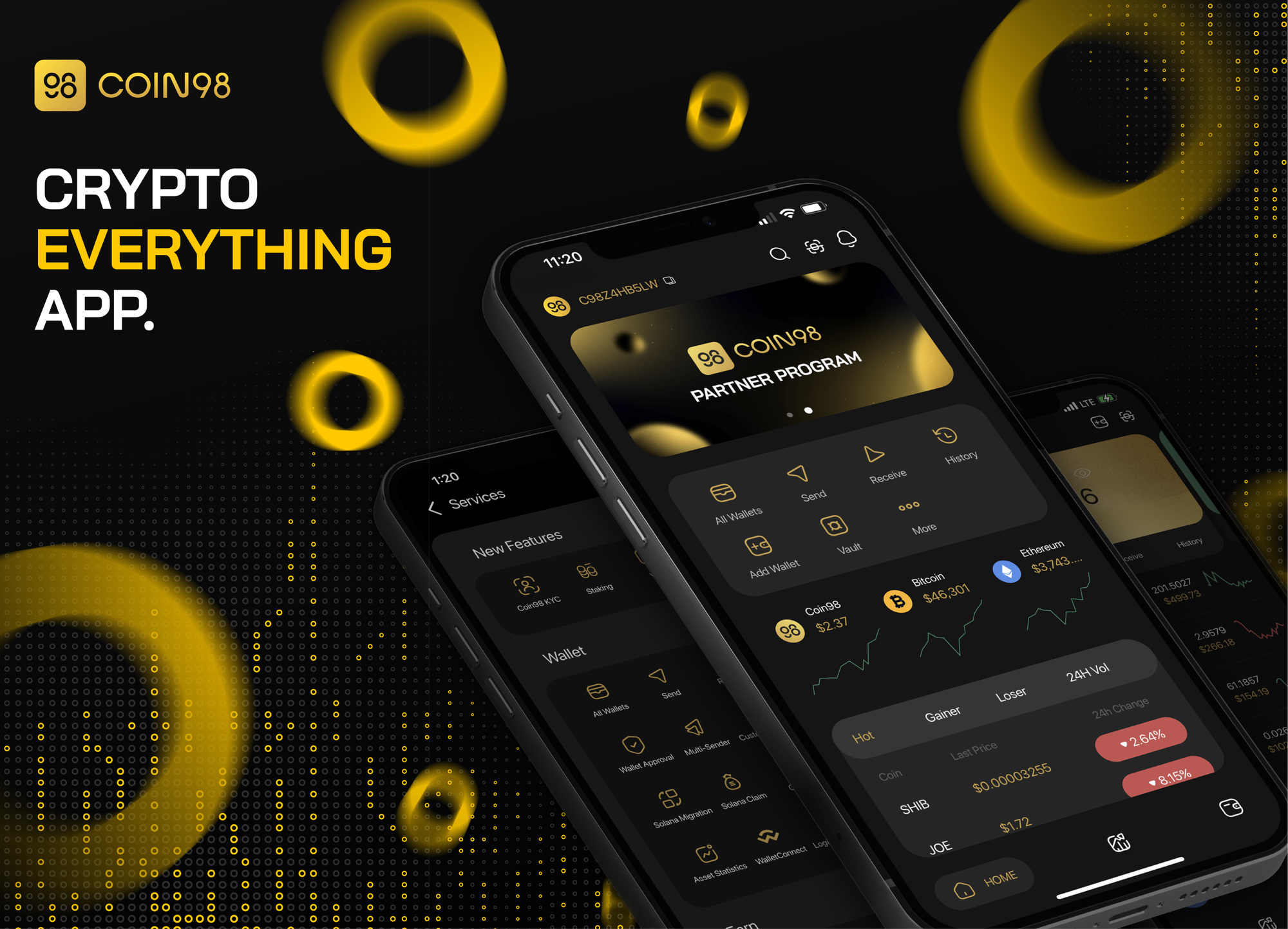 A brand new look for Coin98 Super App
Functionality is one of the key factors to attract and retain users to Coin98 when it comes to vast features in one single app. However, we recognize that an interface with color, layout, photos, and appropriate arrangements of the different features is also crucial for users to use the app happily every day. Hence, we decided to upscale the quality of UI & UX design of Coin98 to turn it into a super app.
The first notable difference in Coin98 V.11.0 is navigation. With the new home screen, you can easily access the features you want at your fingertips, supporting its high-speed loading time and stable work.
The features will be divided into 5 zones:
Home: consist of everything you need from Wallet, new features, earning activities, gift & campaign to the terminal.
Market: follow the market trend with much helpful information, market price,...
Swap: experience full DEXs across blockchains with nearly 10 top-notch AMMs on the market.
Browser: Enjoy the DeFi wonderland with hundreds of DeFi services on multiple platforms such as staking, farming, trading,...
Wallets: use all utilities that Coin98 offers to make your DeFi journey at ease.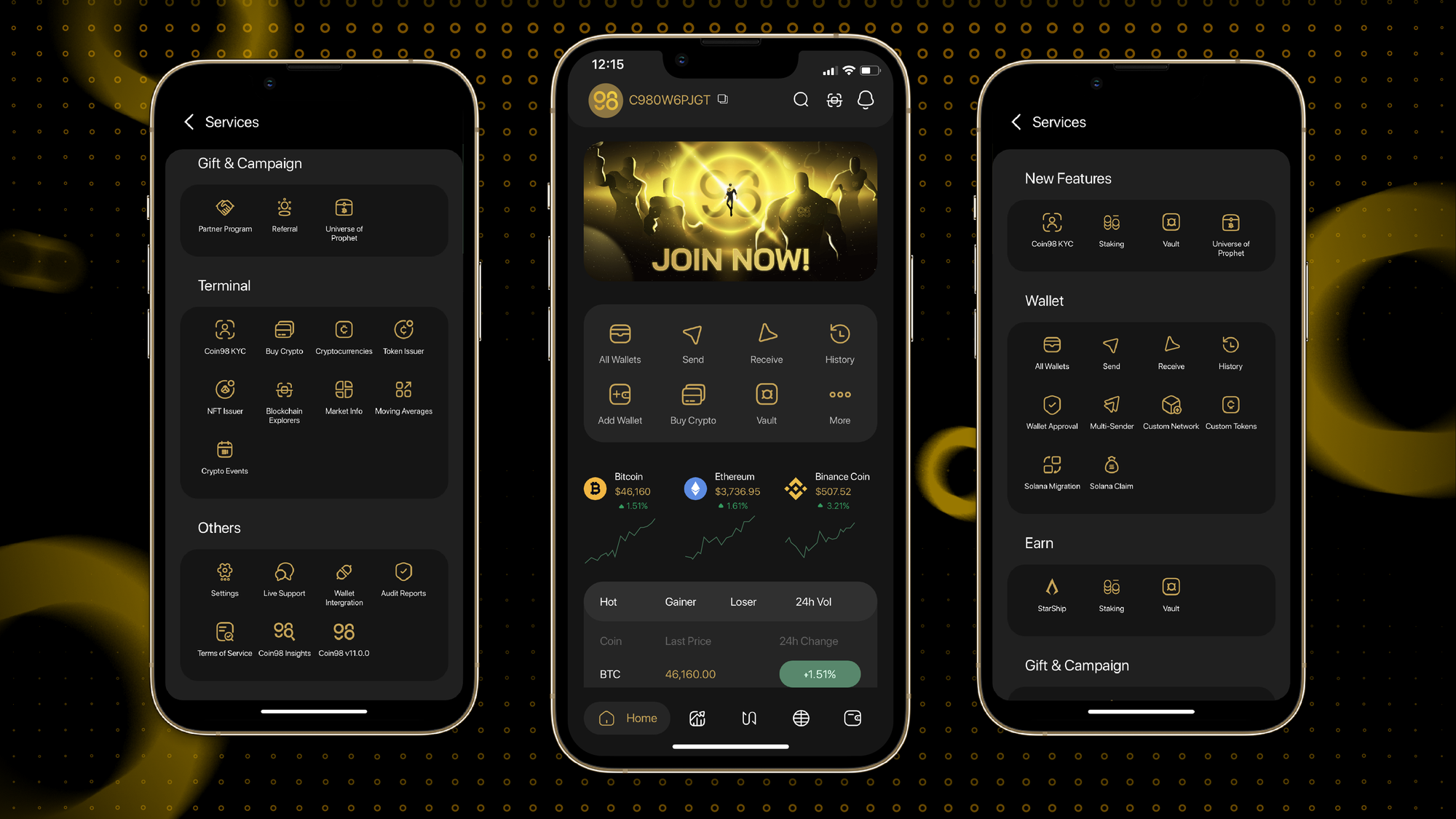 Evolving into a super app, Coin98 is happy to refresh itself to bring you a powerful, approachable experience while keeping our core value for sustainable development.
Integrate Elrond, Tezos, Conflux, and Aurora
35+ integrated blockchains and various custom networks are the numbers we have brought to Coin98 users to date. The Coin98 Universe is now welcoming Elrond, Tezos, Conflux, and Aurora.
Elrond is a high-throughput public blockchain that provides security, efficiency, scalability, and interoperability beyond the current state-of-the-art. The two most important features that set Elrond apart are Adaptive State Sharding and the Secure Proof of Stake consensus mechanism.
Tezos is an open-source platform for assets and applications that can evolve by upgrading itself. Stakeholders govern upgrades to the core protocol, including upgrades to the amendment process itself.
Conflux is a new secure and reliable public blockchain with high performance and scalability. It can achieve the same level of decentralization and security as Bitcoin and Ethereum but provide more than two orders of magnitude improvement on transaction throughput (TPS) and finality latency.
Aurora is an Ethereum Virtual Machine created by the team at the NEAR Protocol, delivering a turn-key solution for developers to operate their apps on an Ethereum-compatible, high-throughput, scalable and future-safe platform, with low transaction costs for their users.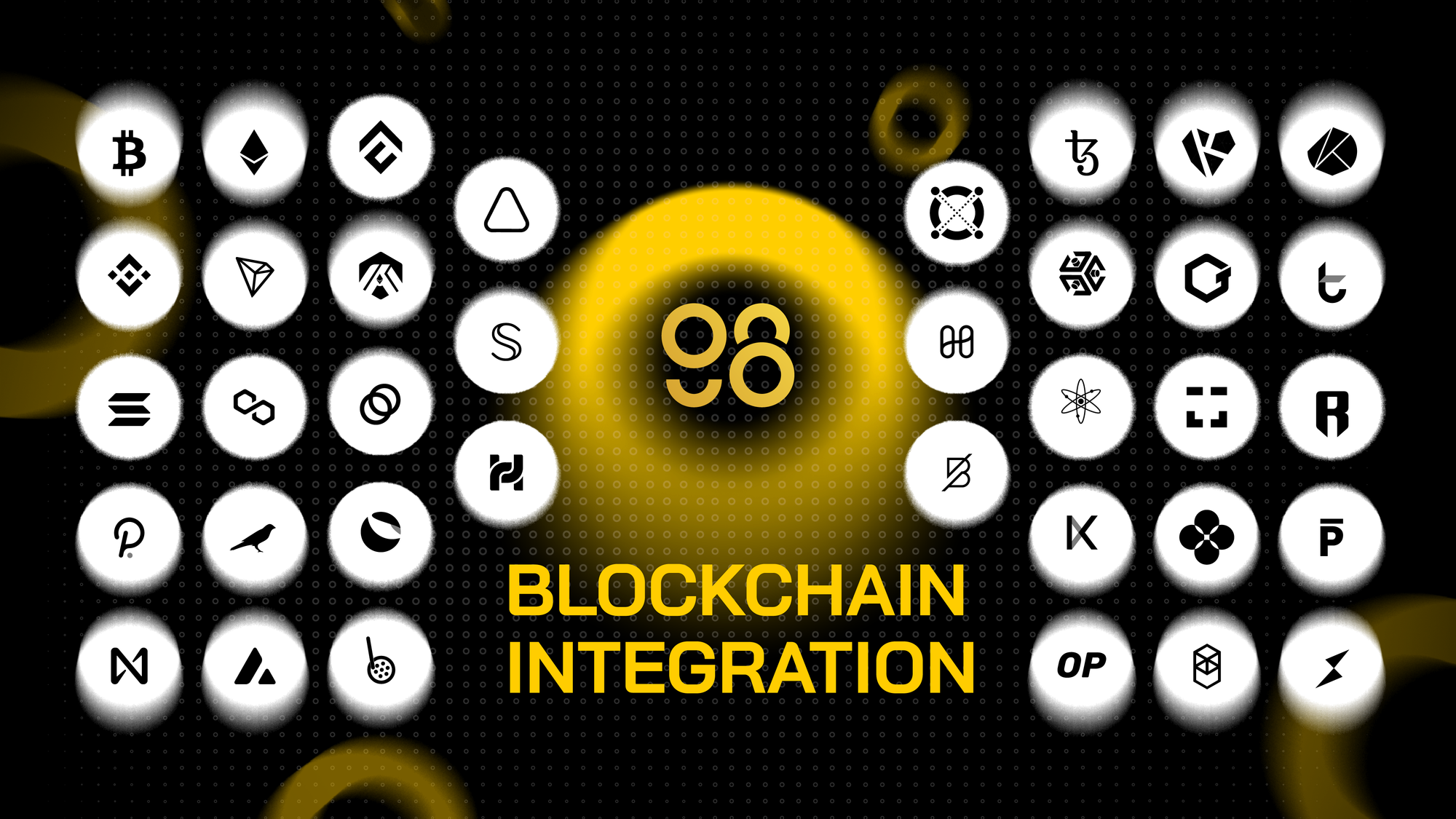 The horizon won't stop there; your favorite blockchains haven't been integrated yet? Don't hesitate to let us know about the upcoming integration.
Release multi-tabs in dApp Browser
Coin98 is rolling out the multi-tab facilitating users to manage and use all opening tabs in one interface. This feature will make its way to the convenience as you can use many DApps at once.
With this update, you need to click the (+) button to open a new tab. You can experience DApps simultaneously. It means that you can connect a wallet with a DApp on Ethereum while you can access another on Solana.
Are any tabs you want to open every day? Coin98 allows you to save your desired tabs for subsequent access. Just login & start to enjoy!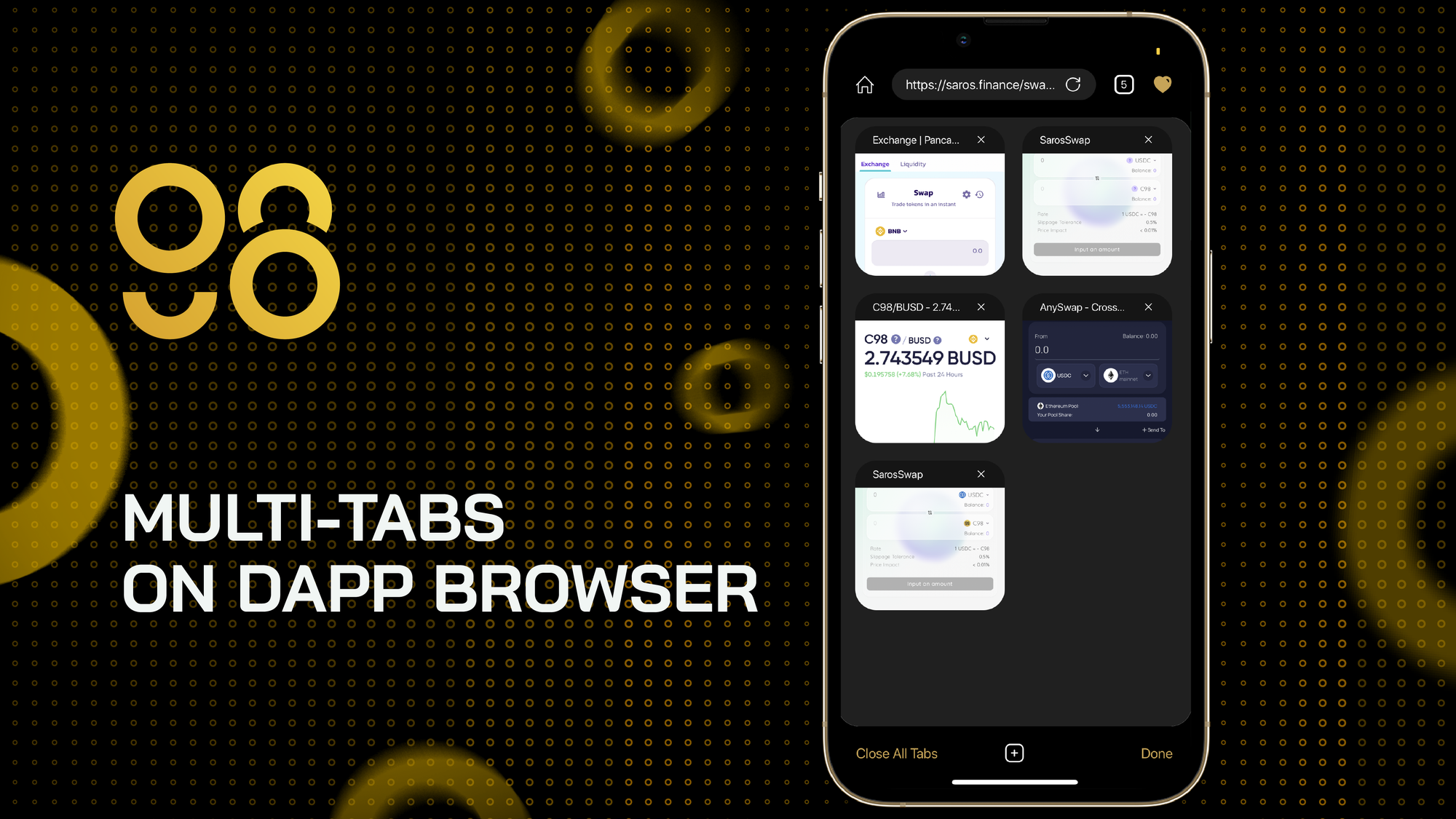 Support Ethereum Name Service (ENS) & Solana Name Service (SNS)
From now, no more copy and pasting of long addresses when you want to send tokens to other recipients.
Coin98 now supports Ethereum Name Service (ENS) and Solana Name Service (SNS), which helps you simplify transferring funds and NFTs to others. The process is like sending an email, typing your desired domain, and slide to send!
Support ERC-1155
Besides the ERC-721 standard, Coin98 adds ERC-1155 standards to this version. ERC-1155 is a novel token standard aiming to bootstrap the asset transfer and reduce the gas fee.
Are you curious about our new appearance with the high level of functionalities? Download or Update your App to see it for yourself today: https://coin98.com/wallet.
Closing Remarks
And that's pretty much it. We hope you like this new version since the team has put a lot of effort into it. This marks a new chapter with Coin98 Super App, with its mission to make DeFi accessible for everyone. We are very excited to bring you what's next. Thank you for always being supportive and part of our journey!
About Coin98 Super App
Coin98 is the #1 crypto super-app designed to seamlessly connect a billion users to the crypto world safely and securely. We offer users a comprehensive and trusted ecosystem of essential services across the globe, including a non-custodial, multi-chain NFT & cryptocurrency wallet, built-in DEXs, Cross-chain Bridge & DApp Browser, a powerful Terminal, attractive Earn, Gift & Campaign, and Others.