Coin98 Super App
Active/Inactive Blockchain: Manage all your chains with just a single tap
Coin98 releases the Active Blockchains feature, offering users a more convenient and seamless experience on the app.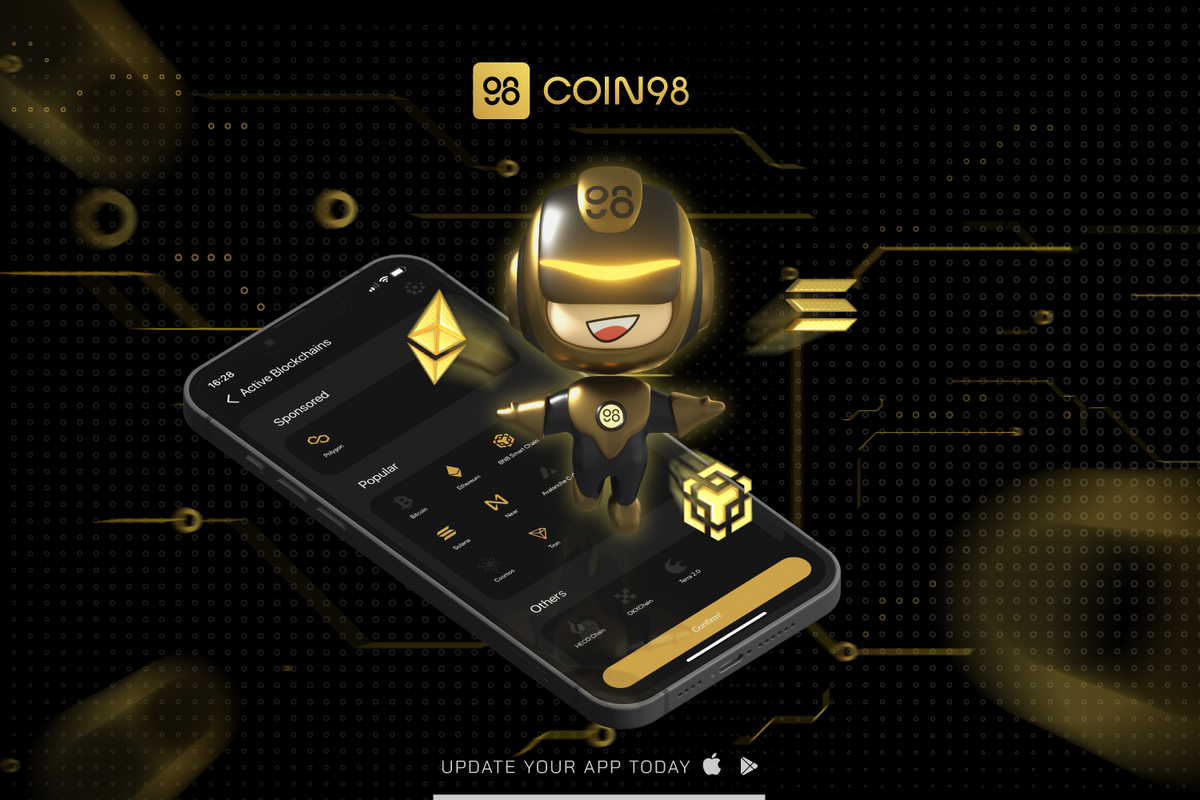 Thriving to the next version, Coin98 Super App takes this chance to introduce a completely new feature: Active/Inactive Blockchains, with just a single toggle and all users' experiences, will be smoother and quicker.
Users may find it quite complex the first time embarking onto the world of DeFi, which is why Coin98 consistently aligned with the vision to develop and advance every product daily. We release the Active/Inactive Chain Feature in this new version to offer users a more convenient and seamless experience on the app.
Update your Coin98 to skin-in with the new feature now: https://coin98.com/wallet
Active/Inactive Blockchains
From selecting active wallets to selecting active blockchains, this is a significant step forward in bringing users to the pinnacle of the Coin98 Super App experience. The latest version of Coin98 Super App includes a feature that allows users to select their active Blockchains with a single tap on their mobile device.
Simply put, you can activate your favorite blockchains from among the many supported by Coin98, as well as disable some of them. All of your multichain wallets will then be updated automatically based on your settings.
Thanks to this function, users will have more flexibility to tailor their wallets.
Advance App Performance based on users' customization
Optimize User Interface
Coin98 has integrated with 60+ Blockchains; in the case that users just want to operate on some of them, the best solution is to turn off the chains that are not needed.
That is how the Active Blockchains feature gets in the way, and along with that, all the wallets are modified to be more well-organized!
Leverage User Experience
Are EVM chains like Ethereum, Polygon, Avalanche C-Chain, and BNB Chain what you prefer to use? Do you typically skin around Solana? We have been working on it to determine what are the finest things we could bring to our beloved users when conquering the DeFi world.
With the Active Blockchains feature, your experience with Coin98 will be lighter than ever. The system only displays and operates blockchains you want to use while turning off the rest. Coin98 gives you the ability to manage the functioning of a certain blockchain in your wallet.
Users actively adjust the chains they use as needed to handle all of their wallets on each chain like a skilled wizard with his wonderful wand!
Enhance App Performance
App performance should be advanced to its excellence. Taking the whole system of Coin98 Super App into consideration, loading balance, accessing dApps, sending/receiving, or anything else will proceed more smoothly and seamlessly because blockchains' presence is now much clear and neat, thanks to the new feature.
How to use the Active Blockchains feature
Firstly, ensure you have already installed or updated Coin98 Super App to the latest version (V12.3).
Finish updating and start enjoying this new feature:
Step 1: Choose the More section
Step 2: At the Wallet tab, click Active Blockchains
Step 3: A multiples of Blockchain will show up; now tap your preferred blockchains. And click Confirm to finish activating process. The ones with the light on are activated.
The action takes only a fraction of a second. And just like that, the inactive process operates in the same way!
After activating preferred Blockchains, move to check your wallets once again. As you will see, all the wallets supported by the Active Blockchain are automatically turned on. "Quick, Convenient, and Smooth" are 3 words we use to describe this feature.
Update your app today and enjoy this top-tier experience on Coin98 Super App!
And keep an eye out for forthcoming initiatives!
About Coin98 Super App
Coin98 is the #1 crypto super app designed to seamlessly connect a billion users to the crypto world safely and securely.
We offer users across the globe a comprehensive and trusted ecosystem of essential services, including but not limited to a non-custodial, multi-chain NFT & cryptocurrency wallet, built-in DEXs, Cross-chain Bridge & DApp Browser, a powerful Terminal, attractive Earn, Gift & Campaign, and Others.